This list has been updated for 2016, complete with more cheap smartwatches.
Latest Update: August, 2016
It's tough to find good-quality, cheap smartwatches.
Thanks to the recent launch of the Apple Watch, the smartwatch market has changed a bit.
It's not any better off — or worse — just different. That's because there's more competition in the space even among the list of cheap smartwatches.
The Apple Watch is great and resonates well with fans. Many have been waiting patiently for a decent smartwatch that's compatible with iOS. But, there's no denying the price is a little steep. The cheapest model — the Apple Watch Sport — costs $349.
That's a lot of money for a device you don't need.
Why would we say that?
Well, because you don't need a smartwatch to get by. You can make the argument you don't need a smartphone either. But you can use a smartphone without anything else. Most smartwatches need a connected phone or they lose functionality.
The good news is, if you don't care about bleeding edge products you can get a smartwatch for cheap. Motorola, LG, Samsung and even Pebble have delivered some competitive prices in light of the Apple Watch launch.
If you're wondering what some of those cheap smartwatches are, you've come to the right place! That's what we're going to take a look at.
What Are These Cheap Smartwatches You Speak Of?
We'll do our best to provide several different cheap smartwatches – cheaper than the Apple Watch anyway. That way everyone should be able to find something.

Sony SmartWatch 3
The Sony SmartWatch 3 packs a lot of punch for a minimal price.
For starters, it includes integrated GPS so it can track everything you do when you're out on a run – and we mean everything. It also has NFC for contactless payments, and since it's powered by Android Wear you should be all set! Oh, and the battery can last for up to two days or more on a single charge.
At $120-$130 you're looking good with this one.
Motorola 360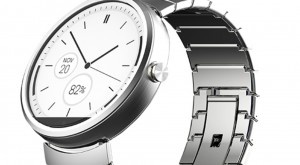 First up on the list is the Moto 360. Motorola dropped the price to coincide with the Apple Watch release, and they dropped it even more when the new models came out (2nd generation).
If you're on the prowl for cheap smartwatches, then you cannot overlook this one. Keep in mind, the Moto 360 has been discontinued with the release of the 2nd generation models.
If you want to pick it up the price has dropped across the board. You can find a certified refurbished model on Amazon for $90.
For more information on the Moto 360, you can check out review and a feature from someone who's been using the device for a while.

Pebble Smartwatches
In September, 2014 Pebble dropped the price of both the original Pebble and the Pebble Steel. At the time – pun not intended – we didn't know they would be coming out with their next generation models which we now know as the Pebble Time.
The chart below lists all the different Pebble models, along with the corresponding price. You can always read more at the official Pebble site too.
Pebble Smartwatch Models

Pebble (Original): $50-$70

Pebble Steel: $80-$100

Pebble Time: $80-$100
If you'd like to know more about the Pebble Steel take a look at our review.
Asus ZenWatch
Admittedly the Asus ZenWatch did not get a price drop for the Apple Watch release, but it was already priced competitively. Not to mention, it looks absolutely stunning.
But don't worry, now that the Asus ZenWatch 2 is here, the original is much cheaper.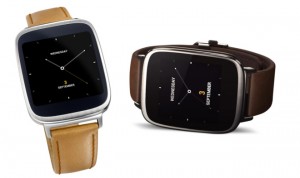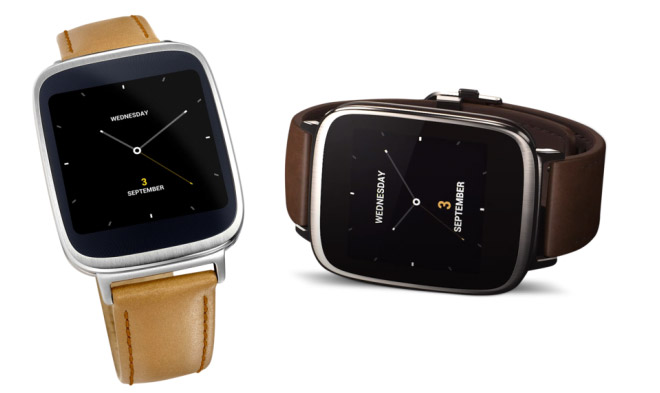 It is running Android Wear like the Moto 360, but as you can see it has a completely different physical appearance and style. The rose gold case and leather strap mesh nicely, making the ZenWatch a great fashion accessory in addition to a functional companion.
The Asus ZenWatch was $199, about $150 cheaper than the base model of the Apple Watch. Today, you can find it for close to $100.
Unfortunately, Android Wear is only accessible if you have an Android smartphone. If you're using an iPhone the only option on this list – so far – is the Pebble.
If you would rather spring for the newer model, it's affordable too!
Alcatel OneTouch Watch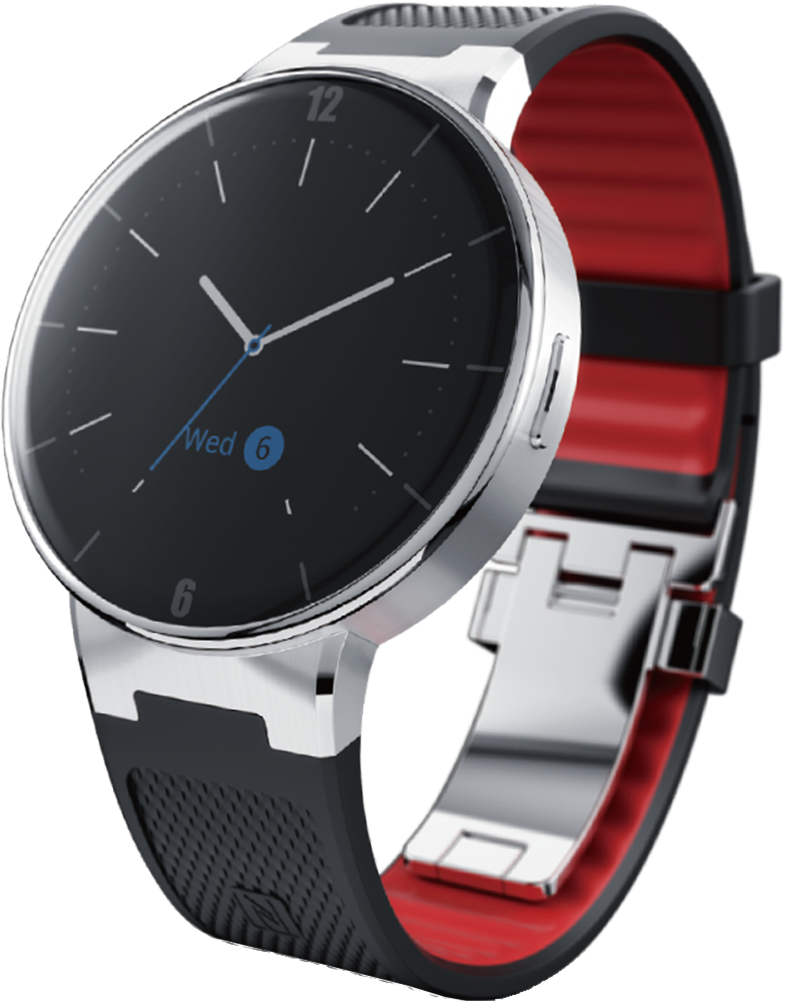 As with the Asus ZenWatch, the Alcatel OneTouch didn't get an official price drop, but the price is already reasonable.
Take a look at some of the features of the Alcatel OneTouch. Even though it is one of the cheap smartwatches on the market, it offers just as much as the expensive models.
The OneTouch includes:
Round display, like the Moto 360.
Waterproof body
Standard USB charging port
Fitness tracking features
Battery life of 2-5 days on a single charge
Interestingly, it also has NFC support which is something you won't find in most premium smartwatches – and to think this is a budget-friendly watch.
It does work cross-platform so you can use it with an Android smartphone or an iPhone. As for the price, the Alcatel OneTouch Watch launched at a surprising $149. Today, you can find it for about $100.
Hannspree Sports Watch
Not quite sold yet on one of the cheap smartwatches and fitness trackers? The Hannspree Sports Watch is great if you want to get your feet wet. It's $45 through the official site and includes some basic smartwatch features and fitness tracking options.
The Hannspree offers:
0.68-inch OLED display
Text and call notifications
Android and iPhone compatibility
Battery life of 8 to 10 days on a single charge.
Splash-resistant body
Sleep monitoring/tracking
When it comes to fitness tracking, the Hannspree will log steps walked and calories burned thanks to an integrated accelerometer, along with similar stats.
Not bad at all for the price. Hannspree is based in Europe, so you'll need to purchase it through the official site or an online retailer like Amazon if you're in the US.

Cookoo 2
The final smartwatch on the list hasn't seen a price drop yet, either.
The Cookoo 2 is a traditional watch first, and a smartwatch second. Instead of including a touchscreen or large notifications display, it simply reveals icons when you get an alert. It will pair up with an Android or iOS phone and offer notification icons when you get a call, email, text, or even when your connected device's battery is low.
At $150 it's reasonably priced, but it's worth noting that you could get a more advanced watch – just look at some of the other options on this list – for about the same price. If you're not into the whole cheap smartwatches gimmick, then the Cookoo 2 is probably more your speed.
Do You Have Any Cheap Smartwatches to Share?
If you know any other cheap smartwatches we missed, feel free to mention them.
The Apple Watch is great, but it doesn't hurt to have a little competition. We believe  it's best if everyone has the option to purchase a smartwatch.
If you're not interested in spending the money for an Apple Watch, at least our list of cheap smartwatches posits some alternatives.