Tired of seeing and hearing about all these smartwatches flooding the market? Sick of reading so much news about them, knowing full well that you could come up with something better? Well, here's your chance. A new Kickstarter has cropped up for a very interesting project, which relies on a miniscule color screen. By purchasing one of several different kits, you can create your very own wearable device. In other words, you have a chance to build your own smartwatch.
Rightfully dubbed the TinyScreen, this little baby redefines portable electronics. Just what is so special about it? Well, let's take a closer look to find out.
Introducing TinyScreen: A Versatile Display You Can Build Your Own Smartwatch With
Think of it as the Raspberry Pi of displays. This gorgeous OLED, is powered by Arduino and includes an integrated Atmel Atmega328P processor, an onboard Lithium battery charger/connector and more. In layman's terms, this thing can be constructed and then programmed to do pretty much whatever the hell you want it to. The best part is that it's small, and pretty cheap too.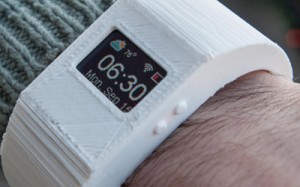 By default it comes preloaded with smartwatch, video player and video game apps. Even if you're not a programmer at heart, you can still modify the device and get it working exactly the way you want. Eventually, once the board has been adopted more widely you can bet your ass that third party developers will be delivering tons of new content and modifications for it. Just do a simple web search for Raspberry Pi mods, and you'll see exactly what I mean.
There are several kits available, offering different features and functionality out-of-the-box. You can always buy just the display and build your own device from scratch, if you so desire. That's the beauty of the TinyScreen, you can mold it into whatever you want – whether that be a custom wearable, a smartwatch or something else entirely.
The TinyScreen Packages: Including One to Build Your Own Smartwatch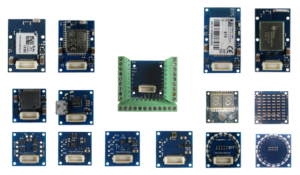 A basic kit includes the TinyScreen, a TinyDuino processor, a USB TinyShield and a battery pack for a $55 pledge (EU £34, AU$63). A video player version with a built-in microSD card reader is $65 (EU £40, AU$74) while a portable video game version – complete with a miniature analog joystick board – is $75 (EU £47, AU$86).
Perhaps more interesting, is another kit for $85 that includes all the necessary components to build your own smartwatch with the TinyScreen. The biggest difference is that the kit includes a Bluetooth module, which can be used to pair with smartphones. An even more expensive $200 kit adds an accelerometer, ambient light sensor, compass and Wi-Fi.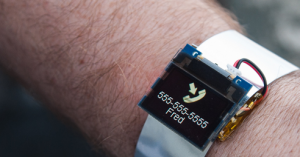 What's most exciting about the TinyScreen is that you can build your very own wearable device – or another device altogether – for relatively cheap. If you have a 3D printer at home, you're in an even better position because it's easy to find case designs for small devices like this which you can construct yourself.
To get a fully working device, you just need to stack the various modules which is basically another way to say that you just have to connect them to one another. Each module adds a different type of functionality to the device such as Bluetooth support, Wi-Fi and more.
At launch, there will be a total of 25 TinyShields or modules available offering different functionality for the device. Tiny Circuits – the developers behind the TinyScreen – claim the following types of modules and respective functionality will be available:
There are sensors (accelerometer, gyroscope, compass, 9-Axis IMU, ambient light sensor),output boards (motor drivers, audio output, displays), storage (SRAM, EEPROM, microSD card), communication (USB, Bluetooth, Bluetooth LE, WiFi, 433MHz,802.15.4, Ethernet) and breakout boards to connect to external sensors and circuitry.
Better yet, more TinyCircuits will be releasing each month. This means that the options for TinyScreen owners will continue to expand, as more and more modules are offered.
The TinyScreen Kickstarter
The campaign is currently funded, as the original goal was $15,000 and backers have now pledged a total of over $72,000. That means this project will definitely be greenlighted. Unlike most Kickstarter campaigns – which have you waiting years to see the final product – you can expect to get your first TinyScreen model as early as January, 2015. That is, of course if there are no hiccups in the mass production chain.
Just $25 will net you a TinyScreen OLED display without the TinyDuino processor board and USB programmer. A more expensive $50 kit will get you both of those components, which are almost necessary unless you want to build your own from scratch. The processor will allow the device to perform more powerful operations, while the USB programmer will allow you to connect the device to a computer and upload custom code.
The video game version comes pre-loaded with Flappy Bird and Asteroid clones. Tiny Circuits promise that more games will come in the future. There will also be a community behind the device thanks to use of the Codebender platform. That means, eventually you'll be able to download custom software, apps and more from third party developers.
Why the Hell is This so Exciting?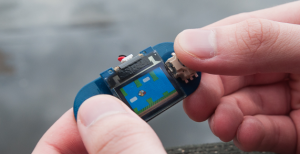 Quite frankly, I'm a little surprised I have to spell this out for anyone, but here it goes. The TinyScreen is exciting because it allows consumers to build their own devices – namely wearables – with the features and functionality they deem necessary. For example, if you don't want your smartwatch to connect to Wi-Fi networks you can opt to avoid using the related module. If you'd rather add Wi-Fi and skip Bluetooth functionality you can do that instead.
As I said above, just take a look at some of the amazing things people have done with the Raspberry Pi – a relatively cheap and small computer. It's not a leap to imagine the types of things that will come about with the TinyScreen on the market. Tiny Circuits has already shown off examples of a smartwatch, gaming device, portable media player, smart jewelry or pendant, a server load monitor, and more. Needless to say, the possibilities are endless.
The TinyScreen is Great for Everyone: Build Your Own Smartwatch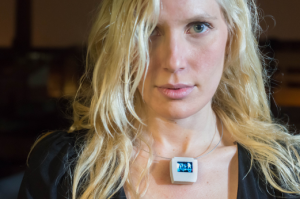 If building your own device – or programming apps and software for it – aren't your thing, there are plenty of other smartwatches on the market. Admittedly, it's likely this is not something that's going to excite or interest the average consumer. Then again, most smartwatches are a turn-off to the average consumer regardless of how popular the wearable market has become.
That said, putting together a device like this is really not as difficult as it seems, especially once you start tinkering with the components. The pre-packaged kits from Tiny Circuits will include all the necessary information and instructions for putting together your TinyScreen powered device. Once this thing is available, there will be more guides online from others who have created their own unique devices. Personally, I cannot wait to see what kinds of things the community comes up with.
I am interesting in hearing what some of you would do with the TinyScreen if you had one? What are some unique applications for the device that you can come up with? What kind of wearable would you create? Would you make a piece of jewelry, a smartwatch, or a fitness device? Would you make something else entirely? Feel free to share!