With smartwatch manufacturers starting to shift their focus to round style devices like the Moto 360, we'll finally start seeing some beautiful tech real soon. That's promising indeed, especially since a lot of the devices on the market currently include a bulky square-like design. Suffice it to say, it would be nice if you didn't look like a total nerd while wearing your smartwatch.
There's definitely something alluring about the wraparound iWatch concepts floating around out there. In a similar fashion, the Moment Smartwatch is a bracelet style device that features a full 360 degree wraparound display. Normally, we'd discuss how you can purchase or back the device financially, but the Kickstarter campaign has already been successfully funded. Now it's just a waiting game.
In the meantime, we'll take a closer look at the device and explore some of the features and functionality it offers.
The Moment Smartwatch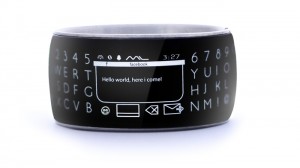 The Moment Smartwatch is a device with unique style and design elements. It looks more like a bracelet than a watch, with an open/close clasp in back. It will include several different color variations, of which are unavailable currently (the developers will release a list of colors closer to launch). It charges via a wireless dock, and can also act as a desk or alarm clock when connected. That means even while docked the device will offer a small amount of functionality.
The prototypes displayed on the Kickstarter page do not include any physical buttons, yet that may change by the time it enters production. It's meant to pair with a smartphone, and can deliver notifications, alerts and perform basic functions as any other watch. Of course, there's a lot of advanced features on offer too – or at least that's what the developers are touting.
Thanks to the 360 degree wraparound display – it goes all the way around your wrist like a bracelet – the Moment Smartwatch boasts a full QWERTY keyboard. That means, unlike most other smartwatches that rely on tiny displays and voice controls the Moment will provide the true convenience of a touchscreen device. That's what sets this smartwatch apart from the pack, and with so many devices hitting the market right now that's extremely important. That said, it will be amusing to see people plugging away at their wrist while walking around, when the device finally hits the market.
As for hardware specs, here's the full list:
1.73" 150 DPI electrophoretic display
display resolution: 320 x 240, 16 shades of gray
Color customizable clock face
TI Tiva C Series ARM Cortex M4
Nine axis Digital Motion Sensor
Multi-point, gesture enabled, 360 degree touch interface
Dual mode Bluetooth and Bluetooth Smart (Low Energy)
Audible alarm
Vibration motor
820mAhr battery
IP67 rating
USB Micro-B connector
Snapware interface
< 100g estimated final weight
Approximate key size: 5mm x 5mm
Approximate touch surface area size: two halves each measuring 32mm x 100mm
Optional charging cradle with USB connection
Moment Smartwatch Snapware
Another pretty amazing feature of the Moment is that it's modular, similar to Project Aria. On the underside of the watch is a removable panel where you can connect different modules and hardware over time. The idea is to allow owners to completely customize their device in terms of functionality. So, for example if you're a fitness buff and you want your device to calculate heart rate info you can connect a related module into the watch.
On the Kickstarter, the developers talked about releasing modules with support for GPS, NFC, inductive and kinetic charging, higher quality speakers or microphones, various biometric sensors and more.
Even better, they are going to release the full design specs and SDK for Snapware modules. In turn, that means you should be able to create your own if the particular one you want isn't already offered. The way the developers have it all planned out, you might even be able to purchase modules from third parties at some point.
What's most promising about it all is that you could continue to extend and use your smartwatch even long after it becomes old news. Most devices need to be tossed after a couple years, because more powerful hardware is required. With a modular device like the Moment you can just upgrade different internals – extending the usability of the device, provided you take care of it, of course.
Imagine snapping in a more powerful processor module or more memory to tackle hardware intensive apps. What about plugging in a camera module for those times you're going to be exploring? The latter option would be fantastic, because you could just take the camera module out when you're in a place – or doing something – you don't want to capture pictures of.
Additional Moment Smartwatch Features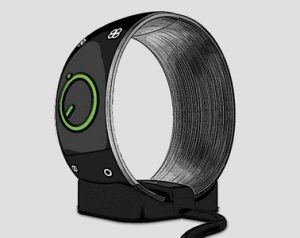 The developers claim that they are going to perfect the battery for the device so that it will last at least thirty days. While that's an extremely lofty goal, it's definitely possible especially since the device wraps around the entire wrist. They're working on a curved battery design, that is thin but still includes a lot of power. Let's hope they get it right, because any device that lasts thirty days on a single charge would be astounding.
Since it's a touchscreen device it will also support apps, threaded messaging (dubbed message board), and more. The developers are also planning to release the full SDK and API for app creation so that third party developers can produce content for the watch. This is necessary since it will be running a proprietary OS. We've seen all too often devices hit the market with proprietary software that were lacking in terms of apps because no one wanted to work with the platform. The Pebble has done fantastic at getting tons of apps available to watch owners. Let's hope the developers of the Moment can do something similar.
Moment Smartwatch Release Date and Availability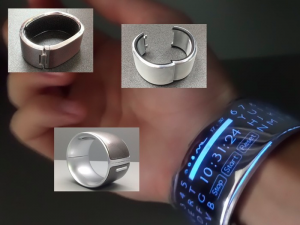 The Moment Smartwatch campaign was successfully funded on July 24, 2014. The developers only needed to meet a goal of $100,000 but backers pledged a total of $447,900. It seems like smartwatch crowdfunding campaigns do extremely well. Clearly, lots of people out there want a device like the Moment and believe that something like it is possible to produce.
Early backers and paying developers should be receiving their device sometime in December 2014, if all goes well. In January 2015, the finished product will ship to market – meaning anyone can purchase a Moment Smartwatch by next year.
Then again, as with anything funded through a crowdfunding platform like Kickstarter there may eventually be delays in production and availability. Only time will tell, and it depends on the various steps required of the developers.
Since this device is going to include modular pieces, I'm guessing it will take a bit longer than expected to ship to backers and enter the market.
If you haven't already watched the Kickstarter video introducing the device, go do it. It's inspiring and quite exciting. Personally, I really hope this device comes to fruition. We have seen crowdfunded devices turn into vaporware, or flat out terrible platforms like what's happening now with the Kreyos Meteor.
Have you purchased a Moment Smartwatch through Kickstarter? Are you looking forward to the launch of this device? Are you more interested in another smartwatch that will be available soon? Feel free to share your thoughts below.