Many believe smartwatches are a waste, and they claim it's because smartwatches don't offer anything useful – well, not any more useful than a smartphone. While we completely disagree with that logic, there is one thing we can all agree on. It does kind-of suck getting used to a much smaller display when compared to 4.5-inch and up smartphone displays. For so long the smartphone trend has been to increase the size of the display, pushing the envelope as much as possible. Now we all have to migrate back to smaller displays, which are generally less than 2-inches or so.
That may change now that this next watch has been funded through IndieGoGo; displays may no longer matter so much.
Introducing the Ritot, the "World's First" Projection Based Watch
Unlike normal smartwatches, the Ritot will periodically display information on the back of the wearer's hand. Yep, you read that right. There is no touchscreen or LCD based display, and the company bills it as the world's first projection watch.
Normally, we mention that such devices are not promised since the crowdfunding campaign must meet the set financial goal first, but the Ritot already has a green light. The company was looking to meet an initial goal of $50,000, and is currently well over $200,000. Furthermore, there are still over 30 days left to go in the campaign – which will certainly be a lot less by the time this is published.
In other words, the Ritot will be a reality and not just a concept.
What Does the Ritot Do?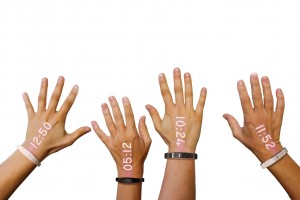 Surely, with funding well over 200K it must do something a little more than just project the time on the user's hand? It can also display several different notifications when paired with a smartphone, and the projection color can be swapped out per the user's preference – with more than 20 colors to choose from.
The best part, is that it is capable of doing all of this while still looking pretty damn awesome. That feature alone is rare these days, as a lot of smartwatch manufacturers ignore style just to cram in more functionality. It has resulted in some rather bulky, and super ugly devices that no one wants to wear on their wrist – at least not out in public.
Some of the alerts and notifications that can be displayed with the device include the following:
Incoming Caller ID
Text messages
Reminders, meetings
Emails
Calendar Alerts
Facebook Messages
Twitter
Weather Alerts
Silent vibrating alarm and timer
Notifications for any other Apps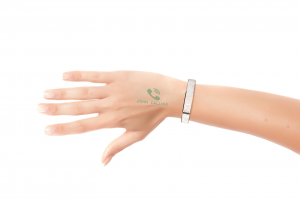 Users can also customize notifications in the Ritot app that will be available for smartphones. According to the manufacturers, "all notifications are easy to set, turn on and off" so it should be pretty robust in terms of what you can make it display.
The projection technology is visible day and night, so you don't have to worry about missing notifications. In addition, the projection will display temporarily and fade away after ten seconds. This prevents it from being a distraction when you're out in public or at meetings. There's no mention of a silent mode, but we're hoping there will be one available. It would be nice to disable notifications for a while, like if you're in the movie theater.
The band and shell are waterproof, and there are several designs which pander to all genders. The battery will last for an entire month in standby, or 150 hours while the projection mode is active. In addition, the device can be worn on either hand and the projection will display properly.
There are Two Ritot Models Available: Bracelet or Sport
As the names imply, the bracelet model is designed to be worn as jewelry while the sport model is meant to be worn by athletic types. Each variant comes in different colors and uses a unique form factor.
Bracelet Model
The bracelet model is a unique design that will fit to any style. This model will complement your unique style. Original leather insert on an aluminum bracelet is made from the highest quality materials. Currently, the watch is available in: white, black, completely black, brown-gold and black-gold
.
Sport Model
The sport model is no big wristband-like watch. It will look great in combination with your sporty style. The watch case is made of plastic with rubber inserts for a comfortable wear on the arm. The watch strap is fully made of rubber with a convenient padlock. Currently the watch is available in black, white, red, green, blue and yellow.
The colors used for the sport model are clearly more vibrant and bright, whereas the bracelet model is more about style. In addition, the Ritot watches will be available in four separate sizes which the company claims will accommodate any size wrist.
The Innovation Has Begun
Finally, competition in the smartwatch market has grown to the point where innovative and amazing things are starting to happen. The Ritot is a perfect example of the unique functionality that a wrist-worn device can offer. It would be fantastic to see the sport model support fitness and activity tracking, and if not perhaps we could see the functionality added to a future model?
This is a completely different approach than what we are seeing with Android Wear and competing devices. Most of those are about the display, user interface and unique design. The Ritot, on the other hand, is more about style.
Although, a few might feel a bit of concern about displaying a projected image on their skin. The company claims that both the device and the projected image are safe for your skin and body.
Personally, we'd love to see this thing in action however the company merely has concepts available at this time. With funding well over 200K let's hope it will help speed along the production process.
Backers can expect to get their first devices in February, 2015 if the production schedule goes according to plan. If you haven't already backed the project, you can secure several units for yourself, friends or family depending on how much you pledge to the project.
$120 = one Ritot watch
$200 = two Ritot watches
$285 = three Ritot watches
$450 = five Ritot watches
$800 = ten Ritot watches
$1450 = twenty Ritot watches
$3400 = fifty Ritot watches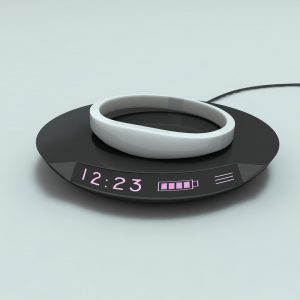 Of course, the higher tiers are meant for resellers. Free worldwide shipping is offered to all backers who purchase a Ritot watch, and a charging cradle will be provided with each unit. Therefore, if you purchase ten Ritot watches, you will receive ten charging cradles.
Once the campaign ends – which is slated for August 21, 2014 – backers will be able to choose the model, color and size of their ordered device(s).
The company estimates the final retail value at $160, which means if you don't purchase one now at the $120 tier you'll have to pay $40 more after launch. That said, some folks are willing to pay the extra money just to ensure they have a desirable device. There are more than a couple stories of backers receiving a product that was different than advertised.
What Do You Think?
We think the Ritot is pretty awesome, even if it does offer a minimal amount of features when compared to other smartwatches on the market. What do you think of the device? Do you find the projection technology interesting? Are you going to pre-order one? Do you hate the idea completely? Let us know!