The smartwatch market is about to take a monumental step forward as a whole slew of advanced devices start to hit the market. Thanks to Google's new Android Wear OS, smartwatches will no longer sacrifice style in order to provide function.
As more and more devices hit the market though, the idea of a minimal device will likely fade over time. All smartwatches will soon include touchscreen displays, a bevy of advanced sensors, cameras and lots of processing power. There is one device currently being funded via Kickstarter, that actually does the complete opposite by keeping things very simple.
That device is called the Sim smartwatch, and it is absolutely brilliant.
Introducing the Sim Smartwatch
With every new smartwatch announcement one question comes to mind: what makes this one so different from the rest? Sim is different in every way imaginable. For starters, it is absolutely gorgeous and it includes an analog clock face. There is no bulky touchscreen LCD display, nor is there any room for notifications. Instead, Sim is minimal in every sense of the word.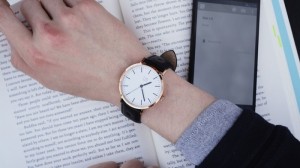 How in the hell could it be designated as a "smart" watch then, you ask? It includes three NFC – Near Field Communication – transmitters embedded in the wristband. Similar to RFID technology, NFC uses radio waves to transmite or transfer data to compatible devices. Because it is passive, it does not use excess battery power and the Sim never needs to be charged.
You program each of the NFC transmitters using your connected phone, and later you can call upon your favorite apps or functions with just a flick of the wrist or tap. For example, if you want to cut down on navigating to your device camera you can program one of the NFC chips and then simply tap your watch to your phone to launch the camera app. All three of the transmitters can be mapped to different apps, essentially allowing you quick shortcuts to your favorites.
Sim makes life simple. Personalize your watch to perform your favourite phone functions, and do it all with a flick of the wrist. This means more time living, and less time letting life pass by.
The best part is that it's compatible with Android, Windows and even Blackberry devices. Apple's handsets don't include NFC technology yet, so iOS users will have to wait. That said, there are NFC enabled cases available for iOS devices like the CashWrap.
As listed on the official Kickstarter page, here are some of the things you'll be able to do on your smartphone with just a quick tap from the Sim smartwatch:
Capture photos instantly
Turn on the flashlight
Start or stop music and media playback from anywhere
Lock or unlock your phone without using your hands
Launch social media apps instantly like Facebook, Twitter or Foursquare
Start GPS tracking or pull up local maps
Send texts or make a call with a single tap
Share contact info with friends, family and those nearby instantly
Don't Ditch Your Smartphone
The Sim embraces the fact that you're not going to ditch your smartphone which is absolutely brilliant. Most other smartwatches connect directly with a smartphone to deliver notifications. The Sim doesn't deal with any of that, after all you already have a phone why do you need a watch to handle the same stuff? With the Sim you can activiate various functions and apps hands-free by tapping the NFC radios together.
You don't need an app directly from Zetsu Labs either. You can program the integrated NFC sensors with third party apps too. Here are the instructions for doing so right from the official Kickstarter page:
(1) Write. There is a variety of apps you can use to customize NFC from Google, Windows, BlackBerry, etc. We use the top-rated Android app Trigger, offering 166 320 possible function combinations. You can find it in the Play store under "Trigger". To get the most out of Sim, we strongly recommend getting the PRO version. It's only $1.99.
(2) Select. Select "Write Tag."
(3) Place. Place the 3 sections of the Sim up to your smartphone one at a time.
(4) Pick. Pick which functions you want for the 3 different areas and enjoy!
Handsets the Sim will work with include the Nexus series (4, 5, 7, 10), Galaxy series (S3, S4, S5), Note series (2, 3), HTC One, Moto X, Sony Z1, LG H2, Blackberry (Q10, Z10), and more. If you'd like to see the full list, head on over to the Sim Kickstarter page and take a look at the FAQ.
The Sim Smartwatch is a Genuine Watch
Unlike a lot of other devices on the market that have been manufactured with chintzy plastic or cheap materials, the Sim is genuine. The wristband is designed with 100% genuine leather in brown or black, and the body is made with rose gold plating. The front glass is scratch resistant, and it features Japanese quartz movement. In addition, you can wear the Sim anywhere including the shower, because it's water resistant up to 5 ATM.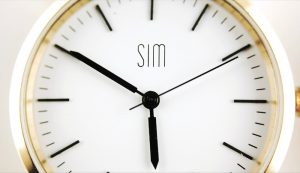 The watchface is white with black accents, and there are no number indicators – as you can see from the photos.
Once purchased, the Sim includes an 18-month warranty for manufacturing defects. If there's an issue with the device within that time – due to a manufacturing problem – the company will replace the watch. If there's an issue and you don't want a replacement – or they can't offer one for some reason – they will refund the price of the watch plus an additional 10%.
You'll also be pleased to know that it can be cleaned by gently wiping the exterior with a damp cloth. This is something you can't do with most other smartwatches, unless they have a water resistant design.
It uses a "one-size-fits-all" design with a total of 8 separate size notches.
The Sim Smartwatch Kickstarter Campaign is Live Now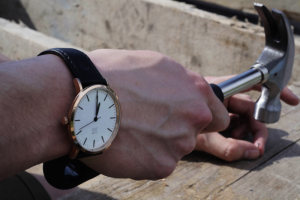 The Sim Kickstarter campaign is currently live with four days left to go as of the time of this writing. It's entirely possible the device may not be funded as the campaign has only raised $5,566 CAD out of a total $15,500. That's quite a bit to go in just a few days. There's no word on whether or not Zetsu Lab, the company behind the Sim, will continue towards production if the Kickstarter falls through.
At this point, production has been secured. We have Sim working prototypes, but have come to Kickstarter to make Sim ready for the world. With the funds raised, we will be able to produce Sim on a large scale. Some expenses will include mold fees, tooling costs, raw materials, and more. The Sim you receive will be tested for quality and NFC functionality.

However, Kickstarter is about collective innovation. If you have ideas you'd like to see implemented, we'll consider them for Stretch Goals or next generation Sims! Take a look at the development up until this point. This is just the beginning. Now, be part of the story.
If you're interested in supporting the campaign, the lowest tier of $65 CAD will earn you a Sim with a brown leather wriststrap along with free shipping in Canada (it's an additional $10 for shipping elsewhere). The estimated delivery time for the first Sim watches is November, 2014. Zetsu also guarantees that date and promises there will be no delays since there are no apps to developer or kinks to iron out with the device.