One of the biggest problems with smartwatches is that they last for only about one full day before requiring a charge. That may be somewhat acceptable for smartphones – though I'd personally argue otherwise – it's a little less so for wearable devices. The argument about it being ridiculous is certainly valid, when you can purchase a traditional analog watch for a fraction of the cost and always have access to the time – and a battery that lasts for months, if not years.
One thing is certainly clear, and its that manufacturers need to step up their game and find a way to make those batteries last longer. At launch the Moto 360 was reported to last less than a day, but will now last longer thanks to a recent software update that made a few tweaks. More recently, Apple's CEO Tim Cook confirmed – in a rather roundabout way – that the Apple Watch will only last for about a day before requiring a charge too.
Cue the Geak Watch 2, which – according to the manufacturer Shanda – will last for about a whole week before needing another charge. Is this to be believed, and if so how is it even possible? Let's take a closer look and find out.
The Geak Watch 2 Lasts For A Whole Week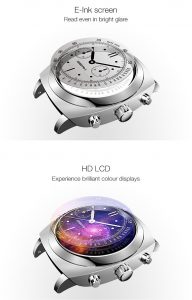 As an expert rightfully says, Shanda was able to achieve the week-long battery life with some "very clever" hardware implemenations. It uses a combination of display types, switching between a "high definition" LCD colour display and a low-power e-ink one that includes a "standby mode."
According to Ben Wood from the CCS Insight firm – a tech consultancy – the improved battery-life most likely means the Geak Watch 2 will be used by owners more often than other models on the market.
"One of the big challenges that smartwatch manufacturers have had is that people stop using the devices, and one of the reasons they do so is that they have to be charged on a regular basis, whereby they are being taken off constantly. Anything that enhances the battery life is a big win. That's why we've seen people who have Pebble devices typically using them longer than some of the rivals with daily charging requirements."
For comparison, Pebble smartwatches also last for about a week (seven days) thanks to their low-power e-ink displays.
What is the Geak Watch 2?
The Geak Watch 2 is produced by Shanda, a Shanghai, China based manufacturer that was also responsible for the original Geak Watch – launched back in 2013. Sadly, the original model only lasted for about ten to fifteen hours on a full charge nowhere near the new battery-life ratings of its successor. Luckily, owners of the Geak Watch are being allowed to trade in their device for a new one at no extra charge. Therefore, if you are an owner of the original Geak Watch take advantage of that offer!
As for the Geak Watch 2, there are two separate models available: the Geak Watch 2 Basic, and the Geak Watch 2 Pro. Both used the unique technology which switches between display types, however there are some slight differences.
Geak Watch 2 Basic: Will last six days on a single charge with normal use or 15 days in standby mode. It costs 1,999 yuan which is about $327, or £203.
Geak Watch 2 Pro: Will last seven days with normal use or 18 days in standby mode. It costs 2,499 yuan which is about $409, or £254.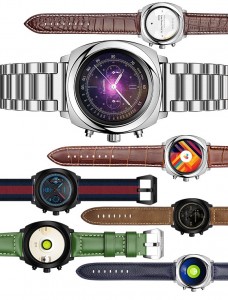 The two different display types can be swapped manually by pressing the designated power button. When you want to take advantage of the more advanced features, you can simply turn on the screen and press the related button. When you're done and want the device to enter standby, you simply press the button again. It's incredibly easy, and it works great.
Both models include a 1.3-inch round display operating at 254ppi when in LCD mode, which is comparabale to the LG G Watch R. The Pro model sets itself apart by also including a metal body – as opposed to plastic – and an integrated heart-rate monitor.
As for the LCD friendly software component, the watches are using a custom-skinned version of Android 4.3 instead of Google's alternate Android Wear OS. The devices will have access to a proprietary app store, that includes compatible apps. The downside is that Google Now won't be available for the most part, because it's use is prohibited in the parts of China where the device(s) are being sold. Also interesting to note is that the device is said to be compatible with both Android and iOS handsets, so even though it's powered by an Android OS it still has cross-platform support.
How Does This Even Work?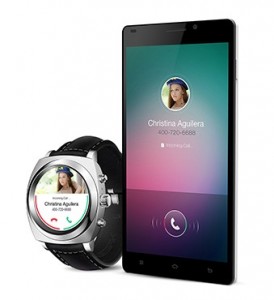 The more popular way to cut power-consumption is to use a more efficient processor in the device in question. Unfortunately, for Chinese manufacturers it's tough to outfit these budget-friendly devices with more expensive hardware. Therefore, companies like Shanda are forced to innovate elsewhere. Good thing too, because this may very well become widely adopted if it all works out right. It's not just efficient, it's a damn cool idea, as well. Thanks to the dual-display technology you can leave the e-ink portion on all the time so your clock info is always visible. When you're ready to take advantage of the advanced Android functionality, you can just press the power button to swap. Essentially, you get the best of both worlds crammed into a single device.
Perhaps, the most interesting thing about the Geak Watch 2 is the price – which is significantly cheaper than what many of the name brands are offering. It's not just cheaper either, the functionality is more robust simply because of the increased battery life. After all, all that power in the Apple Watch, Samsung Gear S, LG G Watch R and Moto 360 aren't going to do you any good if your battery is dying all the time.
"We're seeing a tremendous amount of innovation in wearables coming out of China. It's amazing how all of the different manufacturers quickly follow successful ideas. But China is not only the epicentre for innovation, it's also the source of extreme price erosion, which is making things challenging for the established players."
Mr Wood makes a great point. Big names in the business like Samsung, Asus, Motorola and even Apple are offering devices that have less-capable batteries. It's a bit of a stretch to think consumers will be willing to make the huge downgrade, especially since many smartphones are now being designed to last for an extended period of time. Why settle for a smartwatch that won't even last for longer than a day?
What Does the Geak Watch 2 Mean For the Future?
For now, Shanda is the only company to make use of the dual-display tech but it won't be long until we see someone else borrow – or improve upon – the same idea. Who will be the first to offer a device with longer battery life? Will it be Samsung, Motorola, Apple or someone else entirely? To be perfectly honest, it doesn't really matter. This is good news for consumers either way, because it means more innovation is on the way. Hopefully, within time we'll see wearable devices and smartwatches that can last for weeks at a time, maybe even months. Sure it seems like a stretch right now, but then again doesn't a device that lasts for a full seven days?
If you'd like to know more about the device or you'd like to pledge your support head on over to the Pozible crowdfunding page.