The indie, sandbox game Minecraft has long been a phenomenon. It started out small, available only on PC and now you can own it on pretty much any console or game system. Gamers of all ages adore it, if only because it's possible to do so much in the world of Minecraft. There are hundreds — if not thousands — of user created videos, maps and images all across the internet that have been taken in-game. Minecraft lovers have recreated tons of real-world monuments and locations, plenty of fictional locations and even some pretty crazy objects such as an in-game supercomputer. There's no end to the amount of things you can create with the game. That probably explains why it's made the jump across so many platforms, and gamers love playing with one another. Younger kids share their worlds through servers online and even game communities, allowing others to download their content. Thanks to wearable devices, there may be a whole new way to share your custom Minecraft world.
Are you a Minecraft lover? Do you also happen to love wearables and smartwatches? You're in luck because it looks like those two things have now been meshed into one device. That's right, there is now such a thing as the Minecraft Gameband.
Wait… what?
Introducing the Minecraft Gameband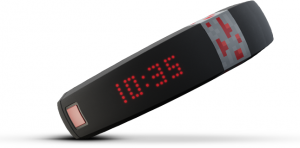 The Minecraft Gameband is a proprietary themed wearable that allows players to port around their custom worlds everywhere they go. While the Minecraft Gameband may be specifically designed for younger audiences, everyone can take advantage of its unique features.
It's pretty much just like a budget-friendly wearable smartband, manufactured out of black silicone. It includes a digital 140-LED display that can be configured to output any kind of notifications or alerts you want. Yes, that means owners can completely customize what content is shown on the screen. You can also display scrolling text messages, the current time and date, or even the available storage space on the device. Thanks to a special compatible software application, you can setup unique animations that scroll across the screen, as well. The animations and images can be uploaded to the device using software called Pixel Furnace – offered for free by the device's manufacturer. There's an online community behind the device that allows you to install custom content to display on the screen similar to what you'd find on MyPebble.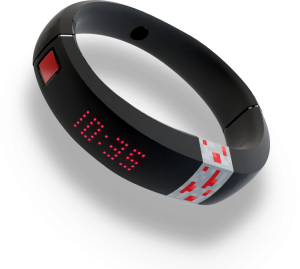 Resourceful users should be able to whip up some pretty cool content to show-off on the display. Since it supports pixelated images and animations, maybe we'll even see some Minecraft themed display notifications and alerts?
As an added bonus the device itself is water resistant — which is essential for a kid-friendly gadget — and if something happens to it the company will offer a discounted replacement within 24 hours. The replacement device will include the latest world backup preloaded on the internal storage. Not that you should tell them, but if your munchkin misplaces their band you can have it replaced for a fraction of the cost — which is always a plus.
Those features aren't what make the Minecraft Gameband special, however.
What sets the Minecraft Gameband apart from other wearables is that it includes 8GB of internal storage — double what you can find in most smartwatches these days — that can be used to store the wearer's custom Minecraft worlds. There are also cloud backup opportunities available for band owners, so you don't have to worry about corrupted data – at least not as much.
While the band is solid black, there is a redstone themed portion comprised of stainless steel that wraps around the device near the LED display.
How Does the Minecraft Gameband Work?
http://youtu.be/UUDErWCDmZc
It all works pretty simple really. The Minecraft game files are stored on the internal drive. When you open the clasp on the band and plug it into a USB port, a quick setup wizard will automatically launch. The wizard sets up the necessary game files, right along with the backup system. After, you just launch the game, sign-in to your Mojang account and off you go. Once you close the game, the necessary save files are backed up automatically to the cloud.
If you're wondering how this thing plugs into a computer, the clasp separates and the band includes an integrated male USB port.
All computer systems are supported including Windows, Linux and OS X.
Who Made This Thing?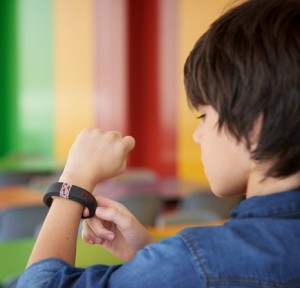 A Barcelona-based company known as New Computing is responsible for the Minecraft Gameband. A representative for the company, Maye Mac-Swiney said that they wanted to make something "cool and appealing," when asked why the Gameband was created.
"We wanted to make our product comfortable and easy to use. It would have been way easier, engineering-wise, to do something more normal, but we wanted to make it cool, appealing and something that would add more value to our customers."
A prototype was built and sold originally at Minecon in 2013 — a grand Minecraft themed convention. Mac-Swiney says that the model available to consumers has been significantly improved.
"We learned a lot. We learned confidence, how to market the product and how to improve it. For example, a simpler opening and closing mechanism, and a black frame that made the LED display look better."
To make the Gameband more enticing, and more worthwhile, New Computing it also loading it up with some bonus Minecraft game content and material.
"We have preloaded maps and mini-games from Minecraft superstars like Hypixel, SethBling and Dragnoz. It's no secret that hundreds of thousands of Minecrafters love to play on servers or maps. And yet, some gamers don't know how to download them or don't even know all the maps that are out there."
To make things easier, they've included this content on the USB drive along with the game install files. That means Minecraft Gameband owners will be able to enjoy this bonus content, right along with the vanilla Minecraft version. Though, it's difficult to predict how that will work with future Minecraft version updates and mod updates. For instance, will users have to install the updated files themselves or will the Minecraft Gameband automatically acquire the new content? Furthermore, since Minecraft updates regularly that means it will eventually no longer be compatible with the offered bonus content.
Minecraft Gameband Price and Release Date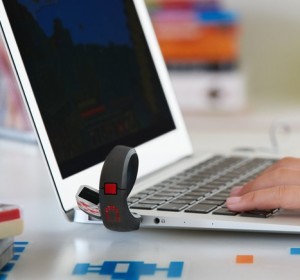 If the Gameband sounds interesting to you, or you already want to pick one up, you'll be pleased to know that it's available now at retailers like Target, GameStop, EB Games, and Newegg. The band itself is $79.99 and even though it comes with bonus material that price does not include the cost of a Minecraft license. That means you'll also need to purchase Minecraft on PC, unless you already own it. There's no word on whether or not the Gameband will ever be compatible with console versions of Minecraft. Although that would be pretty awesome, it's not likely to happen anytime soon – if at all.
Admittedly, that price point may be a little steep especially when you consider you'll also need to purchase the game license in order to use the thing.
New Computing says the Minecraft themed band is not the only one in the works. They're also planning on creating several bands for other games.
"We're working now on three more editions which we can hopefully release in the first or second quarter of 2015," said Mac-Swiney.
It makes you wonder what other titles will get the treatment. What games would you like to see made compatible with something like this? What games do you play in multiple locations?