One thing that I've noticed — and I'm sure many of you have, as well — is that the more you lower the price range for the wearables or smartwatches you're looking at the less you get in regards to features. And this makes perfect sense, it's par for the course with consumer products.
Except, with smartwatches they tend to lose some of their most vital features — things which make them "smart" and capable.
For example, let's consider budget-friendly fitness trackers for a moment. Most of the cheaper models do not come with GPS support. This isn't necessarily a huge setback as you can carry your phone and track GPS as an alternative, but then why are you wearing the watch or band? Sure it can track fitness stats, but so can your phone if you're carrying that anyway.
Queue the Amazfit Bip, a relatively cheap, fully-featured smartwatch that is purported to have amazing battery life — anywhere from a month to 45 days.
At a glance it resembles the Apple Watch, though it's certainly less "premium" when it comes to build quality. That's not to say it's not durable or reliable.
It's rocking a 1.28-inch reflective color touchscreen display that employs always-on technology. This means like a regular watch, the screen is never blank. That's impressive considering the Bip gets anywhere from 30 to 45 days of battery use — the longer rating with minimal notifications and use.
Inside you'll find GPS, an optical heart rate sensor, a 3-axis accelerometer, and both a barometer and a compass. GPS allows you to track your runs — directly on the watch — with detailed stats, mapped routes and what Amazfit calls "heart rate zones" allowing you to see areas that were more strenuous or difficult.
But even with all of that, it's more than just a fitness-ready smartwatch.
What Else Can the Amazfit Bip Do?
The Amazfit Bip is less than $100, and includes an always-on display with over 30 days of battery life. You can't beat it.
While the main allure is sports and fitness tracking, there's so much more it can do.
Phone and App Notifications: You can receive notifications and alerts from your phone, including calendar, text messages, email, social network, communication and chat (WeChat, WhatsApp, Skype, Slack) apps.
Additional Tools: The watch also includes personal alarms, timers, a directional compass, local weather forecasts, and more. They come in the form of "pre-installed" apps.
Sleep Tracking: Bip will also track your sleeping habits to display information like the duration of your rest, deep sleep and light sleep phases, and wake-up times.
Compatible: The Xiaomi Mi Fit companion app is available for both iOS and Android devices, so you're covered.
Multiple Styles: At checkout, you have the option to choose between four distinct colors: Onyx Black, Cinnabar Red, White Cloud, and Kokoda Green.
Hardware-wise it's a great replacement for Pebble smartwatches, which are no longer available. Although, one caveat many owners are reporting is the Mi Fit app is not ideal. Hopefully, Amazfit — developed by Huami, the company that makes Xiaomi's hardware — will improve it over time.
Amazfit Bip Full Specs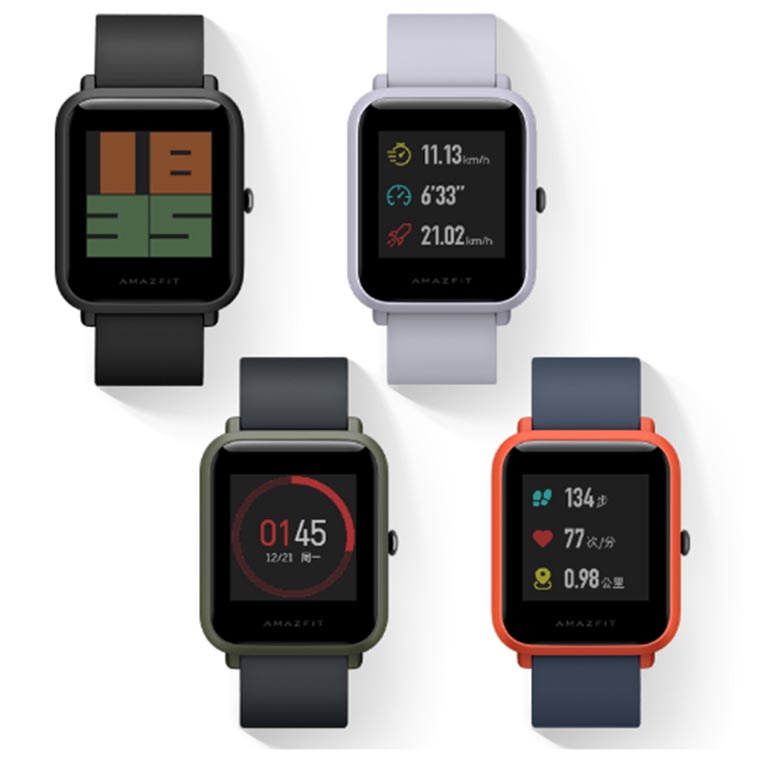 There are four colors to choose from: Onyx Black, Cinnabar Red, Kokoda Green and White Cloud.
If you want a more detailed look at what the Bip has to offer, here's the full list of specs:
1.28 always-on reflective touch display (color)
2.5D Corning Gorilla Glass (Gen 3 with AF coating)
IP68 dust and water-resistance rating
190mAh Li-Polymer battery with 30 to 45 days total battery life
Multiple Sensors

Optical heart-rate
Geomagnetic sensor (compass)
Air pressure sensor (barometer)
GPS and GLONASS for accurate tracking (Sony 28nm)

Weight: 1.1 ounces or 31 grams
To top it all off, the Amazfit Bip uses a 20mm standard width watch band size which means you can swap out the stock band for anything comparable. If you don't like the material or style just swap it out.
How Much Does the Amazfit Bip Cost?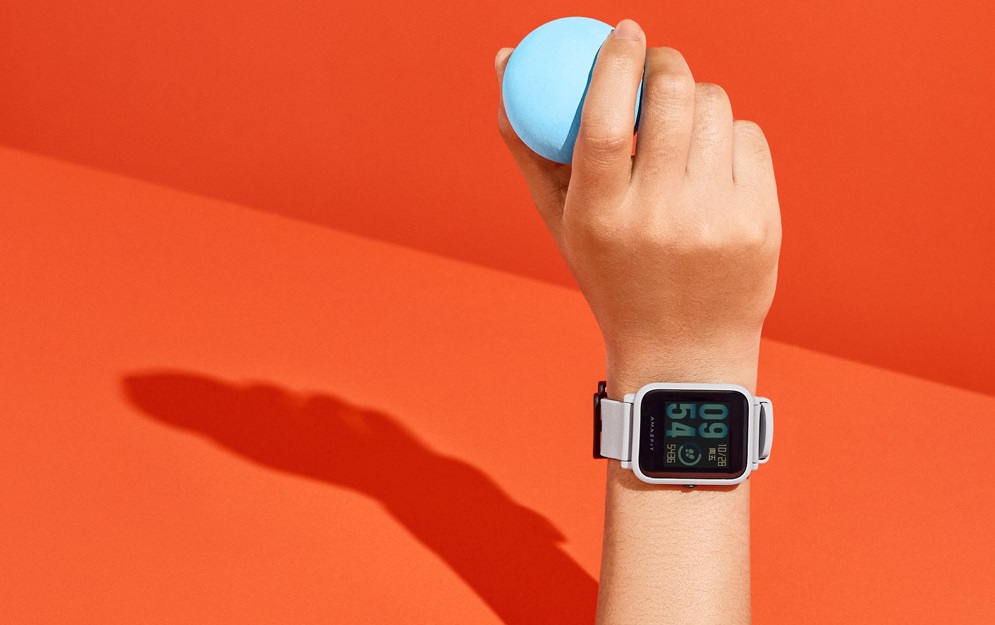 It looks a lot like the [now-defunct] Pebble smartwatch models.
The retail or list price for the Bip is $99 which you'll most certainly find through the official Amazfit shop — unless they're having a sale or something. That is not a bad price at all, considering how capable and feature packed this thing is.
Luckily, you can find it much cheaper through other sellers, like Amazon.
Stay tuned, because we'll have a more detailed review when we finally get our hands on it!