From way out in left field, Amazon just unveiled a new Echo branded device, called the Echo Look. It seems ridiculous, especially when you hear the water cooler pitch, but this thing is seriously cool.
We're not here to convince you, but if you're wondering what it is, then keep reading.
What Is the Amazon Echo Look?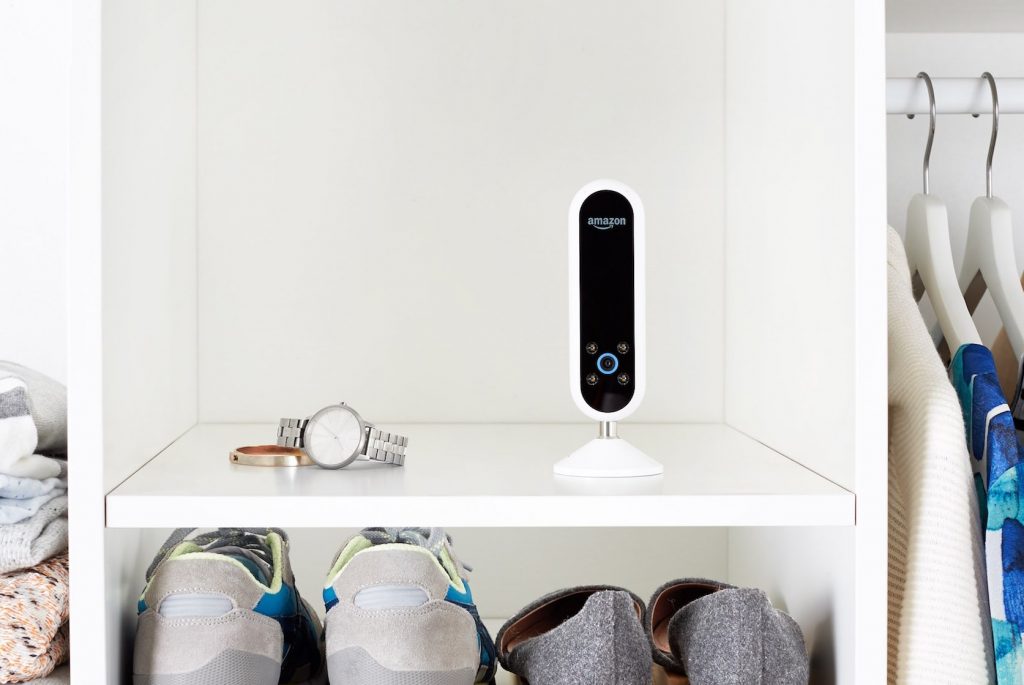 The Amazon Echo Look is just like the other Echo devices – including Tap and Dot – and even has Alexa packed inside. The big difference is that it includes a camera to take photos, videos, and more. But the real allure of Look, is just what the name suggests. Alexa can now see you, and will offer fashion advice.
Here are some juicy highlights Amazon lists on the Echo Look product page:
Using just your voice, easily take full-length photos and short videos with a hands-free camera that includes built-in LED lighting, depth-sensing camera, and computer vision-based background blur
See yourself from every angle with the companion app. Build a personal lookbook and share your photos.
Get a second opinion on which outfit looks best with Style Check, a new service that combines machine learning algorithms with advice from fashion specialists
Echo Look helps you discover new brands and styles inspired by your lookbook
Ask Alexa to read the news and audiobooks, set alarms, get traffic and weather updates, control smart home devices, play music, and more
Always getting smarter and adding new features, plus thousands of skills like Starbucks, Fitbit, NPR, and more
Sounds a little crazy, right?
It sure does, especially when you may or may not be that into fashion yourself. But that's the thing, this is Alexa equipped with a camera. Think of all the ways you interact with Alexa on a regular device, and now consider how you can do it with the Look. The possibilities are broader, endless you could even say.
Amazon Echo Look Specs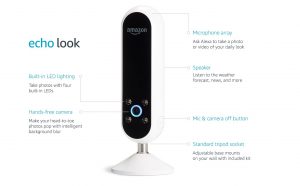 First things first, the Echo Look has the appearance of a small top-standing speaker or air purifier. It has a conical base, with a tall, extended head. At the top is the microphone array which Alexa uses to hear you speak. Then, there's the speaker, where Alexa can talk, play music, and more. There's also the built-in LED ring that you've come to know and love from the regular Echo devices, only this one is much smaller. Finally, you have the hands-free camera, a mic, a camera-off button (yes, you can turn it off completely), and an adjustable tripod socket which is just a fancy way to describe the base.
With the Echo Look app, you can view and browse personal outfits, and you can also get a second opinion, not just from Alexa but from "fashion specialists" who also use the platform, according to Amazon.
Going out on the town? Have a hot date? Want to make sure you look your best?
Alexa can now see what you're wearing and help you look slick, clean, and ready to take on the world. I have to admit, even as someone who cares little about fashion, this thing is pretty cool.
What do you think?
The Amazon Echo Look Goes Well with the Echo Show
Of course, there's also the Echo Show too, which retails for about $100 more.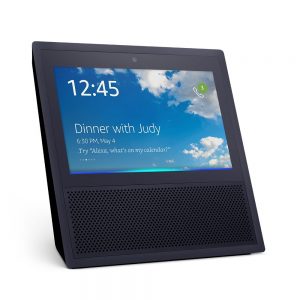 Wait…what? There's another new Echo device?
Yep, sure is. This one is meant to pair with the Amazon Echo Look, which is why it's called the Show. It has a touchscreen display and can "show" you various things.
Just like the Look, here are the details from Amazon on the Echo Show:
Echo Show brings you everything you love about Alexa, and now she can show you things. Watch video flash briefings and YouTube, see music lyrics, security cameras, photos, weather forecasts, to-do and shopping lists, and more. All hands-free—just ask.
Introducing a new way to be together. Make hands-free video calls to friends and family who have an Echo Show or the Alexa App, and make voice calls to anyone who has an Echo or Echo Dot.
See lyrics on-screen with Amazon Music. Just ask to play a song, artist or genre, and stream over Wi-Fi. Also, stream music on Pandora, Spotify, TuneIn, iHeartRadio, and more.
Powerful, room-filling speakers with Dolby processing for crisp vocals and extended bass response
Ask Alexa to show you the front door or monitor the baby's room with compatible cameras from Ring and Arlo. Turn on lights, control thermostats and more with WeMo, Philips Hue, ecobee, and other compatible smart home devices.
With eight microphones, beam-forming technology, and noise cancellation, Echo Show hears you from any direction—even while music is playing
Always getting smarter and adding new features, plus thousands of skills like Uber, Allrecipes, CNN, and more
If you're interested, head on over to Amazon.