What do most people really want in a smartwatch?
There are no definitive answers to that question yet, but it hasn't stopped the world's biggest tech manufacturers and mobile software developers from knocking themselves out trying to come up with one.
Each smartwatch maker sends their new models out in the marketplace, hoping that their particular combination of smartwatch elements and styling turns into the magic bullet of popularity. So far, none of them have really hit the mark.
What if someone simply produced a whole bundle of smartwatch functions and apps, put them in a box and let the end user build their own "perfect" smartwatch?
This is the concept behind BLOCKS, a smartwatch prototype currently being crowdsourced on Indiegogo. They are calling BLOCKS "the modular smartwatch," meaning it is a device made up from an array of detachable modules. Users are supposed to snap together different hardware, sensor, app, and "dummy" (for sizing) BLOCKS to custom-create their own smartwatch.
Individual BLOCKS collectively perform all the expected smartwatch functions from telling time to taking calls to navigation services to gesture-controlled actions. The collection of hardware modules also include camera, motion, fingerprint, heart rate, microphone, audio jack, SIM card, blood oxygen, temperature, and multiple styles of display.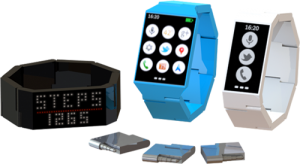 BLOCKS' app functions include email, Twitter, running, cycling, voice commands, music, smart alarm, and contactless payments.
Of course what a system like this promises is that once new apps or functions are created, they are simply put into a new module and attached to your existing device. In theory, this becomes a smartwatch that will never become obsolete, since you can keep replacing the old with the new without replacing the entire device.
Of course experience has also taught us that a device having more pieces simply means you have more ways for things to go wrong. Still, it is a different approach, and the people at BLOCKS assure us they are already in production, so it is definitely something we are going to keep our eyes on.