The Razer Nabu took quite some time to hit the market — more than a year actually — before finally launching at the end of last year, in only the United States. It's a shame because we were pretty excited for the device, which looked to be rather innovative despite its launch shortcomings.
Razer didn't make the same mistake with their latest device and successor to the original Nabu, the Razer Nabu X. It's available right now on Razer's online store for $49.99 in the US, or £44.99 in the UK.
The biggest feature of the Nabu X is that it ditches the OLED display from the original model, instead packing three multi-color LEDs that will flash in different ways depending on what the device is trying to tell you. There are also some pretty cool game-based features too, like the Steam Gamers app which we'll get to a little later.
For now, let's take a look at what Razer's improved in the latest device and what it can offer those who decide to don one.
Introducing the Razer Nabu X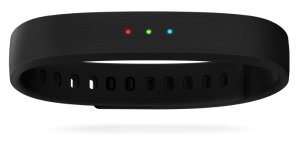 Just like the original model, the Nabu X comes as a pretty seamless — and decidely plain — band. It's available in three separate colors: black, white and Razer's infamous green. Instead of a touchscreen display or an OLED for notifications like the original model, the Nabu X includes three small multi-color LEDs.
The LED trio will flash in different colors and patterns depending on what alerts or notifications are coming through. You see, like any other 'smart' device or wearable you can pair the Nabu X with a companion smartphone. It also tracks a whole slew of fitness data, and the LEDs flash in turn when you meet specific goals which Razer refers to as a "firework display." The lights can illuminate in red, green or blue hues and the Nabu X can also vibrate for incoming alerts.
The Nabu X can track distance traveled, steps taken, calories burned and sleep patterns provided you wear it while you're in bed. Furthermore, even without a display you can still receive various alerts and messages from a connected device. You can customize how the LEDs react to certain alerts, allowing you to set distinct patterns for incoming notifications. In this way, you can still see what kind of new content has arrived on your companion device and decide whether or not it's worth looking at.
How Does the Razer Nabu X Work?
While wearing the Nabu X — and while it's connected to a companion device — you can double tap on the top to check your progress in regards to your current goal. It will flash in the pattern you have set, letting you know what the current status is. You can also shake your wrist casually to dismiss notifications and alerts that come through.
The device's accelerometer will allow it to track distance traveled, steps, the length of a workout, and calories burned. All of this information is then either transmitted to the Nabu Fitness app or third party app — including Apple Health — on a companion device.
The most unique feature of the Nabu lineup is Razer's 'Pulse' tech. This essentially allows the Nabu devices to identify and interact when they are within vicinity of one another. In terms of usability, it means the devices can share social data, activity and fitness information, game stats and multiplayer gaming options and more. We're not entirely sure if the Nabu X band will be compatible with the original Nabu, though it seems a bit silly that Razer would not allow the two variants to interact with one another. Nabu wearers can even conduct a special 'high-five' which allows them to physically interact in order to exchange digital information. Just the concept is pretty damn awesome. Imagine sharing contact information with a new friend, or high-scores with a fellow gamer just by being within a few feet of one another. Nintendo already does something similar with their portable DS lineup, and Sony even has an app called NEAR which does similar stuff through their PS Vita consoles. Of course, it will be interesting to see what kind of information can be passed on and configured through third party app support. Which brings us to our next point.
All About the Apps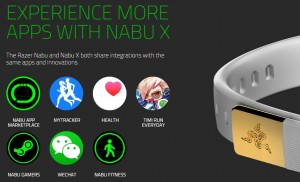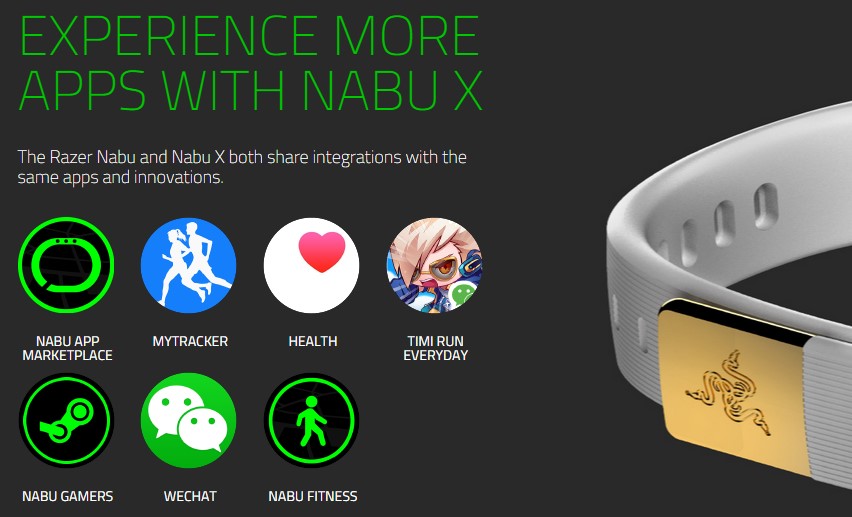 Of course, as with most wearables it's not just about what the device can do natively it's also about what kind of functionality and features can be unlocked after the fact thanks to mobile apps. Fortunately, Razer now has multiple devices to entice developers who will hopefully decide to create new apps for the Nabu lineup. There are already some pretty cool things on the way, such as the Steam Gamers app which we mentioned above.
The original Razer Nabu allows wearers to immediately and instantly share social accounts and data when they come within close proximity of one another. The Razer Steam Gamers app works in a similar fashion, except instead of sharing social data the two devices will transmit the gaming history and Steam profiles of the wearers. It works like a social curation platform to discover other gamers in your area.
That being said, not all gamers have interest in the fitness tracking support just like not all athletes have interest in the gaming features. While this device definitely speaks to a much broader audience, there is an off-chance that it ends up being a little too niche for most folks.
Then again, that primarily depends on the kind of mobile app support we'll see for the device in coming months.
Razer Nabu X Battery Life and Specifications
Like the original model, Razer claims a five to seven day battery life is possible for the Nabu X. We have no doubts about it, considering the removal of the OLED display. It's possible it may even get longer battery life than that, but we'll see. To be perfectly honest, it is kind of a shame that without a display the device can't last longer than a week but it's a significant improvement over most devices — especially if you take into account the average 1-2 day lifespan for most smartwatches.
The good news is that the Nabu X will work with iOS and Android handsets. Android devices running 4.3 and up, and iPhones of the 5, 5c and 5s variety are also compatible.
One of the Best Budget Trackers Yet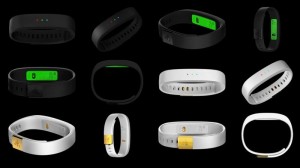 Some of the features — such as the Razer Pulse tech — are a bit gimmicky, but for $50 you really can't go wrong here. The Razer Nabu X gives some of the more popular trackers like the FitBit or Jawbone lineup a run for their money. One omission from the Nabu X is an altimeter, which means if you're into hiking or climbing exercises you won't be able to track your activity. You could always opt for the original Nabu, however which did include an altimeter if this is a problem — though you will pay double the cost for it.
Seeing as the Nabu X does track a whole slew of fitness stats, is compatible with both iOS and Android handsets, and works with a suite of fitness apps on mobile you've got plenty of options here. The only downside is that there are few design options to choose from, whereas some of the other fitness trackers have a much wider palette of colors for variety.