Do you remember the Neptune Pine? The ambitious yet not-so-popular standalone smartwatch that was running a full version of the Android OS? It's still an impressive piece of tech to this day, even if it is quite outdated. Unfortunately, it never caught fire like the developers were hoping despite a very successful Kickstarter campaign back in 2013.
Well, the makers of the Pine are back and this time they claim to have created the "world's smartest wearable." The device in question is called the Neptune Duo or the Neptune Hub if you're talking about the smartwatch, and like it's brethren it is standalone which means it allows you to shed your smartphone — sort of.
Introducing the Neptune Hub, the 'World's Smartest Wearable' and Most Expensive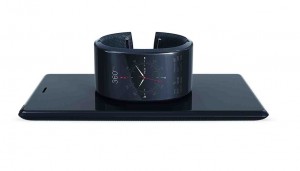 Interestingly enough, the Neptune Duo (what the entire setup is called) does not come in the form of a single wearable wrist device — not all by its lonesome anyway. Instead, it's a pair of devices designed to work in tandem. There's the actual Neptune Hub — a wearable and full-featured smartwatch — and the pocket-screen companion device. Wait, what?
The idea behind the Neptune Hub is that it reverses the role of a traditional smartwatch completely. That is, instead of a powerful and full-featured smartphone delivering data and content to a wearable receiver-of-sorts, a powerful smartwatch is doing all the work for a low-tech smartphone-like device. Why? Because the Neptune Hub's creators thought it was a cool idea, just like the Neptune Pine.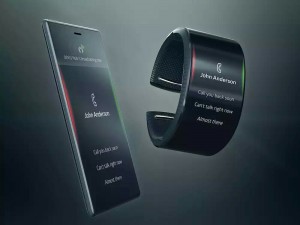 More specifically, the brain behind the project is Simon Tian, the guy originally responsible for the Neptune Pine — as we've said a handful of times already.
The biggest difference between the Hub's predecessor and it — besides the dual device setup, obviously — is that the Pine was rather bulky and unsightly. The Neptune Hub, on the other hand is definitely slick looking. It resembles Will.I.Am's Pulse wearable that he unveiled not to long ago, at least as the Hub stands in its current concept form.
Oh yeah, that's the other thing — it's not exactly in production yet. The first consumer devices aren't supposed to ship until sometime in "late 2015," which means there's a potential for delay. Hopefully, everything goes as planned though.
Neptune Hub Power, Specs and Setup
The Neptune Hub — or the wearable portion of the setup — is powered by an unnamed quad-core CPU, 64GB of internal storage, 4G mobile network support, integrated Wi-Fi, Bluetooth and a whole bevy of sensors. It's also equipped with a 2.4-inch capacitive touchscreen display. As for battery life in the smartwatch, it includes a 1,000 mAh rechargeable battery; when combined with the pocket-screen's battery the platform will offer a "few days" worth of usability according to the Hub's creators.
As for the "pocket screen," — which is essentially the dumb phone portion of the setup — it includes a 5-inch display, operating a maximum of 1280×720 (720HD) resolution. It also offers an 8MP rear facing camera and a 2MP front facing camera. It's fed juice by a 2,800 mAh rechargable battery.
Altogether, the setup is working with a whole lot of precessing power, 3,800 mAh worth of total battery power and it's running the latest version of the Android OS, Lollipop 5.0.
So, how does it all work? The pocket-screen operates just as a smartphone in a more traditional setup, connected to the Neptune Hub — or the wrist portion — to receive notifications, alerts and offer remote functionality. Of course, in this case the smartwatch is actually the device holding all the cards. That's where you'll store all your data including photos, videos, apps and more. The smartwatch is also what will maintain your connection to the internet whether that be through the integrated Wi-Fi or 4G mobile connectivity.
Perhaps one of the most interesting features of the setup is that said pocket-screens are interchangeable. As the creators claim, if you forget yours at home or on your desk at work, you can simply "borrow one" provided someone you know will allow it. That said, we don't expect a lot of these to be out there in the wild, so don't count on borrowing anything as a regular part of the deal.
What can the smartwatch or Neptune Hub do in terms of the usual "smart" features? To be honest, pretty much everything you'd expect it to be able to. There's support for making and receiving remote calls, browsing social media and the internet, tracking fitness stats, reading and composing text messages and much more. The Neptune Hub is, for all intents and purposes, a smartphone in its own right.
The Neptune Hub is The Most Expensive Smartwatch
Sure, in the package you get a pocket-screen and a standalone smartwatch but in terms of overall cost the Neptune Hub is pretty high. When you compare it's power and specs to mid-grade smartphones — which is what it's trying to be — you can get a whole lot more bang for your buck. Granted, it does have way more power than most other smartwatches on the market but that's hardly necessary at this point.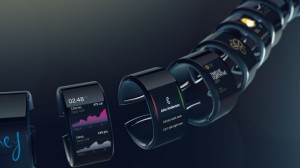 At launch — or the time of shipping — the Neptune Hub will set you back $798 for the entire setup. However, you can pre-order now — what the company calls "pledging" — for $199 and receive a discount of $200, which means you only have to pay $399 when it ships. There's a smaller plan for $49 now ($649 at launch for $100 in savings), and a larger one for $498 now ($0 at launch for $300 in savings), but that's a lot to pony up for a device that isn't exactly tangible at the moment. Long story short, this bad boy is going to empty your wallet at some point, whether that be now or later.
It begs the question, who exactly is this device for? While certainly promising and innovative in a way, it's not something that's going to be viable for the average consumer. Hardcore geeks, tech enthusiasts and smartwatch lovers might take an interest but there are plenty of other options on the market that are cheaper, and at this point a hell of a lot more realistic. It's possible the final design that enters production will look totally different to this in addition to having different specs.
With tech like this, who knows what will come out the other side of the production tunnel.
Is a Neptune Hub-Like "Pocket-Screen" or Companion Device a Good Idea?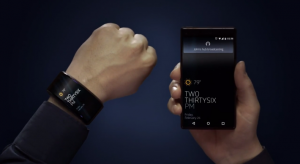 This thing is pretty cool, don't get us wrong and the ideas behind the project are more than just a little promising. It will be interesting to see if any other smartwatch and wearable manufacturers out there take inspiration from the Neptune Duo setup and deliver something similar. Imagine a standalone Samsung smartwatch that includes a pocket-screen type device, or better yet a Motorola setup.
The sad thing is, most consumers already have a companion device in their hands that's infinitely more powerful than Neptune's pocket-screen. Why would someone trade in their smartphone for this setup? Neptune is going to have to come up with a great marketing strategy to solve that problem.
What do you think of the Neptune Hub? Are you interested to see how it turns out? Do you think the price is reasonable or much too high? Feel free to weigh-in on the discussion.