I had the opportunity to get a Moto 360 hands on session, and I have to say – it's everything I've been hoping for. It is refreshing to see all the hype and excitement pay off, for once. Say what you will about the Android Wear platform as a whole, but it works great as-is and its future has a ton of potential. That said, no one wants to spend $250 on a device that just has "potential" so it matters whether or not the device in question is good enough to own right now.
Hands down the Moto 360 is the best Android Wear watch currently available. That may very well change soon enough when some of the other recently announced devices hit the market, but for now it is what it is. Personally, I have to say I'm pleasantly surprised that Motorola pulled through and really delivered.
Before jumping right into all the things they did right, let's take a moment to look at the areas where Motorola missed their mark. The problems with the Moto 360 are incredibly minor, which is why it makes sense to talk about them right up front.
Moto 360 Hands On: The Device's Most Prominent Flaws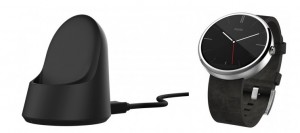 The first is the battery life, which is severely lacking. In a world where you rely on a constant connection to your devices, smartphone, tablet, smartwatch or otherwise you'd think manufacturers would try painstakingly hard to improve the length of time you can use them. The Moto 360 battery is only 320mAh, which means at most it will last a full day. Under heavy usage however, it's more likely the device is going to run out of juice before then. That's a big deal, especially for a watch. Having to remain tethered or near a charging port at all times is a nuisance to say the least. One of the biggest offenders of poor battery life can be attributed to the TI OMAP 3 processor, which doesn't utilize power efficiency as a lot of modern chipsets do.
Another problem – which is mostly cosmetic – is that a small sliver of the bottom portion of the screen remains unusable. This is because its where a couple sensors have been placed like the ambient light sensor. It means the entirety of the screen is not used, but perhaps worse than that is the fact that the entire Android Wear OS was designed to be used with rectangular or square like interfaces. The Google Now cards, notification windows and more all seem to have been designed with a square interface in mind. Every once in a while you'll notice a title, or a portion of a message has been cropped. It's not enough of a problem to earn the device a bad rating, but it is worth mentioning. For some it will be annoying, if not downright aggravating.
There are some other minor niggles, like the fact that the fitness tracking features aren't as accurate as they should be. The IP67 rating also means that it can withstand a splash or two of water, but you won't want to submerge it for extended periods of time if at all.
Moto 360 Hands On: The Android Wear Smartwatch You Want
All those problems aside, there's enough to warrant the $249 price tag for the Moto 360 and it doesn't all have to do with the sexy design. Although admittedly, that's one of the most attractive features of the 360. Sure, a lot of other manufacturers have recently unveiled round-style watches but the Moto 360 was one of the first. To add to that, a lot of the other devices that were just announced won't be available for a while. The Moto 360 is available right now.
The bands that come with the watch are fantastic, especially the leather ones. Folks with larger size wrists might have a few problems, but that's okay – because you can swap out the bands for any 22mm sized one. If you have a watch sitting at home with a compatible band and you happen to like it better than the one that comes bundled with the Moto 360, you can go right ahead and swap them out. This is commonplace for smartwatches right now, at least with most of them anyway but it's still great to see. Every once in a while, you'll have a manufacturer ignore common features such as the replaceable band in order to adopt a more proprietary approach. Take note of the Sony SmartWatch 3, for example which doesn't seem to have a replaceable band.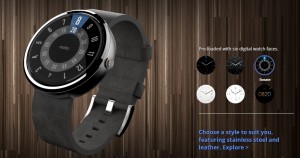 The Moto 360 is also packing 512MB of RAM, 4GB of internal storage, and a unique charging dock – which allows it to operate as a desktop alarm clock while plugged in. It even comes pre-loaded with six digital watch faces.
The real star here is the 1.56-inch LCD display, that is – who cares if already said it – elegantly round. The front is protected by Corning's Gorilla Glass 3 which means you'll have a hell of a time breaking it or scuffing it up. The primary operating resolution is 320 x 290 pixels, and it's completely visible even in direct sunlight. Yep, you heard me correctly – you can check the time, messages and more even when you're out in the sun. That last feature is pretty damn awesome, especially since the Moto 360 will remain on your wrist at all times – unless its charging.
A heart rate monitor has been positioned on the underside of the device to track daily activity. It's not as accurate as an exclusive fitness tracking device such as a Fitbit but it works if you want some idea of how active you are during the course of your day.
Moto 360 Hands On: The Android Wear Software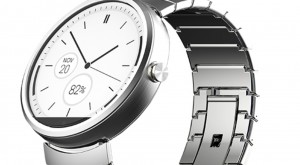 We're not going to focus too much on the software powering the Moto 360. This is primarily because if you've seen one of the watches you've seen them all in that regard. Google is keeping the lid on Android Wear, more so than the traditional Android OS. That means, any software updates and new features will arrive directly from Google instead of the various manufacturers. Some of them, like Samsung, have already tried to inject a personal touch – Sammy added some custom skinned apps to their Gear devices. That said, the experience you'll get on the Moto 360 is essentially the same exact thing as the LG G Watch, or Samsung Gear Live.
I did notice that the voice dication and search functionality worked a hell of a lot better on the Moto 360 than the other devices. To be honest, I wasn't surprised because my current daily driver is a Moto X which offers fantastic voice support. Motorola has proven they know what they're doing on that front. With the Moto 360, the dual microphone support allows it to hear and react much better than rivals.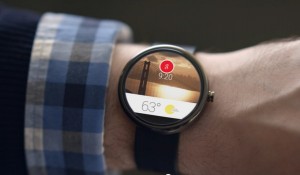 Everything you'd expect from a smartwatch is already in place. You can read notifications and alerts for emails, text messages, phone calls and even social media accounts. Thanks to several apps you can also do some cool things like control music playback, send a yo directly from your watch – don't feel bad if you don't know what that is – and more.
It will be interesting to see where Google takes the platform in the future and what stuff they decide to add. Personally, I'm hoping that the app selection really starts to pick up now that a lot of devices are finally on their way.
For now, I'm more than happy with the Moto 360 as-is and I will definitely be purchasing one as soon as my check rolls in. The biggest downside is, of course, the battery life but I can get past that. As for whether or not you can, that's up to you to decide.
In terms of form and function, the Moto 360 is the Android Wear smartwatch we've all been waiting for.