Even though smartwatches are our main focus, that doesn't mean we don't occassionally get excited about other devices on the market. For example, not too long ago we covered the Netatmo June – a smart bracelet that measures sun exposure and alerts the wearer when they've gotten too much. Given what we know about skin cancer and its associated dangers these days, a smart device that can help you monitor UV exposure – like the June – would be incredibly helpful.
That's why it's great to see other manufacturers borrowing from Netatmo's playbook to offer something similar. The UVA+B SunFriend is a wearable smart bracelet that will tell users when its time to take a break and get out of the sun.
The UVA+B SunFriend Smart Bracelet
The SunFriend works like this: first turn on the device and select your skin sensitivity rating – out of eleven different levels. Then, all you need to do is wear the device on your wrist throughout the day. It will measure any and all UV exposure no matter where you are; it can measure UV directly from the sun, reflected off  or through water, from underneath clouds and even through glass.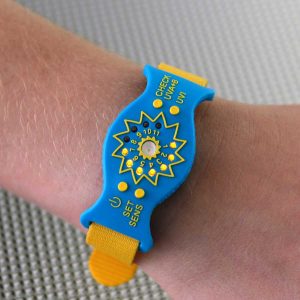 A unique LED indicator will light up as soon as the wearer has reached a safe UV dose for the day. While most people are concerned with getting too much sun, few are aware the opposite is possible also. The longer you are in the sun, the more VItamin D your body gets which can have several positive effects. First, vitamin D can give you energy and keep you awake. Second, it helps prevent heart disease and decreases the risk of strokes in later life. Other benefits include a decrease in melanoma mortality risk, a boost in your immune system and brain activity, and a reduction in the risk of breast cancer.
Of course, the SunFriend will also help prevent you from getting too much sun ultimately resulting in a decrease for the risk of skin cancer – provided you listen to the device anyway – and far fewer sunburns. Is there anyone out there that really enjoys getting a sunburn? Honestly, walking around like a steamed lobster is never fun.
Sunfriend Device Specs
The SunFriend is waterproof (up to 3 meters) which means you can wear it to the beach or while swimming in the family pool, or even a community pool. Worried about getting too much sun on your cruise or annual vacation? No problem. All you have to do is pick up the UVA+B SunFriend and you're good to go!
The SunFriend is available for $49.99 via the official site or Amazon and comes in four different colors: orange citrus, grey mist, blue ocean and green spring.