In the wake of the Apple Watch release, Google will push a huge update to the Android Wear platform to introduce a bevy of new features. Their hope is to compete with their biggest rival, and perhaps even surpass them in a few ways.
One of the most promising features being added is the option to use Wi-Fi to connect to your smartphone remotely. In layman's terms it means that as long as you are connected to Wi-Fi, you can use your Android Wear smartwatch anywhere — even without your phone on you.
Smartwatch enthusiasts have been asking for a way to use their device without a connected smartphone. With most Android Wear smartwatches, features become hampered when the corresponding phone is not within vicinity of the watch. Google is changing that with the latest update.
Obviously, this remote feature will work with any Wi-Fi network — even if it's not the same one your phone is connected to. However, you will have to configure a few settings before everything works smoothly.
Most of the Android Wear smartwatch models have always included Wi-Fi support, but the feature has been practically dormant, until now anyway.
Keep in mind that your smartphone is still necessary. It handles most of the processing, and still acts as a hub for messages, notifications and emails. Your watch simply connects to it remotely through the active Wi-Fi connection. It's exciting because this means you'll receive texts, phone calls, messages and more and you can leave your phone behind — provided the phone and watch both have access to a Wi-Fi network. This opens up a world of possibilities, which Google and third party app developers will be sure to take advantage of.
Motorola and Sony have confirmed their smartwatches include Wi-Fi support and will support the touted feature in the next update. The Asus ZenWatch, and LG's G Watch and G Watch R do not support Wi-Fi — nor will they receive support after the update.
Samsung's smartwatches, such as the Samsung Gear Live, should also support the remote Wi-Fi feature although we don't have an official confirmation yet.
What Else Is Coming in the Next Android Wear Update?
While all of this is exciting news, Android Wear owners will be pleased to know it's not the only feature coming in the next software update set to release within the next few weeks (more on that later). Google has made it their mission to support the new phone-free functionality by augmenting the software with other features that improve an untethered experience.
Meaning even those missing out on the new Wi-Fi support will still get some fresh features.
You Can Draw Emojis On Your Android Wear Smartwatch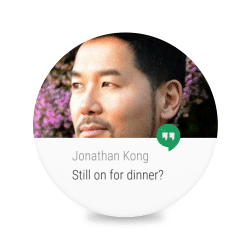 With the new update, Google is introducing the option to draw emojis directly on your smartwatch display. You can sketch images like a thumbs-up or winkey face and the watch will translate them to the corresponding emoji.
The idea behind this new feature is to allow you to send a quick response back. The best part is that when sending a text message or IM reply the receiver doesn't need a smartwatch, as emojis work just fine on smartphones and social apps.
For instance, say your significant other asks you a question and you have one of your hands full. You can reach over with your free hand and draw the appropriate emoji to respond with yes, or no. The response should suffice and appease the person on the other line. Once you have both hands free, you can elaborate with more details if need be.
Introducing Android Wear's New 'Ambient Mode'
Admittedly, Android Wear's 'ambient mode' has always been around but an update to this feature will allow apps to access it. What this means is that when apps are open and active, but the device has been left untouched, they will run in a low-power state, and keep the screen on.
While in this low-power state all content displayed on the screen is presented in black and white. Once you tap or interact with the watch it will return to full color.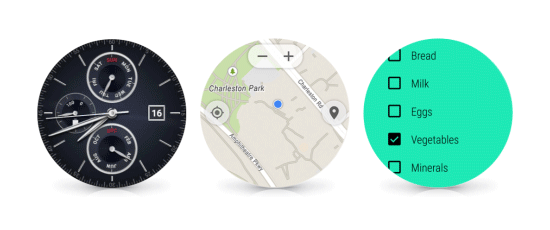 The ambient mode is optional, so you can disable it if you'd rather conserve battery. Yes, the ambient mode is designed to conserve battery but when active it keeps the display of the watch on at all times. This may not be ideal or necessary for everyone.
The updated ambient mode pairs nicely with a new hands-free gesture. You can flick your wrist to swap between open cards and apps. You can also accomplish this by swiping across your screen from right to left, which opens a 'recently used' apps list.
If you swipe from right to left one more time, you'll see your contacts list.
Previously, these two menus were hidden. So you either had to use voice activation or navigate through multiple menu layers to access them.
When Is the Update Coming?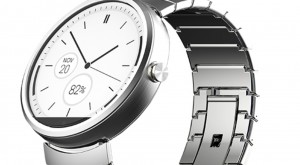 Since the Android Wear platform has been heavily restricted by Google, it means the update will be coming to all devices much sooner than if they had been adorned with forked software- custom skinned versions from manufacturers.
The new update will only be available for the newest Android Wear watch, the LG Watch Urbane, when it launches Friday, April 24.
The update will roll-out to the other Android Wear watches over the next few weeks, even those that do not support Wi-Fi like the Asus ZenWatch. While it is a bummer that some of the watches in the lineup won't be able to use the best feature of the update, at least they are still being included.
The Android Wear Smartphone App Was Also Updated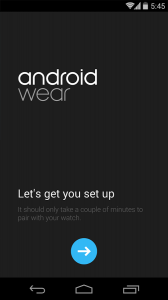 The Android Wear phone app has already been updated — the one that must be installed on Android smartphones to pair up with a watch.
The main user interface has been redesigned, with a photo of the connected watch taking center stage at the top of the screen. The rest of the options to interact with the watch are now displayed using Google's card style — the same as Google Now or the Android Wear interface.
Moreover, a shortcut to the Play Store and beginner tips have also been added.
Of particular note is the new dropdown menu which allows you to choose between multiple Android Wear watches. This comes in handy if you own more than one Android Wear smartwatch and want to swap between them quickly. This won't apply to most folks, but it's good to have nonetheless.
You Have to Manually Activate the New Wi-Fi Mode
Right when you start up the new version of the app — Android Wear App v1.1 — you'll be prompted to enable cloud sync via Wi-Fi. This is what activates the new remote Wi-Fi support, once the update has been pushed to your Android Wear smartwatch, of course.
If you do grant permission to the app, you'll still need to enable cloud sync manually in the 'Settings' menu. This is to protect you and your data, should you not wish to connect via Wi-Fi.
Conclusion
Before the update rolls out to your smartwatch over the next few weeks pay attention to the instructions above that tell you how to manually activate the new Wi-Fi mode. You'll need to do that before you can use the feature.
It's good to see that Google is still working on Android Wear despite the fact that smartwatches aren't selling as much as they'd hoped. The platform has received other updates leading up to this one, but the remote Wi-Fi support is definitely the biggest leap forward so far.
Are you excited to see the remote Wi-Fi access on your smartwatch when the update releases?