Have you been monitoring the latest smartwatch news looking for a decent Apple Watch alternative?
We're not talking about alternatives that will work with Android here. Instead we're talking about some that will work with your iPhone.
Maybe you love the look of the Apple Watch, or the long list of features, but don't want to dish out the high premium to own one? Maybe you'd rather a traditional watch that has a simple notification system built in? Maybe you don't like touchscreens?
Whatever the reason don't fret, because there are actually a few alternatives out there. Those alternatives will work just fine with iOS and your iPhone. Regardless of what you may have heard, you don't have to purchase an Apple Watch to take advantage of what smartwatches can provide.
In fact, Android Wear recently received an update that allowed many of the Wear-powered watches to support iOS. Who would have thought? You can actually use the Android smartwatches without loading third-party hacks, rooting your device or dodging official channels. That alone is great news for iOS lovers everywhere! You're not locked down to a specific model or format. Instead you have the freedom to choose! To branch out and try something new.
It's for that reason that we've picked out the best Apple Watch alternatives for iPhone that will sync up without any issues.
The Best Apple Watch Alternatives for iPhone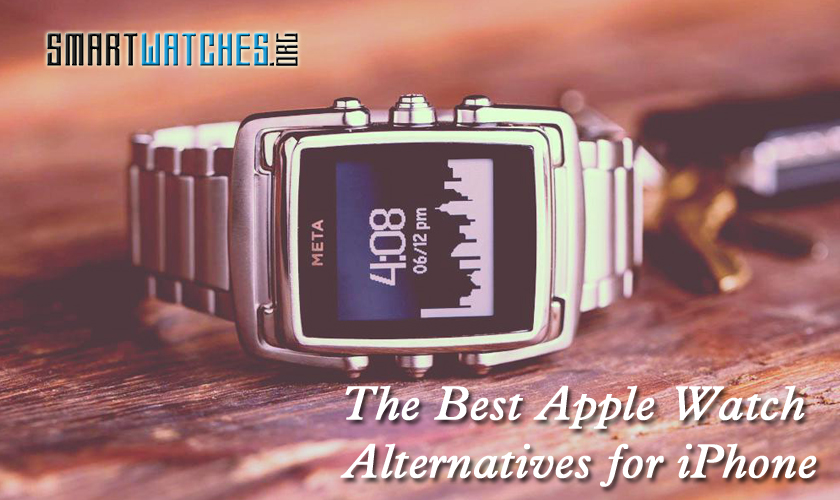 Pebble Time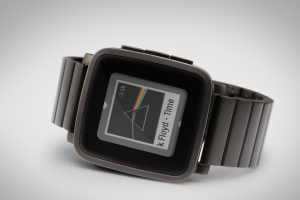 Pebble's latest smartwatch, simply called Time isn't made of the same premium materials as the Apple Watch. In fact, it looks a bit more like a toy due to the plastic design. However, don't dismiss it just yet because of that. It's an excellent device and it offers a full week of battery life on a single charge. Compare that to the Apple Watch's 24-hour max battery life and you can see why this is a viable alternative. Couple that with the price of $199 and you've got yourself a solid deal.
It doesn't include a touchscreen, instead you navigate the UI through physical buttons on the side of the watch. That said, the display is in full color this time around unlike the original Pebble or Pebble Steel.
To make things even better, if you don't like the plastic design you can opt for the more expensive Pebble Time Steel model wrapped in stainless steel for $299.
Meta M1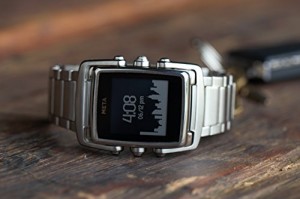 In many ways, the Meta M1 is similar to the Pebble devices. It has an incredibly long battery life — of five to seven days — supports Android and iOS, and uses a monochrome type display. However, it's definitely more stylish and attractive than the original Pebble watches. There is a handful of different wristbands available too, so you can match your own personal style.
For smartwatch features, it delivers notifications to your wrist and allows you to configure exactly what you see on the display through a connected app. Unfortunately, it does not handle any type of fitness or activity tracking at all. If you want to track your steps or calories burned you'd better look elsewhere.
The Meta M1 is $179.99, significantly cheaper than the Apple Watch and a few other smartwatches listed here.
LG Watch Urbane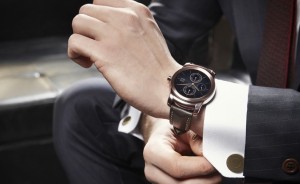 The Watch Urbane is LG's latest Android Wear smartwatch model, and it also happens to be one of the first devices to work seamlessly with the new iOS app. More importantly, it's been officially endorsed for use with iPhones so it's guaranteed to work.
The Urbane can do anything the Android Wear OS is capable of. If you want more details then check out our Ultimate Android Wear guide.
What makes it particularly interesting is that LG designed the Urbane to be attractive and stylish. It comes in either silver or gold colored stainless steel and resembles a traditional, round wristwatch.
Of course, you will pay a higher price for a more stylish option. The LG Watch Urbane is $349, about the same price as the Apple Watch Sport.
Garmin Vivoactive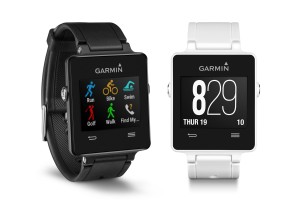 The Garmin Vivoactive is tailored for sports enthusiasts and athletes alike. It can track a wide variety of activities including biking, swimming, running, walking, and even golf.
The Vivoactive will sync up just fine with your iPhone and will even display push messages you'd normally get on your phone. That means you can be alerted when you receive new emails, messages, alerts and even application updates.
If you decide you want to add some extra functionality you can always check out the Connect IQ app-store. Obviously, it's not as robust as something like the Apple App Store or Google Play but there are some decent add-ons available.
The Garmin Vivoactive is $249; $100 cheaper than the entry-level Apple Watch.
Microsoft Band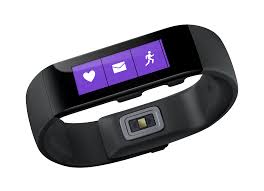 Yes, believe it or not, Microsoft's powerful fitness-tracking Band is compatible with iOS. It can deliver notifications and information from your phone, but that's not inherently why you'd buy one of these. Plus, take a look at it, it's not that attractive either.
The Microsoft Band stands out because it has a versatile and powerful suite of sensors for tracking fitness activity and data. There's even a GPS sensor built-in so you can track your location even without a connected smartphone.
In addition to tracking basic stats like calories burned or steps taken it can also monitor ultraviolet light intake, skin temperatures, galvanic skin response and more.
It's a solid tracker for $199.99 that's for sure, and it's still cheaper than the Apple Watch.
Alcatel OneTouch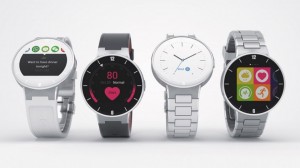 The Alcatel OneTouch is odd because it uses a proprietary OS that's neither Android Wear, Tizen or one of the many other smartwatch-friendly operating systems we know. That's not to say it's bad, but it does mean the system is relatively closed down as far as third party support from apps and the like.
It supports notifications from both iOS and Android so you don't have to worry about being locked out of features. It can also handle a variety of other smartwatch-related tasks like remote shutter support, health and fitness tracking, and watchface customization.
It won't empty your wallet either as it only costs $149.99.
Withings Activite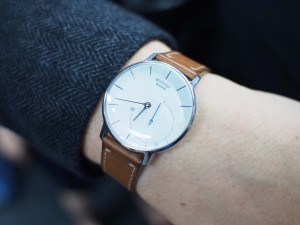 If you don't want to deal with all the nonsense of a high-tech watch on your wrist then you can always spring for the Withings Activite. It's merely a traditional timekeeper with one unique feature baked in. There's an analog "activity" dial that shows you how close — or how far — you are from your daily goal, which you set through the connected app.
What the watch tracks is up to you, as you can choose it.
There are no notifications or alerts to deal with. It's simple. It's also compatible with both iOS and Android.
The Activite is $450, which is a bit pricey. You can always go with the cheaper Activite Pop for $149.99 too.
2015 Apple Watch Alternatives for iPhone
We're going to take a moment to highlight a few more devices that are compatible with iOS. Hopefully, this will give a more complete list of Apple Watch alternates for iPhone.
Runner-ups that didn't make the list above include:
Fitbit Surge
Basis Peak
Burg 27
ConnecteDevice Cookoo 2
Garmin Fenix 3
Jawbone UP3
Mondaine Helvetica No 1 Smart
Misfit Shine
Was your favorite Apple Watch alternative for iPhone left off the list? Let us know and we'll add it for others to see.