If you're looking specifically for smartwatches with the best battery life, you're going to run into some trouble.
One of the biggest problems with smartwatches is that the batteries within them don't last long before you have to charge them. The average battery life for even the "smartest" watch is about 1 to 2 days.
Many of us already own smartphones that need to be charged daily, sometimes even more than that. Why would we adopt a smartwatch that needs to be charged just as much?
Either way, if you're looking for a watch with a little more kick in the battery department, then you've come to the right place. We're here to talk about smartwatches with the best battery life.
Weak Batteries
During your research phase when finding the best smartwatch battery life, you will find that many smartwatch batteries are weak, especially if you intend on continuously using the features the smartwatch offers.
Many companies claim that their smartwatch can last up to three weeks on a single charge, but they don't always take into account other factors like heart rate monitoring, which can take even more battery power.
A hybrid smartwatch can preserve the maximum battery life a bit better than most smartwatches and has even been known to hold a charge for up to a year. However, many hybrid watches also don't have digital screens and don't provide you access to fitness tracking and activity tracking stats.
How to Improve Battery Life
In addition to reviewing our top recommendations for smartwatches with the best battery life, there are other ways you can improve your battery life.
Turn the Screen Off
You can set your display on most smartwatches to turn off when it is not in use. An always-on screen is understandably going to use more juice because it is, well, always on. Simply go into the settings, hit display, and tap on Always On screen to turn it off.
Different Watch Faces
You can also help preserve battery life by choosing a different watch face. Those that are animated or have other interactive abilities will take up more battery power than those that don't.
Adjust the Screen Brightness
Next, adjust your screen brightness. The brighter the screen, the faster the battery will drain.
Turn Off Notifications
If you don't want to receive notifications, it is best to turn them off and can go a long way in preserving your battery power. Go to the settings and tap on notifications. You can then block app notifications.
Turn Off Wi-Fi Syncing
If you own a smartwatch equipped with Wi-Fi, location tracking services, or NFC, you will want to limit connectivity to preserve battery life. Disabling your Wi-Fi and disconnecting from Bluetooth can help ensure your battery doesn't overheat either.
Use Snooze
Some smartwatches come with a snooze feature. It won't send notifications, won't vibrate, and the screen won't light up. This can save your battery while getting rid of some minor annoyances throughout the day.
Monitor Your Battery
Monitoring your battery is another great way to save your battery. Protect the battery from any damage and make sure the settings are appropriate for your current environment. Finding the right balance is key when you try to find solutions for extending your smartwatch battery's life.
Smartwatches with the Best Battery Life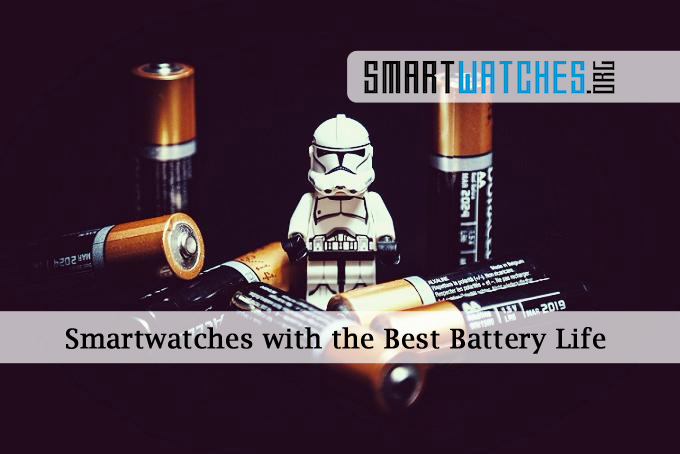 If you would prefer to own a smartwatch that can last for longer than a day or two, the ones listed below are the best available. Keep in mind that there are constantly new devices launching, which means at some point, there may be a few models better than what you see here. Nevertheless, we'll do our best to keep this list of smartwatches with the best battery life up to date.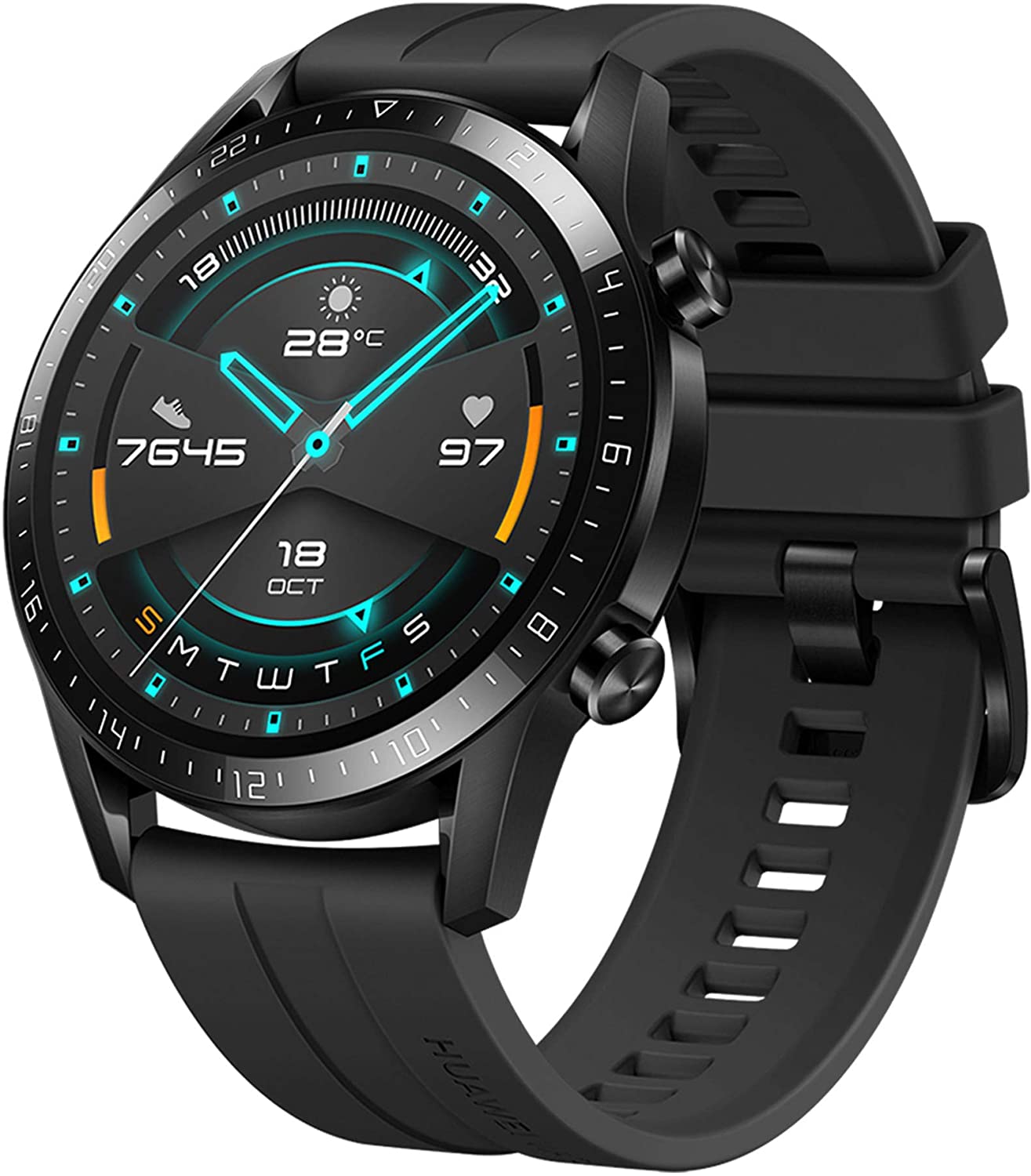 Key Features
Battery Life: 2-weeks
iOS and Android Phone Compatible
Built-in GPS
Bluetooth Connectivity
Heart Rate Tracking
The first smartwatch on our list is the HUAWEI GT smartwatch. It has a long battery life and fitness tracking. We all know how frustrating it can be to have to charge all of our devices each day. That is why finding the best smartwatch battery life is so important.
This watch features an intelligent power-saving mode, meaning that the battery can last for more than 12 days at a time! You will no longer have to worry about charging your smartwatch daily or even every few days.
Alongside this long-lasting battery, you will also find a ton of amazing smartwatch features like 24/7 heart rate monitoring, sleep tracking, a pedometer, and even a blood pressure monitor. It can also keep track of how many calories you have burned.
The smartwatch also features 15 different exercise modes that include rowing, running, cycling, and climbing, among others. It is water-resistant as well, so you can wear it while showering or swimming.
The built-in Bluetooth functionality allows you to stay connected and receive notifications, texts, and phone calls.
Overall, you will find the two-week-long battery life to be a bonus, along with its other premium features.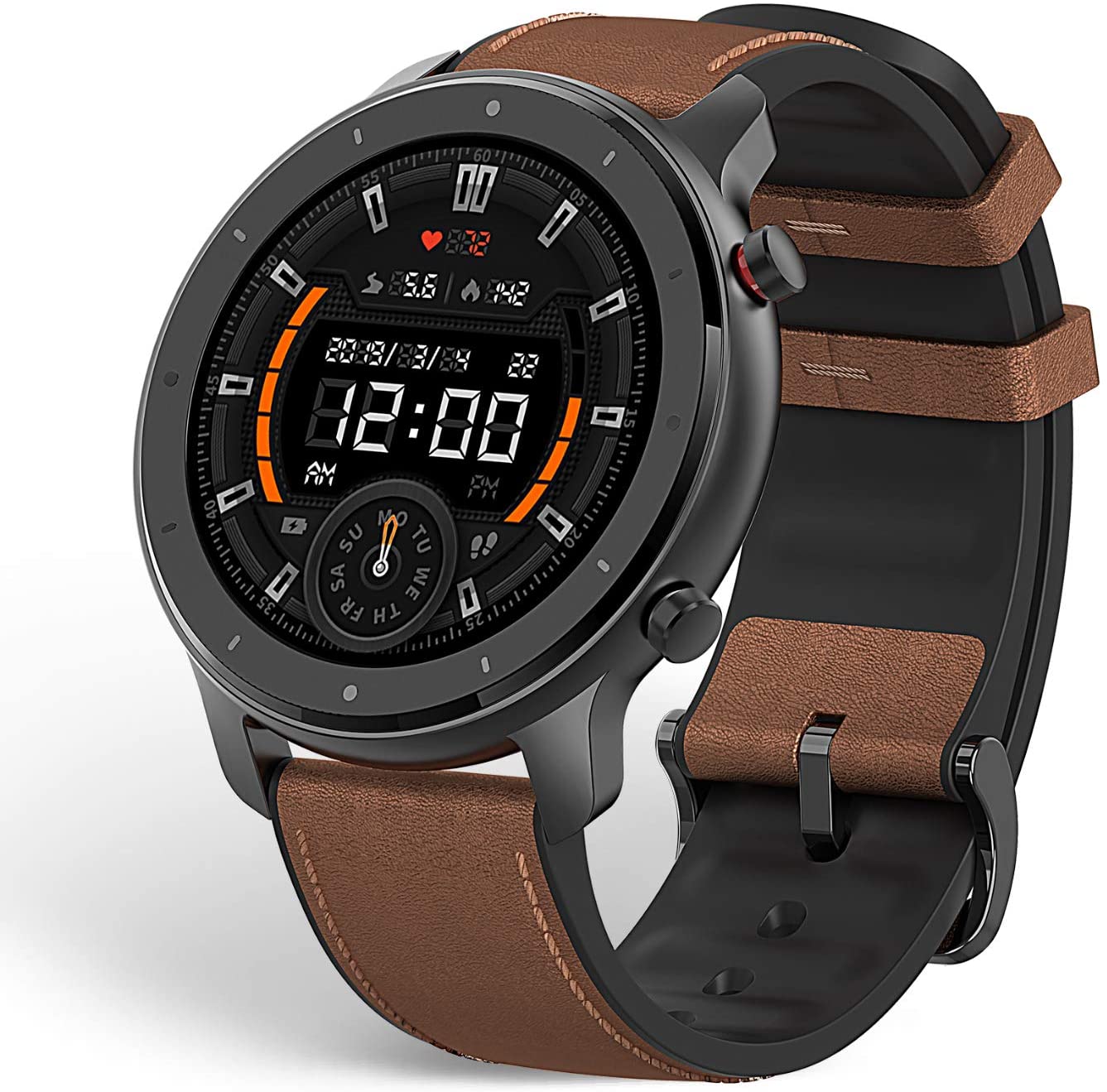 Key Features
Battery Life: 24-Days
GPS Tracking
Bluetooth Connectivity
Water-Resistant
12 Workout Modes
Heart Rate Monitoring
Although this Amazfit GTR smartwatch doesn't connect with the Google Fit app and does not have NFC capability, it still boasts of a long battery life, GPS and Bluetooth, and other fitness tracking features you are sure to want.
Because of its impressive 24-day battery life, you can use your watch as much as you want on a single charge as long as you have it in power reduction mode. On basic watch mode, you have 74 days, and with GPS continuously running, your battery life is 40 hours.
It has a classic and stylish design with modern features and a bright and crisp 1.39-inch AMOLED display. It has a dual crown and circular watch face, and the body of the watch is made of titanium, keeping it lightweight and comfortable to wear.
Its smart sports tracking technology allows you to record up to twelve different sports and fitness activities, including running, cycling, and swimming. The full-scale heart monitoring system is integrated with BioTracker PPG optical sensors and an advanced algorithm.
The smartwatch is water-resistant up to 50 meters and supports several different swimming scenarios. For example, it can recognize the swimming position you are using and then record data pertaining to the calories you burn and your pace, giving you an accurate analysis every time you swim.
Overall, you will find that this long battery life smartwatch is the ideal choice when looking for the right combination of features for exercise, your health, and daily life.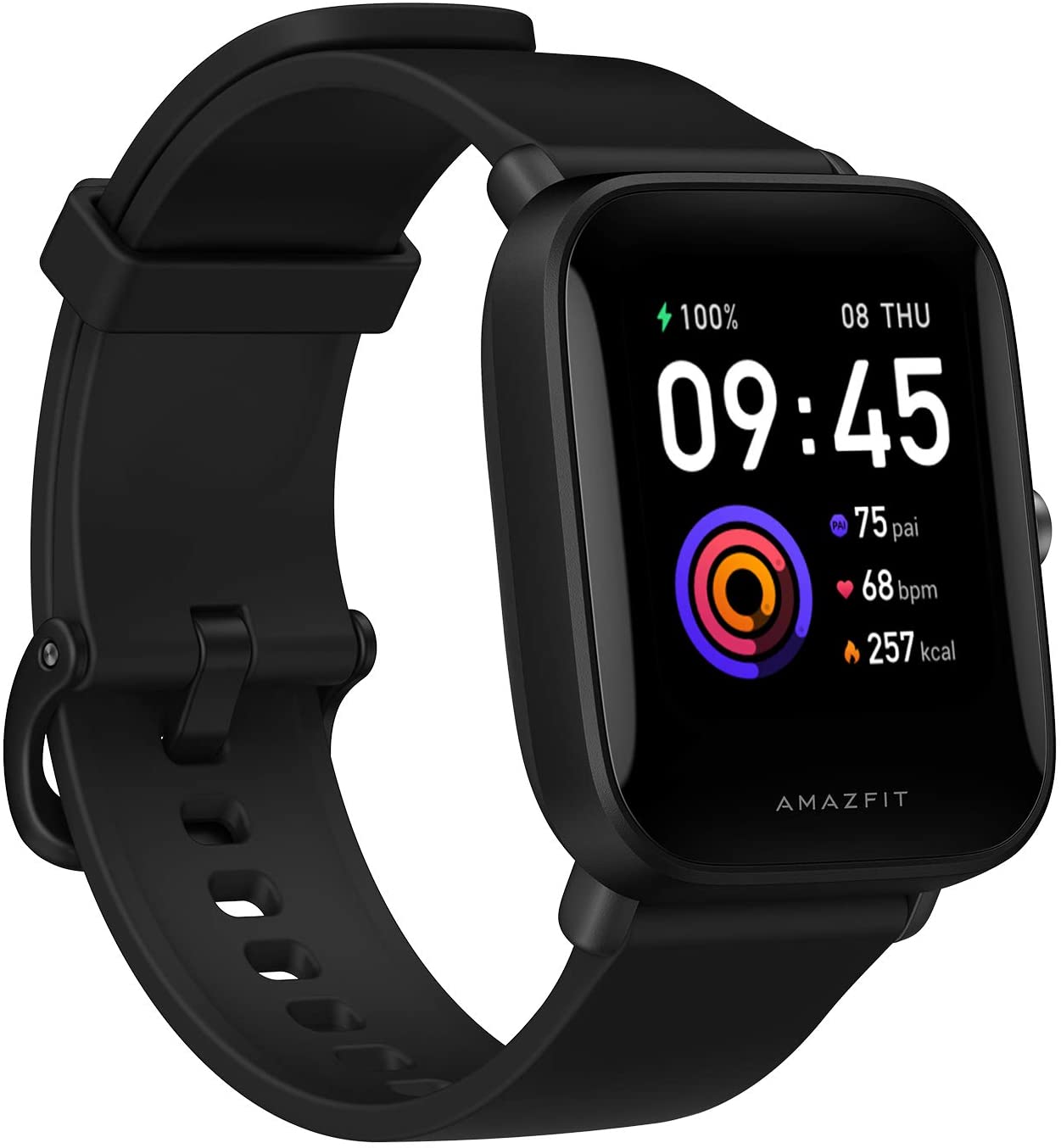 Key Features
Battery Life: 9 Days
Built-in GPS
SpO2 Measurement
Sleep Monitoring
Music Control
Water-Resistant
60+ Sports Modes
This is another smartwatch option from Amazfit that offers an extended battery life. With normal usage, you can expect up to 9 days. This includes typical usage with up to five days of heavy usage.
There are 50 watch faces available to choose from to suit your mood or outfit each day. You also have the option of uploading your own photos to personalize your watch face. Animated watch faces are supported as well for an even more enjoyable experience.
The PAI Health Assessment System uses different algorithms to track information relating to your heart rate, activity duration, and other health data, so you can stay on top of your health and fitness levels.
Stress level monitoring is another feature you can expect with this smartwatch. It can provide you with breathing training to teach you how to balance your stress levels. With sleep quality monitoring, you can monitor all the different sleep stages, including deep sleep, light sleep, REM, and awake time. You can then use these insights to improve your sleep quality.
With 24/7 heart rate monitoring, the Bip U can send elevated heart rate warnings when your heart rate gets too high. It uses BioTracker PPG optical sensors to maintain continuous monitoring.
The Amazfit Bip is also water-resistant up to 50 meters, so you can keep it on while swimming or showering. It can track your progress while swimming and engaging in other fitness activities, including walking, cycling, Yoga, cricket, baseball, and basketball.
Overall, you will love the extended battery life this smartwatch offers, its affordability, and the built-in GPS.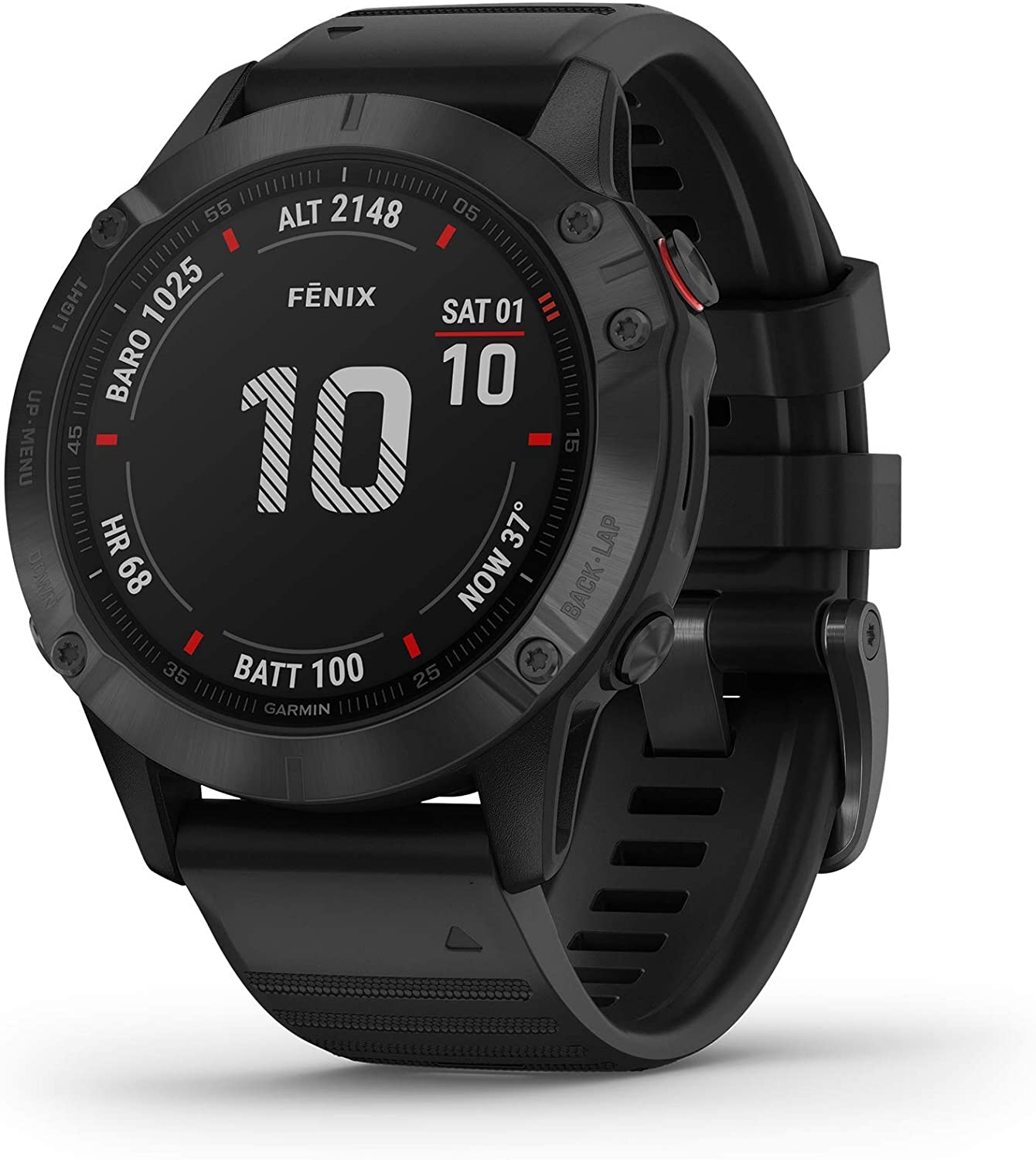 Key Features
Battery Life: Up to 21 Days
Advanced Training Features
Pulse Ox
Sleep Monitoring
TOPO Maps
Garmin Pay
The Garmin Fenix 6 Pro boasts of having a long battery life that can withstand up to 21 days of use or 60 hours with GPS use. When music is played, it can last for up to 15 hours and up to an impressive 46 days if the Expedition GPS Mode is activated. Some users even claim that it can last for up to 80 days!
It is a larger watch with a 51mm case. That larger case equates to a bigger battery and even tougher build quality. It is water-resistant up to 100 meters and is a fitness tracker and smartwatch all in one. It supports sleep monitoring and advanced training features. You can navigate the great outdoors confidently with the preloaded TOPO maps.
You will also find that this smartwatch supports Garmin pay for contactless payments. Its build quality and ergonomics are why this smartwatch is so well-known. However, you want to keep in mind that it is heavier than other smartwatch models and may prove uncomfortable to wear for extended periods of time.
It is solid and sturdy. It is not a touchscreen. Rather, you can operate this smartwatch using the five physical push buttons it has. Because it is heavier, you may want to tighten it to your wrist more to prevent it from moving up and down while engaging in your different activities.
Overall, this smartwatch offers an extended battery life, precision, an accurate GPS, and a fitness tracker. It is durable and can keep up with your many rugged and vigorous outdoor activities.
Key Features
Battery Life: 6 Days
Sleep Monitoring
Stress Monitoring
Activity Tracking
Heart Rate Monitor
Waterproof Rating
The next smartwatch with a long battery life we have on our list is the Samsung Galaxy smartwatch. It is said that this smartwatch can run for up to 6 days on just a single charge. This smartwatch utilizes motion sensors that detect movements and can also detect an inactive status.
The accelerometer and heart rate monitor are two more features you will love if you are looking for fitness and activity tracking and monitoring.
With sleep monitoring functions, this smartwatch can track the quality of your REM sleep. The workout auto-tracking features can offer advice on making your workouts more beneficial to reach your fitness goals.
The LED screen is bright, and crips and the high resolution makes it easy to read either indoors or outdoors. It is a stainless steel or aluminum body, making the housing more lightweight and the watch more comfortable for long-time wear.
The straps are customizable, and it is a great smartwatch option when one of your primary focuses is on your health. You can even download the Samsung Health app on your smartphone to gain even more insight into your overall health data collected by your smartwatch.
You can do so much more with this smartwatch compared to others due to the Bixby voice functionality. You can instruct your smartwatch to read your texts, make a call, or crank up your music.
With Samsung Pay, you can leave your wallet at home and use your smartwatch for contactless payment. Additionally, you can stream Spotify and YouTube, use Google Translate, and sent customizable voice and text replies.
Overall, this Samsung smartwatch is ideal if you want to focus on your health and not have to worry about taking your watch off to charge it every other day.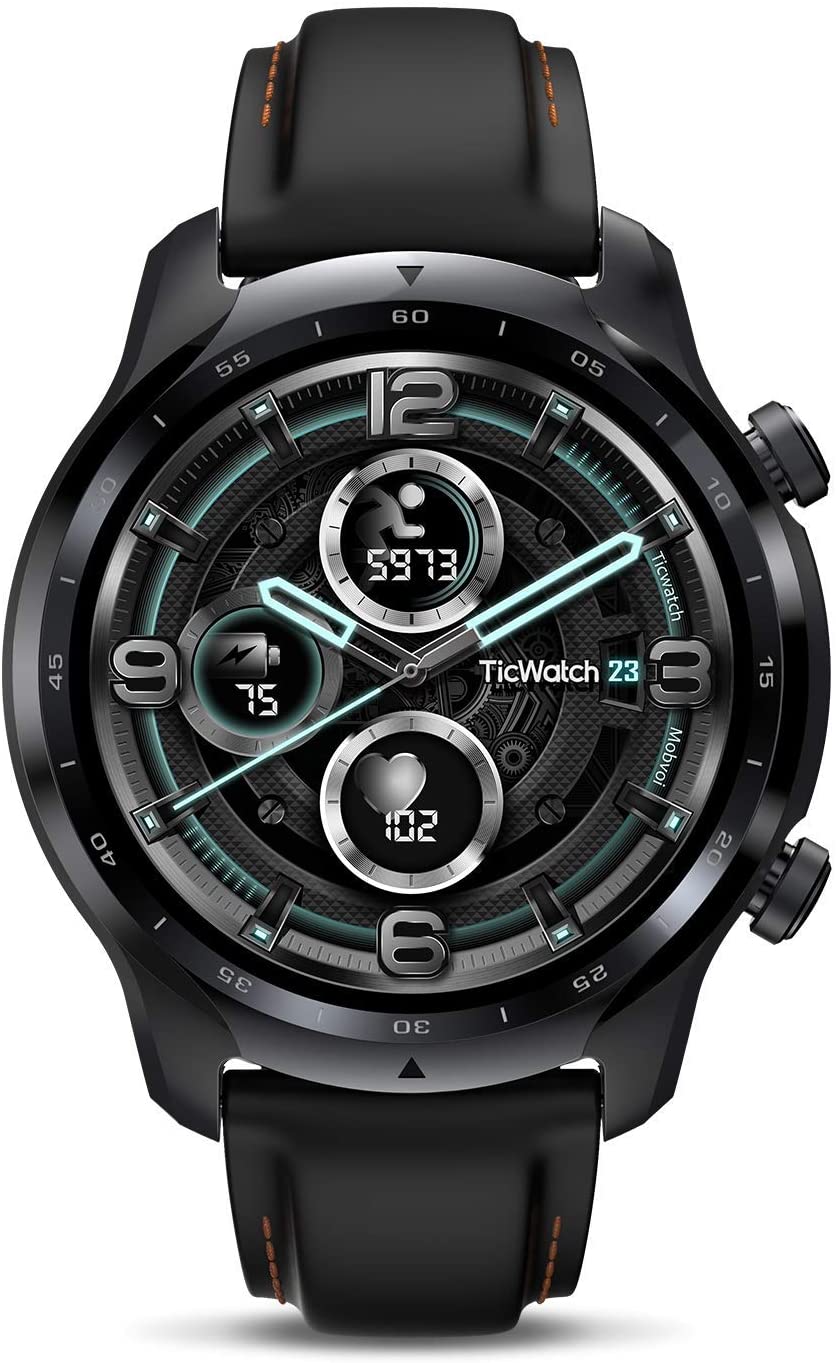 Key Features
Battery Life: Between 3 and 45 Days
Built-in GPS
NFC
Heart Rate Monitor
Sleep Tracking
Waterproof
Fitness Monitoring
The final smartwatch with long battery life on our list is the TicWatch Pro 3. Its new innovative technology ensures its longer battery life. When in Smart Mode, it can last up to three days and up to 45 days while in Essential mode.
It is the 1st Wear OS by Google smartwatch with Qualcomm Snapdragon Wear 4100 Platform. It ensures a smoother performance and even more precise interactions.
With advanced health monitoring and fitness monitoring, you can find multiple sports modes, a built-in GPS, barometer, and a 24/7 heart rate tracker. The TicWatch Pro 3 also features new functions, including sleep tracking, stress monitoring, and noise detection.
It has a premium design, 1.4-inch AMOLED screen, auto adjustable brightness, and an anti-fingerprint glass cover. The smartwatch also features a built-in speaker and microphone and supports NFC payments with Google Pay.
You will find that this smartwatch is 28% lighter in weight and more comfortable to wear even though the battery capacity increased by 40%.
Overall, this smartwatch offers you the extended battery life you want along with all the features and functionality you have come to expect from the best smartwatches available on the market today.
Did We Miss Anything?
After pouring through the list, are there any smartwatches or honorable mentions that we failed to include as having the longest battery life? What models would you have on your personal list of smartwatches with the best battery life?