This list has been updated for 2018, complete with new smartwatches for kids.
Latest Update: Updated January 2018
Smartwatches aren't just for adults. Children can get in on the fun too.
Of course, you wouldn't want to hand your child a $200+ smartwatch in the hopes that they would take excellent care of it.
Luckily, there are watches specifically designed with kids in mind. They feature games and fun activities, colorful designs, and durable materials.
If you're looking for a smartwatch for your child, then this is a great place to start. Below are eight smartwatches made especially for kids.
8 of the Best Smartwatches for Kids In 2018
Please keep in mind, this list will remain exclusive to smartwatches for kids. If you're looking for a GPS tracker head on over to: The Best GPS Tracking Watches for Kids. We also have another post that discusses the best toys for kids: The Best Toys and Wearable Tech for Kids.
Click to Tweet: "Here are 8 of the best smartwatches for children"
1. The VTech Kidizoom DX2 – One of the Best Smartwatches for Kids
Ages: 4 to 9
UPDATE: See our 2014 Holiday Shopping Guide where the Kidizoom made our top pick for the best smartwatch for kids!
The VTech Kidizoom was one of the best smartwatches for kids ages 6-12. The Kidizoom DX was updated to include a variety of new features, like more memory and fun activities. Then the DX2 was launched with – you guessed it – even more stuff! We still recommend all three generations, though the older ones may be harder to find.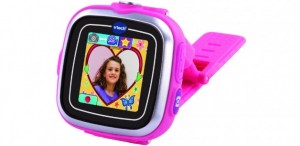 The Kidizoom does not act as a location tracking device. Rather, it is a full featured smartwatch.
The VTech Kidizoom features a 1.4-inch color touchscreen display, with up to twenty different watch faces for kids to swap out.
In addition, it includes dual cameras with selfie and video recording support, a voice recorder, and a ton of educational games. A USB port allows parents and the child to transfer photos and videos to a computer. Plus, it's splash proof. Sadly, that doesn't mean waterproof so you can't go swimming or hop in the shower with it on, but it can withstand a bit of moisture like rain or sweat.
New features exclusive to the DX model include:
Photo effects, frames and filters to edit photos taken with the watch
More memory to store photos and videos
New clock faces including 3D face designs that react to movement; 55 digital and analog clock faces fully customizable

New Monster Catcher game creates an augmented reality gaming experience where you can capture monsters in the r

eal world a la Pokemon Go
The original models are still available too!
2. Garmin VivoFit Jr 2
Ages: 4 and up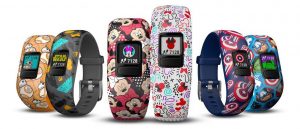 The Garmin VivoFit Jr 2 – and the original too – are designed to be fitness and health trackers first, so keep that in mind. That said, they do offer a great selection of features for kids and parents too. For example, the always-on color screen can be customized with a variety of themes including Batman, Disney, and even Star Wars. This is an upgrade from the original, which only had a black and white display.
There are educational mobile games and activities – which sync with the device via a mobile app. There are also step challenges and personalized goals which can be set by parents too, so you can make sure your kids are staying active. Parents will receive alerts for everything happening, including when their child reaches a goal. You can even assign your kids chores around the house and the device will make sure they get done by sending reminders and alerts.
If you decide to get multiple bands – for additional kids – you can track and monitor them all within the same mobile app, which is super convenient for larger families.
You can get the Garmin VivoFit Jr 2 on Amazon (additional models embed below).
3. The Tinitell Watch
Ages: 5 and up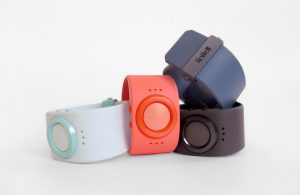 The Tinitell Watch was designed from the ground up with one concept in mind: simple communication between a child and their guardian(s).
It functions as a mobile phone allowing children to call a preconfigured set of numbers. It also allows parents to call their child. For example, a mom can ring the watch to say that dinner is ready, and it's time to come home.
The Tinitell also includes an integrated GPS module so parents can GPS track their child's location in realtime.
In a smart move by the manufacturers, the device can be controlled through voice commands. Children only need to say commands like ,"call Mom," to get the device to spring into action.
There's a single button on the front of the smartwatch to turn it on or off, and two volume buttons to adjust audio levels. The battery will last for a continuous sixty minutes of talk time, or a full week (7 days) in standby. The exterior is IP57 dust and water resistant which means you don't have to worry about your children ruining the watch while they play.
The Tinitell Watch was successfully funded through Kickstarter, and the first models shipped in April, 2015. It's now available in the US and Canada.
You can buy it for $149 through the official site.
4. LG GizmoPal 2 (Previously KizON)
Ages: 4 and up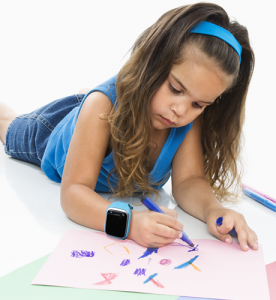 The GizmoPal 2 by LG is an update to the original model, which was a GPS tracking watch for smaller children. Like toddlers.
The biggest change is the design, which looks better all around. Furthermore, the GizmoPal 2 also includes fun sounds, and a voice clock – which calls out the time – to keep kids entertained.
At any time, parents can open the app for Android and view their child's location thanks to built-in Wi-FI and GPS. You can also set location reminders, which automatically polls the watch's location to show your child's whereabouts throughout the day.
After setting boundaries – called zones or geofences – the watch will send notifications if it detects the child crossing them. This is great if they're outside playing, or if someone is home watching them.
The device works as a phone, too, as parents can call the watch and children may call out to predetermined numbers. It features built-in support for up to four different numbers. That way children can call Dad, Mom, siblings, or other family members when they need them.
If you're interested, you can purchase the GizmoPal through Verizon – online or in-store – for $79.99. A monthly subscription fee of $5 will be tacked on to an existing wireless bill — or a new one.
5. Leapfrog Leapband
Ages: 4 to 7
The Leapfrog Leapband is a kid-themed smartwatch designed for children aged 4-7.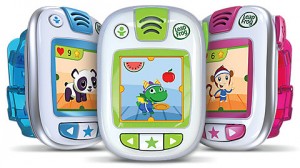 The idea behind the device is to curb the growing obesity problem by encouraging kids to get active.
It's first and foremost an activity tracker that promotes "healthy habits" in children through the use of educational and fun games.
Kids get to choose a "customizable pet pal," similar to the classic Tamagotchi's. There are eight different pets to choose from including a unicorn, robot, dragon and more.
The best part is that the device is only $39.99 which is relatively cheap compared to some of the other options on this list. Of course, the Leapband isn't a true smartwatch with voice calling or GPS tracking support — so keep that in mind.
6. The Moff
Ages: 5 and up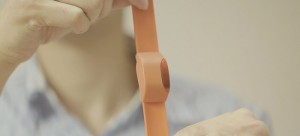 The manufacturers call the Moff a "wearable smart toy" for kids.
Essentially, it helps fuel a child's imagination by providing sound effects while they play, and simulating movement.
For example, a child can pick up a broom and start playing it like a guitar, all the while the Moff smartwatch sounds off with guitar chords and a cheering crowd.
The band connects with a smartphone and can be controlled through a companion app. According to the official Kickstarter page, there will be hundreds of different options so children will always be able to have fun with the device.
The Moff doesn't include a touchscreen, or any GPS tracking features.
Rather, this smartwatch is designed with a classic slap-band so children can easily slip it on or off their wrist. It also uses a regular watch battery, which means it will last for quite some time — and requires no charging.
This kid-friendly wearable was successfully funded through Kickstarter.
Get the Moff on Amazon today for only $44.99
7. The hereO Tracking Watch
Ages: 3 to 12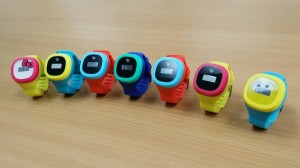 Similar to the Kidswatcher, the hereO watch is a rather innocuous tracking device. It comes in several styles, all of which are extremely kid-friendly.
At a quick glance it looks like a normal watch with a digital clock face. However, the device can be tracked by GPS for up to 72 hours. In other words, you can keep track of your children and their whereabouts — until it runs out of juice.
Because of the design, it looks just like any other kid toy or accessory. That means predators likely won't have a clue that it's a tracking device in the event something terrible happens.
The watch will also place a tamper alert if it's removed by someone, even the child. The alert itself includes last known GPS information of the device when it's removed. Another panic alert will automatically send location data to a pre-programmed group of family or friends in the event of an emergency.
The device was successfully funded on IndieGoGo, and costs $199. It includes the watch, charging dock and three months of free service. After that, service will cost $4.95 per month.
Visit the official website for more info on ordering a hereO. Even though it says "pre-order" the watch is available and will ship soon after you buy it.
8. Orbo Kids Smartwatch
Ages: 3 to 8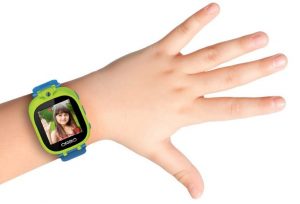 The Orbo is an affordable touchscreen smartwatch for kids. You can choose between both digital and analog clock faces, and they are designed to help your children learn how to tell time.
The watch also has alarm and stopwatch modes, and a built-in camera.
What your kids will really love are the activities – up to 16 in total – including a talking hippo avatar, interactive games, and a variety of other stimulating events.
Orbo comes bundled with a USB cable, but you can also buy an optional adapter to charge it anywhere – the USB cable requires a powered USB port, obviously.
Smartwatches for Kids Removed from the List
For whatever reason, sometimes we have to remove a product from the list. This could be because the company discontinues a product, goes bankrupt, or something else happens.
If and when we remove something from the list above, we will still include it here for reference.
The FiLIP 2
Why It Was Removed: FiLIP filed Chapter 11 (bankruptcy) in October 2016. Shortly after, most retailers – including the official site – ran out of stock of all products. The company has since been acquired by Smartcom, but we don't know if it will continue under the new brand.
Ages: 4 to 11
The original FiLIP was one of the best smartwatches for kids, so it's no surprise that the company released an updated model: The FiLIP 2.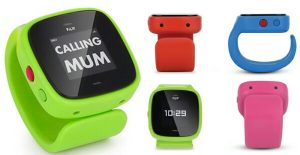 You can call your child directly by dialing the device, or you can pinpoint their location. Thanks to GPS, GSM and Wi-Fi support you can locate your child no matter where they are – even inside.
Through geo-fencing, you can set up a total of five "SafeZones" which function as invisible boundaries. If your child leaves the area, you will receive alerts immediately.
Unique to the FiLIP is the option to send text messages to the watch, although texting is a one-way feature. Kids can also call pre-programmed contacts using the watch. All contacts are chosen and setup by the parent through the companion app, and your child cannot add their own contacts.
A companion app is available for iPhone and Android handsets. Once paired, parents have "one-touch" access to every feature they need. Plus, it supports multiple watches which is great if you want to track all your kids.
The watch itself is available in several different colors, and has been manufactured with a dust and water resistant body, so you don't have to worry about it meeting an unfortunate end.
The FiLIP 2 was available for $149, and the mobile service was through AT&T. That is no longer the case, and we do not know if or when it will be available again.
Omate Wherecom K3
Why It Was Removed: The Omate site has completely changed since we originally recommended this watch. There are some new models listed but there's very little information available about them. You may still be able to get the Wherecom K3 but it will be difficult to find, so we moved it here.
Ages: 6 to 10
First things first, the Wherecom K3 from Omate includes GPS, a microSIM slot, and 3G connectivity. Essentially, it can function as a phone for your 6-10-year-old. What we're going to focus on, however, are the kid-friendly features.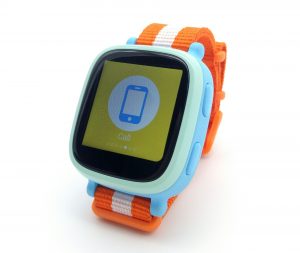 The watch is powered by Android 5.1 (the latest version), but it has a custom interface designed just for kids. They can make phone calls and send messages to restricted contacts, so whoever you give them permission to reach out to.
It comes with a variety of pre-installed apps including kid-friendly games. Extra tools include an alarm, music player, and image gallery. It also tracks the number of steps your child takes thanks to an integrated pedometer.
Additional features:
Durable polycarbonate case w/ stainless steel buckle
1.54-inch capacitive touchscreen display
320 x 320 resolution
Removable bands (standard 20mm straps)
Integrated mic and speaker
The Best Smartwatches for Kids
As the smartwatch market continues to flourish, more options will be made available to children (and even pets).
Have you bought one of these smartwatches for kids? If yes, share your thoughts on the purchase in the comments below.
Articles Related to Smartwatches for Kids