Latest Update: Updated October 2021
Smartwatches are no longer limited to adult use. Companies have made smartwatches that are kid-friendly and have features and capabilities both you and your child will love.
So, instead of handing your child an expensive $200+ smartwatch, check out our selection of 11 of the best smartwatches for kids. You can then review our buyer's guide to narrow down your choices and find the best fit for your child.
Please keep in mind; this list will remain exclusive to smartwatches for kids. If you're looking for a GPS tracker, head on over to The Best GPS Tracking Watches for Kids.
We also have another post that discusses the best toys for kids: The Best Toys and Wearable Tech for Kids.
Click to Tweet: "Here are 11 of the best smartwatches for children"
The Best Smartwatches for Kids
As the smartwatch market continues to flourish, more options will be made available to children (and even pets).
Our Top 11 Recommendations
11 of the Best Smartwatches for Kids
Now, here are our top 10 recommendations for the best smartwatches for kids in 2021.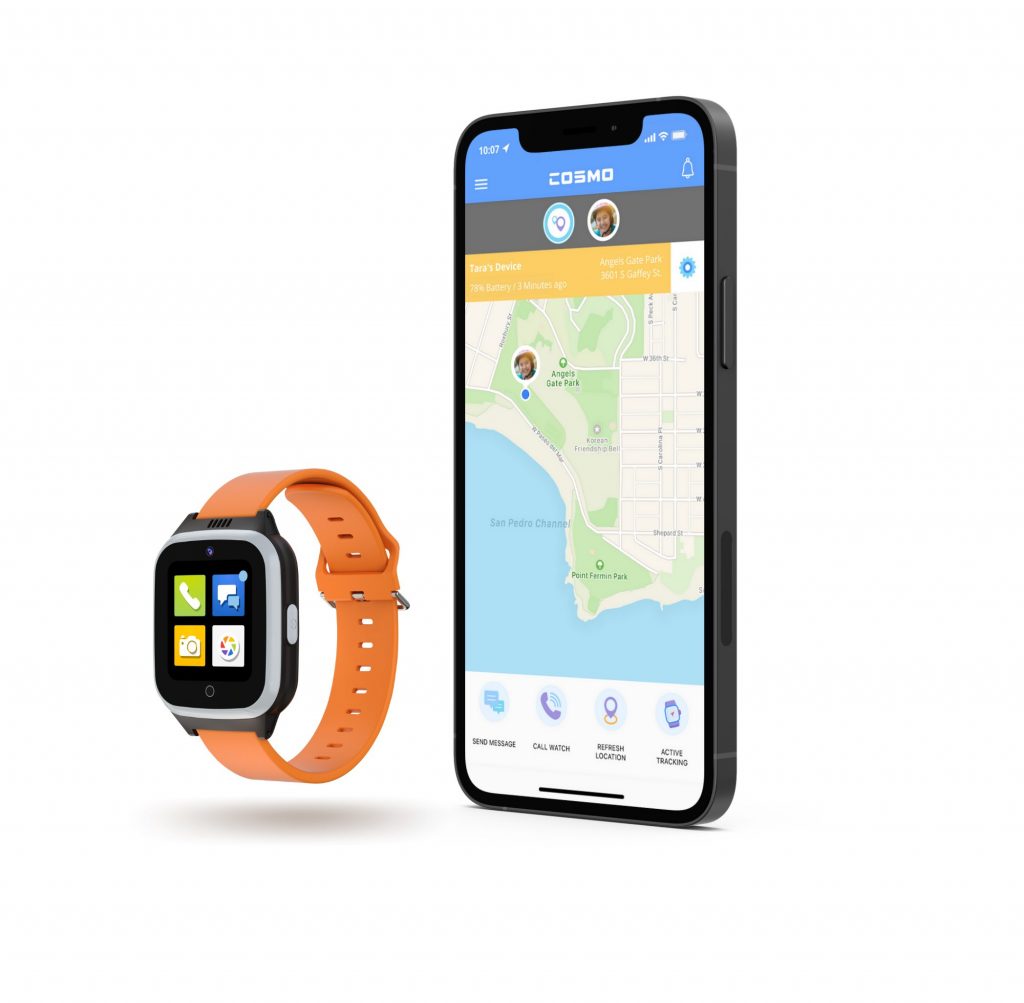 The Cosmo JrTrack 2 kids smartwatch offers top-notch GPS tracking thanks to 3-point precision technology. It's one of the only smartwatches to offer 4G nationwide calling with unlimited data and texting. Parents can call the watch directly, message their children, and leave voice memos — and kids can answer back, using emojis and preset messages. Safe zones (geofencing) are configurable through the mobile app, called Cosmo Mission Control.
Additional features include an SOS mode in case of emergencies, a restricted "class mode" to keep kids from playing while they're in school, a durable built, a built-in pedometer with reporting through the parent app, and affordable wireless plans with a pre-installed SIM.
Buy Cosmo JrTrack 2 Now On Amazon
Features:
4G nationwide calling with unlimited texting and data plans
Text to and from the watch (emojis, voice memos, video messaging)
SOS mode, class mode, and safety zones (geofencing)
Real-time GPS tracking through the Mission Control app
Pros:
Automatically blocks calls from strangers
Several color options including pink, blue, orange, and more
Durable build
Includes screen protectors
Cons:
You have to install the screen protectors
No minigames for kids
Buy Cosmo JrTrack 2 Now On Amazon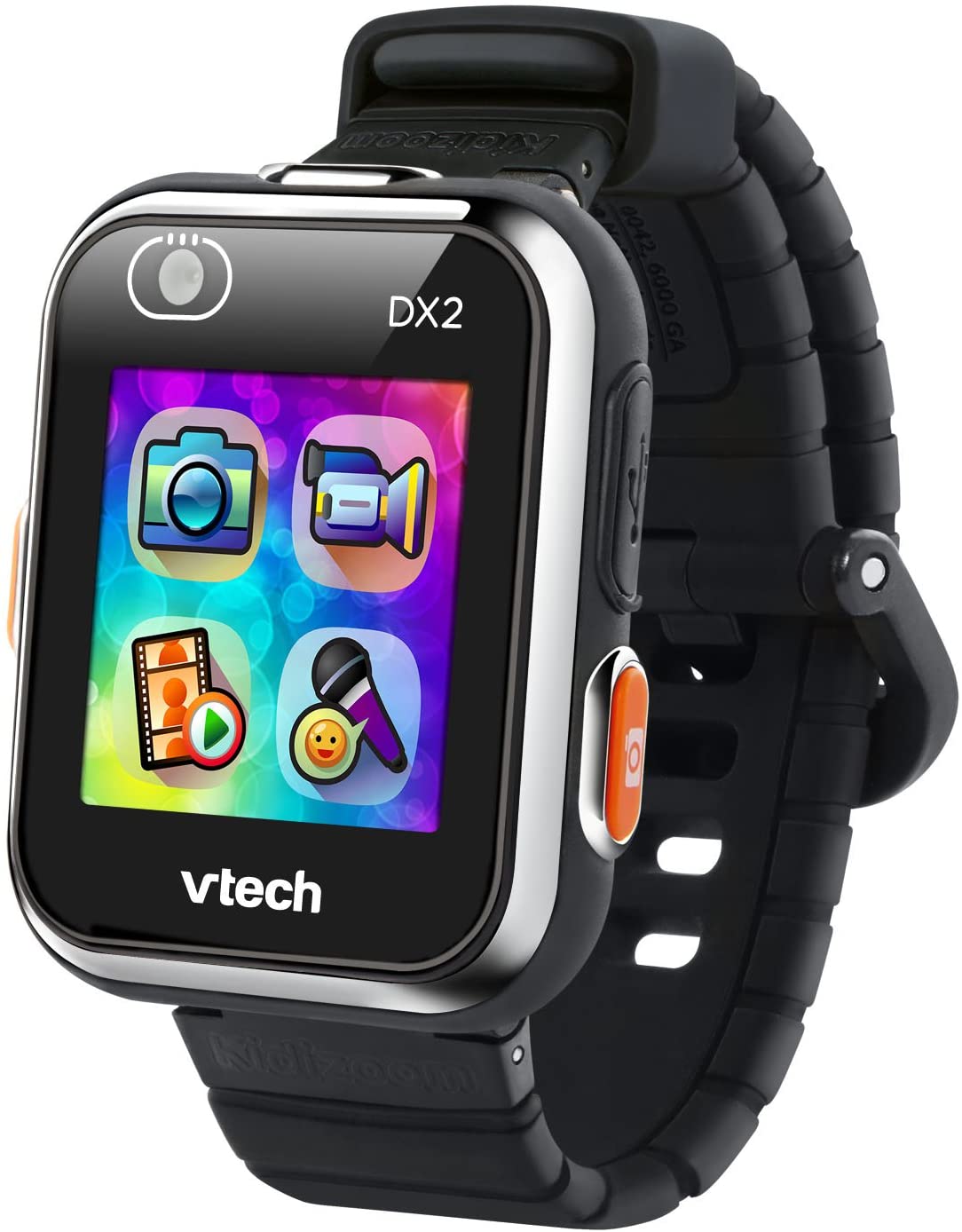 The Vtech Kidizoom Smartwatch DX2 is the ideal smartwatch for children between the ages of 4 and 12. It has a stylish and kid-friendly design that offers both durability and comfort. The wristband of this Vtech smartwatch is sized perfectly for smaller wrists and offers a secure fit. With this watch, your child can take high-quality videos and photos and can even customize different watch faces.
It features a Monster Detector game that creates an augmented reality experience so your child can catch monsters in real-world settings. It has an in-built motion sensor for the game along with sound effects and a pedometer to track your child's steps while playing.
Features
Easy to use touchscreen
Dual camera
Rechargeable battery with USB cable
256MB internal memory
Pros
Can play augmented reality games
Parental game controls
Encourages active play
Durable design
Incredibly easy to use
Cons
Stops counting steps at 1000
Hard to find replacement bands
This smartwatch is good for kids ages four and up. It has a playful personality your younger kids will love. The watch makes over 100 expressions, can help teach your child to tell time, and has moving robotic arms and legs and fun sound effects.
This smartwatch for kids also features a stopwatch, timer, alarm clock, calendar, and reminders. Ready for games? This one has a ton to choose from, including a Search & Seek game and dance activity games.
With its two cameras, your child can take photos and videos and then add fun stickers while editing. The watch can hold up to 30 minutes of video.
The watch has an easy to use and kid-friendly touchscreen and a built-in rechargeable battery. It can be used indoors and outdoors because it is both splashproof and durable.
Features
Fun robot design
Two built-in cameras
Interactive games
50+ analog and digital watch faces
Pros
50-foot wireless connectivity
512 MB memory
Battery can last up to 5 days
Can be worn on the wrist or attached to clothing with a clip
Cons
Main button is hard to push
May be too wide on the wrist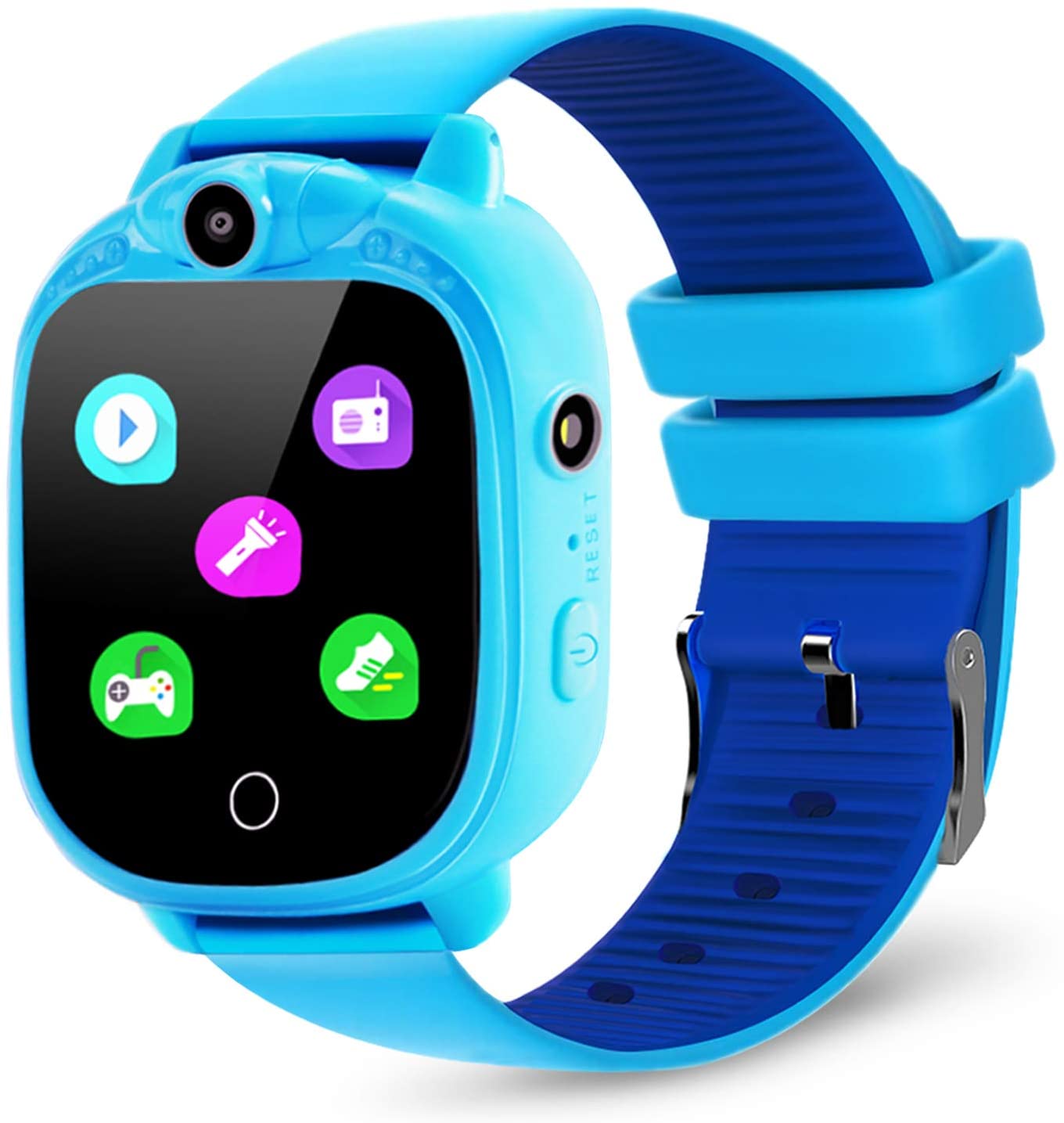 The Prograce Kids Smartwatch is ideal for children ages 4 to 12. It features a 1.54 inch IPS touchscreen, built-in games, a rotatable camera, FM radio, flashlight, pedometer, audio music player, and more. If you are looking for a smartwatch that entertains, then this is it.
The camera can be rotated 90-degrees so you can take pictures and selfies with the one camera. It also allows for angle adjustments when needed. Before taking photos, you do have to insert a SIM card, however. The card is not included.
There are four built-in games: Whac-A-Mole, Ninja Run Online, Welcome the God of Wealth, and Brave Money. The games can be played using the touchscreen on the smartwatch.
It also features a fitness tracker with a health motion sensor that is used during active play challenges. The pedometer counts your child's steps and even calories and can help them develop healthier habits.
Features
Supports a 32 GB TF card
One rotatable camera
Several built-in games
Toddler watch support earphone and audio music player
Pros
Has a kid-friendly band
Can listen to the radio
Long working battery
Easy to use
Cons
Pedometer doesn't allow for real-time tracking
No AM/PM time
Hard to get a Micro USB card in and out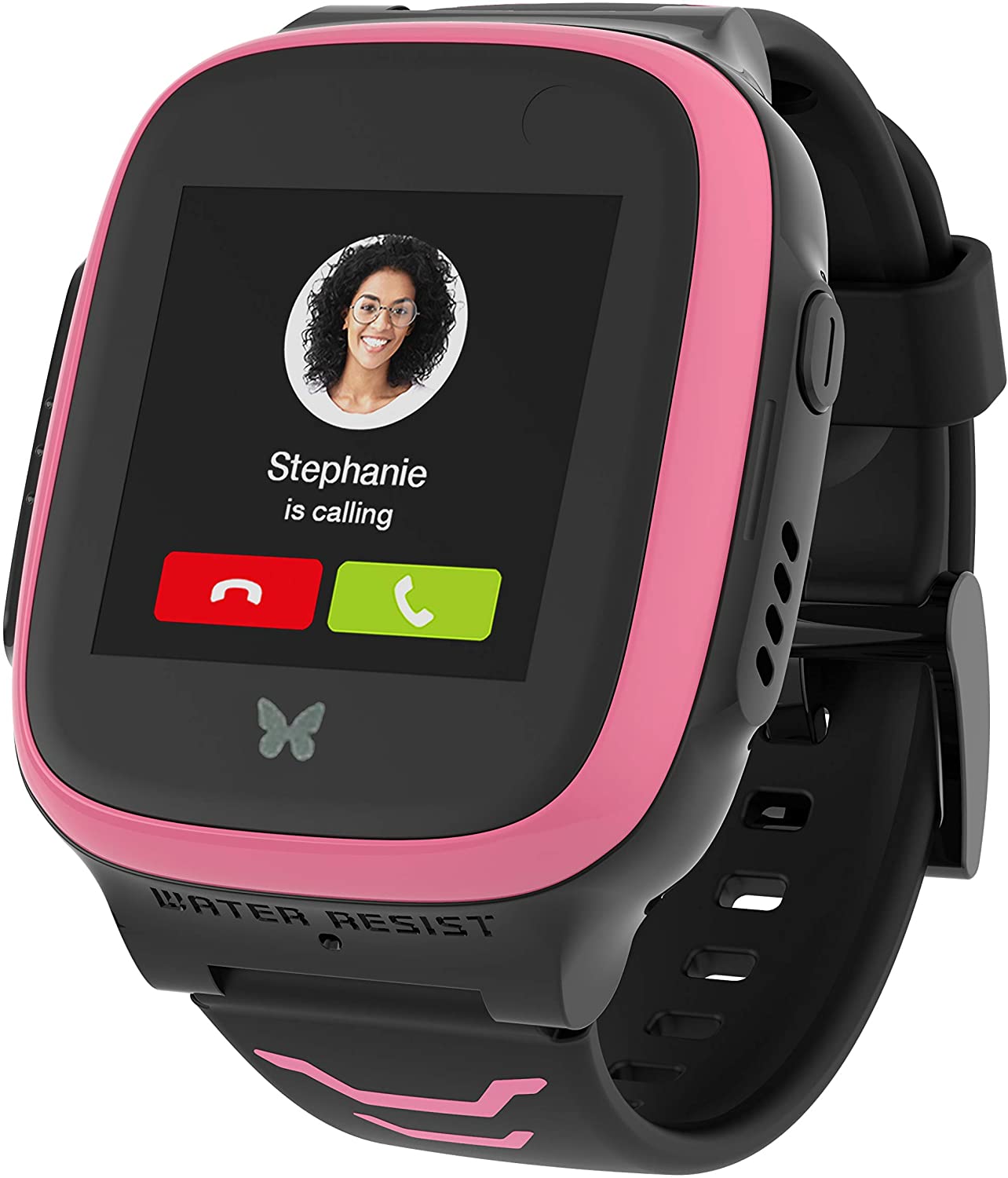 If you are looking for a smartwatch for kids that is good for calls and messaging, then this should be high on your list of options. This XPLORA X5 Play Smartwatch allows your child to make and receive calls from numbers that have been pre-saved on the device. It can also receive messages, emojis, images, and voice messages and send replies.
This watch is ideal for children between the ages of 5 and 12 and helps them stay connected to family and friends.
In the case of an emergency, your child can press the SOS button to notify their emergency contacts. It provides the contact with the child's location. Multiple services are used to show the smartwatch's location, so you can also set up the GPS tracker and safety zones around your key locations.
Features
1.4-inch touchscreen
2-megapixel camera
Microphone and speaker
Waterproof IP68 up to 1.5m
Location tracking
Pros
Easy to use and setup
Waterproof
Comes with a screen protector
Can have up to 50 approved contacts
Cons
GPS tracker and location are not always accurate
Unclear encryption protocols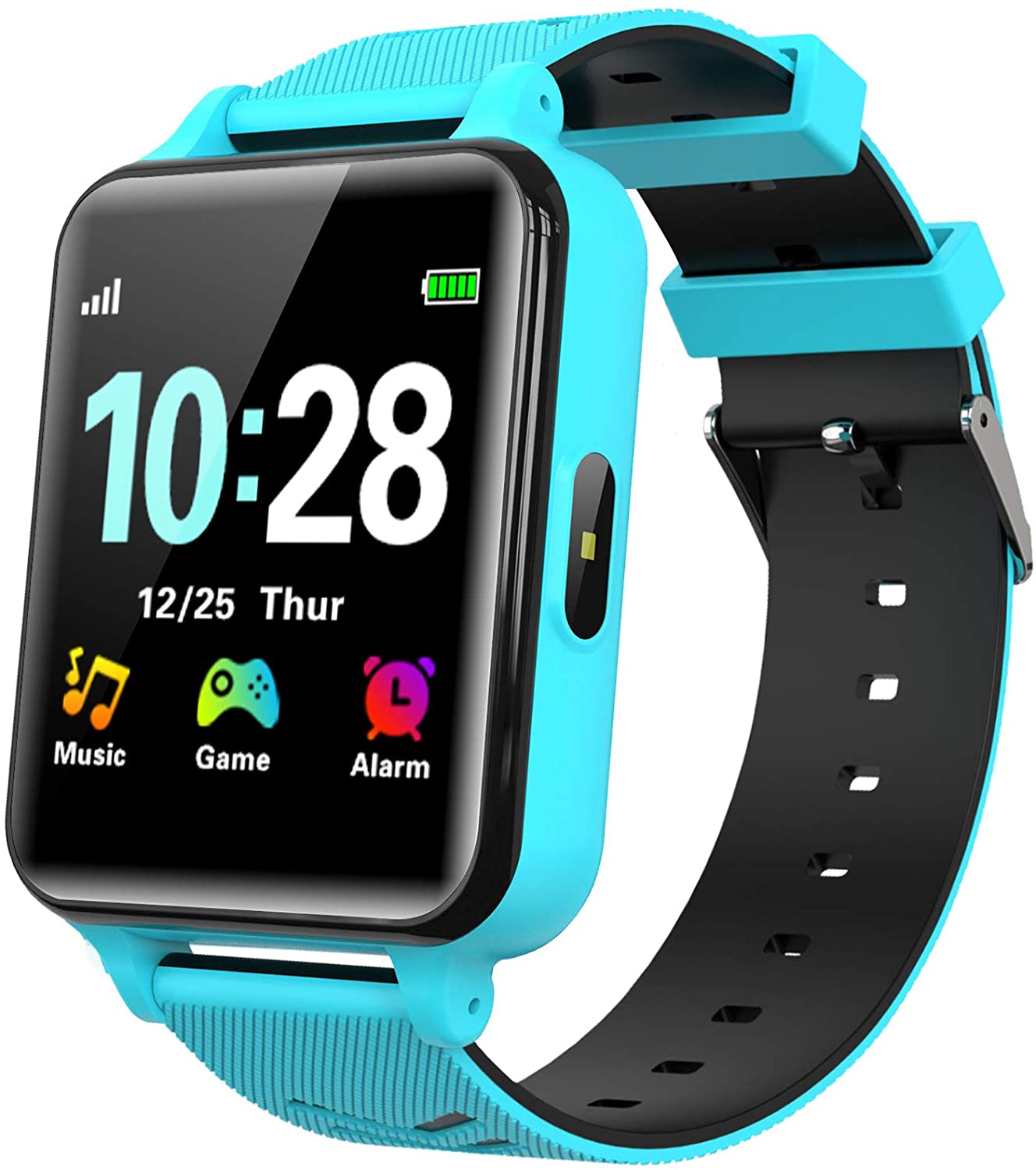 The Willowind Kids Smartwatch is a good choice for kids between the ages of 4 and 12. It features 14 intelligent games and also has a music MP3 function that supports high-quality songs in an MP3 format.
The HD camera allows kids to take pictures and selfies anywhere and at anytime. With two-way calling, they can make and receive calls in an area with at least 2G coverage. With the SpeedTalk 2G SIM card, you can make calls between your mobile phone and the smartwatch.
Other fun and useful features of this smartwatch for kids include a calculator, alarms, timer, stopwatch, calendar, torch, wallpaper, school mode, and silent mode.
Features
SOS feature
14 intelligent games
HD camera
MP3 music player
12/24 hour time format
Pros
Perfect fit for small wrists
Easy to use
Stylish design
Cons
Need to purchase a SpeedTalk SIM card to make calls
Not compatible with 3G/4G/Wi-Fi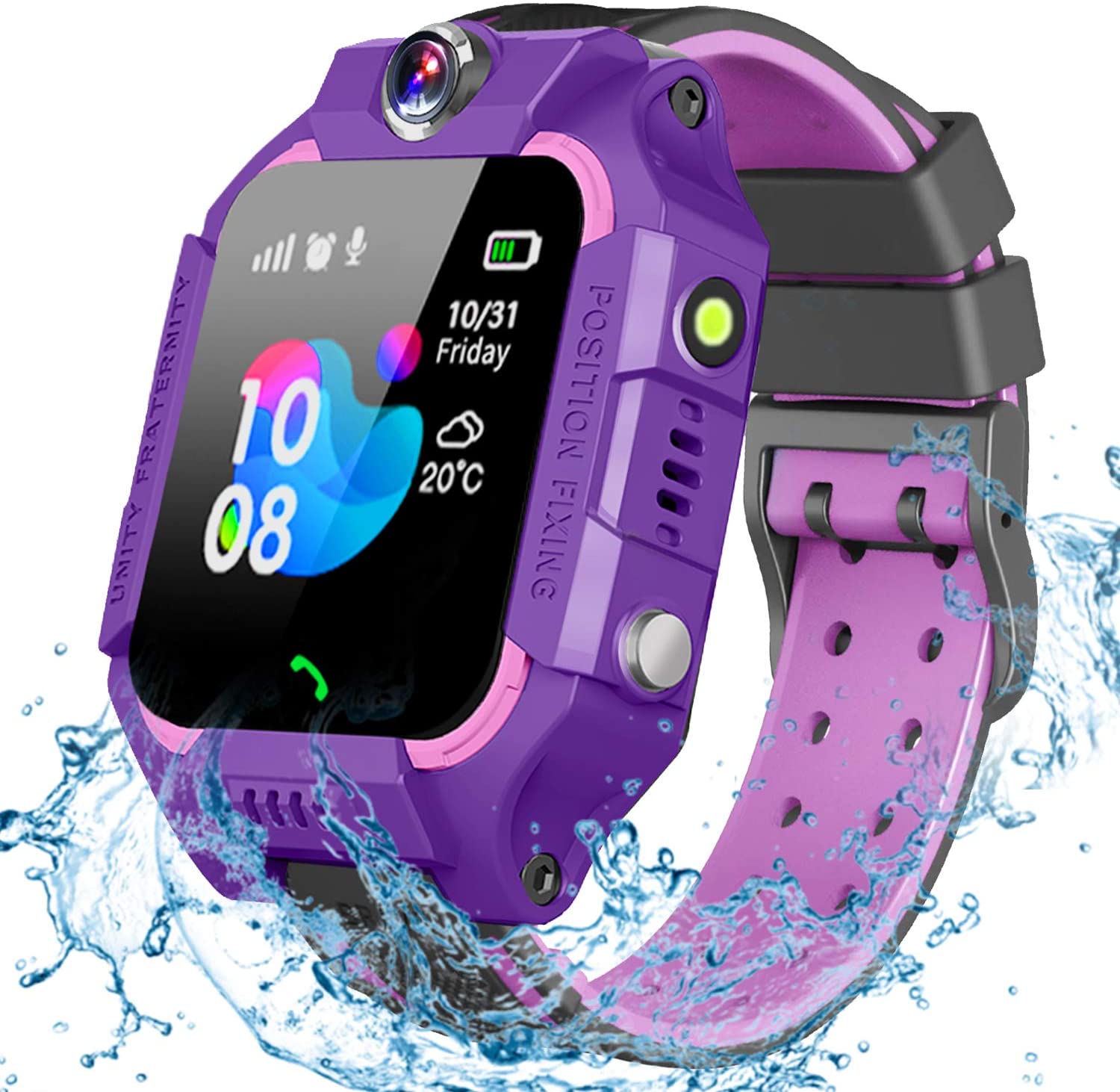 This GBD Smartwatch for kids is waterproof and comes with everything your child could want in terms of functionality and entertainment. It has five built-in games, including a basketball and pinball game. Your child can play these games with the touchscreen.
It is also IP67 waterproof and dustproof level. So, accidental falls into water or wearing the watch while out in the rain or washing their hands shouldn't be a problem.
It is also equipped with an SOS feature. When there is an emergency, and the child is in distress, they can hit the power button twice to call their family for help.
Among its other functions, you will also find a flashlight, alarm clock, camera, calculator, alarms, and calendar.
Features
Can set up to three alarm clocks
IP67 waterproof
HD camera
Save up to 10 contacts
Two-way calling
Pros
SOS emergency call
Waterproof and dustproof
Supports 5 different languages
Cons
Can only work on 2G networks
SIM card not included
Not supported by Verizon, Sprint, and At&t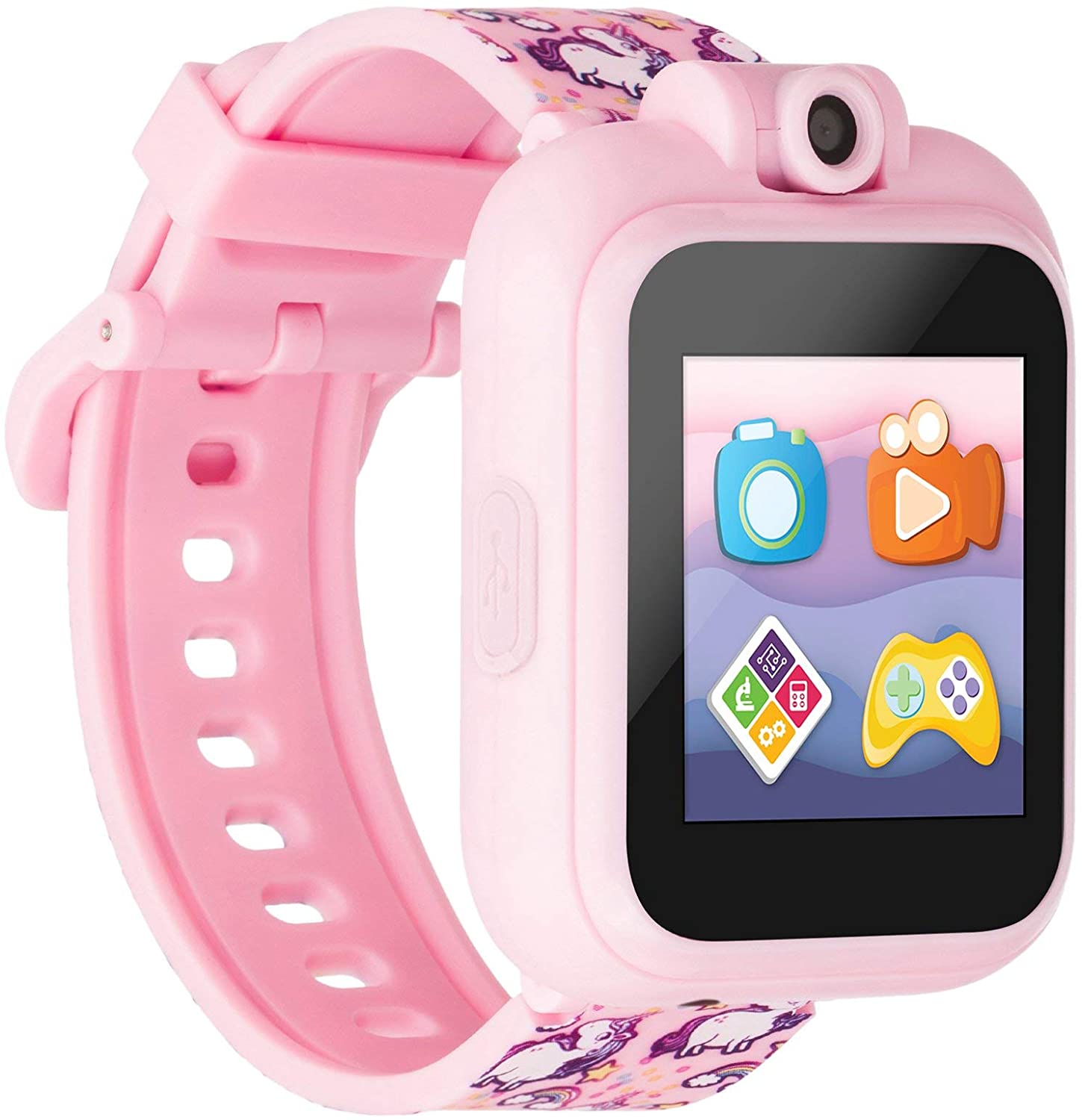 This smartwatch for kids comes in a ton of fun colors, patterns, and styles, so there is something every kid will love. If you want your child to learn STEM, then this is the smartwatch to get. It combines learning and fun to keep the kids interested and involved.
You can plug headphones into the jack so the child can listen to their favorite music. It also has a swivel photo camera and video camera that even toddlers will find fun and easy to use. It has over 10 different watch faces, over 25 fun STEM games, and even 10 audiobooks.
The battery is rechargeable and can last all day. You will receive a USB charging cable that you can use to charge the smartwatch overnight, so it is ready to go when your child is in the morning.
Features
Swivel camera
Customizable clock faces
20 learning games and activities
Sound animations
Pros
Has an In Case of Emergency (ICE) card
Safe for children of any age
Fun and easy to use
Doesn't require data or Wi-Fi to function
Cons
No GPS tracking
Instruction manual lacks detail
Hard to tell where the camera is pointing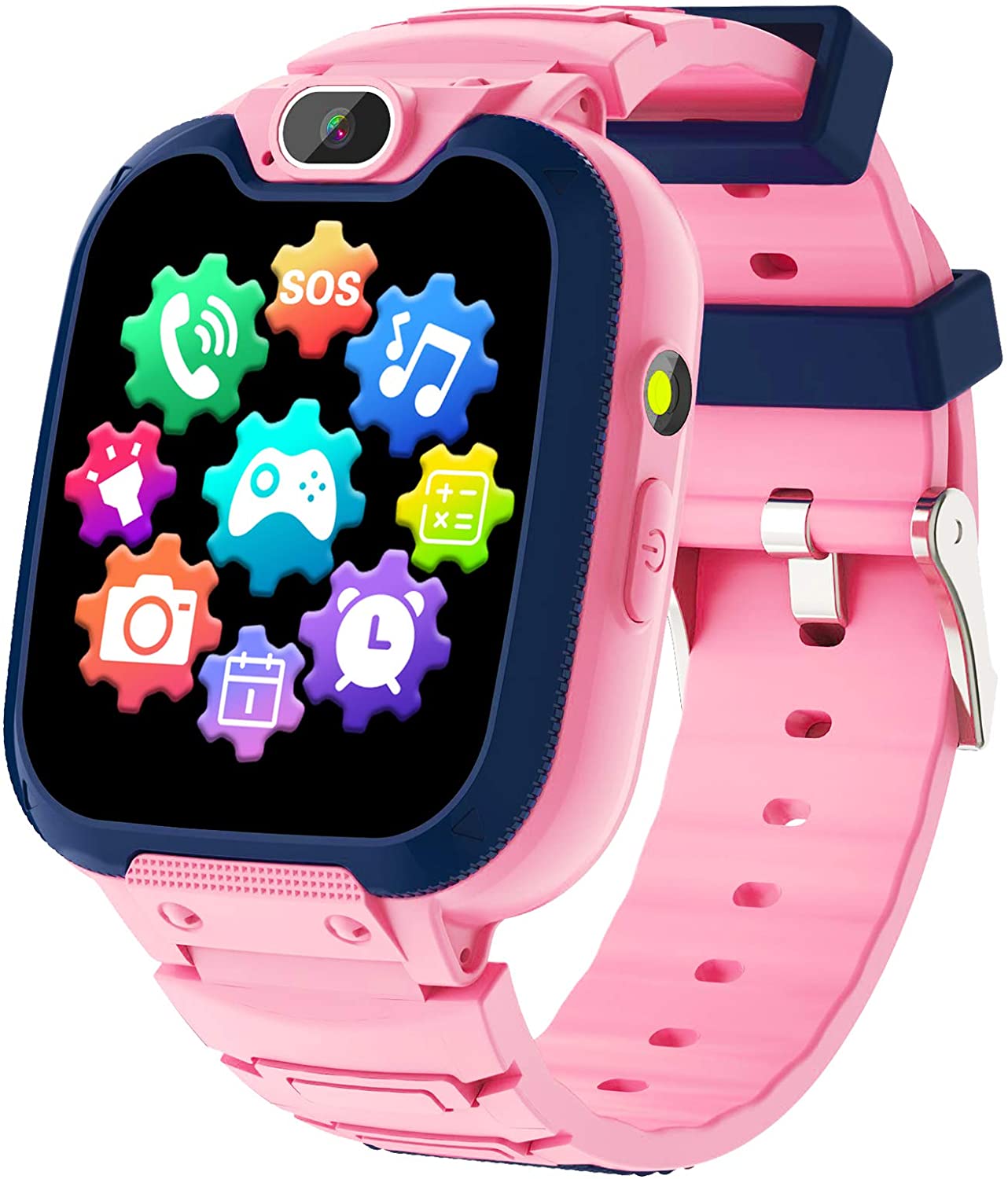 The Nadaho Kids smartwatch is another watch ideal for children between the ages of 4 and 12. It comes equipped with 14 puzzle games and seven more learning games that allow children to exercise their reaction ability, logical thinking, and hand-eye coordination.
It has an HD camera and supports photo and video. Your child can even choose to use their favorite photo as the wallpaper for the smartwatch.
This smartwatch also features a music and video player that has been updated. The smartwatch can be connected to a computer so that you can download music for your child in an MP3 format.
The SOS and call function lets your child make and receive phone calls. If your child is in distress, they can double click the power button or touch the SOS icon, and it calls for help.
Features
Flashlight
Custom Wallpaper
Alarm Clock
Calculator
School Mode
Pros
Good for entertainment and learning
Easy to operate
No apps you have to download
No complicated settings
All the functions are built right into the watch
Cons
May be slightly bigger than expected
Photo quality isn't the best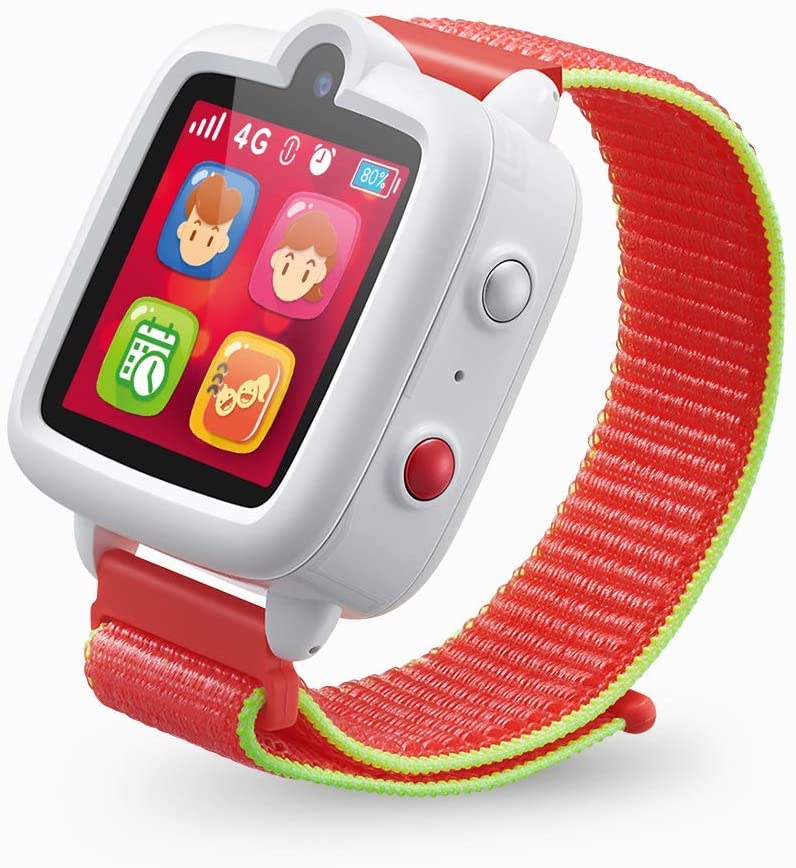 The style of this smartwatch is fitting for younger children. With this smartwatch, you can track your child, make phone calls, send messages, and take photos. It is an advanced 4G/LTE universal smartwatch for kids with video calling, voice calling, Wi-Fi calling, smart messaging, and location-tracking. Seven frequency bands are built into the watch, making it compatible with most carriers.
The watch is quite durable as well as IP67 water-resistant. It is easy for your child to use as well with the addition of its preset text messages that include, "I'm on the school bus," and "I'll call you later."
Its 4G reception is much faster than the old model and is much more accurate when it comes to its locating capabilities. Parents can even locate multiple watches on the same map if they have more than one child with this watch.
Features
Face to face video
Two way messaging
Up to 53 preset contacts
Real-time locator
2-way messaging
Preset text message option
Pros
Watch band is replaceable
Easy to use interface
Clear and smooth video calls
No data required with Wi-Fi connectivity
Playback location history
Cons
Mic is sensitive
Slightly big for a younger child's wrist
Only 5-6 hour battery time with continuous use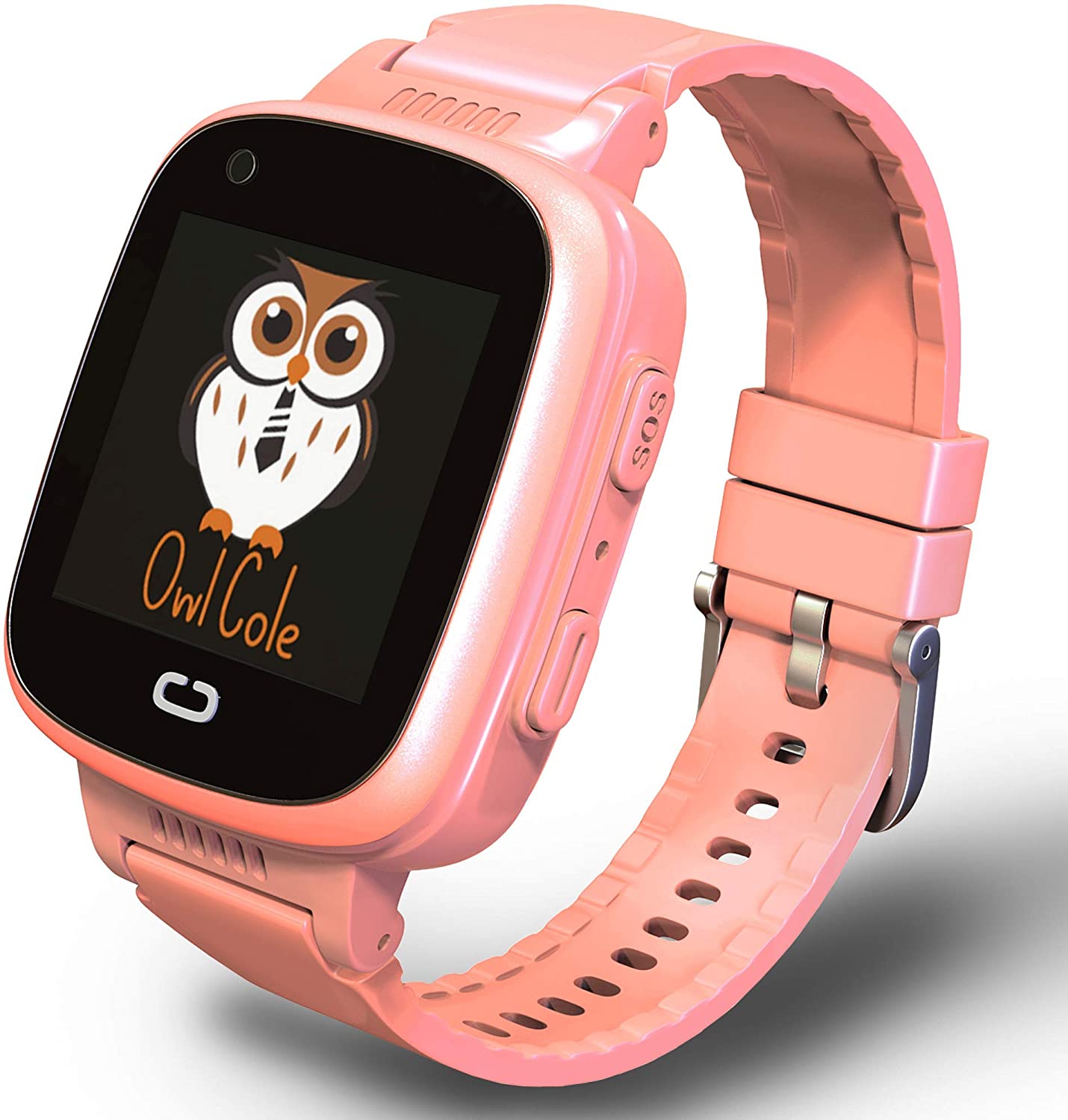 This Owl Cole Smartwatch for kids boasts being the best and most reliable kid's smartwatch in 2021. This watch features a fitness tracker, message and calling capabilities, an alarm, GPS, pedometer, and camera. It is IP67 waterproof rated and has extra-long battery life.
With its SOS emergency call feature, you can have greater peace of mind knowing your child can reach out for help when needed. The watch allows you to set up to 15 phone numbers for incoming and outgoing calls and voice messages.
With its 4G/3G/2G GPS tracker, you will find much more accurate location results, so you can get real-time information on your child's location along with reports on their movement.
You can video call with the built-in camera and use the remote camera as a parent to get a picture of your child's surroundings without them even knowing.
Features
Daily schedule and alarm
Pedometer
SOS call feature
History tracking
Learning games
Remote voice monitoring
Pros
More precise and accurate location details
Colorful touchscreen that is easy to use
Longer battery capacity
Cons
Smartwatch Features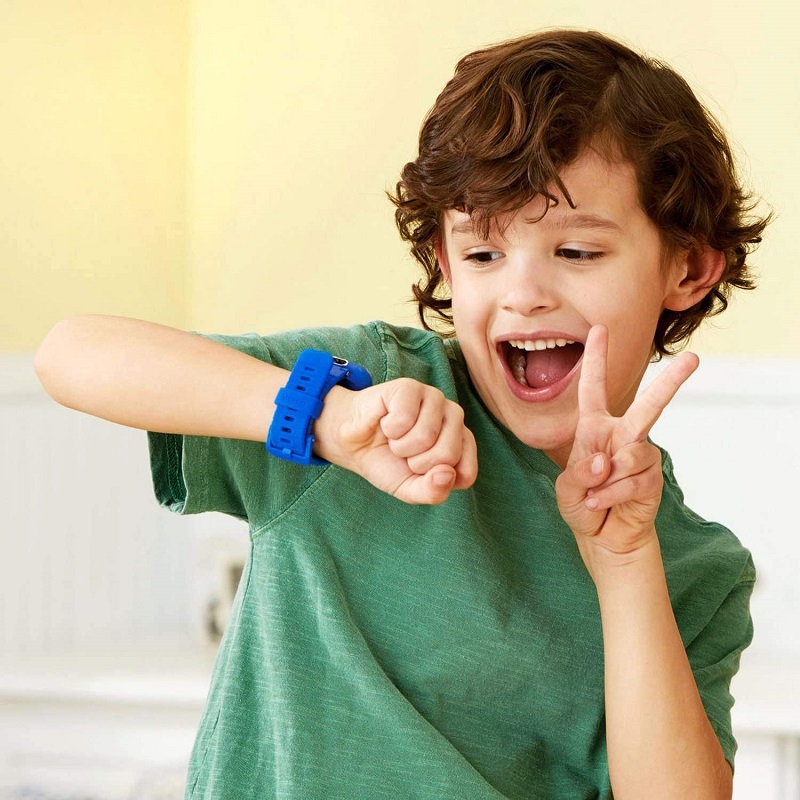 With smart devices gaining popularity, more and more products are hitting the market to compensate for that demand. So, when narrowing down your choices for the best smartwatches for kids, you want to take a closer look at the features of each and then pick out the best performing watches.
Fitness
Many kids smartwatches feature different educational and fitness applications that encourage kids to get up and move daily. Look for a device that encourages this kind of activity. For example, a smartwatch with different activities, games, and other educational content would be ideal.
Many also feature fitness trackers, including pedometers, sleep trackers, and some even feature heart rate monitoring. These fitness trackers can get kids more involved in their health.
GPS Tracking
When you find a smartwatch with GPS tracking capabilities, you can have much greater peace of mind knowing that you have your child's location in real-time. However, this feature often comes at an added cost in data services.
Camera
While it might not be a necessity, a camera is still something kids will love. Some feature a dual camera and even rotating cameras that can be used for taking pictures. Some are also capable of video recording and come equipped with onboard memory to store the photos and videos.
Parental Controls
With the right smartwatch, you can remotely connect and set tasks and reminders for your child. Parental access also allows you to limit their access to certain features. For example, you can restrict access to games when it is bedtime or stop incoming calls and messages when it is homework or school time.
Games and Activities
One of the biggest advantages of kids' smartwatches is the games. The games and activities are what motivate our children to use these devices. It is also a great way to teach them different life skills, including timekeeping and organization. For many games, you need to have access to the internet.
Safety Features
Many of the newer smartwatches for kids also come equipped with upgraded safety features. Many have real-time GPS tracking, boundary alerts, and even phone call and messaging applications. Some allow you to sync your smartphone with your kid's smartwatch, so you can see your child's data, including their location and app history.
Other Considerations for the Best Smartwatches for Kids
Now, let's take a look at some other considerations to keep in mind as you continue to narrow down your choices.
What Is Your Budget?
Budget is also an important factor to consider when making any kind of purchase. The prices for kids' smartwatches can vary greatly. Some are amazingly affordable, while others have a much higher price tag. So, come up with a budget and stick to what you are comfortable spending. Having a budget will help you narrow down your choices.
The Child's Age
The smartwatches on our list are ideal for children between the ages of 4 and 12 years old. Always find a smartwatch that is suitable for the age of your child. The watches for younger children will often have fewer features and are designed for easy use. They often have larger screens, more colorful icons, reminders, and even rewards when your child completes specific tasks.
Older kids will want a smartwatch with more premium features like a camera, fitness tracking, and two-way communication.
Durability
Since this is a smartwatch for kids, then you definitely want to find something that can hold up to the everyday wear and tear and bumps that are sure to happen. Durability is one of the more important features to consider when finding a kid-friendly smartwatch.
Make sure the touchscreen is reinforced or has thickened glass or composite materials to limit the chance of it cracking. The body of the watch should include aluminum or stainless steel, and the watchband should be lightweight and comfortable to wear.
Finding a waterproof watch is always going to be a plus, too. When we say waterproof, we mean that the device can be submerged in water. Many smartwatches for kids are IPX-7 compliant, meaning they can hold up well if they are in shallow water for up to an hour.
Comfort
Most children are going to refuse to wear a smartwatch if it isn't comfortable. Consider finding a smartwatch with a silicon or nylon strap. They are hypoallergenic and won't irritate the child's skin. They can also stand up to daily wear and tear. Additionally, find something that is easy to put on and take off. Velcro straps are a one-size-fits-all option.
Smartwatches for Kids FAQ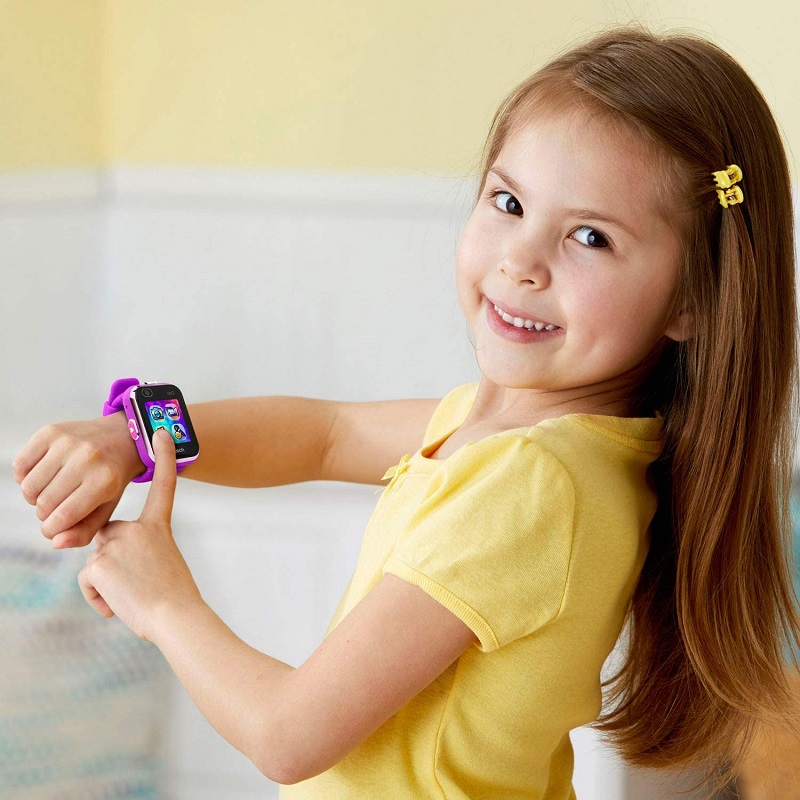 If you still have questions, check out our FAQ below for answers to some of the more commonly asked questions regarding smartwatches for kids and how to choose the best.
What exactly is a kids smartwatch?
A kids smartwatch is simply a portable and wearable device for your child with a myriad of different features and applications, including a digital watch, fitness tracker, GPS, camera, and so much more. The content of a kids smartwatch is tailored for younger children.
How old should my child be to wear a smartwatch?
The majority of smartwatches included on our list are ideal for children between the ages of 4 and 12. It is a good way to introduce your child to technology and use colorful images and fun icons to teach them how to tell time. It also teaches them how to use a touchscreen and engage in different learning forms through educational applications.
Do you have to have a SIM card in a kids smartwatch?
You will only require a SIM card when the smartwatch offers two-way communication. You will also have to have a data plan as well.
Can a kids smartwatch be hacked?
If you have a device that connects to the internet, there is always the risk that it can be hacked into. However, because of this, many companies offer end-to-end encryption to prevent this kind of thing from happening. It is also important to teach your children not to respond to messages or phone calls from strangers. Additionally, use the parental controls and regularly monitor your child's activity.
How often do the batteries need to be charged?
How often you have to charge the batteries depends on how often it is used and the battery capacity of that particular smartwatch. Many have a standby time of up to 4 days with frequent use. Others have batteries that can last for several months before they need to be replaced.
Have you bought one of these smartwatches for kids? If yes, share your thoughts on the purchase in the comments below.