Don't take this as an insult because I don't intend it to be. Most smartwatches available today just weren't designed to accommodate unisex sizes, nor are they appealing to women or those with feminine tastes.
Just take a look at some of the watches on store shelves, and you'll see how bulky and unattractive they can be.
Our own Lawrence Bradford discussed the struggles she had while trying to find a smartwatch.
Frankly, a woman's wrist is often smaller, and her tastes are much different than that of a man's.
The good news is that issue is starting to dissipate, slowly but surely. No one has come up with a viable design for women just yet, but manufacturers have been much better at creating unisex style devices.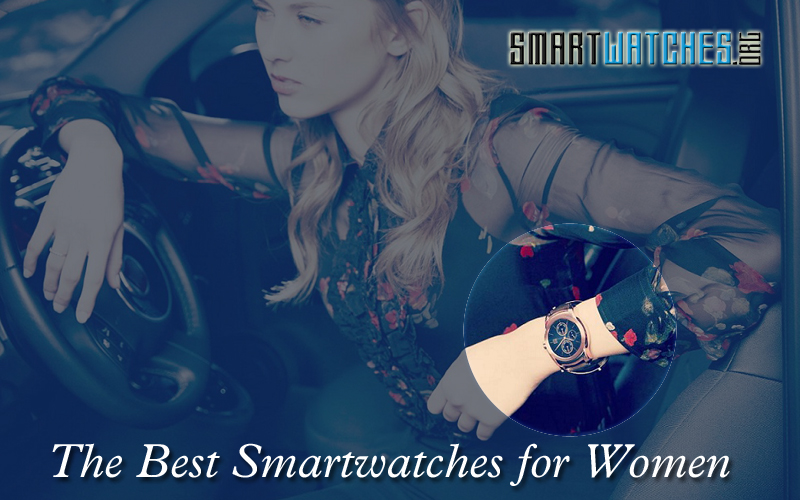 The Best Smartwatches for Women
The newest generation of smartwatches for women can do everything and then some. To narrow down our selection today, we have had to take a closer look at different brands and see who is offering value in terms of style, functionality, and features.
When looking for a smartwatch, you want to take a hard look at its features, fit, ease of use, and accuracy. You then want to compare each smartwatch with others and find real user feedback to help you make a more informed decision.
Today, we have a few of our top recommendations of the best smartwatches for women and a brief buyer's guide to help you narrow down your choices and make the best selection based on your individual needs and desires.
Budget
Whenever you make a big purchase, your budget is at the forefront of your mind. Many smartwatches range in price between $150 and $750, with some coming in at an even higher price tag than this.
However, you can still find more budget-friendly models with some of the same fitness tracking functionality. But remember, you get what you pay for. If you want more premium features, improved performance, and faster processing power, you will have to pay a higher price.
Compatibility
Many of the smartwatches you find will work with your smartphone; however, some are only compatible with Apple or Samsung, so this is something to watch for. If the smartwatch has built-in cellular functionality, it won't need to be paired with your smartphone to use GPS, make mobile payments, and use many other features.
Comfort
Since the smartwatch will be worn on your wrist for the majority of the day, you want to make sure it is comfortable rather than clunky. If you have a smaller wrist, we recommend you find a 36mm or 38mm smartwatch. Anything that is 44mm and up might be too bulky on your wrist and uncomfortable to wear.
Now let's get into our top recommendations of the best smartwatches for women.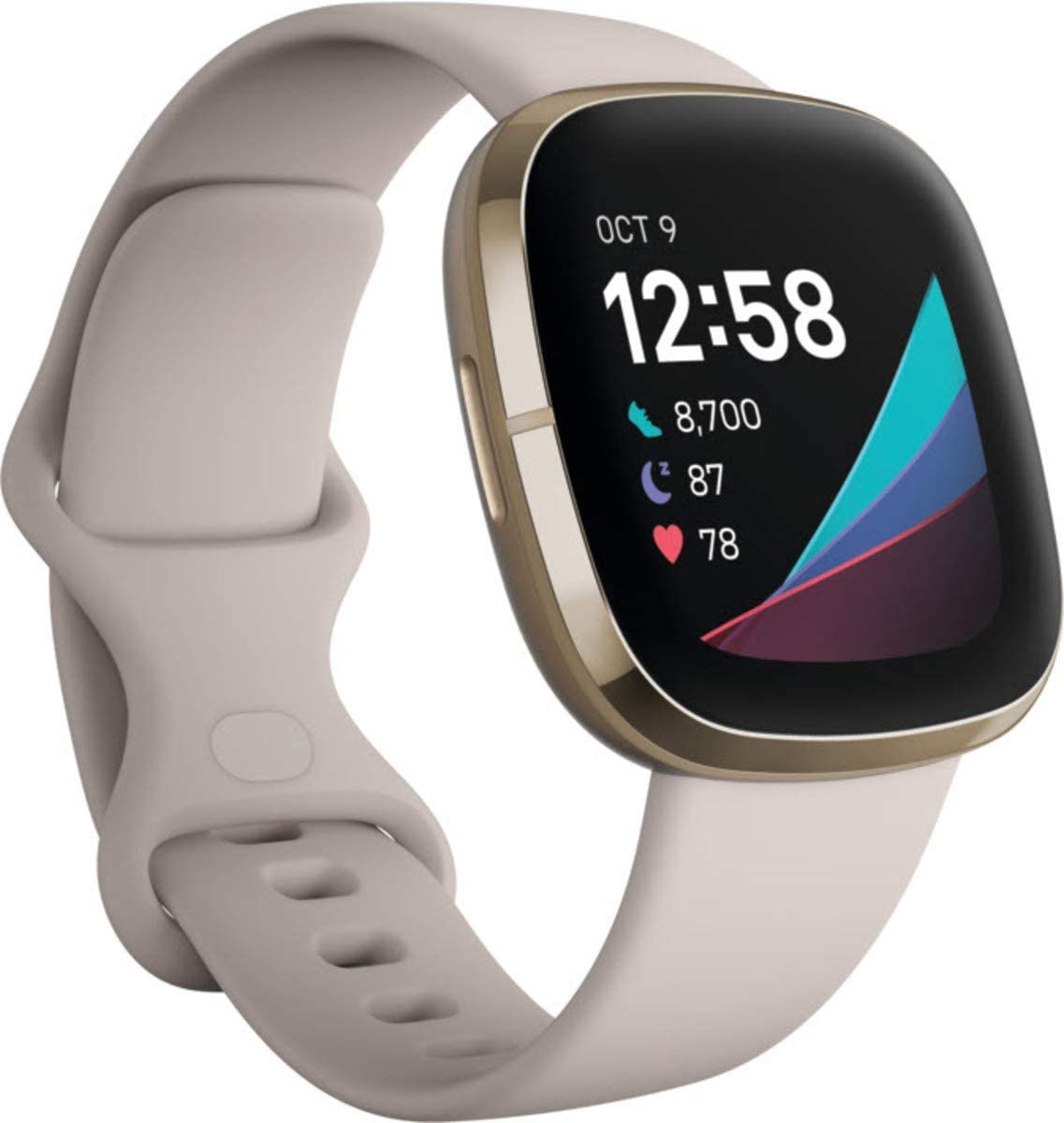 Key Features
Stress Management Tracking
Compatible ECG App
Skin Temperature Readings
Built-In GPS
Voice Assistant
Sleep Optimization
The Fitbit Sense Advanced Smartwatch comes equipped with all the tools you need for heart health, stress management, and skin temperature trends while also being stylish with its white and gold appearance. The watch features an EDA Scan app that detects electrodermal activity. This indicates your body's response to stress. The built-in skin temperature sensor monitors your temperature at night, so you can see where it varies.
You can also have access to the Fitbit ECG app. It is currently only available in select countries. It helps pick up any heart rhythm irregularity there may be. This feature is not intended for use by users under the age of 22. Additionally, the Fitbit Sense allows you to monitor your oxygen levels.
The stress tracking feature is also a plus as long as you know how to manage it. Instead of focusing on the heart rate like the Samsung Galaxy smartwatch does, the Fitbit sense instead senses sweat from the new electrodermal activity function.
If you want to measure your stress levels, simply place the palm of your opposite hand over the stainless steel rim of the smartwatch. The contact with the watch creates a circuit, and the EDA sensor measures sweat-triggered markers. The stress tracking process takes approximately two minutes to complete.
With this smartwatch, you can use Google Assistant or Amazon Alexa to get news, set reminders and alarms, control your smart home devices, and more. Overall, the Fitbit Sense is an advanced health smartwatch that can help guide you toward better health.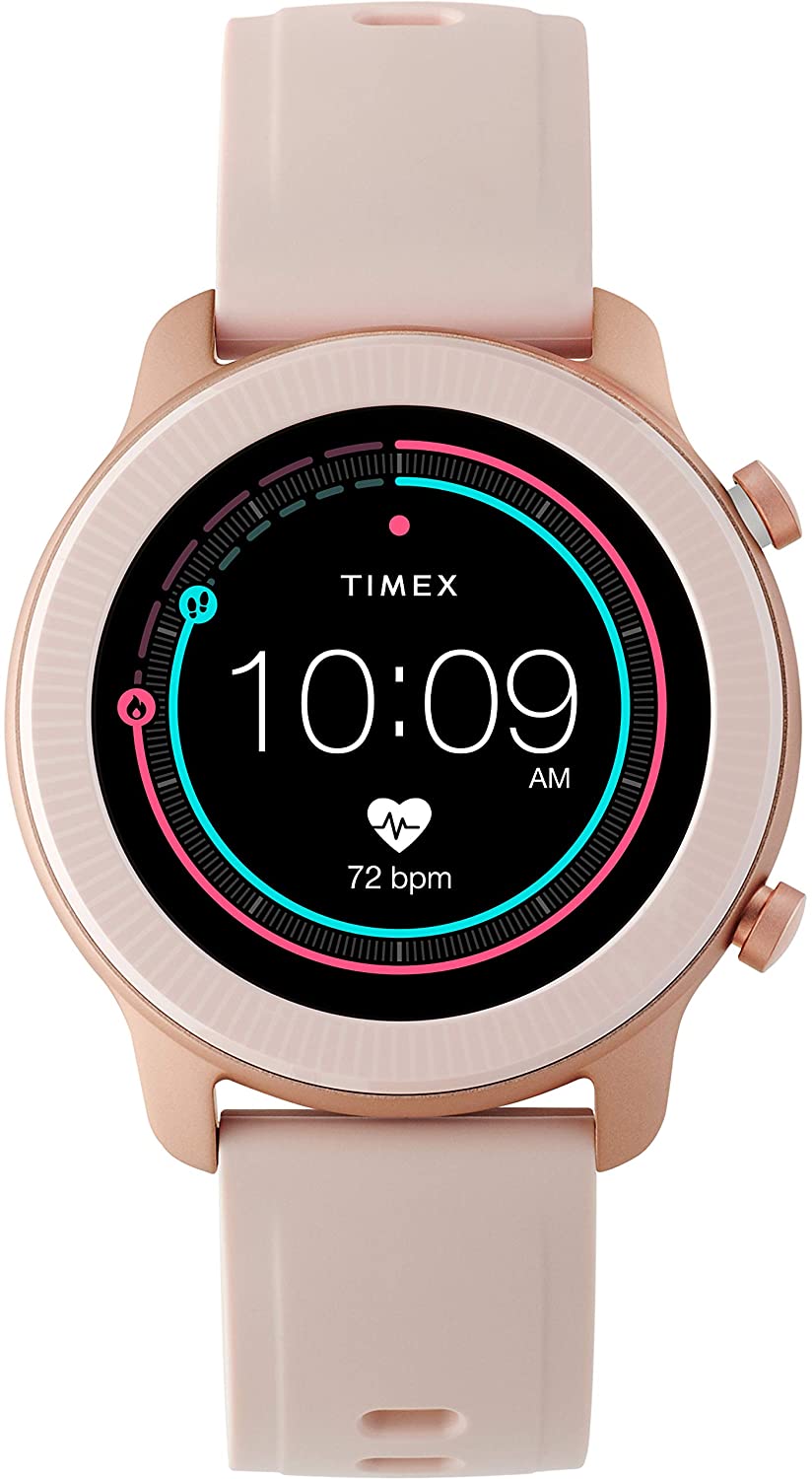 Key Features
High-Resolution Touch Display
Custom Watch Faces
Up to 12-14 Day Battery Life
24/7 Activity and Sleep Tracking
The Timex Metropolitan smartwatch rolls brains and beauty into one convenient package. It has all the functionality you would expect from a smartwatch with a sleek and stylish design you will want to wear daily. The AMOLED display is high-resolution. It is an always-on display that offers you a bright and crisp image, no matter the lighting conditions.
If you want to change your look, it is easy to do with custom watch faces. You can update to different custom watch faces easily with the app. This watch also features a 24/7 fitness tracker and a highly accurate GPS that you can use to log miles on your next run.
The strap is 36mm and made of silicone, which is lightweight and comfortable to wear. The watch face is made of high-impact and resistant Gorilla glass, so you don't have to worry about it when engaging in your activities.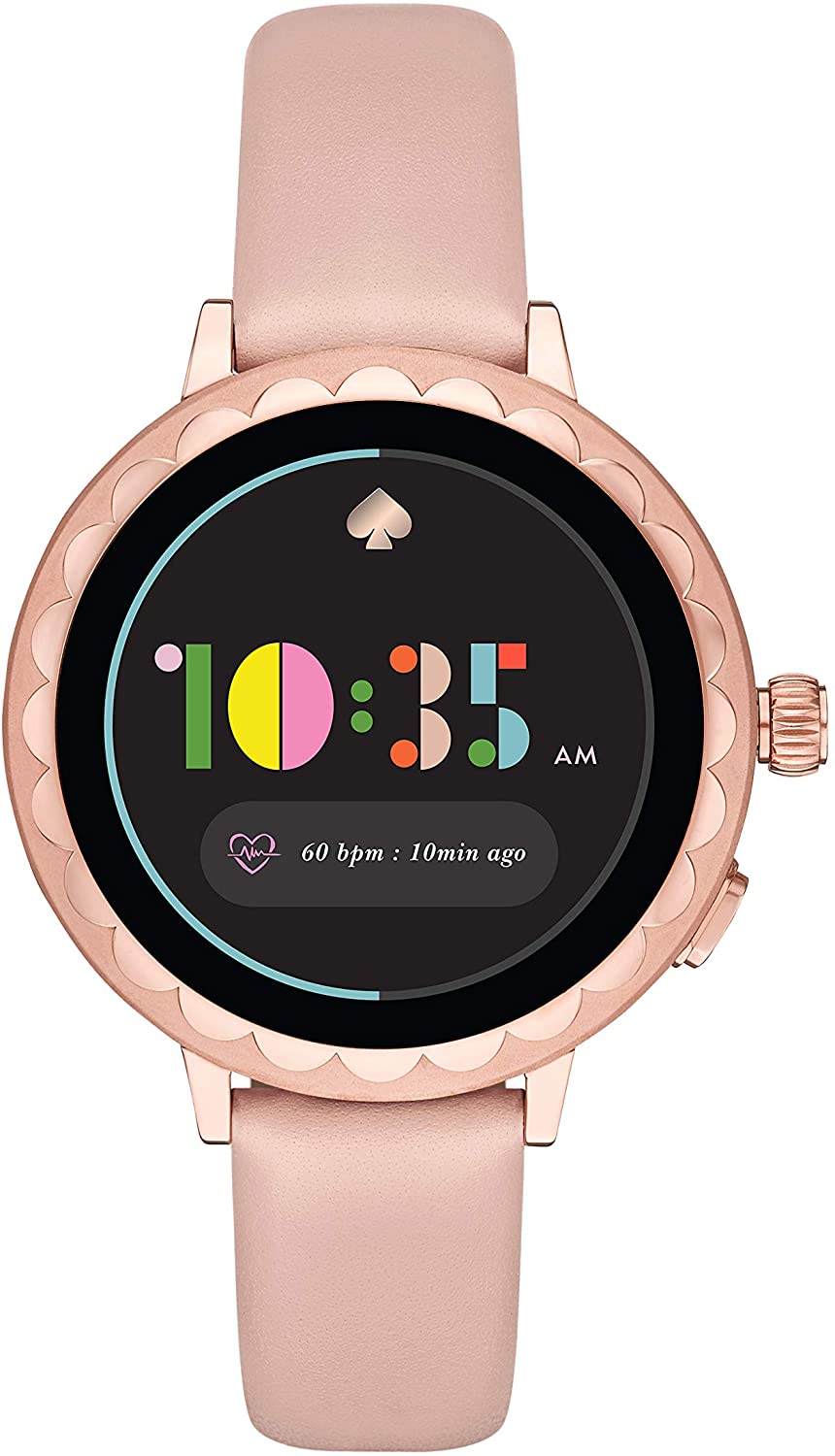 Key Features
Fitness Tracker
Weather
Reminders
Email
GPS
Heart Rate Monitor
This smartwatch by Kate Spade is powered by Wear OS by Google. It is compatible with Android OS 4.4+ and iOS 9.3+. You will love the stylish design of this watch, even if you don't use the Scallop 2 Choose Your Look Feature to coordinate your smartwatch with the outfit you choose to wear on any given day.
Besides its style and appeal, you will also find that this stylish smartwatch is packed full of amazing and beneficial smartwatch features such as its heart rate sensor, built-in GPS, and the NFC mobile payment feature for contactless payment. With Google Assistant voice activation, you can take calls with your smartwatch without having to dig around in your purse to find your smartphone.
The Scallop 2 is also water-resistant and can be left on while you take a quick dip in the pool. While there are some useful functions, it, unfortunately, does not have a sleep pattern tracker or monitoring, and the 42mm case may prove to be slightly too big for some smaller wrists.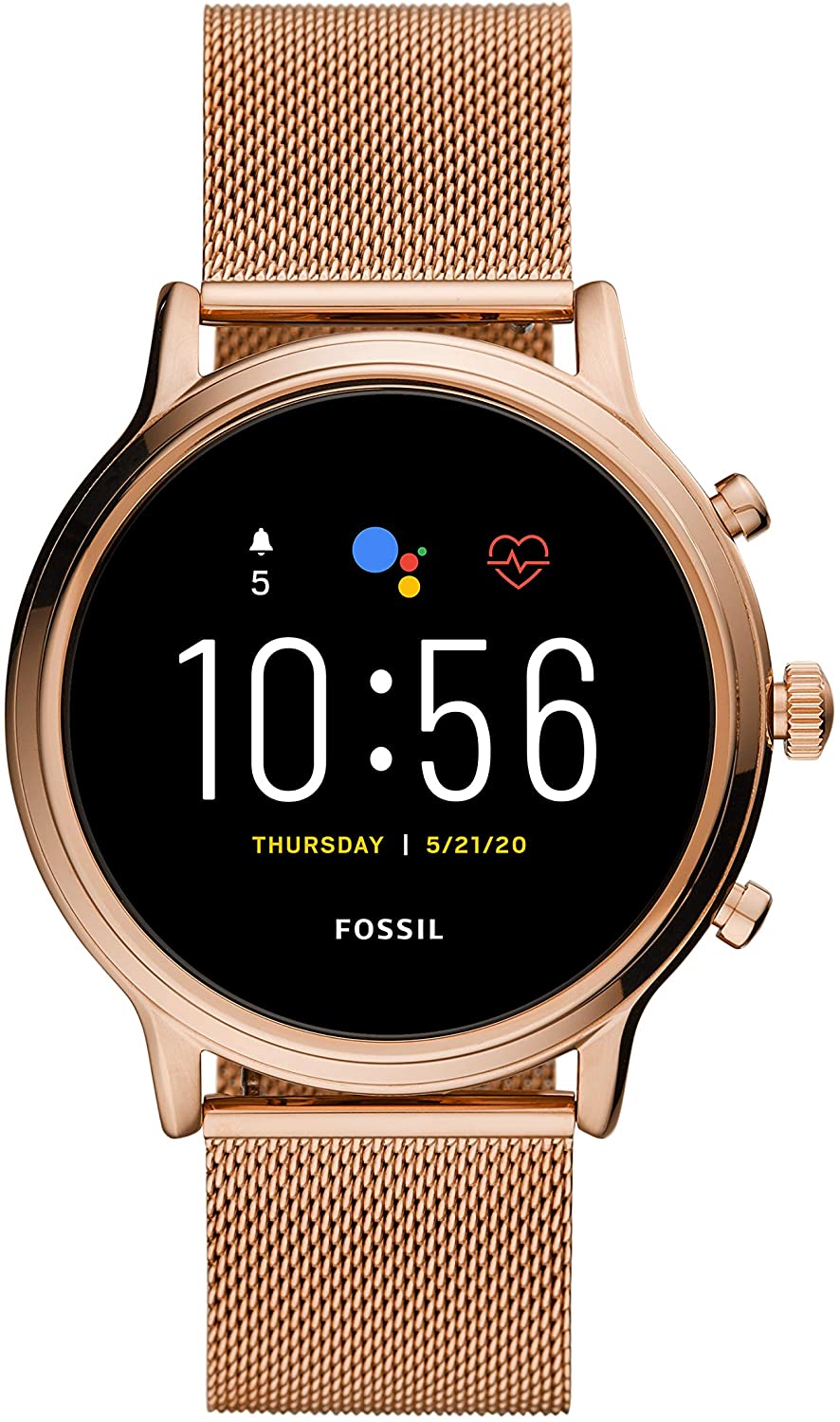 Key Features
Fitness Tracker
Phone
GPS
Pedometer
Heart Rate Monitor
Bluetooth Connectivity
This is another smartwatch powered with Wear OS by Google. It works with iPhone and Android and comes in various colors, so you are sure to find one that you love and matches your personality.
With its new smart battery modes, you can extend its battery life for several days. The magnetic USB rapid charger is included with your purchase and can charge the smartwatch up to 80% in just under an hour.
With the activity tracking and heart rate tracking features using Google Fit, you can track all your at-home workouts. The built-in GPS also works wonders for outdoor activities and allows you to track your distance. Its swimproof design is water-resistant, so you can leave it on while washing your hands, taking a quick dip, or when you get stuck in the rain.
It also works well as your Google Assistant and is always ready to help when you need it. You can even take advantage of contactless payment options at the store when you use your smartwatch to pay using Google Pay.
The Fossil Gen 5 allows you to take calls and messages and other smartwatch notifications right on your watch, so you can always stay in close contact with friends and loved ones and doesn't require you to dig out your phone every time. You can also use this smartwatch to keep a closer eye on your health with guided breathing exercises, custom goal setting, and alarms.
The case size is 44mm, and the band size is 22mm. The band is interchangeable with all Fossil 22m bands. The screen is high-resolution, and the watch has touchscreen functionality, making it easy to use and navigate.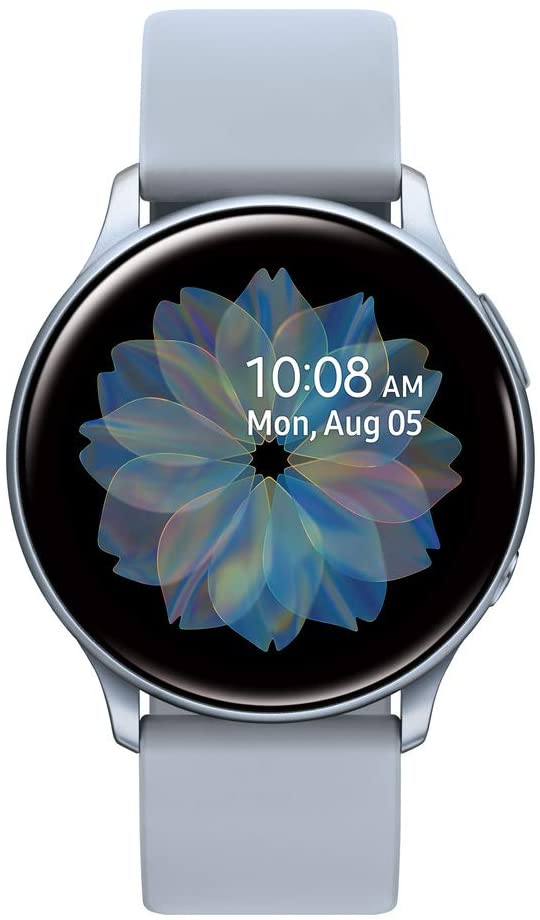 Key Features
Bluetooth Connectivity
Heart Rate Monitor
Fitness Tracking
Sleep Monitoring
The final watch on our list is the Samsung Galaxy Active 2. If you are an athlete and want something stylish and feature-rich enough to help keep track of your health and fitness, this is the smartwatch for you.
It is Android and iOS compatible and can track a range of different exercises and activities, including running, cycling, and rowing. You can also download various third-party apps for more guidance with other sports like golf and swimming.
This watch also allows you to track and monitor your sleep habits, menstrual cycle, and stress levels. Its sleek and minimalist design is also comfortable enough to keep on for all-day wear. It comes in a variety of different bands and finishes.
The sleep tracker can provide you with insight so you can learn how to achieve a better night's sleep, and it can also monitor your stress levels with the integrated Calm app.
The battery has also been built to last. Its long-lasting battery can go for up to five days on a single charge. If you need a quick boost, connect it with your compatible Galaxy smartphone to take advantage of wireless power share.
Overall, this is a great smartwatch with a versatile fitness tracking feature, sleep monitoring, and many design options. However, keep in mind that some features may be limited with iPhones and better suited for Android.
Final Thoughts
All of the smartwatches for women we have included on our list are great choices with all the functionality and features you could hope for while also being incredibly stylish. The right smartwatch can help you save time, keep tabs on your health, and are a great extension of your smartphone.
So, before choosing one, make sure it compatible with your smartphone, has all the features you are looking for, and has good battery life.