One of our most successful articles here at Smartwatches is our list of the best smartwatches for children. That list contains a wide variety of devices, from entertainment wearables to full-on GPS tracking watches for kids.
Strapping a wearable with tracking support to your child's wrist makes a lot of sense, especially when it allows you to monitor their current location and habits in real-time.
In the past, it was perfectly acceptable to allow your children free roam of the neighborhood without supervision. Parents would usually set a dinner curfew, and children were expected to return at the appropriate time.
The world isn't so forgiving anymore; at least it sure doesn't seem to be. Every day we hear stories about children being abducted, going missing, or being involved in some kind of accident. As a parent, you can never be too safe with your child.
Features such as geofencing are becoming popular methods parents use to ensure the whereabouts of their child.
That's why we're going to take a look at some of the best GPS tracking watches for kids.
Some things to note first:
There are not truly "tamper-proof" models, it seems. Most include a silicone band that can be easily removed. Some of the devices have tamper alerts to let you know if the child – or someone else – tries to remove it, but nothing stops them from doing so.
Pay attention to the GPS limitations. If the device is SIM-enabled and has an active subscription, it can usually be tracked anywhere, even internationally. If the device does not connect to mobile networks, the range is going to be severely limited.
Identify the features you want most, which are most important to you and your family, and go from there. Some devices sacrifice features to make room for others. For example, if you want to track your child's location no matter where they are, without fear of range limits, you'll need to pay the cash for a wireless subscription. In this case, that might mean your budget will suffer more than expected.
A "water-resistant" rating rarely means waterproof. In most cases, it's not safe to submerge water-resistant devices, nor is it safe to go swimming, take a bath, or get in the shower with them. Be responsible.
Android and iOS are the most common smartphones supported when it comes to companion apps. If you have another type of phone – or an out-of-date model – you might want to consider an upgrade.
An overwhelming majority of these devices are crowdfunded through platforms like Kickstarter or IndieGoGo. This means people have the opportunity to financially back and support a project before it's commercially available. For whatever reason, sometimes these projects fail, and the devices are not released. We do our best to keep you updated, but just be aware of this.
We've done our best to choose safe, family-friendly devices that have a good reputation. Sometimes, there's just not enough info. This is where we rely on you – our community – to weigh in with your experiences as you have done in the past. Thank you.
The Best GPS Tracking Watches for Kids
By choosing one of these GPS tracking watches for kids, you will monitor your child's location and call them back if they stray too far. The idea is not to be a burden on your child — as if any parent is more concerned about that than safety — but instead to ensure they are safe at all times.
Each device on the list includes its own features and a unique price tag. However, with so much variety, you should be able to find something that fits your budget.
We recommend considering everything that's here before making a final decision about which of the GPS tracking watches for kids you will buy.
GPS Watches for Kids: What to Know
Before we get into our list, let's take a closer look at what you should consider when purchasing GPS watches for kids.
GPS Tracking
One of the biggest fears for a parent is losing their child. It is something no parent wants to experience. Fortunately, there are GPS watches available on the market that allow us to keep track of our child's location for greater peace of mind.
You can download the mobile app Find My Kids and then connect it to your child's smartwatch. It offers reliable global positioning, and some even allow for geofencing.
SOS Alerts
When the watch has the SOS feature, your child can press the button when they find themselves in an emergency situation, and they can get help as quickly as possible.
Two Way Calling
With two-way calling, you can maintain even better lines of communication with your children. However, not all smartwatches have this functionality. So, when reviewing your options, see if two-way calling is a feature.
Camera
A kid's smartwatch can also be used for entertainment purposes as well. While the camera really doesn't have any safety benefits, it is fun for the kids. You might even be able to find a camera that you can monitor remotely from the mobile app to view your child's location.
Waterproof
Finding a waterproof watch for your kids is especially ideal because they are made to be more durable and long-lasting. It is safe for your child to wear while swimming, washing their hands, and splashing around in the rain.
Tech Specs
Finally, make sure to look at the technical specifications of each GPS tracking watch as well. Check for a good battery capacity and make sure it comes with a reasonable amount of storage space.
Now, let's get into our top recommendations of the best GPS watches for kids currently available online.
The Xplora X5 made our list of the best GPS watches for kids simply because of its many features and functionalities, making it ideal for both kids and parents. This smartwatch can make and receive phone calls from pre-saved numbers. It can also receive text messages, emojis, images, and voice messages and reply to those messages.
With the SOS button, you can rest assured that your child will have access to help. All they have to do is press the SOS button to notify emergency contacts of their location. Multiple services are used to show the location of this device when needed. You can also choose to set up Safety Zones around key locations if you wish.
This kid's smartwatch can also be connected to Wi-Fi. It is compatible with several different networks, including Sprint, Verizon, and US Cellular. However, you will need to purchase a SIM card separately, as one is not included.
The device is rated waterproof IP68 up to 1.5 meters. It also features a pedometer and a 1.4-inch touchscreen, making it easier for your child to use. Overall, this GPS watch for kids allows parents to have the ultimate control and visibility.
The parents can control all the settings and functionality easily from the mobile app. You can even activate School Mode, so only the watch is on display during school hours. It also disables all calls and messages but still allows you to track your child's location.
The Xplora X5 watch is suitable for children ages 5 to 12 and helps your child stay connected.
Pros
Good style, not too childish
Easy to use applications
Easy to set up
Waterproof
Safe Zone and geofencing feature for safety
Reliable
Good for older children
Works on a 4G network
Cons
Some reported that the app is not stable on Android and may show as network not available
Child can access APN and Wi-Fi settings and can also shut down the device
May be too complicated to use for younger kids
A bit on the expensive side
If you are looking for a more affordable list of GPS watches for kids, then this Geneseries Smart Watch with GPS Tracker definitely tops that list of options. It is a multifunctional watch with features that include voice chat, two-way calling, class mode, camera, LBS tracking, security zone setup, remote camera, SOS alarm, remote monitor, alarm clock, and low battery notification. It also allows your children to access up to three math games to continue their learning while still being entertained.
When your children are out of the house, you can use this GPS tracker watch to keep track of their real-time location through the Setracker 2 app. When your children are in trouble, they can press the SOS button for three seconds, and it will call the numbers programmed into the phone. Up to three SOS numbers can be programmed into the watch at one time.
The built-in HD camera is also fun for the kids to use to take selfies and photos with their friends. It is also waterproof, so you don't have to worry about your child wearing it while washing their hands or splashing around in the rain.
Parents can set up safety zones for their children with this watch as well. They will be notified if their child is outside of these zones and has exceeded the safety range.
Pros
Great battery life
Easy to set up
Waterproof
Affordable
Suitable for both boys and girls
Cons
May have signal trouble
No text message capabilities
GPS can be a hit or a miss
Buy this Geneseries Smart Watch Now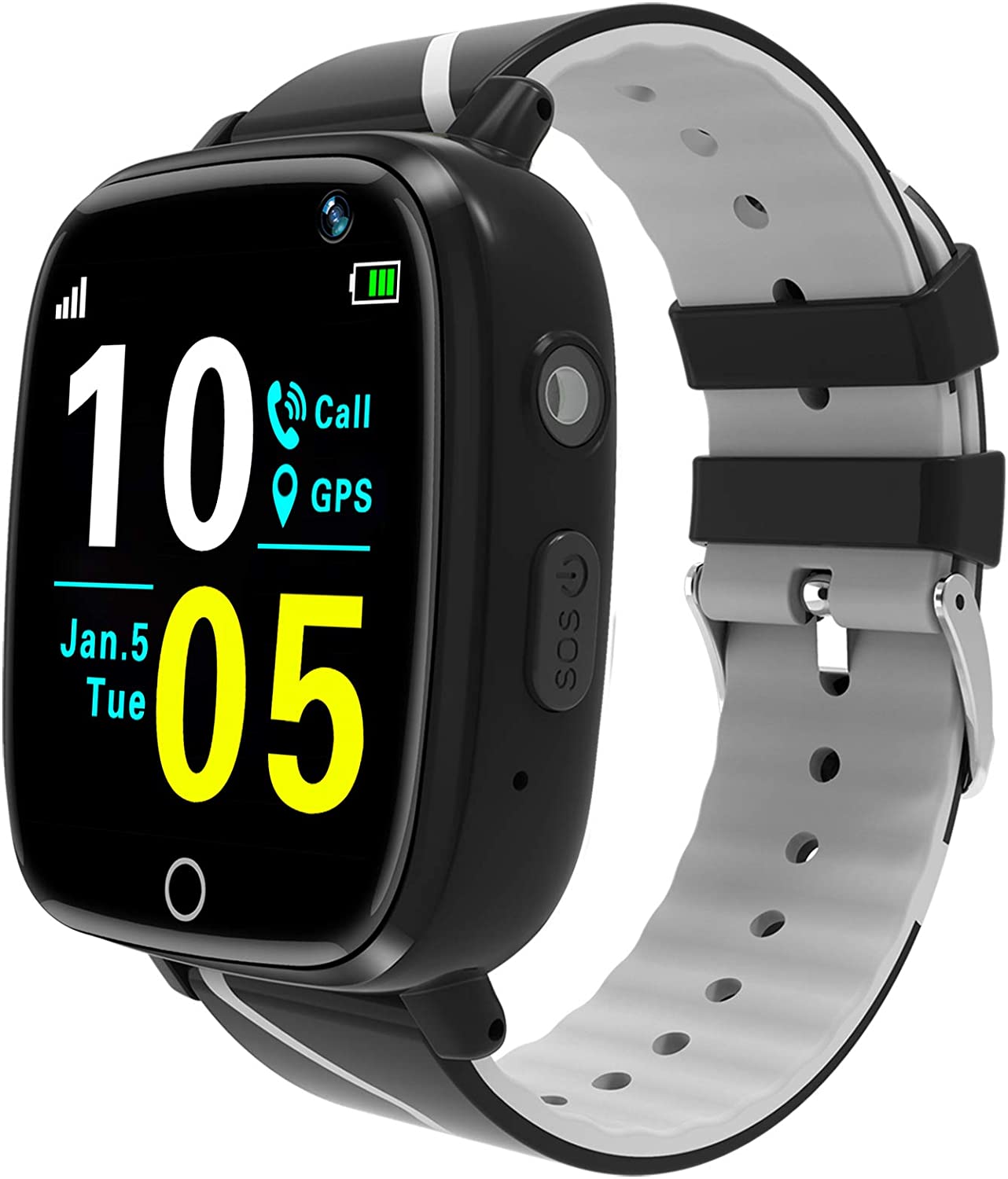 The Willow Wind smart GPS watch for kids features GPS+LBS two location ways, meaning there is a historical footprint available of your children, so you can ensure their safety in real-time. You can also use the app to set up safety zones for your children. When your child is outside of the designated safety zone, you will receive an alarm through a message.
There is also an SOS function on this GPS watch. When your kids find themselves in an emergency situation, they can press the SOS button for two seconds to quickly call the three phone numbers programmed into the watch.
With two-way calling, it is easier to keep in touch with your children. You can have a maximum number of 10 contacts saved into the smartwatch at one time. You add them to the app, and the numbers are synced to the watch. Voice message and chat time are up to fifteen seconds.
Class Mode or do not disturb can be enabled during school hours, so your child is not distracted; however, SOS mode will still be fully functional.
Pros
Easy to navigate
Good battery life
Comfortable for long time wear
Durable and long-lasting
Cons
Buy this Willow Wind Kids GPS Watch Now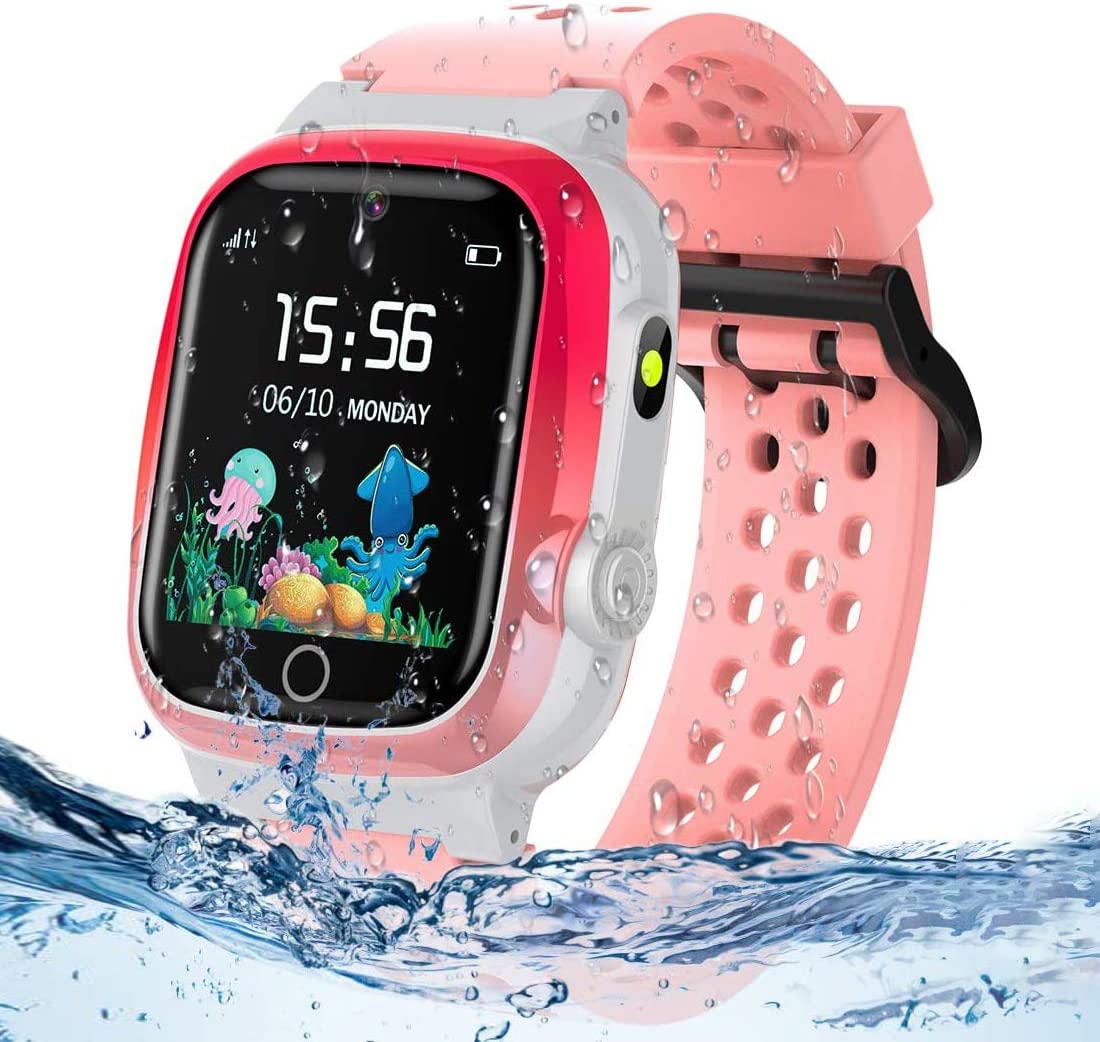 This Kids GPS Watch uses LBS positioning technology, so you can track your child's movements and set safe zone areas in the app. When they are outside of the safe zone you have set, you will receive a notification through the app. This tracking feature depends on the local signal and GPS base station. If the signal strength is low, then the positioning error could result in a 0.3 to 5-mile radius.
With the SOS function, your kids can call for help quickly and easily when they find themselves in an emergency situation. They just have to press the SOS button for three seconds, and it will call up to three numbers that have been programmed into the watch.
With the Class Mode function, your kids will not be disturbed by their watch. All functions will be paused except the SOS emergency feature while the watch is in do not disturb mode.
If you insert a SIM card, your child can have access to two-way calling, which allows you to stay in even closer contact with your children throughout the day. This watch is compatible with SpeedTalk or T-Mobile. Among its other features, you will also find voice chat, a flashlight, camera, phone book, talk-back feature, footprint, and alarm clock.
This GPS watch for kids is suitable for children between the ages of 4 and 12 years old. However, the simplicity of its design and its style may be tailored more toward younger children.
Pros
Has an accurate GPS tracker
Multifunctional
Has games and fun designs your child will love
SOS feature in case of emergencies
Cons
Best suited for younger children
Buy this Themoemoe Kids GPS Smartwatch Now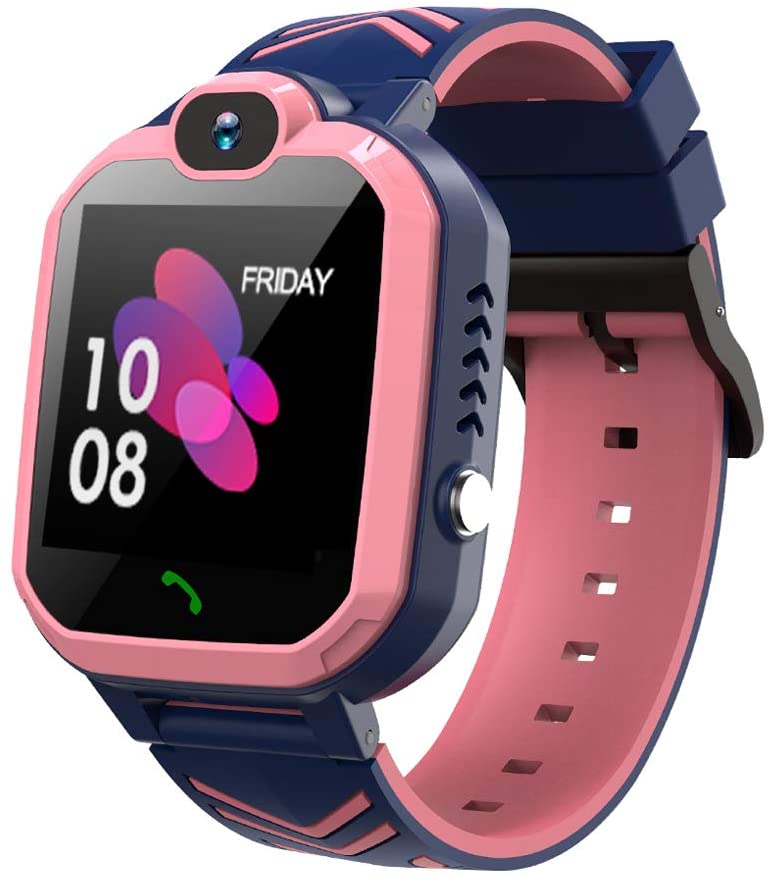 If you have more of an active child, you will want to find a durable GPS watch for kids that can stand up to the active lifestyle your kid leads. This smart watch has amazing functionality and even allows your child to keep up with their very active fitness level. It can be used during almost any sport as well, including swimming, because it is waterproof.
You will also find that it has a camera and a photo album. You can easily connect to the app to keep track of your child and also set alarms, and do not disturb times. It is multifunctional and supports two-way calling, LBS positioning, SOS emergency, Voice chat, and more.
In the app, you can also set up safety zones for your children and remotely control the camera at any time so you can see your child's location. The fence radius when setting up safety zones is 500 meters. Once your child has walked outside of this fence, you will receive a notification.
The maximum standby time for this smart watch is three to five days. It has a long battery life which is perfect for your children. This watch is suitable for children between the ages of 5 and 12 and comes in your choice of pink or black.
Pros
Has a fitness tracker
Easy to read high-definition screen
LBS capability
Accurate GPS tracking
Cons
You have to purchase a compatible SIM card, or many of the more essential functions will not work
Purchase this Kids GPS Smart Watch Now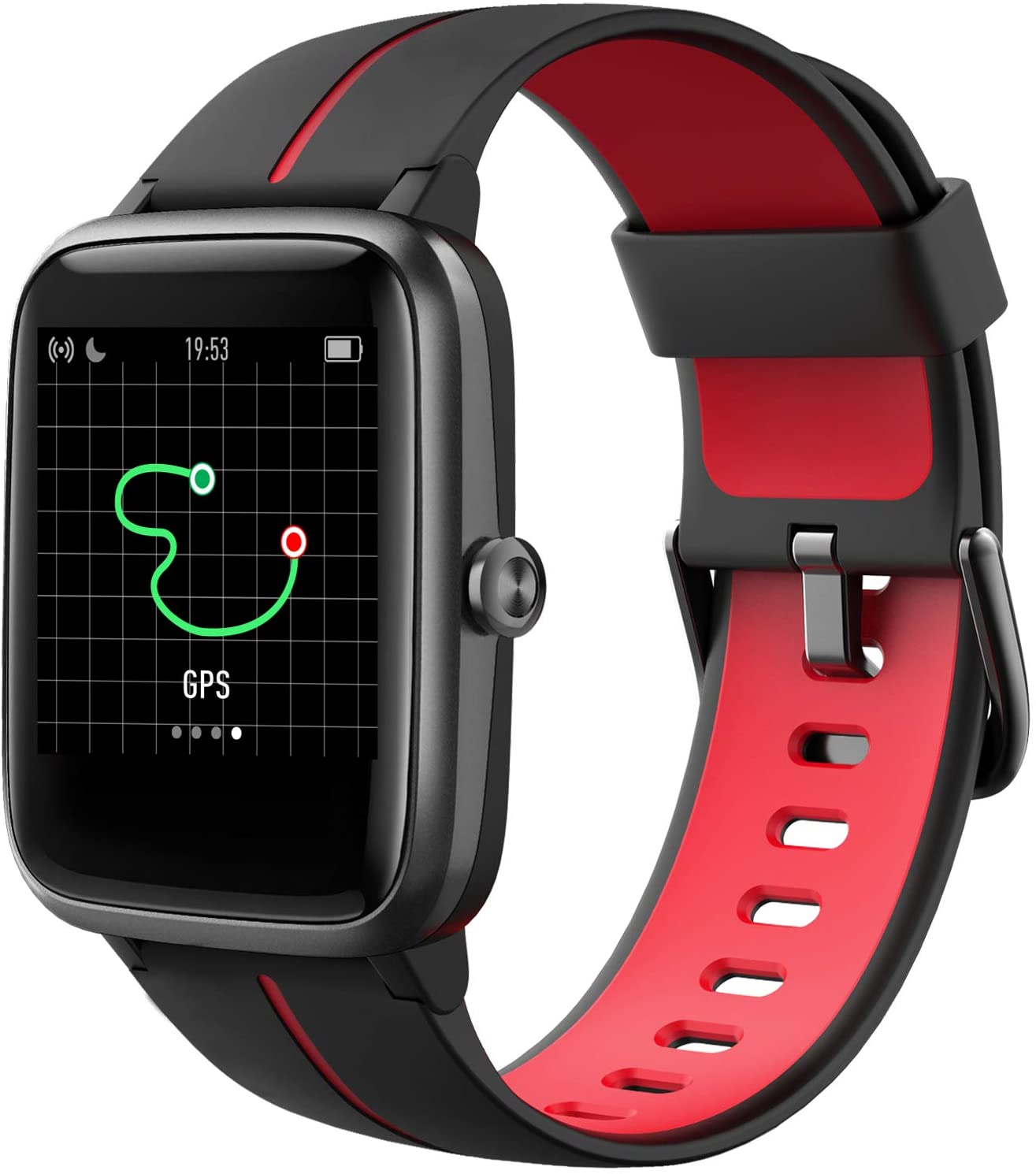 While it may not necessarily be advertised for kids, this Blackview Smart Watch with Tracker has been praised by parents for its functionality and GPS accuracy. If your child participates in a lot of afterschool activities, you will find that this watch will definitely benefit you and your child.
Your child can use this watch to call, text, and set alarms. Parents can easily track their child's whereabouts with the accurate built-in satellite positioning system, and they can control everything. All you have to do is download the app on your smartphone, and you can easily control the watch remotely and always know your child's location in real-time.
This smartwatch supports GPS, Glonass, Galilean precise positioning. It is also made with waterproof materials so it can be worn at all times. It is water-resistant for up to 50 meters and within ten minutes.
It also has a sleep tracker that can track your child's sleep quality and sleep time. The advanced HR sensor allows for accurate and effective heart monitoring as well and can keep you and your child more up to date on their health.
You will also find an impressive 45-day battery life. Its low power consumption design offers endurance. When it is time to charge, it only takes 2.5 hours and can be used again for up to 10 days with a standby time of up to 45 days.
Pros
Accurate and precise GPS tracking
Made of waterproof, durable materials
Long battery life
Sleep and fitness tracker
Cons
App notification on the watch may be distracting for some children
May be better suited for older children
Buy this Blackview Kids GPS Waterproof Smart Watch Now
Final Thoughts
Choosing to invest in a smartwatch for your child with GPS capabilities can grant you the peace of mind you need when your child is outside the home. You will know your child's location in real-time, and your child will be able to call you whenever they need you.
The best GPS watches for kids will feature an SOS button, two-way calling and be made with durable and long-lasting materials. When looking for the best GPS watches for kids, make sure to check for high accuracy when it comes to GPS tracking.