This list has been updated for 2018, complete with new GPS tracking watches for kids.
Latest Update: Updated January 2018
One of our most successful articles here at Smartwatches is our list of the best smartwatches for children. In that list is a wide variety of devices from entertainment wearables, to full-on GPS tracking watches for kids.
Strapping a wearable with tracking support to your child's wrist makes a lot of sense, especially when it allows you to monitor their current location and habits in real-time.
In the past, it was perfectly acceptable to allow your children free roam of the neighborhood without supervision. Parents would usually set a dinner curfew and children were expected to return at the appropriate time.
The world isn't so forgiving anymore, at least it sure doesn't seem to be. Every day we hear stories about children being abducted, going missing or being involved in some kind of accident. As a parent, you can never be too safe with your child.
That's why we're going to take a look at some of the best GPS tracking watches for kids.
Some things to note first:
There are no truly "tamper-proof" models it seems. Most include a silicone band that can be easily removed. Some of the devices do have tamper alerts to let you know if the child – or someone else – tries to remove it, but there's nothing stopping them from doing so.
Pay attention to the GPS limitations. If the device is SIM-enabled and has an active subscription it can usually be tracked anywhere, even internationally. If the device does not connect to mobile networks, range is going to be severely limited.
Identify the features you want most, as in which are most important to you and your family and go from there. Some devices sacrifice features to make room for others. For example, if you want to track your child's location no matter where they are, without fear of range limits, you'll need to pony up the cash for a wireless subscription. In this case, that might mean your budget will suffer more than expected.
A "water resistant" rating rarely means waterproof. In most cases, it's not safe to submerge water resistant devices, nor is it safe to go swimming, take a bath, or get in the shower with them. Be responsible.
Android and iOS are the most common smartphones supported when it comes to companions apps. If you have another type of phone – or an out of date model – you might want to consider an upgrade.
An overwhelming majority of these devices are crowdfunded through platforms like Kickstarter or IndieGoGo. This means, people have the opportunity to financially back and support a project before it's commercially available. For whatever reason, sometimes these projects fail and the devices are not released. We do our best to keep you updated, but just be aware of this.
We've done our best to choose safe, family-friendly devices that have a good reputation. Sometimes, there's just not enough info. This is where we rely on you – our community – to weigh in with your experiences as you have done in the past. Thank you.
The Best GPS Tracking Watches for Kids
By choosing one of these GPS tracking watches for kids you will be able to monitor your child's location, and call them back if they stray too far. The idea is not to be a burden on your child — as if any parent is more concerned about that than safety — but instead to ensure they are safe at all times.
Each device on the list includes a separate set of features, and a unique price tag. We recommend considering everything that's here before making a final decision about which of the GPS tracking watches for kids you will buy.
Note: We plan to keep this post up-to-date. As more devices GPS tracking watches for kids are released and/or devices on this list are affected we will update the post to reflect the changes.
GizmoPal 2 by LG (KizON)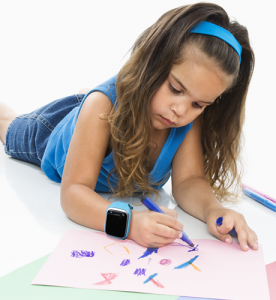 The GizmoPal 2 by LG is an update to the original model, which was a GPS tracking watch for smaller children. Like toddlers.
The biggest change is the design of the device, which looks better all around. Furthermore, the GizmoPal 2 also includes fun sounds, and a voice clock – which calls out the time – to keep kids entertained.
At any time parents can open the companion app for Android devices and view their child's location thanks to built-in Wi-FI and GPS.
Parents can even set location reminders through the Android app, which automatically polls the watch's location to show their child's whereabouts throughout the day.
After setting boundaries, the watch will send notifications if it detects the child crossing them. This is great if they're outside playing, or if someone is home watching them.
The device works as a phone, too, as parents can call the watch and children may call out to predetermined numbers. It features built-in support for up to four different numbers. That way children can call Dad, Mom, siblings, or other family members when they need them.
If you're interested, you can purchase the GizmoPal through Verizon – online or in-store – for $79.99. A monthly subscription fee of $5 will be tacked on to an existing wireless bill — or a new one.
Lineable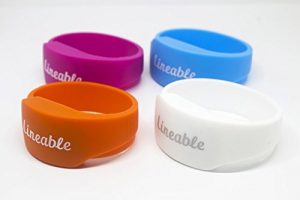 Want something simple without all the bells and whistles? Perk up, because surely you'll be interested in this. The Lineable is nothing more than a band with GPS-tracking built-in. It relies on "crowdsourced GPS" to locate your child, or whoever is wearing the band. This is essentially what keeps it "budget-friendly" which is great for everyone.
Anyone with the Lineable app can help parents find their child, which is where the crowdsourced moniker comes into play. No they can't actually see the location of strangers, the app simply uses the wireless support to transmit information.
Keep in mind, there aren't many reviews for the device yet as it's relatively new. Some buyers have even mentioned they're still waiting for their shipment.
Kigo Watch
Previously called the Kidswatcher, the Kigo Watch is designed for children of all ages and features a unisex or neutral theme.
Click here to read our review of the Kigo watch…
As you'd expect, the Kigo includes GSM and GPS functionality so adults can track them. The biggest difference with the Kigo is that you can continue to track a child even when they're inside a building. Not to mention, it offers global SIM support so it can be used in virtually any country.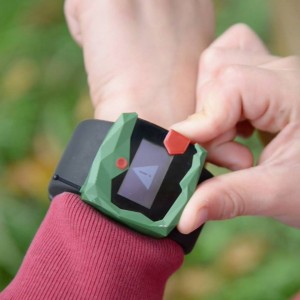 Through a proprietary app on a connected mobile device you can buzz the smartwatch as a sort of alert, or sound an alarm. The app is free and works for both Android and iOS handsets.
The Kigo requires a GSM subscription which is what allows it to be tracked anywhere. International tracking is available thanks to a partnership with Vodafone, which means you can monitor your children no matter what part of the world you're in — visiting or otherwise.
The Kigo is waterproof with an IPX8 rating meaning it can withstand "continuous immersion in water." So, yes, your children can go swimming with it on.
An emergency mode activates when children press the designated button for longer than 3 seconds. When activated, the watch will send alerts to all designated contacts to let them know something is wrong.
The Kigo even has a detection system that will ping alerts anytime the watch is removed unexpectedly.
MyKi Kids Watch and GPS Tracker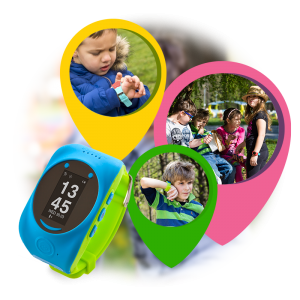 The MyKi kids watch is GPS-GSM enabled, which means with a wireless subscription you can keep an eye on your child's whereabouts no matter where they are.
Click here to read our review of the MyKi kids watch…
It is an exceptional wearable for anyone that is interested in this kind of thing. It allows you to make calls and chat with your kids via voice and text messages. Children can also activate an SOS mode when they're in trouble, and it will automatically begin to alert pre-defined contacts.
You can also track your child's physical activity and sleep habits, which is all recorded for you in the companion app.
DokiWatch
This is another device that was funded via Kickstarter. This watch was previously further down the list in our "preorder" section, but it's now available.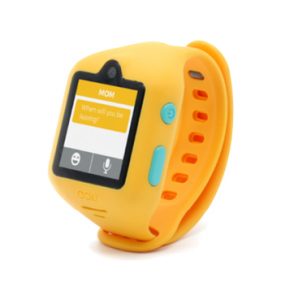 The DokiWatch is a smartwatch for kids. It includes everything a name brand smartwatch does, but there's one feature that sets it out in front of the pack, video calling support.
It includes phone and messaging support, just like a phone, but it also offers two-way video calling through the companion app. You don't just get to hear your munchkin when they're away, you can see them too.
It takes SIM cards and comes unlocked with support for any 3G mobile networks. To activate, just throw in a micro SIM card and sign-up for voice and data service through your wireless provider. All GSM and WCDMA networks are supported including Sprint, Verizon, T-Mobile, and many more.
The kids get an electronic pet – similar to a Tamagotchi – games, stickers, and plenty of customization options. There are fitness and activity tracking modes too.
As for the features you care about as their guardian, check 'em out:
Advanced communications

Video calling
Voice Messaging
Text Messaging
Send and receive emojis

Location tracking via GPS, GSM and Wi-Fi
"AlertArea" geofencing support to set boundaries and location limits
SOS/Emergency mode – if the child holds the designated button for 3 seconds it will send alerts to all preset contacts, collect and send a 60 second recording of your child's surroundings, and immediately begin tracking location with updates every 60 seconds
Moderated contacts list – you can add trusted family members and friends for your child to contact
Moderated friends – Children can add other friends easily who also own a DokiWatch, but parents always have the final decision as they get alerts when a child adds friends
Class and silence mode – Parents can deactivate the games and entertainment features when their children are in class or in environments where it's inappropriate
Fitness tracking
You can order the DokiWatch now through the official site. There are four colors available including yellow, blue, pink, and black/grey.
iGPS Watch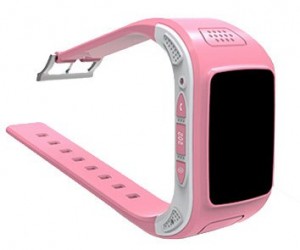 The iGPS Watch is one of the newest tracking watches for kids, and it provides support for both Android and iOS smartphones.
Features include GPS and GSM location tracking, two-way voice calling to select contacts, geo-fencing tech for setting boundaries, and SMS text support to and from the device.
The watch comes in either blue or pink, and includes an emergency "SOS" button that sends the watch into alert mode. While in this mode the watch will begin calling all the contacts in the phonebook one by one until someone answers.
Caref GPS Phone Watch and Kidsport GPS Band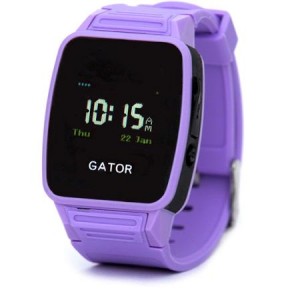 The reason we're including the Caref GPS phone watch and Kidsport GPS tracking band together is because they're from the same company — Precise Innovation — and they do the same thing. The only difference between the two is that the Caref GPS phone allows children to call their parents from the watch.
As for additional features, they constantly monitor a child's location through GPS, and deliver updates every ten minutes via the mobile app. Parents can set geo-fence boundaries that activate automatic alerts as soon as a child crosses them.
If your child is in trouble, they can press an SOS button on the device to call for help. It systematically begins to call contacts in a pre-programmed list, and if the first number doesn't answer it will call the next until it goes through the entire list.

Please Note: Several customers of Caref and Precise Innovation have advised against purchasing their products within the comment thread below. Although, a company representative has responded to these comments, we feel it is warranted to include this statement. Read the comments below for further information.
The hereO
The hereO watch is one of the more innocuous GPS tracking watches for kids. At a quick glance it looks like a normal watch with a digital clock face. However, the device can be tracked by GPS for up to 72 hours.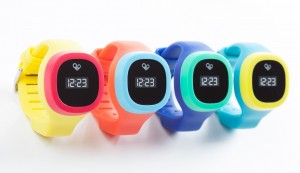 Once you place it on your child's wrist, you can monitor their exact whereabouts — until it runs out of juice.
It comes in several styles, all of which are extremely kid-friendly. Because of the design, it looks just like any other kid toy or accessory. That means predators likely won't have a clue that it's a tracking device in the event something terrible happens.
The watch will also activate a tamper alert if it's been removed by someone, even the child. The alert includes last known GPS info that's pinged from the device when it's removed. An additional panic alert will automatically send location data to a pre-programmed group of family or friends in the event of an emergency.
The device was funded via IndieGoGo, and will cost $149 for the watch, charging dock, and three months of service. After that, an international service subscription will cost $4.95 per month.
Visit the official website to order the hereO.
You can also get it through Amazon, if you want it sooner.
Available for Pre-Order
AmbyGear Smartwatch
If you're looking for a genuine smartwatch with all the bells and whistles (we hear you!) then you might want to check out the AmbyGear smartwatch.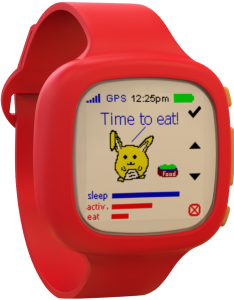 It is – as you'd expect – a true smartwatch with activity and fitness tracking, messaging, apps, mobile tools like a calendar, and location tracking. Your child gets to have fun and enjoy the device, and you get to keep an eye on them at all times! It's a win-win scenario for everyone.
Additional features include:
Two-way text messaging between you and your child
The option to establish "safe zones" where your child can roam freely (geofencing)
Create events that will ping reminders and alerts to your child (ex. Come home for your doc appt)
3G connectivity thanks to an integrated SIM card with a proprietary service plan (no need to bother with third party providers)
Replaceable armbands that can grow with your child, or simply replace broken ones
A truly waterproof and shock resistant body, so your child can swim with the watch on (even in the ocean)
Full control over installed apps (you enable them through the companion app)
Several color schemes: Red, Blue, Green, Orange
The AmbyGear smartwatch isn't available for everyone just yet, that's why it's in the preorder section. Initial shipments went out in September, 2016. The next bundle of shipments aren't expected until July, 2017.
You can pre-order the watch now. There are specials for buying in bulk too. The first 12 months of service are free, with plans starting at $14.90 per month after that.
We'll update as soon as the AmbyGear is available to everyone.
Bonus GPS Trackers for Kids
Amber Alert GPS Child Locator
The Amber Alert GPS child locator is a small module that includes a variety of monitoring features. It also has an SOS button that can be used to systematically call pre-programmed emergency contacts. Yes, that means voice calls.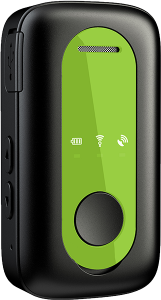 What makes it particularly special – compared to the other trackers on this list – is that it can access the Megan's Law National Sex Offender Database. Anytime your child comes within 500 feet of a registered offender's address you will receive a notification. This is an extremely useful feature if your child travels home from school, an aftercare program, or a family or friend's house.
Through the mobile app, you can designate emergency contacts. You can track the device's location at any time. There's also geofencing support, text messaging, low battery notifications, and mobile connectivity (see pricing for plans below).
It comes in multiple colors such as blue, green, pink, and black. The module is bundled with a lanyard, carrying pouch, another wrist pouch, and a faceplate.
The Amber Alert works through AT&T's 3G network and requires active service; the Basic plan offers 30 voice minutes and 150 text messages for $15 per month, while the Advanced plan offers 30 voice minutes and 300 text messages for $18 per month.
AngelSense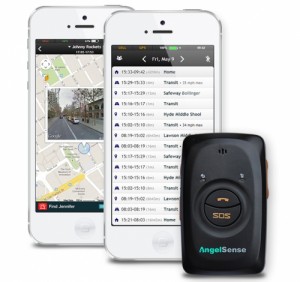 The AngelSense is not like the other GPS tracking watches for kids on this list. In fact, it's not even a watch at all. It's a small clip-on device that can be attached to any pocket, garment or belt.
Once your child is wearing it, you can track their current location in realtime through GPS. The mobile app is updated automatically, always giving you a full schedule of your child's daily activities.
Of particular note, are two extremely unique features of the AngelSense. At any time you can tap in and listen to what your child is doing, thanks to an integrated mic. The device also snaps the location of your child's whereabouts via Google Maps throughout the day. AngelSense bills this as a way to share your child's day with them, but it's also a great way to monitor their lives — such as who they're spending time with, what's happening at different locations and much more.
AngelSense offers a 30-day free trial, whereupon you'll receive the GPS tracking device for free along with an entire month of service.
KidGPS Tracker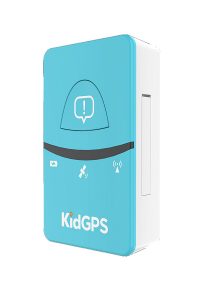 The KidGPS Tracker is another handheld/module type device that includes a variety of monitoring features. It actually resembles – in shape and size only – another device on this list; the Amber Alert GPS.
There is a panic mode that can be activated by a button on the device. It will automatically sends you alerts about the child's current whereabouts. You can also set geofencing boundaries – named "zones" – and ping the device for location any time. Your child can also share their location with a number of trusted contacts. This is so several know where the child is, in the event of an emergency.
Battery lasts for about 3 to 5 days, and it does require a service plan. The plan is through the KidGPS company.
There are three plan options: $9.99 per month, $7.99 per month for 6 months billed twice per year (semi-annually), and $5.99 per month for a year billed annually. You are not locked into a contract with any of these plans, and can cancel any time you wish.
There are mobile apps for both Android and iOS.
Trax Play GPS Tracker
If you don't really care about GPS tracking watches for kids and just want a reliable GPS locator, then Trax Play is your best bet. The older models – Trax Personal GPS Tracker – are just as good too.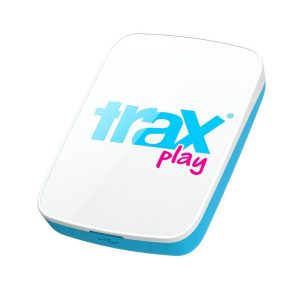 It offers geofencing support, so you can setup "safe zones" and boundaries for your children. If they cross these invisible boundaries the companion app will alert you immediately and ping your child's current whereabouts.
The device is durable and dust/water resistant. It comes with several types of clips so you can attach the device to a piece of clothing, belt, or even a pet collar (yes you can track your furry kids too).
The smartphone app is available for iOS and Android, and offers "unlimited sharing and following, speed alerts, augmented reality, geophones and on demand notifications."
It comes in two flavors – blue or pink.
Oh, and it's probably worth mentioning that although there are no reviews for the new models, the company appears to have a good track record with the old ones.
Snowfox Trackerphone
The Snowfox is not a watch. It's a phone and GPS tracker combo designed for children ages 4 to 8 years old.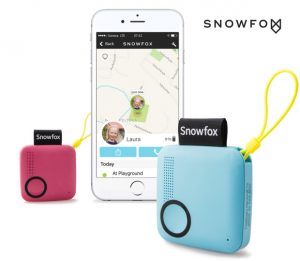 It is a small clip-on sized module, that includes a lanyard. You can always attach the lanyard to a backpack or piece of clothing.
According to the developers, it's "ready out-of-the-box" and you don't need to sign up for any third-party service plans. That doesn't mean there's no sub fee to use the device, however. You and your child will gain full access for just $9.90 (USD and EUR) per month.
While active it connects to all major 3G and 2G networks so there's decent coverage available.
The Snowfox includes a single button so your child can ping you with a "call-me" notification through the companion app. You can also call your child at any time (it has an embedded SIM card).
The other specs are fantastic, as well.
Extended battery life of up to a full week on a single charge
Voice call your child at any time, no matter where they are
Snowfox is equipped with a powerful antenna
It has durable casing and is "play proof"
Free companion smartphone app with location tracking, smart notifications, and voice calling support
The Snowfox is only available in Finland right now. We'll update as soon as it is available for everyone.
Click here to visit the Snowfox IndieGoGo profile…
Guardian Angel Kid Tracker
The Guardian Angel Kid Tracker is a full-fledged kit that comes with everything you need to monitor your child's location. It comes with two tracker modules – resembling ladybugs – that you can attach to your kids clothing or something else you want to track – like your luggage.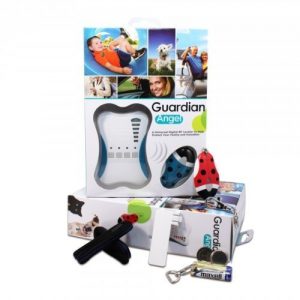 These modules report back to a main hub which includes visual (LED) and vibration alerts.
If the child – wearing the ladybug tracker – moves beyond the alarm distance it will sound an audible alarm on both the remote unit and the hub. The main hub will play a melody and vibrate, as well.
If the child is out of sight which is usually the case, the main hub will illuminate a set of 4 LEDS to show the direction of the child's location.
The kit comes bundled with two tags, but you can buy and sync up to two others with the main unit. So, there's an option to expand if necessary.
Unfortunately, several customers have made it clear the unit only reports back to one instance of the companion app. So, for example, it is not possible to install the app on both you and your spouse's devices simultaneously. Only one of you can track your child at a time.
Related Articles