Fitness trackers and health monitors are a dime a dozen these days. Outside of the wearable and smartwatch market, dozens – if not hundreds – of devices will allow you to monitor various health and fitness information. There are pedometers, BMI calculators, blood sugar monitors, and much more.
Of course, if you lead an active lifestyle, you're going to want something more streamlined, which is why it makes plenty of sense to pick up a smartwatch or fitness tracker instead of a niche device.
Most modern wearables offer a suite of tracking features instead of just a single type. For example, you can track everything from calories burned to distance traveled and sleep patterns. The show's real stars are the GPS wearables, capable of shedding limitations to a smartphone or paired device.
You didn't come here to listen to us drone on about all this nonsense, however. You came here to find out some of the best GPS wearables and smartwatches.
Wearable GPS Tracker Buyer's Guide
When looking for the best GPS wearable for fitness and exercise tracking, there are a few things you will want to keep in mind as you narrow down your choices and make a selection.
Budget
Many fitness trackers can be found between $25 and $400. The less expensive trackers will lack a display, so you won't be able to see how many steps you have taken unless you look it up on your smartphone.
The more expensive trackers have built-in monitors and GPS and are more tailored toward athletes, so the price tag will be higher because of the functionality.
You need to decide what kind of features and capabilities you want in your GPS wearable and then narrow down your choices based on your budget.
Smartwatch vs Fitness Tracker
While some fitness trackers have smartwatch capabilities and functionality, you can find smartwatches with these fitness features, including sleep tracking and heart rate monitoring.
However, you will find there are some better than others when it comes to tracking. The Apple Watch Series 6, for example, places much more emphasis on health and fitness tracking compared to any other smartwatch we have included on this list.
Is It Comfortable to Wear?
Since your wearable device will be tracking your fitness level, you want to be sure that it is comfortable enough to wear for extended amounts of time. These wearables are meant for all-day wear and even overnight wear to take advantage of the sleep tracking functionality.
How Is the Battery Life?
Since it is meant for all-day wear, you also want to make sure that the battery can keep up. Ideally, you want to find a wearable that has a battery capable of lasting a minimum of eight days or up to 18 hours with continued usage.
The Top GPS Wearables for Fitness and Exercise Tracking
Owning – or wearing – one of the many GPS wearables means you don't have to carry a smartphone most of the time to track your location, distance traveled, and more. Chances are, when you're running, jogging, or exercising in general, you want to remain as lightweight and untethered as possible.
No one wants to carry a bulky smartphone around in their pocket or on their person while they're breaking a sweat. That's why GPS support is so convenient; for the most part, it allows you to shed the collar latched on by a smartphone.
These wearable GPS trackers are for everyone, meaning you don't need to be an extreme runner or jogger to get use out of them. The opposite is true as well; if you like more than just casual exercise and prefer intense routines, you should be just as happy with one of these babies.
Let's get right to it.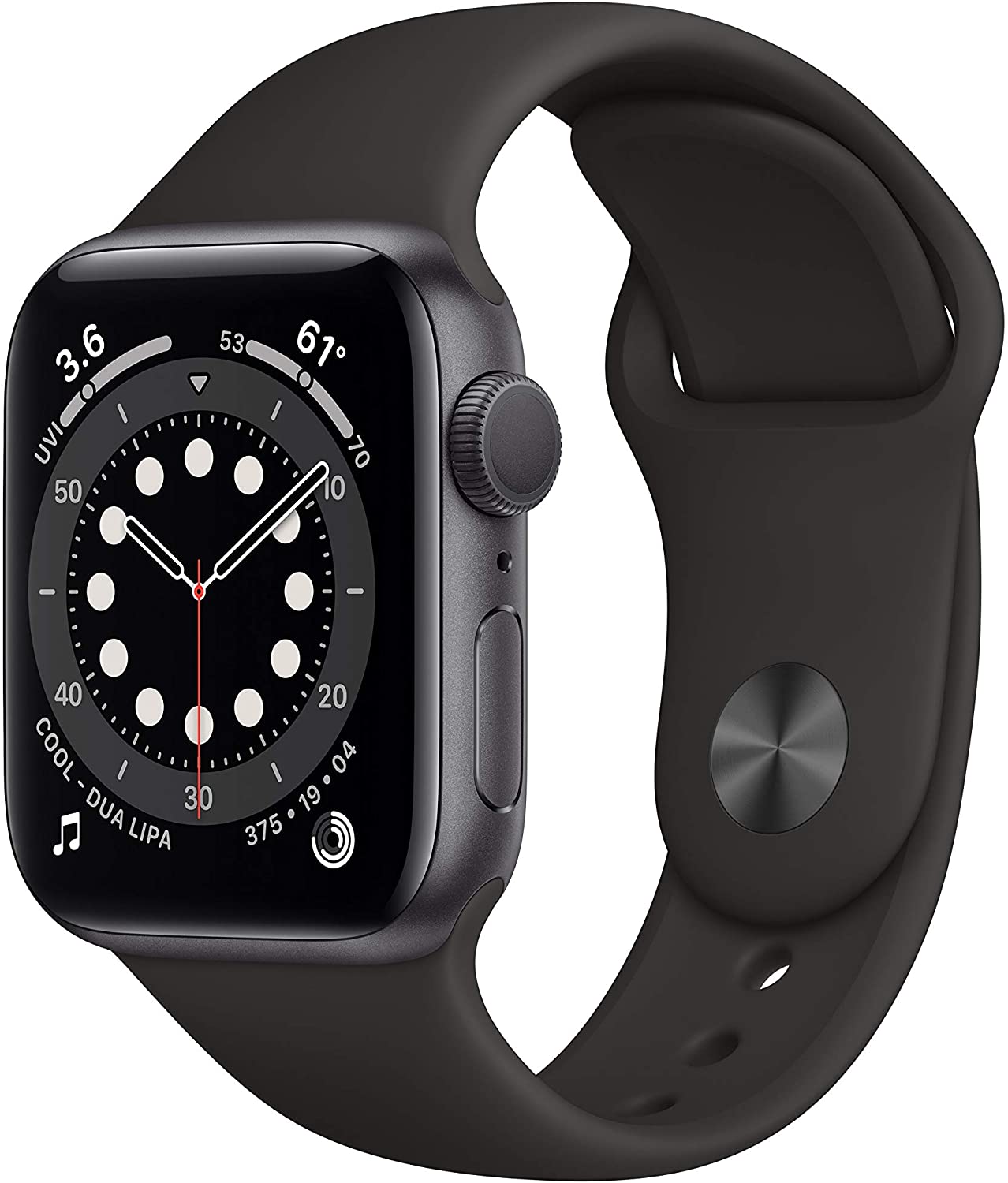 This GPS model allows you to take calls and reply to text messages right from your wrist. It proves to be a convenient option when you are out and about and don't want to carry around your smartphone while you exercise.
With this wearable, you can also measure your blood oxygen with the new sensor and mobile app. This is an update from the previous Series 5 model. You can still check your heart rhythm with the ECG app. Even while outdoors, you will find the Always-On retina display is bright and incredibly easy to read.
Series 6 is the updated version of Series 5. Like the Series 5, you still get about a 16-hour battery life between charges. In addition to the heart rate monitoring and ECG functions, there is also a built-in sleep tracker that integrates with the iPhone's alarm app and its Do Not Disturb mode.
Overall, Series 6 is health and fitness conscious. It is waterproof, so you can also wear it while you are swimming, and it recognizes a variety of different exercises and will start tracking them semi-automatically. There will be a notification that pops up on your watch asking if you want the watch to start tracking.
With this wearable GPS device, you will have access to heart notifications, can track your sleep, call for help in an emergency, track all your daily activities, measure your favorite workouts, receive calls and texts, listen to music, use Apply Pay, and Siri, and customize and personalize your watch and switch it up with your look.
While it might be a more expensive option, you will quickly find that all the features and functionality of this watch make it worth the investment in your health and fitness.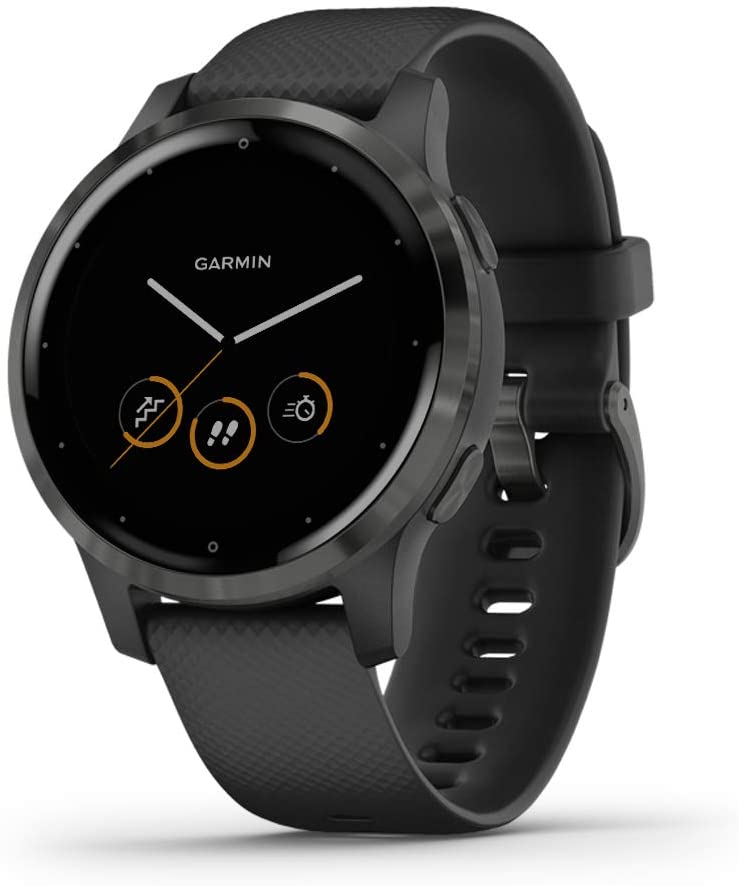 The Garmin Vivoactive 4 GPS Smartwatch is best if you are looking for something to help you manage higher than normal stress levels in your daily life. This wearable device can keep track of your energy levels, Pulse Ox, respiration, menstrual cycle, stress, sleep, heart rate, hydration, and so much more.
This watch is one of the best options if you are looking for something that is Android-compatible. It has a stylish design and a large watch face that is protected with Gorilla Glass. It can track over 20 different sports and exercises and even allows you to create customized plans to help coach you and reach your goals.
With its built-in storage, you can download the songs you want for each of your workouts. Integrated sleep and menstrual tracking are also beneficial for women as they track as many aspects of their health as possible.
The battery is also long-lasting and can keep the watch going for up to eight days of usage while it is in smartwatch mode and up to 6 hours while it is in GPS and music mode.
The smartwatch is easy to use and easy to navigate as you keep a closer eye on your health. With the Body Battery Energy Monitoring feature, you can see your body's energy levels throughout the day and then use that information to determine the best times for activity and rest.
Want to train and workout without having to hunt down demonstrations online? With this smartwatch, you can accomplish this right from your wrist. You can easily follow animated cardio, strength, yoga, and Pilates workouts you can engage in right on the watch screen. You can choose from preloaded workouts, or you can download more from the Garmin Connect online community.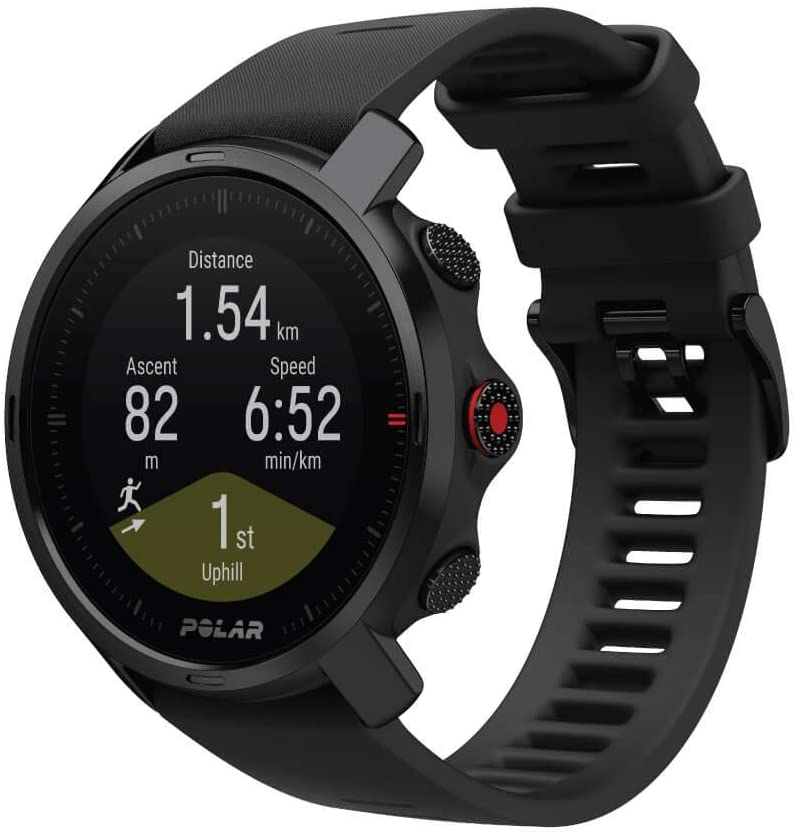 If you are in training mode and want a watch to be your companion during your training and exercise activities, then the Polar Grit-X rugged outdoor watch with GPS is a great choice. It has military-level durability making it the perfect outdoor companion. It has passed tests for extreme temperatures, drops, humidity, and it is highly water-resistant up to 100 meters.
It has built-in GPS and comes equipped with a compass and altimeter while you are in training mode. Its ultra-long battery life of up to 40 hours is also beneficial, so you can stay energized throughout the day and continue to track your activities without worrying about a dead battery.
Among its many features, you will also find 130 sport modes, Hill Splitter segmented insights, turn-by-turn navigation, FitSpark workout recommendations based on recovery, and nightly recharge sleep and recovery insights.
The 1.2-inch screen is in color and has improved clarity and contrast, and can stand up against the brightness and sharpness you would find with an Apple watch. It sits comfortably on the wrist, and many have grown used to wearing it all day, despite its bigger and almost chunky appearance.
You can find post-workout summaries that are easy to read and provide comprehensive detail if you want to go deeper into your stats. There are also Training Benefit readouts that post immediately after each workout session, so you can see if you have improved during your workout.
When it comes to the sleep tracking functionality, it is a bit lacking. It has the habit of thinking you are asleep when you are really just relaxing on the couch. However, the detailed Nightly Recharge feature is still good to have and offers you important insight into your sleep habits and recovery.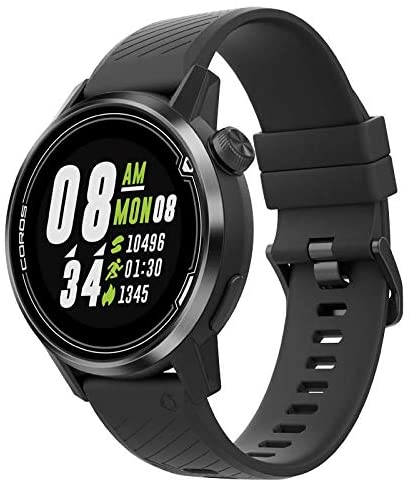 If you are an athlete, you can benefit from the right premium multisport GPS watch with a heart rate monitor and other training insights. This Coros APEX GPS watch has a stainless steel bezel finish and stylish sapphire glass, so it looks good sitting on your wrist. Its superior battery life provides you with up to 24 days of regular use, 25 hours in full GPS mode, and up to 80 hours in UltraMax GPS mode.
This watch has a built-in wrist-based heart monitor, barometer, altimeter, and compass and is water-resistant up to 100 meters, so it is ideal for outside use. It is not a touchscreen watch, which can be beneficial if you use it during endurance sports. Instead, it has a digital dial for easy one-finger operation. It actually duplicates the button layout of an Apple watch without the touchscreen.
The strap is detachable, so you can take it off and switch it out when you want. It uses standard straps. The backside of the watch itself has the optical HR sensor and the charging port.
When scrolling through the widget screens, you will find basic metrics like stairs and calories and 24/7 heart rate monitoring. You can also find pressure, altitude, and temperature stats taken over the previous six hours. You can then scroll down to the compass and GPS signal strength and then the smartphone notifications panel.
All your smartwatch notifications are available to view on your smartphone app. It allows you to view trends and metrics while also allowing you to change settings, including backlight options, disturb periods, and notification settings.
There is also a page that shows all your accomplishments, including medals and badges that have been awarded or unlocked. When it comes to sports usage, this smartwatch has a number of sport selections to choose from, including run, indoor run, bike, indoor bike, pool swim, open water, and triathlon.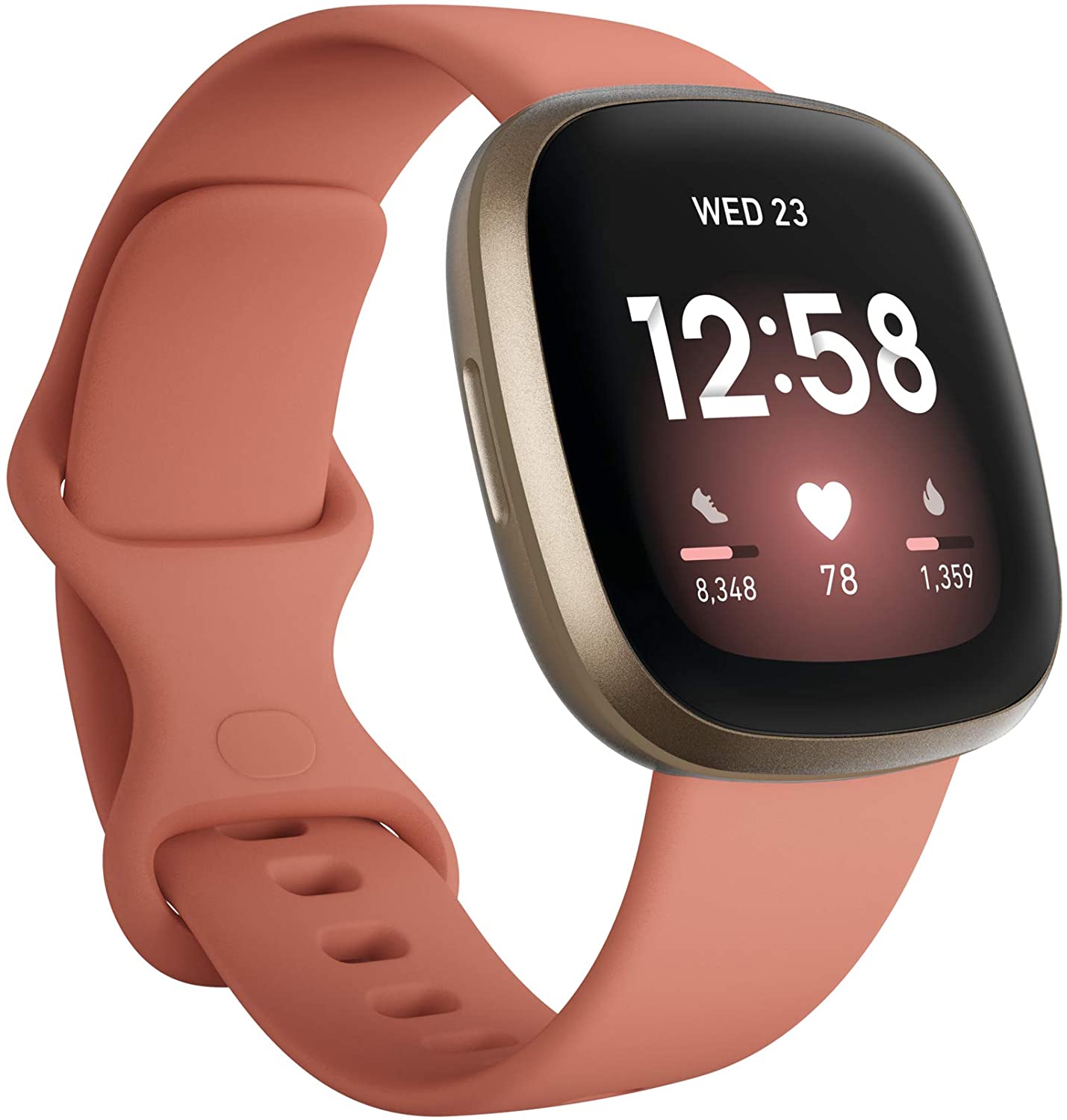 If you are looking for a more affordable health and fitness smartwatch with GPS, consider the value you will find with the Fitbit Versa 3. It is a more affordable alternative to Apple watches as well as the Fitbit Sense, and it still boasts of incredible features and fitness tracking capabilities you will love.
The battery of this smartwatch can last up to six days. The Always-On display is brightly illuminated. It has advanced sleep tracking functionality, an onboard GPS, and a mic and speaker if you need text dictation. However, this wearable device does rely heavily on the mobile app. It can be slow to sync, the health metrics are sometimes hard to find, and the notification replies are for Android only.
Even with these downsides, you will find immense value in its blood oxygen and temperature tracking during sleep, the stress tracker, and the FDA-cleared electrocardiogram. While it has the same square body we are all used to with the metal frame, the Fitbit Versa 3 has a larger 1.58-inch screen and is easier to see, even in direct sunlight.
It can handle your basic fitness needs well. It can track your needs, measure your steps, distance, and calories burned, and monitor your heart rate. It also tracks 20 different indoor and outdoor activities and features automatic workout detection if you forget to start a new session.
The Fitbit Versa 3 provides you with heart rate zone notifications during your workouts and will use your heart rate to determine the level of effort put out in each workout. It allows you to work yourself harder, which is a bonus when you are training.
In addition to tracking your fitness, this wearable device also monitors your blood oxygen levels, breathing variations, and skin temperature as you sleep, like we briefly touched on earlier. This helps you gain a complete picture of your overall health.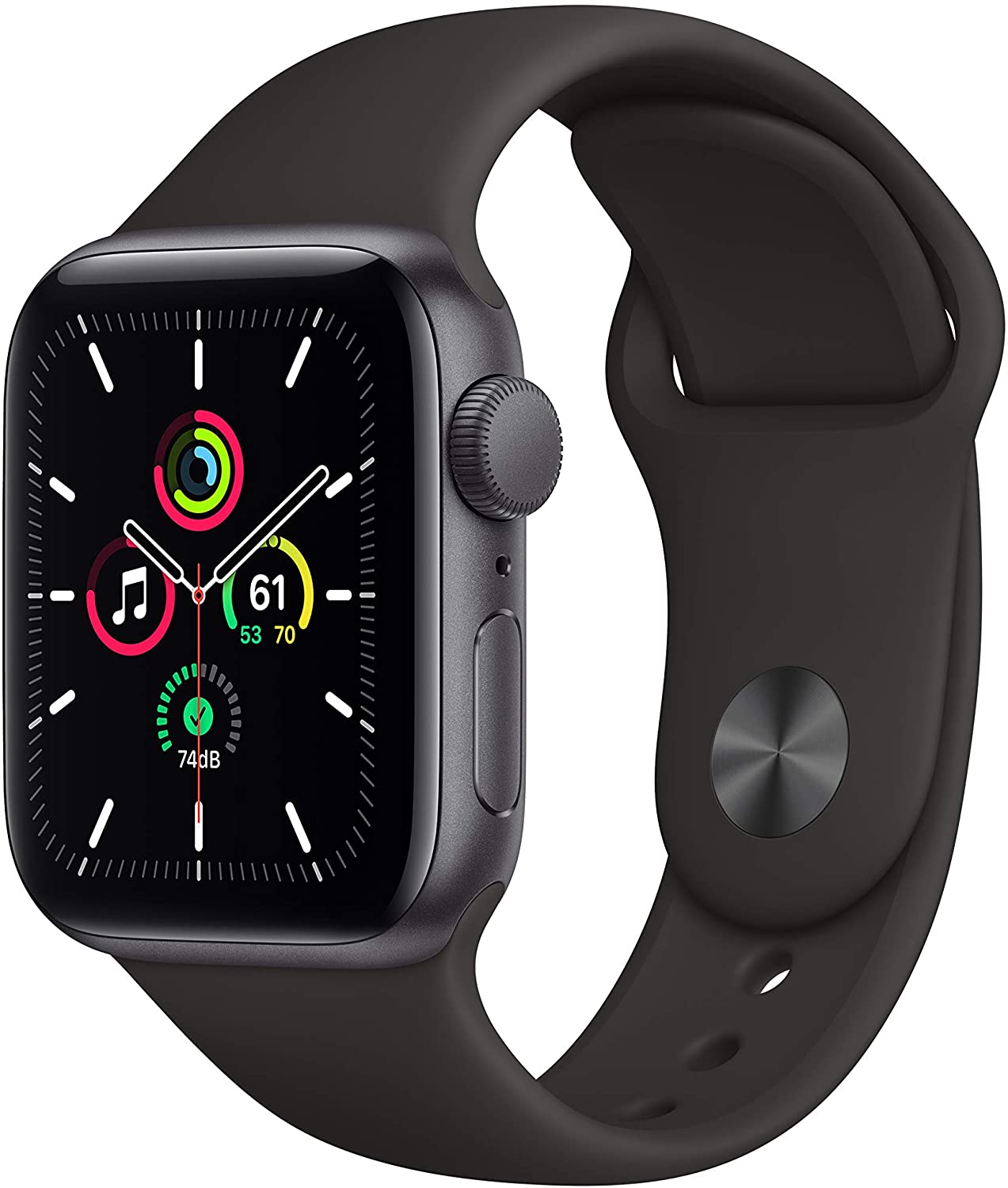 The Apple Watch SE is another budget-friendly option as you narrow down your choices for the best GOPS wearables for fitness and exercise tracking. It has a premium design, makes a great phone companion, and offers an amazing range of features you will be quick to take advantage of.
The design is familiar when compared to other Apple watch varieties. You will see the curved edges, aluminum chassis, and digital crown. The screen is also slightly larger than other models and is offered in 40mm and 44mm sizes, compared to the Apple Watch 3 screen that is much smaller. The display offers great resolution and clarity. It is bright and easy to read and is an always-on display.
There is a growing list of exercises that can be tracked using the Workout app. You can also use third-party apps on the watch as well. If you have a music subscription, you can add it and have your favorite music playlists accompany you on each workout.
The battery life isn't as great as some of the other watches on this list and may barely last a day and a half. This is disappointing because Apple also just deployed the sleep tracking functionality on the SE watch.
The watch has an altimeter that is constantly running, so you can find the true elevation on a run. The watch's underside has a heart rate monitor, and glowing green LEDs will track your pulse throughout the day also. Other key features that are noteworthy include its GPS and Glonass accuracy, water resistance, and onboard sleep tracking.
You can track your fitness using the Workouts app. You can watch the colored rings on the app fill up depending on your activity level. It shows you how much movement you have and helps motivate you to do more.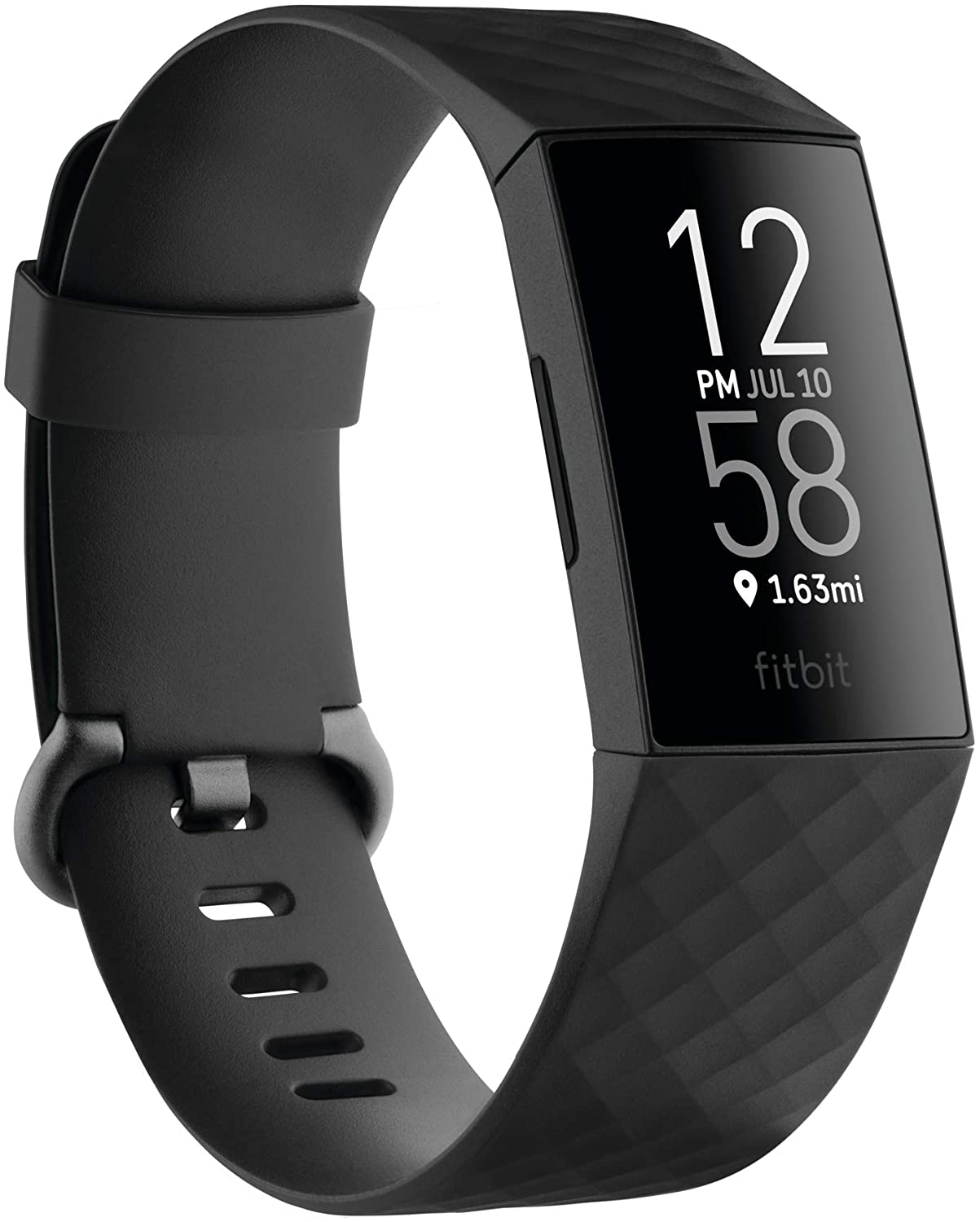 Some of the wearable devices on our list have been on the larger side and even clunky. This Fitbit Charge 4, on the other hand, has a more sleek and minimalist design that is still packed full of all the features you want to have in the best fitness tracker.
It has a slim design, better battery life, and a lower price tag, making it a good choice if you want something smaller and without all the bulk. This device has a built-in GPS to track all your outdoor workouts and provides you with access to advanced sleep-tracking features, text replies, and even contactless payments.
It features heart rate zone notifications and is compatible with both iOS and Android devices. However, you may find lower visibility in direct sunlight, no quick reply for messages, and shorter battery life compared to other Fitbit models.
This device's screen only shows in black and white and is smaller than a traditional smartwatch screen. It is controlled with a touchscreen and the left side of the tracker. The silicone sports bands are easy to swap out and allow you to customize your look.
It is comfortable enough to wear throughout the day and won't dig into your skin like other wearable devices might. It is also a basic fitness tracker and can measure steps, count calories, monitor your heart rate, and measure your distance. The GPS allows the Fitbit to route your outdoor exercise and doesn't make you rely on your smartphone.
The Fitbit Charge 4 can track more than 20 activities and is water-resistant up to 50 meters. You can program up to six different exercise shortcuts, but you also have to sync them to your app. It is also possible to set your goals for pace, distance, and calories burned before starting each activity.
Beyond its fitness functionality, you will also find a new agenda app that comes alongside the timer, alarm, and weather apps.
Final Thoughts
Well, there you have it! That's our full list of the best GPS wearables and smartwatches for fitness tracking. What are your top picks? Did we miss your favorite device or one that you use daily to track your activity?