Ever since Apple made its big announcement last fall that a fresh an innovative wearable was coming to brighten up our mundane little lives, concerns about the Apple Watch battery life topped the list of possible pitfalls on its road to global domination.
We've talked about it before, and we're sorry if it sounds like the disc is skipping. But the thinking was that since the actual launch of the Apple Watch was being pushed back to March of this year, the pointy heads at Apple were finding ways to improve the situation and make the battery last longer.
Apple Watch Battery Life May Be Less Than Predicted
Well, a recent leak of information suggests that there is no big improvement on the way, which certainly provides more fodder for the argument of some that anyone interested in Apple's first foray into the wearable category would do well to wait out the first iteration, and jump in a couple of years down the road when Apple has had more time to work out the kinks.
In a recent post on 9to5mac.com, industry observer Mark Gurman quotes inside sources as saying that the Apple Watch battery life may actually be worse than initially hoped for.
Apple has said all along that the Apple Watch would need to be charged daily with "normal use". Normal use means about two and a half to four hours of active application use as opposed to 19 or 20 hours of passive use. They also said a charge would last for three days of pure standby time, or four days in sleeping mode.
However, Gurman's source says the Apple Watch battery life will only be around two to three days in either the standby or low-power modes. Compare that to Samsung's Gear 2 smartwatch, which lasts two to three days with normal use.
Perhaps Apple Watch Battery Life of Two to Three Days Will Be Enough
Apparently Apple has been stress-testing the Apple Watch battery life as it integrates pre-bundled and third-party applications. Gurman's source says that Apple is targeting 2.5 hours of "heavy" application use, like processor-eating gameplay, or 3.5 hours of standard app use.
Of course, it's entirely possible that this will be enough. We don't have much research to go on when it comes to playing games on a smartwatch. Do we know if people are crazy enough, or have enough high quality vision, to play games on their smartwatch for two and a half hours a day? One of the great strengths of the Apple Watch is that you can secretly check notifications without the need to whip out the smartphone. But it's not likely people will be surreptitiously playing games on their Apple Watch during business meetings, is it?
It seems to us that if you're really intent on playing games, why not stick to the smartphone, with its much bigger display? You're going to have both devices with you anyway. Let each of them do what they do best.
Apple Won't Cut Corners On Processor Or Display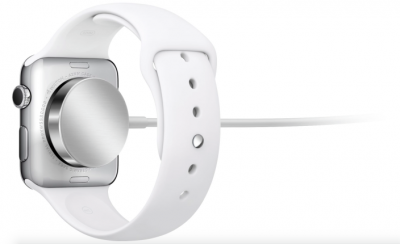 Of course, the reason that the Apple Watch battery life compares so unfavorably to that of the Samsung Gear 2 is that the display and the processor on the Apple product are far superior to that on the Samsung device. Gurman's source is reporting that the Apple Watch will run a stripped-down version of iOS called "SkiHill" on its S1 chip processor, which is said to be "surprisingly close" in performance to the version of the Apple A5 processor found inside the current generation iPod Touch.
Furthermore, the device's Retina-class color display is capable of updating at a velvety-smooth 60 frames per second. Samsung ain't gonna touch that.
Apple Also Making Improvements To Charging Mechanism
The source also told Gurman that Apple has been fixing the MagSafe-based inductive charging mechanism for the Apple Watch, because it was showing slower-than-expected recharging times in testing. They have created both plastic and stainless steel versions of the circular charger, likely one for the $349 aluminum version and plastic Apple Watch Sport, and the other for higher-end models. It isn't clear whether multiple versions of the charger will be sold, but the source said that the high-end Apple Watch Edition will ship with a special box and charging dock that may use the stainless steel MagSafe connector.
All will be revealed by the end of March when the Apple Watch finally ships. Can we wait that long? What do you think about these rumors about the Apple Watch battery life ratings?