Recently, we revealed some of the Apple Watch apps we'd like to see come the platform. This time, we're going to change things up a bit and take a look at some of the Apple Watch apps that we either know for sure are in development, or we have a pretty good idea they're coming. In other words, this is a preview of sorts of what will soon be available on Apple's premiere smartwatch platform.
Of course, it will also be interesting to see some of the new and innovative Apple Watch apps that arrive after launch, but that's a different story entirely.
Let's dive right in, shall we?
The Top Apple Watch Apps That We Know about so Far
HealthKit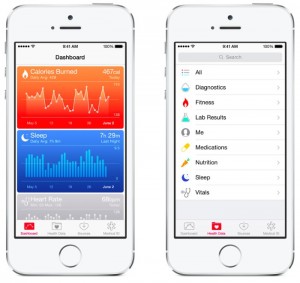 HealthKit could very well end up being one of the "killer" Apple Watch apps that transforms the device from a curio into a must-have product for untold millions of people. HealthKit has been around for a while in the iPhone 6, but its functionality in the Apple Watch takes the app to another level.
Basically, HealthKit is a repository for the user's health-related data, gathering data from sources such as glucose measurement tools, food and exercise-tracking apps and Wi-Fi-connected scales. But what the Apple Watch does is gather user health-related information such as heart rate on its own, thanks to sensors on the back of the device.
These capabilities on their own does not turn HealthKit into one of the "killer" Apple Watch Apps. However, what might turn the tide is the news that HealthKit technology is spreading quickly among U.S. hospitals, creating the possibility of a new standard way for doctors to monitor patients remotely and at lower costs.
Reuters is reporting that 14 of 23 top hospitals they have contacted are rolling out a pilot program of Apple's HealthKit service. These pilot programs are looking for ways to monitor patients with such chronic conditions as diabetes and hypertension. Such a system would allow doctors to look for signs of early trouble, and intervene before a medical problem turns serious.
With new U.S. government guidelines mandating health institutions to find ways to lower costs, the industry is desperate to quickly find high-tech solutions such as wearables, remote monitoring and virtual care. And if Apple's HealthKit becomes the tech solution of choice for the majority of the health industry, then doctors will literally be prescribing the Apple Watch to all of their chronic patients.
Google's Fit provides very similar service to HealthKit. But everything depends on usage by the major players. If the health industry opts for the Apple product, then Google is simply out of luck. It's not unlike the movie industry in the 1980s settling on VHS as the videocassette tape of choice, turning Phillips into the big winner and Sony's Betamax into the big loser.
While HealthKit could certainly end up being a killer app, it's not the only contender. Keep reading to see some other Apple Watch apps that could lead the way for Apple in the wearable marketplace.
Ebay
This hasn't been confirmed, but Vaughn Highfield at PC Pro is reporting that a job listing for an app developer at Ebay has sort of given away the secret. The thinking is that users won't likely be able to shop for Ebay items on the Apple Watch, but instead they will be kept up to date on the activity of items up for sale, as well as updates on items being bidded on or watched. All of which would be better than the constant stream of emails or annoying phone notifications.
Todoist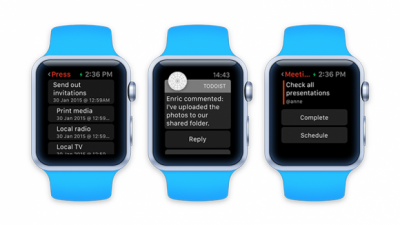 Having a list to check off is a really great thing for busy people on the go. So there is confirmation that the productivity app Todoist is planning on releasing an Apple Watch app to help you keep your list on your wrist. It's a simple app, letting you see your to do list in a clear way, notifying you of tasks and appointments that you have scheduled for the day. Todolist lets you sync your list across all of your devices, so there would be no need to enter your data on the tiny Apple Watch screen.
Twitter
Twitter will be modified for the Apple Watch. You won't be able to compose tweets on your wrist, but you will be able to view them complete with profile background images. You will also be able to favorite, retweet and dismiss any tweet from there. Also, you will be sent notifications whenever you receive a mention or a Direct Message, and you will likely be able to read your Twitter Home feed, scrolling through with the Apple Watch Digital Crown.
Facebook
Similarly, you won't be able to write Facebook status updates or send messages on your Apple Watch. But you will be able to browse through your News Feed via the Digital Crown, and you will also receive notifications from your Facebook phone app.
Citymapper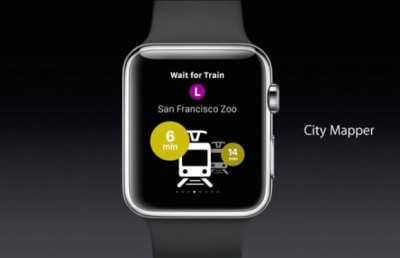 In many circles, Citymapper has replaced Google Maps as the best way to find your way through a major city. Instead of the ridiculousness of displaying a tiny map on your wrist, Citymapper delivers useful information such as the transit stops you need to get off or on at, the time of your train, or the number of the bus you need to catch. Maybe the best feature is a notification system that tells you when you've reached your stop. Using your phone's GPS in addition to the Apple Watch's vibration system, you'll receive a little vibration telling you when to get off.
As we've said all along, the quality and functionality of the Apple Watch apps will ultimately determine whether this device will sell on a massive scale or not. This group is a pretty good start so far.
What Apple Watch Apps Do Expect to Be Available?
Now that you've seen the list, we're curious to know what Apple Watch apps you're expecting to be available for the platform? Feel free to join the discussion!