Unless you live under a rock, you've probably heard of Pokemon Go. It's taking over the world.
It's an augmented reality game that encourages users to explore the world in search of virtual creatures called Pokemon.
The game follows the same basic concepts of the Pokemon games and TV series that debuted in the 90s.
Pokemon has been around for a long time, but this is the first time it's appeared on mobile – outside of emulation.
The way it works is simple. In the game – which uses a GPS overlay of your local area – you see the locations of various Pokemon and virtual stops. When catching Pokemon you use your phone's camera and the game shows the creatures in the preview. This makes it look like the creatures are real – which is the point of augmented reality.
It does wear down your battery fast because it's using GPS and other components like the camera.
Resourceful Pokemon Go'ers carry portable power packs and extra batteries so they can play longer.
But what you didn't know is there's a wearable, called the Pokemon Go Plus designed to work with the game.
Yep, you heard that correctly Pokemon fans! You can buy a wearable device that interacts with your favorite game.
What is the Pokemon Go Plus Wearable?
The Pokemon Go Plus is a versatile wearable that connects to Android and iOS smartphones via Bluetooth. You can either wear it on your wrist – like a fitness band or smartwatch – or you can clip it to your clothing.
When you are in the vicinity of a catchable Pokemon, the Go Plus will flash and vibrate. This allows you to open the app to capture the nearby Pokemon, or press a button on the wearable to throw a Pokeball. But it only works if you've already caught that type of Pokemon previously.
It will also let you know when you're close to a PokeStop. You know, the place where you can pick up more Pokemon eggs?
The Go Plus looks like a – you guessed it – Pokeball mixed with a Google Maps local pin. There's a physical button to interact with the game, as well as universal matching band.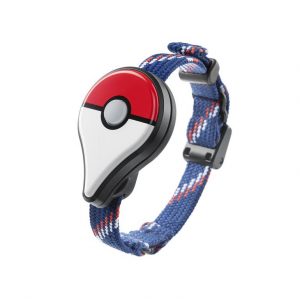 During the press announcement for the new Pokemon game, the CEO and President of The Pokemon Company spoke about the wearable.
"We want players to not just look at their phones or Pokémon Go Plus, but also focus on their surroundings in the real world," Ishihara explained.
It's an excellent idea, and clearly Pokemon Go fans agree because the wearable has already sold out. That's to be expected though, considering it's an affordable $34.99.
To purchase the wearable, you can head to the Nintendo Store, but you'll have to wait until they get more in stock. The first batch will be shipping by the end of July.
You can also head to Gamestop, but it's out of stock currently.
Stay Away from eBay
Because most of the pre-orders have already sold out and there's no indication about when more stock will be available, everyone is clamoring to get their hands on a Pokemon Go Plus right away.
If you have the money, you can always head on over to eBay where some questionable sellers have decided to dump the wearable for up to three times the retail price. That's insane. Just be patient and stay away from eBay folks, there's absolutely no reason to pay that amount of money for a wearable that costs about $35.