When Asus first unveiled the ZenWatch, a budget-friendly, Android Wear powered smartwatch we were definitely impressed.
Asus decided to go with a rectangular design and rounded edges, instead of a round device like Motorola and LG have done. Despite that, they somehow managed to create an attractive, and visually stunning device.
Asus ZenWatch Review
As we know all too well, looks aren't everything when it comes to expensive electronics. Does the ZenWatch live up to its name? Does it work just as good as it looks? Is the battery life decent, or is it shoddy like a lot of other offerings on the market?
The question remains: is it worth your hard-earned money? Read on to find out.
Overview
Asus ZenWatch Review

Overall: (4/5)

 

Build: (4/5)

Design: (4/5)

Customization: (4/5)

Functionality: (4/5)

Compatibility: (4/5)
The Asus ZenWatch looks great, works great and there are quite a few features packed into this affordable $200 smartwatch. Considering Samsung's older smartwatches are just now hitting that price point, the ZenWatch is a better choice in you want to stay in that price range.
The battery will last for a whole day on a full charge, unless you're using the remote unlock feature with your handset — more on that later. There are plenty of digital watchfaces to choose from, and you can change the stock wristband at will — though we have no idea why you would want to. In addition, it's protected by Corning Gorilla Glass 3 and has an IP55 water resistance rating meaning it can withstand splashes. So, it's durable too.
It's powered by Android Wear which means it's going to offer the same software experience as a lot of other smartwatches out there, with exception to Asus' lineup of mobile apps.
Overall: 4/5 – the Asus ZenWatch is an excellent device, through and through.
Build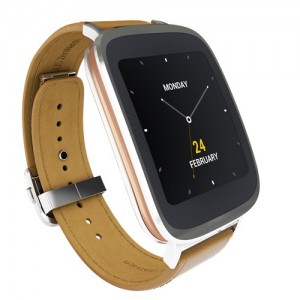 The Asus ZenWatch is definitely durable. The exterior case is comprised of stainless steel, with a rose gold inlay running around the middle. The display is protected by 2.D — curved — Corning Gorilla Glass 3 which is both scratch and shatter resistant. In addition, the device is IP55 water resistant which shields it from splashes and minimal water contact from things like rain.
It does have a lower resistance rating than most other devices — an IP67 rating is more common — but there are few smartwatches on the market that are completely waterproof. Long story short, you cannot submerge the ZenWatch in water which is true of most traditional watches anyway. As long as you mind that fact, you should be just fine. The Asus ZenWatch isn't going to break anytime soon, even if you flail your wrists all over the place and bump it into a lot of stuff.
Build: 4/5 – the overall build quality is excellent, such that it's not likely you'll be breaking this device any time soon. The only downside is that the water resistance rating is a little lower than most other devices, but in the long run they offer the same splash-resistance support anyway.
Design
While the ZenWatch might not borrow the same round style that is so appealing in the Moto 360 and LG G Watch R, it is still a looker. A thin rectangular face design and rounded edges allows it to still appear pretty stylish. That fact, paired with the remarkable leather wristband — which feels incredible to wear — means this is one of the better looking devices currently available. The biggest allure is that it's not bulky at all. Seriously, when you see the Asus ZenWatch sitting next to the Gear models, Moto 360 and LG G Watch R you realize just how appealing such a feature is. The aforementioned devices are quite large, even when they're mounted on your wrist.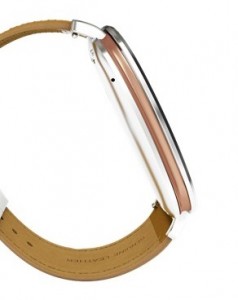 The 1.63″ AMOLED display looks just as stunning as the rest of the device thanks to the curved glass over the top. It feels good too, which is surprising since we're so used to interacting with flat touchscreens.
The case resembles a thin s'more. How so, you ask? There are two layers of stainless steel on each side, with a rose gold inlay in the middle. Take a look at the picture on the right and you'll see exactly what we mean. On paper it may sound a bit silly, but in person it looks absolutely fantastic. Need we say more?
It's available in three different color styles, well the leather bands are anyway – the rest of the device remains the same. In addition, there are more than 100 watchface choices and combinations at launch, likely to be expanded even further by third party development support in the future.
Design: 4/5 – the Asus ZenWatch is attractive, and it's pretty thin compared to other smartwatches.
Customization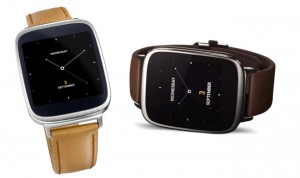 The wristband is a standard 22mm size, so if you want you can swap it out for something of your own choosing you can do so. That said, the Asus ZenWatch band is one of the best we've ever had the pleasure of wearing. We're not entirely sure why you would want to swap it out, aside from the occassional style change. Suffice it to say, it's really comfortable.
As mentioned above, the ZenWatch will ship with 100+ digital watchfaces available, more than enough to customize the device exactly how you want it.
Customization: 4/5 – you can swap out the wristband, choose one of the many digital watchfaces and play around with a few of the software settings.
Functionality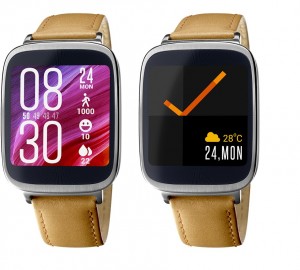 Since the experience is pretty much the same as all other Android Wear smartwatches, we're not going to spend a lot of time here. The ZenWatch includes all the common features you'd expect including support for remote notifications, alerts and more.
It's worth noting the Asus ZenWatch does include a feature that keeps your phone unlocked when the two devices are within vicinity of one another. While the functionality works great, it drains the ZenWatch battery significantly. We recommend disabling this feature so that the device will last for a full day.
As a side note, the Asus ZenWatch does include a screen always-on mode, which is fairly conservative on battery use.
The Asus ZenWatch does include a heart-rate sensor, but it works a little differently than most other devices. It's not included on the rear of the case, instead it's located on the front bezel. That means when you want to check your heart rate you have to place your fingers on the sensor, similar to checking your pulse the more traditional way. During our time with the device, the heart-rate monitor seemed fairly accurate, only incurring a misreading when we weren't pressing our fingers down properly — so it was a user error on our part. To take advantage of the ZenWatch fitness tracking, you'll have to install Asus' Wellness companion app.
Functionality: 4/5 – the Android Wear OS is already fantastic as-is with excellent voice control support, but it's also good to know that Google is going to improve it with software updates in the future.
Compatibility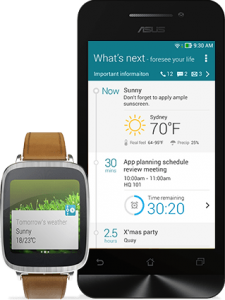 This is an Android Wear powered device we're talking about here, so it's only going to be compatible with handsets running Android 4.3 or higher. In addition, you'll need to install five separate apps on your device to work with the ZenWatch. Those include: Android Wear (default for any AW smartwatch), Zen Watch Manager, Remote Camera, Remote Link and Wellness.
It's also worth noting that unlike most smartwatches, the ZenWatch does not use a proprietary charging port. Instead it includes a microUSB on the charging cradle. This means it will probably work with your spare chargers you have lying around.
Compatibility: 4/5 – Android Wear devices are only compatible with Android handsets running version 4.3 or newer, but you still have a great deal of options when it comes to that platform.
Asus ZenWatch Review: Conclusion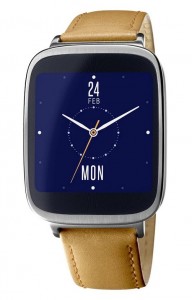 There's not much else to say about the Asus ZenWatch, except that you can't go wrong with this bad boy at $200. It's cheaper than a lot of newer devices hitting the market, and it offers just as much for features and functionality if not more. If you're interested in the hardware packed inside, here's the full list of specs:
Processor: Qualcomm Snapdragon 400 1.2GHz
Display: 1.63: AMOLED, at 320 x 320 resolution and 278 ppi
OS: Android Wear
RAM: 512MB
Storage: 4GB
Sensors: 9-axis (accelerometer, gyroscope, etc), bio sensor (heart-rate)
Bluetooth 4.0
Built-in Mic
2.5 Curved Corning Gorilla Glass 3
Dimensions: 51 x 39.9 x 7.6 ~ 9.4 mm (LxWxH)
Weight: 50g (body), 25g (strap)
We hope you enjoyed our Asus ZenWatch review and that it proved useful in your search for the perfect smartwatch. Stay tuned for our coverage of the 2014 smartwatch lineup!