The Fyver Watch is a standalone smartwatch – meaning it has cellular connectivity – running Android 5.1. It's not just running Android, it also includes access to Google Play services which means – yes – you can download and install full Android apps on the watch. This is extremely important and sets it apart from the competition, but we'll get to that later.
The Fyver has a nano-SIM slot and is compatible with select GSM networks (international and US bands) or what you may know as 3G mobile networks. The watch is capable of sending text messages, making – and receiving – phone calls, and browsing the internet. And all of this is possible without a connected smartphone. Hence, why it's labeled as "standalone" when compared to other smartwatches.
It does include a bevy of other features like fitness tracking, smart notifications, integrated GPS and more. We will cover all of this extensively later in the review.
For now, the most pertinent question is whether or not this watch is worth the money? Or, more specifically, is it the right watch for you?
Read on to find out.
Fyver Watch Review
The first thing you'll notice about the Fyver Watch is that it's big. But it's not designed to be thin, it's designed to be functional, which it certainly is.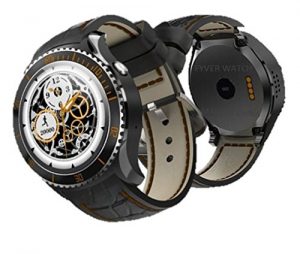 Time and time again we've seen countless wearables – smartwatches included – launched with shoddy app support. That is, the device uses some proprietary app marketplace or installation system and the company promises to get third-party developers on board. Sadly, a lot of times developers don't have enough interest in creating for these platforms or porting their existing apps, which can leave the app selection less than desirable.
The Fyver Watch doesn't have this problem because it's running Android 5.1 and has full access to the Google Play store and Google's services. You can install pretty much any app on the Google Play store, provided it's compatible with the watch – and only a select few are not compatible. Needless to say, there's plenty of options.
Not to mention, access to Google Play is in addition to the stock apps and functions which are already quite expansive. The watch can track fitness and health stats, send text messages, place phone calls – and receive them – browse the internet, and much more.
But even at less than $150, the question remains: is the Fyver Watch worth the money?
Overview
Fyver Watch Review

Overall: (4/5)

 

Build: (3/5)

Design: (4/5)

Tracking: (5/5)

Functionality: (5/5)

App Compatibility: (2/5)
Well, let's put it this way. If you're in the market for a smartwatch and you want something reliable, the Fyver Watch is a great choice. It's not the most attractive watch we've seen thus far, and it can be a bit heavy on the wrist, but it's comfortable to wear and that's what matters most.
It is running Android 5.1 and has full access to Google Play and Google services, so you could treat this thing as your primary device if you wanted. But even as a companion, there's a lot of functionality available. It's even more viable considering you can install and use almost any Android app on the device.
Don't like the stock fitness apps? No problem, you can install your own. Want an automation tool like IFTT? No problem, you can grab that too.
Every time we come across a watch running a full version of Android – as opposed to the dumbed down Android Wear OS – we find ourselves wishing it was the go-to for every watch like this. It's nice to see, but what's even nicer to see if that there are a ton of customization options right out of the box. You have access to more than 20 different watch faces, and you can install your own content if you so desire.
For the price, you really can't go wrong with this one.
Overall: 4/5 – The Fyver Watch is solid, reliable, and offers everything you could ever want or need from a smartwatch.
Build
Because the watch is bulky, it's also quite heavy, but this isn't necessarily a bad thing. It feels durable and sturdy. While we wouldn't recommend taking a hammer to the screen or treating it poorly, it's likely the Fyver can withstand a few dings or even a drop.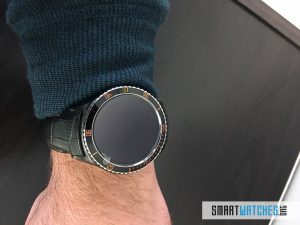 The entire case is made of stainless steel. The manufacturers claim it's comprised of "premium" not "cheap" materials. It certainly seems this way, but time will tell.
It has an IP54 dust and water resistance rating. The first number in that rating refers to dust resistance, and while a 5 is not completely protected it is sealed from most particles. The second number – a 4 – refers to the water resistance rating. A 4 is not waterproof and cannot be submerged underwater at all, but it is splash resistant. This means you can safely wash your hands or take the Fyver in the rain and it will be safe from minor splashes.
While wearing it, the review unit did come into contact with moisture and did fine but it was not splashed or submerged – so keep that in mind. Sweat does not seem to be an issue, however.
The rear cover can be removed, and in order to install a SIM card, it must be done. The watch comes with a mini screwdriver which you can use to loosen the screws and remove the back panel. Even with the screws removed, you still have to push and lift the cover away from the main body of the case.
Also on the rear is a heart-rate monitor, which can be used to check your heart-rate and measure BPM or beats per minute. Yes, this can be used by a majority of the health apps on the device, whether you use the stock apps or something else.
The band is leather-like, though we're not entirely sure if it's genuine leather or not. It is, however, remarkably comfortable to wear and should hold up well over time.
The screen is round in design, but there are settings to change it to a square resolution if you find any apps that aren't displaying correctly. Admittedly, this does look a little strange because the display is a round shape, but it works.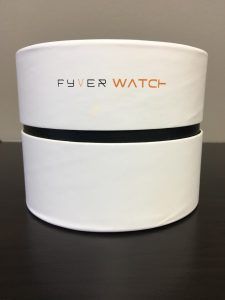 There is a single physical button on the right side of the watch face, and it feels good. It doesn't appear flimsy or cheap, so there shouldn't be any problems with it after extended use. Some buttons tend to wear down or stop working after a while. We can't know for sure, but that doesn't seem to be the case here.
Around the bezel are minute and time indicators in a vibrant orange hue. It stands out from the dark gunmetal finish and looks great. They're not all that functional, especially if you apply a digital clock face but it's a nice touch nonetheless. Keep in mind the other models – Gold and Chrome – will have a slightly different appearance.
On the underside is a thin magnetic port to charge the watch. The charging dock has magnetic pin connectors that snap into the port as soon as you set it down. It works fine and is a lot more convenient than just plugging a magnetic connector to the back of the watch – which can easily come undone.
You can charge the watch by plugging it into a computer or the charging dock.
We wore the device day and night over a period of several weeks. The watch held up well. The strap appears to be quite durable too, and it's not uncomfortable to wear.
Build: 3/5 – The Fyver Watch is not invincible but it is relatively sturdy. The band is also comfortable, and the build quality appears to be as "premium" as the manufacturers claim it to be.
Design
The Fyver mimics a traditional wrist watch. It looks alright, even if it is a bit bulky. It does feel heavy on the wrist, so if you have smaller wrists – or don't like big, thick watches – this might not be the right one for you.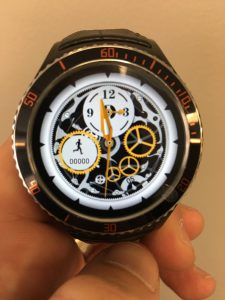 While worn, the only indication it's a smartwatch is when the screen is solid black – if it's off. There is an accelerometer inside, so you can enable a setting that illuminates the screen when you move your wrist. This allows the display to turn on by itself, and it works great. When you hold your wrist up to check the time it turns on with a slight delay. For onlookers, this would be another obvious indicator that it's a smartwatch. For the wearer, it's incredibly convenient, especially if and when you have your hands full or occupied.
The button turns the screen on/off and returns to the clock face if you're away from it.
To navigate, you use a series of gestures and taps. A swipe from left to right will change screens, while a swipe in the opposite direction will move backward one context menu. Obviously, you tap to select options and elements on-screen.
Using the watch is straightforward. If we have to compare the two, the Fyver is much easier to navigate – and use – than the Apple Watch, which is certainly surprising, yet welcome. The display is bright and vivid and all the text and content is easy to see and read. This is important, especially when you're moving fast and need to steal a quick glance.
We did find ourselves wishing for the standard Android touch buttons, like what you see with the No 1 D6. At the least, it would have been nice to have a back and menu button since the physical button on the side sort of acts like a home button. Still, even without this, the watch is reliable.
Design: 4/5 – The Fyver Watch looks like a regular watch and it's attractive, albeit bulky.
Fitness Tracking
This is actually one of the best features of the Fyver Watch but not because you have access to the stock health apps. The reason it's exceptional is because the Fyver is powered by Android 5.1 and has access to Google Play. So, if you simply don't like what's available, you can download a new app like Google Fit, RunKeeper, or something else entirely.
This means, there really is no limit to what you can track with the Fyver Watch, which is excellent.
Out of the box it will allow you to check heart-rate, steps, calories burned, and even distance. There are tools to send yourself health and activity reminders, as well.
But if you wanted, you could turn this thing into a full-fledged fitness tracker via third-party apps.
Tracking: 5/5 – The Fyver has everything you need out of the box. But since it has access to Google Play, you can install whatever apps you want on the device.
Functionality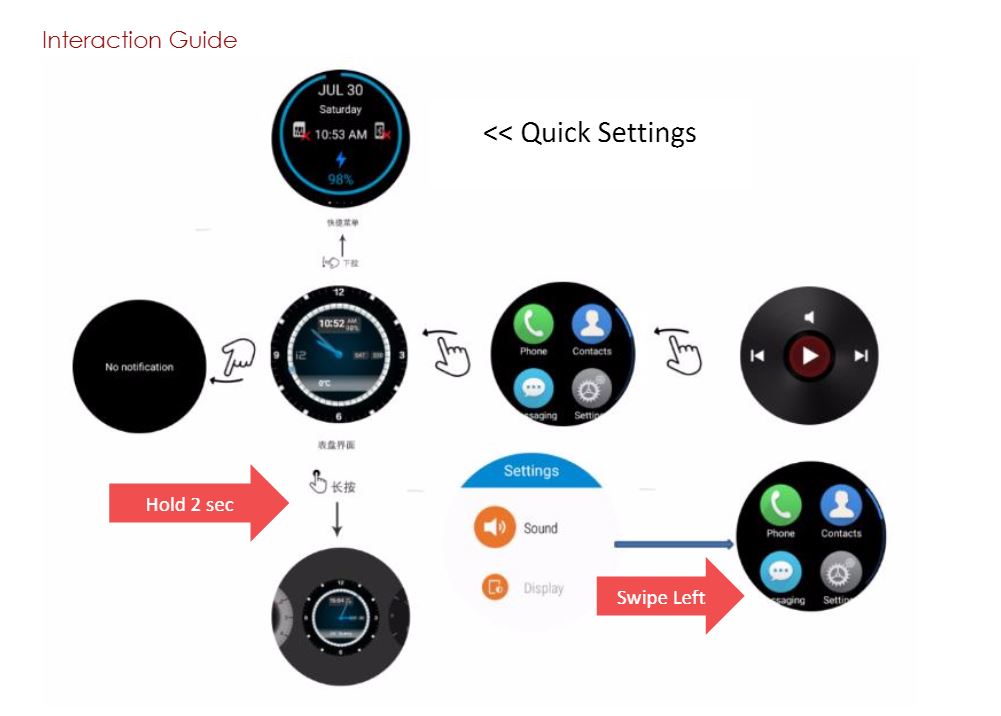 If you tap and hold on the main screen, it will open the clock face customization menu. This is another great feature of the Fyver Watch. There are about 30 different watch faces to choose from, with more to download. So, there's plenty of customization support.
If you swipe up from the main screen, you'll see the date and time and connection indicators. This screen will tell you if the SIM card is inserted and a mobile network is connected. It will also tell you if Bluetooth or Wi-Fi are connected, as well. It is worth noting that Bluetooth will only work with Android phones currently – not iOS. We're not sure if this will be changed in the future or not.
Swiping to the left again will bring you to the settings menu, which is nothing more than a series of shortcuts or toggles. This includes options for do-not-disturb mode, brightness levels, Bluetooth and 3G, location, airplane mode, and more.
One more swipe to the left and you're treated with the pedometer/activity mode. Here, you can see the total number of steps and distance you've traveled while wearing the watch. You will be pleased to know this runs in the background at all times. You don't need to activate the mode to get it tracking, which is super convenient.
Next are the local weather forecast and temperature settings.
That's it for the main menu options. By returning to the main clock face and swiping in the opposite direction, you can open the app drawer. This is where you'll find any apps you installed from Google Play and anything else that comes pre-installed on the device.
The Fyver can make – and receive – calls, and it can also send text messages. But you must have a SIM card installed and a mobile network connected before you can take advantage of this.
Functionality: 5/5 – The Fyver Watch has so much to offer since it's running Android 5.1 and has access to Google Play. Throw in the 3G mobile and Bluetooth support and you could make it your daily driver – instead of a smartphone – if you truly wanted. It works great as a companion device too.
App Compatibility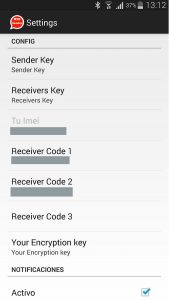 The companion app works great and has a lot of features. It looks good too.
The app you use for Android is M2D Sender, and the iOS app is Sinwear.
That said, it would be nice to see more expansive support added to the Fyver Watch. iOS and Windows Phone seem to have fallen by the wayside.
Compatibility: 2/5 – The Fyver Watch is only compatible with most newer Android smartphones. Non-Bluetooth connections for iOS are not offered at this time, nor do we know if or when it will be.
Fyver Watch Review: Conclusion
We can say, after spending some time with the Fyver Watch it's a solid device. It works as advertised, and it's without a doubt worth the price.
The company originally attempted to fund the product via the crowdfunding platform Kickstarter but the campaign was suspended. We do not know the true bearing of this on the product's availability, but we do have the watch in hand so it definitely exists.
If you're a spec fanatic and want to know what the Fyver has to offer, here you go:
Hardware
Chip: MTK6580 (Mediatek)
Display: 1.33 inch IPS TFT touchscreen
Resolution: 360×360 at 382ppi
OS: Android 5.1
Three Colors: Onyx (black), Chrome, and Gold
One Model: 512MB RAM and 4GB storage
Battery life: Up to 2 days (rechargeable) during regular use or 20 in standby
450mAh Li-polymer rechargeable battery
GPS/AGPS location tracking
Package includes watch, user manual, mini screwdriver, charging dock and USB charging cable
Fyver Watch Gallery
We hope you enjoyed our Fyver Watch review and that it proved useful in your search for the perfect wearable. Stay tuned for more coverage!
Where Can I Get the Fyver Watch?
You can grab one from their shop or below on Amazon.
Disclaimer: The Fyver team graciously provided the review unit for our evaluation.