It's difficult to imagine the G Watch R came from the same company that made the original G Watch. They are just so different from one another.
The original G Watch is a great device, but it was wholly unispiring. There wasn't anything particularly special about it that it made it stand out from the hundreds – if not thousands – of other smartwatches hitting the market. In fact, the biggest thing it had going for it is that it was one of the first wearables powered by Google's Android Wear OS.
The LG Watch R, on the other hand improves on the entire formula and offers a completely different experience. The most notable thing to say about it is that it imitates a traditional analog wristwatch, similar to the Moto 360, and it does it well. There's also the fact that it has the best battery life out of the entire Android Wear lineup. Of course, it does cost $299 which is on the high end of the spectrum along with most of Samsung's lofty devices and the Moto 360.
LG G Watch R Review
The question remains: is it worth your hard-earned money? Read on to find out.
Overview
LG G Watch R Review

Overall: (4/5)

 

Build: (3/5)

Design: (4/5)

Customization: (3/5)

Functionality: (4/5)

Compatibility: (3/5)
The biggest difference between the LG G Watch R and some of the other Android Wear smartwatches like the Moto 360 is that it's lacking some of the bells and whistles. That said, it is hands down one of the best Android Wear smartwatches currently available. It's attractive, durable and it feels good to wear.
The meaty – for a smartwatch – 410mAh battery allows it to last for a full day and then some, and you actually use the screen always-on mode without it dying on you. There are plenty of digital watchfaces to choose from, but you can always get more. In addition, the Android Wear platform offers great voice-controls through Google Now and remote notification features.
It's a great device, but let's explore further and take a look at some of the components that make it so great.
Overall: 4/5 – the LG G R Watch is an excellent device, through and through.
Build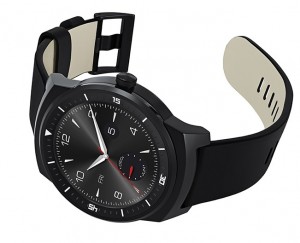 The entire body of the device – save the rear cover – is made of metal, which means it's extremely durable (the back is made of plastic). The G Watch R even has the proper analog minute dial on the front to simulate a real watch. The crown on the right hand side of the device – which imitates the time change dial on most watches – is used as a power button.
That said, it's still a pretty big device. For those of you out there with small wrists, you might be a little put-off by the size when you finally see it in person. I have pretty thick wrists, so it worked out just fine for me.
The biggest downside of the LG G Watch R's build quality is the wristband which is made of cheap leather. It just feels really flimsy in your hands, and it's not all that comfortable when you're wearing the device on your person. Luckily, you can swap it out for a band of your own choosing but we'll get to that later.
Build: 3/5 – the overall build quality is great, and it's not likely you'll be breaking this device any time soon. The only downside is that the leather strap seems cheaply made.
Design
One of the very first things you'll notice about the G Watch R is that LG really worked hard to make this thing look like a traditional wristwatch. To add to that, it actually looks a lot more like a diver's watch than anything, but that's not a bad thing. Especially when you consider the fact that a lot of the smartwatch manufacturers opt for the same square and rectangular design style that just ends up looking a little too geeky.
The OLED screen is stunning, especially when you leave the screen on and an attractive watchface is visible. We found ourselves constantly glancing at the device throughout our time with it just to steal a peek, which is saying something.
Design: 4/5 – the LG G Watch R is pretty damn attractive, and it looks just like a traditional analog watch.
Customization
Aside from a few software customization options – like choosing your digital watchface among other elements – the LG G Watch R is pretty much an as-is affair. In fact, the only real thing you can change about it is the wriststrap which is always a must. This is welcome, especially since the G Watch R comes with a pretty cheap, and flimsy leather band. It's difficult to imagine a leather band being so… well, shoddy but you'll see what we mean when you get your hands on the device. You'll definitely want to pick up a custom band that fits the watch.
Customization: 3/5 – you can swap out the wristband, change the digital watchface and play around with a few of the software settings.
Functionality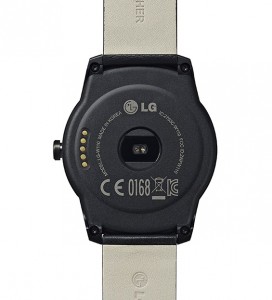 When it comes to discussing functionality, this is where you really get into the meat of the device which is essentially the software. Since the LG G Watch R is running Android Wear, it's going to operate almost exactly the same as any other Android Wear device on the market. In terms of software features, there are absolutely no differences.
As for what the G Watch R brings to the table, there's no GPS support but it does include a heart-rate monitor, accelerometer, gyroscope and compass. It can track basic fitness data on the device itself, but you will need a paired handset to get things like distance traveled and more. You can see the full list of hardware specs below, if you're interested.
Processor: 1.2GHz Qualcomm Snapdragon 400
Display: 1.3-inch P-OLED Display operating at 320 x 320 resolution
RAM: 512MB
Storage: 4GB Internal
Battery: 410mAh
Sensors: 9-Axis (Gyro/ Accelerometer/ Compass), Barometer, PPG
Protection: Dust and Water Resistant (IP67)
Everything else is pretty basic. The G Watch R will display your messages, texts, alerts and notifications on the screen when they pop-up. You can quickly respond or dismiss as necessary, though you probably don't want to be using your watch to pump out a novel.
Functionality: 4/5 – the Android Wear OS is already fantastic as-is with excellent voice control support, but it's also good to know that Google is going to improve it with software updates in the future.
Compatibility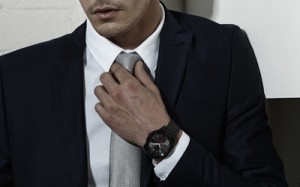 Unlike Samsung's devices – or the Apple Watch when it finally launches – the G Watch R is not confined to a small number of devices. Any device running Android 4.3+ is fully compatible with the G Watch R. It doesn't matter if your handset is Samsung, LG, HTC, Motorola or another brand entirely, the G Watch R should work with it provided it meets the software requirements.
This is excellent news, because it means the device will probably work with a phone or handset you already own. It also leaves a great deal more options when it comes to upgrading your device. For example, if you were to pick-up a Samsung Gear you'd be forced to use Samsung-branded handsets far into the future if you wanted to continue using your smartwatch. There are no such limitations with the G Watch R.
Unfortunately, there isn't any official iOS or Windows Phone support, but a resourceful independent developer might be able to get it all working (though you should never count on this).
Compatibility: 3/5 – Android Wear devices are only compatible with Android handsets running version 4.3 or newer, but you still have a great deal of options when it comes to that platform.
LG G Watch R Review: Conclusion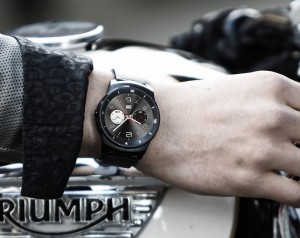 All in all, the G Watch R is a great device. It borrows the same round style as the Moto 360, yet the G Watch R doesn't have the small unusable sliver on the bottom of the screen, which is definitely awesome. As for the features and functionality, everything you'd expect in a smartwatch is available. Of course, the $299 price tag might be a little steep for some, even if it is on par with most other smartwatch models.
The build quality is great, save for the wristband which can be easily swapped out. The body is IP67 dust and water resistant too which means you have to try hard to break this thing. That doesn't mean it's impossible, but even if you flail your wrists around often you shouldn't have to worry too much.
The battery is the real star here, and even though it doesn't last for longer than a day generally you can get a lot more juice out of the G Watch R than any other Android Wear device on the market. You'd be hard pressed to find a better smartwatch, all around.
We hope you enjoyed our LG G Watch R review and that it proved useful in your search for the perfect smartwatch. Stay tuned for our coverage of the 2014 smartwatch lineup!