I think we can all agree the Amazon Echo is an awesome product.
The Echo is an automated Bluetooth speaker with advanced wireless capabilities. The advanced features include compatibility with smart home devices and more.
Think of it as a wireless Bluetooth speaker that can talk back to you and carry out your demands – to an extent.
When the Echo was announced, everyone went crazy and rightly so. Amazon took an AI platform – like Apple's Siri – and crammed it into a home entertainment device. The name of Amazon's virtual assistant is Alexa, and she's absolutely captivating.
When the Echo first launched it was revolutionary, but now there are a ton of alternatives. If you like the idea of the Amazon Echo, but want something a little different – or fresh – then keep reading!
Amazon Echo Alternatives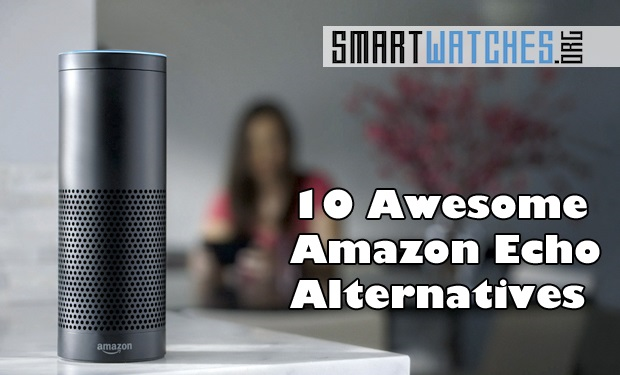 Amazon Echo – or Alexa if you know her by name – is great, but it's not the only virtual home assistant on the market anymore. If you're interested in picking up a different assistant, check out the alternatives below.
1. ivee
ivee stands out from the crowd because it's made to be compatible with a variety of smart home systems. There's support for Nest, Hue, SmartThings, WeMo, Iris, Wink, Logitech and more.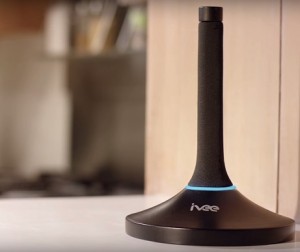 As you'd expect, it operates as a wireless Bluetooth speaker, as well. You can stream music through an app of your choosing, or you can tap into Spotify which is built-in.
All the actions and interactions can be carried out through voice commands. Plus, ivee has a 15-foot "hearing radius" so you can be practically anywhere in the room and call out to the device.
If you're further away you can use the compatible smartphone app to deliver commands. Either way, ivee is a remarkably powerful alternative to the Amazon Echo.
Sadly, it's only available for pre-order at the moment. There's no word on a release date just yet.
2. Athom Homey
The Athom Homey is a voice-activated smart home controller. It's also remarkably open, and can communicate via W-Fi, Bluetooth, Z-Wave, Zigbee, infrared, NFC, and more.
To accomplish all these connections, it's outfitted with seven different wireless radios. This allows it to sync with virtually any device in your house, and that's the entire point.
With natural language processing support, Homey will carry out any action you ask it to and you can just speak normal while doing so.
It wouldn't be a "smart" controller if you weren't able to tap in remotely, so it also offers smartphone connectivity. If you're away from your house, you can tap in using a compatible app and also access any and all devices connected to the Homey.
The Homey is €299 which is roughly $340 (USD).
3. Cubic
Cubic Robotics is responsible for the Cubic smart home controller, which contrary to the name steps outside of the box when it comes to features.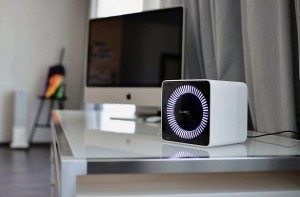 For example, with Cubic you'll be able to do things like look up the schedule for your favorite TV shows, order in food, and more.
The mobile app can do even more than that. You can control smart home devices remotely while you're away from home. You can located your car if you have a hard time remembering where you parked. You can even keep track of your fitness and health stats.
Of course, it wouldn't be a smart home controller without virtual assistant support. Just call out to Cubic and tell it what you want, and it will spring into action.
You can pre-order the Cubic, but like the ivee it's not available just yet.
4. CastleHub
The team behind CastleOS – a smart home friendly operating system – introduced the CastleHub to offer voice command support through the platform.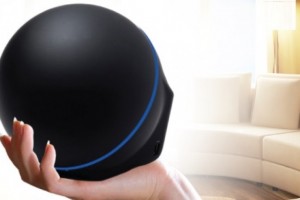 With the CastleHub, you can tap into the CastleOS and all your smart home devices – like Nest, Insteon, Sonos, WeMo, Hue, GE, Ecobee, Kwikset, Yale, Enerwave, and more – to control them through simple voice commands.
The Hub is powered by Windows 10 and includes a 30GB SSD for storage. Additional features include 802.11 a/c Wi-Fi, gigabit LAN support, Bluetooth, a total of 7 USB ports, and more.
It's not just a smart home controller, it's a full-fledged computer of its own. It can even run apps like Netflix, YouTube, and Spotify.
If you're really looking for a unique experience, you can plug a Microsoft Kinect into the CastleHub. Check it out!
All this power does contribute to a higher price tag at $499.
6. Mycroft
The Mycroft is powered by Raspberry Pi and Arduino single-board computers. Therefore, it is by far the most customizable device on this entire list. You can bet that the community behind it will be bustling with tinkerers and hackers.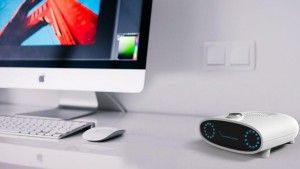 It's a smart home controller first and foremost, so you can tap into all of your connected devices to control them remotely via voice commands. Because it's built on open source hardware, however, you can do a lot of other things that some of the other controllers on this list can't.
For example, you can ask Mycroft to post updates to social media, fire up a Roomba for a cleaning, and more. You can even send files to a 3D printer and get it all fired up.
The Mycroft also happens to be quite cheap at about $150.
7. Google Home
Google's been paying attention to the success of the Amazon Echo and decided to get in on the action. Honestly, who didn't see that coming?
Google's smart home controller is called Home.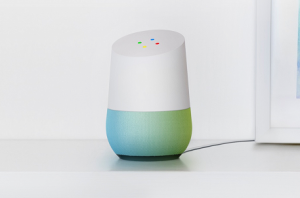 We don't know much about the price, specs, or release date just yet. But, we do know what it's going to be capable of.
The bottom or base is nothing more than a cover that can be changed out at will to interject some color and style. It also has four LEDs on the top that will ping alerts, notifications, and more.
Just like the Amazon Echo, the Google Home will be equipped with a voice assistant that can be called upon using the same keywords as Google Now on Android ("Okay Google" or "Hey Google").
The assistant can play music, control smart home devices, relay weather and news info, announce calendar events, and more. Because it's made by Google, it will be able to tap into a variety of Google devices like Chromecast, Android, and more.
You can cast music or media to a TV, call an Uber, or shop for new goods.
It sounds great, but we'll see how it fares when it launches. Hopefully, the price won't be outrageous.
8. Triby Kitchen Speaker
Invoxia's Triby kitchen speaker is one of the first non-Amazon branded devices to tap into their virtual assistant API. In short, the Triby speaker will act just like the Amazon Echo, and you can call upon Alexa for help.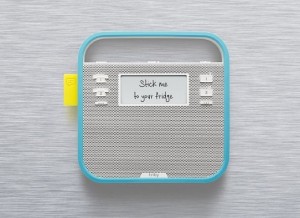 Because the Triby's integrated Alexa support is nearly identical to that of the Amazon Echo, we'll focus on the unique features it offers instead.
The Triby speaker includes an E-ink display that you can use to leave memos to the rest of your family. You can sketch out content on a smartphone and ping it to the speaker remotely.
It also supports Spotify Connect, which means it can play music on its own.
The Triby is $169, and the Alexa support will be arriving in an update any day now – if it hasn't already.
The Amazon Echo Family Is Growing
Amazon also released a couple spin-off models of the Echo, one is called Tap and the other is called the Echo Dot.
Amazon Echo vs Amazon Tap
The Amazon Tap is much smaller when compared to the Echo, and cheaper at $129.99.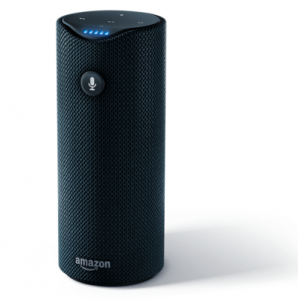 It's a portable smart home speaker that's meant to be carried around with you, as opposed to the Echo which is meant to stay at home.
The Tap is equipped with a battery that can supposedly last for up to 9 hours when playing back music, and 3 weeks in standby.
It does include Alexa support, but you cannot call on the virtual assistant using voice commands alone. First, you'll need to "tap" the listen button – hence the name.
Everything else is nearly identical to the Echo, aside from the overall design of the Amazon Tap.
Amazon Echo vs Amazon Echo Dot
The Echo Dot does not include high-quality speakers like its predecessor, but it does have basic speakers. This is because it's not designed to be a Bluetooth speaker like the Echo. You're meant to use the Echo Dot to interact with Alexa, the digital assistant.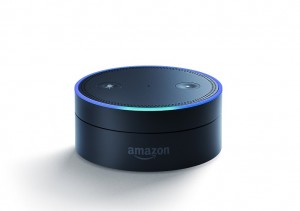 It does include a 3.5mm output jack and wireless Bluetooth support, so you can stream music to the device and play it all back on a premium sound system – provided you have the Echo Dot plugged in.
Unlike the Amazon Tap, the Echo Dot supports "hands-free" voice commands, so you can call upon Alexa with the keywords like the original Echo.
The Echo Dot is $89.99, but it's only available to Amazon Prime members currently, and if you want one you have to order it through Alexa's Voice Shopping feature. Yep, that means you'll need to own an Echo device already – either the Echo or Tap – and you'll need to buy the Echo Dot using that. Weird.