Is the Apple Watch more than just a status symbol? What can you do with it?
Before we move on to what you can do with the Apple Watch, it's important to understand that it's good for a lot more than just looking stylish on your wrist. We know, that seems like a crazy prospect, but it's true!
The Apple Watch can receive notifications, make — and take — remote phone calls, send messages, interact with Siri and much more.
Come to find out that's not all it's good for. It serves as a decent gaming platform too. Yep, that's right Apple Watch games are a thing! If you have pencil-sized fingers, USAF-caliber eyesight, and the willingness to run down a battery that won't last more than a day on a single charge, anyway.
Seriously though, there are plenty of games already available for the Apple Watch, and more are rolling out as we speak.
The developers working on the Apple Watch games have not only had to deal with the tiny screen, but they've also had to implement portable mechanics so that they can be played in 10-second bursts while on the go.
The Five Best Apple Watch Games You Can Play Right Now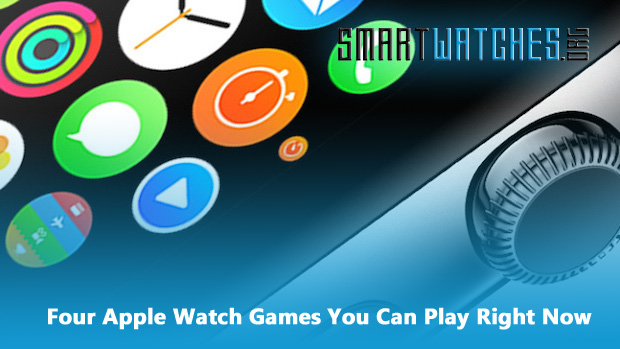 We put together a quick list of some of the four best Apple Watch games that are available now.
Runeblade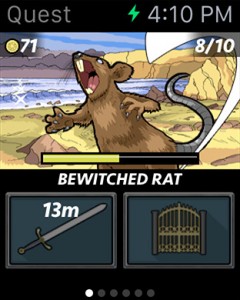 Runeblade is a fantasy role-playing title that has been designed specifically for the Apple Watch. Since Runeblade is one of the few Apple Watch games that is actually native to the watch, you won't need your iPhone to play it.
It's a single-player game that puts you into the armored boots of a War Mage, one who must stop an evil, old menace from overtaking the realm. This free game promises lots of locations to explore, lots of beasts to blow up, and tons of unlockable spells and abilities to earn over time.
You are supposed to play the game in brief, 30-second spurts, although if the game increases in complexity over days, weeks and months of playing, as they advertise, the 30-second rule sounds like it may become a moot feature.
That said, it is one of the best Apple Watch games you'll find on the market, especially if you enjoy RPGS.
Spywatch
Seeing as wrist devices have been a treasured gadget in the domain of spy stories long before the Apple Watch came along, it only seems fitting that a game called SpyWatch should be one of the first Apple Watch games.
In this game ($1.99 on iTunes), you're the head of an old, crumbling spy agency. Tasked with turning the agency around, you need to train spies, send them on secret missions, and earn money to increase their spy capabilities.
While playing, you receive real-time notifications from your agents, asking you to make decisions and act quickly. You need to make quick strategic decisions during the missions, relating to time, resources or locations. This is one of those Apple Watch games that really sounds like a blast!
Rules!
Rules! is one of the most popular games for the iPhone, winning the Apple "Best of 2014" pick, and it has now been ported to, and has become one of the best, Apple Watch games.
The only way to explain it is to say it's a cross between Simon and Memory. You have to tap tiles based on an increasing number of rules for each level, such as "tap red", "tap animals", or "tap numbers in ascending order". You also have to remember each rule in order to progress further, and there's a countdown timer to keep the pressure on.
The Apple Watch version includes a daily mini-game challenge, but you play with only four tiles instead of 16 due to the limited space.
Rules! will cost $2.99 at the Apple Store, but there's a trick right now to get it free. Download the Apple Store app, open it up and scroll down to a banner which says "Download Rules! Free". Tap it, and congrats you just saved yourself three bucks.
Homerun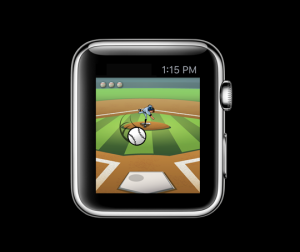 If you're not into role-playing, dragons or spies, you've got good old-fashioned baseball as an option for one of the Apple Watch games.
Given the tiny space you have to play, it makes you wonder how the developers can pull it off. The devs of Homerun have achieved the task of creating a watch-friendly game with a rather ingenious twist on the classic sport of Baseball. All you need to do is focus on hitting the ball at the plate (pictured), and you build the experience from that.
The whole game is based on the accuracy of your taps, but opposing pitchers can throw some tricky pitches, making the gameplay that much harder.
As you progress, you move through a ladder of different league levels. There are also high-score leaderboards and home run contests to play too. It sounds like it's almost as exciting as real baseball.
Trivia Crack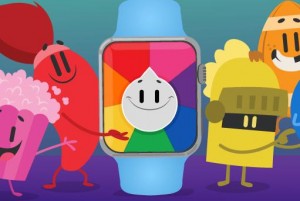 This is one of the most-downloaded games of the year across many mobile device platforms.  Lots of folks even play the game via social networks like Facebook.
Trivia Crack challenges players to answer crowd-sourced trivia questions from around the world. There are literally millions of user-submitted questions.
The Apple Watch games version can be played entirely on your wearable without needing to look at your phone. You simply tap to answer questions. You can post or accept challenges from other players, and you get a notification when it is your turn.
Even better, this bad boy is free. I'm afraid that if you're a trivia nut.you're going to be spending a lot of time looking at your wrist.
Does the thought of playing Apple Watch games on your wrist appeal to you? Are there any games you'd like to see on a wearable?