With the Apple Watch release date coming soon, we thought we'd detail a couple of the biggest strengths and weaknesses of this highly-anticipated device.
Apple Watch Pro: Style
Apple got to be the tech giant that it is today on the strength of the styling of its products almost as much as their technical capabilities. And although style is a subjective attribute, most observers agree that the Apple Watch meets the Apple standard of being a very attractive device.
The Apple Watch comes in three different models, with two different face sizes and a wide assortment of straps, so in truth there are over 40 different "styles" to choose from, increasing the chances exponentially that you will find one that really knocks you out aesthetically.
It is easy to dismiss the watchband as an insignificant factor when it comes to the appreciation of any smartwatch, but the truth is that the Apple Watch will be attached to your body for 18 hours a day. If the comfort and styling of the watchband is not to your liking, that takes a whole lot of enjoyment out of the equation for you.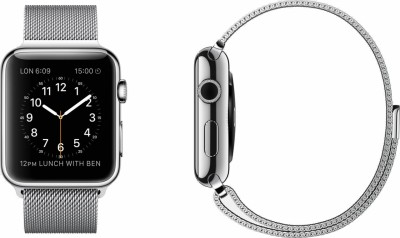 The collection of straps include link bracelet, leather loop classic buckle, modern buckle, and Milanese loop. The leather loop and sport band straps come in multiple color choices. People who have tried out the leather loop call it soft and comfortable. The Milanese loop band (pictured) is magnetic, and like the leather loop it just wraps around your wrist and stays in place.
Apple Watch Con: Price
Apple being the coy little temptress that it is, the actual official prices of the three Apple Watch models have not yet been released. Apple did say that the device would start at around $350, so the assumption is that that price applies to the Apple Watch Sport Edition, which only comes with a plastic strap.
The regular Apple Watch, which is simply called Apple Watch (as opposed to Apple Watch Sport and Apple Watch Edition), comes with a higher-quality glass face than the Sport edition, and also comes in either a stainless steel, space black stainless steel, silver aluminum or space gray aluminum finish. These are much nicer finishes than the Sport Edition, so when we hear its price is rumored to be about $500, it sounds pretty good in comparison. But we have also heard rumors the Apple Watch regular edition will come in at $550 or higher.
Sorry, but we think this is an awful lot of money when we're talking about a brand new, unproven device like a smartwatch. Considering that Samsung's Gear 2 goes for under $300, and the popular upstart Pebble goes for under $200, it will take a real leap of faith to jump in with the Apple Watch regular model.
Don't even get us started talking about the Apple Watch Edition models, which will come in 18-karat yellow and gold casings. Guessing the price of these babies has become a high-tech parlor game. Most estimates come in around the $5,000 range, although some estimates go as high as $20,000. For a single watch. Reports have surfaced revealing that Apple will be selling these watches at high-end jewelry shops in Europe, like the Galeries Lafayette in Paris (pictured). This is so bizarre in so many ways, we just don't know where to begin.
Apple Watch Pro: Innovative Touch Tech
The way the user touches the Apple Watch screen, and the way the Apple Watch touches you back, are both great advances in consumer technology. You can tap and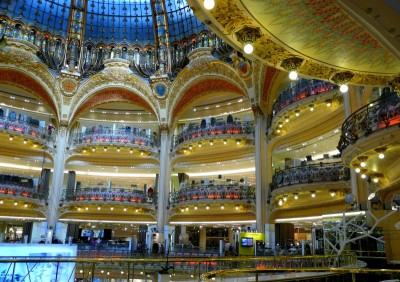 swipe the Apple Watch face, but with Apple Watch's Force Touch technology, it can determine how hard you touch the screen, thereby delivering different actions.
The Apple Watch can distinguish between a regular tap, used to select things, and a harder press, used to access contextual menus. This is done through the use of tiny electrodes that are embedded in the display. You can swipe the screen to access summaries of things such as your location, the weather and your calendar. These are like mini-apps, and Apple calls them Glances. It is a brilliant way to access a lot of information on such a tiny screen.
Thanks to the Taptic Engine, the Apple Watch vibrates on your wrist gently to alert you to various notifications. Also, there are varying intensities to the vibrations, which will be used to alert you about different things. This is another brilliant innovation that will in all likelihood be standard in wrist wearables in the future. The tap is a gentle prod that doesn't startle the wearer, but is completely unnoticeable to someone standing beside the wearer, which is more than we can say for a vibrating smartphone.
John Pavlus of the MIT Technology Review quoted an analyst who said that that as soon as third-party developers gain access to the Apple Watch taptic engine, then "the watch's true power as a new kind of personal communicator will be unleashed… A watch is a very covert object. I could see a new kind of private language or low-level communication emerging from this kind of wearable, using pulses or squeezes."
Intriguing to say the least. Tell us what you think. More Apple Watch Pros and Cons next week.