So, you've picked out the Apple Watch model you want and you're just waiting to get your hands on it come April 24. Congratulations are in order, since you'll soon be part of the wearable revolution. If you're on the fence about getting an Apple Watch, don't fret there's still plenty of reason for you to be here. Perhaps you're just interested in seeing some Apple Watch accessories?
Whatever the reason you're here, we've put together a list of some of the best Apple Watch accessories that will be available right out of the gate. If you're going to spend your hard earned money on the Apple Watch, you might as well make the best of it.
The Best Apple Watch Accessories
The following list is a great selection of eye-catching and functional Apple Watch accessories from a wide variety of manufacturers, but it's not comprehensive. That means, there are plenty of other Apple Watch accessories out there — many of them still on the way.
Griffin WatchStand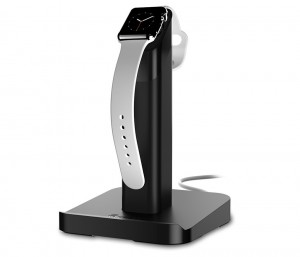 There are several reasons why you might want a charging dock for a smartphone or tablet, namely because it's a great place to hang up the device at night while it's charging. Considering you'll need to charge the Apple Watch at the end of each day, doesn't it make sense to get some kind of stand or dock for it, as well?
Cue the Griffin WatchStand, a tall charging pedestal designed specifically for the Apple Watch. Like many of the other Apple Watch accessories here, the WatchStand will accommodate both the 38mm and 42mm size models even with the wriststrap attached. Essentially, it's a husk-like stand that makes use of the device's included charger. In other words, you feed the charging cable — included with your Apple Watch — to the top of the stand. When you place the Watch on top, it will connect to the magnetic portion of plug and begin juicing up.
As an added bonus, there's a section that will hold your iPhone too.
Don't worry, the Griffin WatchStand won't empty your piggybank; it's only $29.99.
X-Doria Defense Edge
The Apple Watch — no matter which model you choose — is hands-down one of the most expensive smartwatches on the market. Even though it's been manufactured with premium materials, it's still possible to scuff the thing up.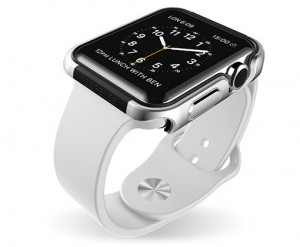 While taking good care of your device is always important for its lifecycle, sometimes protecting it with a case is just as crucial — if not more so. That's where the X-Doria Defense Edge is going to come in handy. It's an exterior case for the Apple Watch, made of aluminum on the outside and a soft rubber lining on the inside. It closes in around the sides of your device, protecting the bezel and edges from normal wear and tear, and potential damage. Believe us when we say, it's pretty easy to knock your watch into things while it's on your wrist.
You can pick up a Defense Edge for both sizes — 38mm and 42mm — and it looks like the general design will mesh well with the various Watch models. To install the case, you simply snap it onto the Watch and wallah!
Talk about reasonably priced Apple Watch accessories, the X-Doria Defense Edge is only $29.99.
Reserve Strap
Want your Apple Watch to last longer than a day? Unfortunately, that probably means you're going to have to take advantage of an extra power pack. In most cases, that's quite a bit disconcerting because they can be both cumbersome and bulky. It doesn't make a whole lot of sense to strap an additional battery pack onto a wearable device, especially if it makes wearing the thing uncomfortable.
That's why the Reserve Strap is extremely promising. It's a rubber-based wristband that's meant to replace the stock Apple Watch band. Don't worry, the device sensors will still work — which is important — and it will provide an additional 400mAh of battery power. As an early estimate, it should offer about another full days worth of use on a single charge. Of course, the true battery ratings are going to rely on the retail device and how much it drains battery. We won't know for sure until the Apple Watch is in our hands.
This is not one of the cheaper Apple Watch accessories available though, since it's $249.99. It's also worth noting that the final product and design has yet to be chosen by investors. This one may not be ready in time for the Apple Watch launch. Still, it's good to know the option is there.
Pad & Quill Roll Up Kit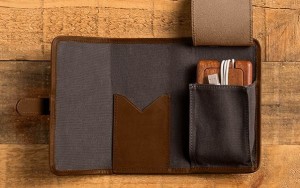 You'll probably carry your Apple Watch with you everywhere you go, but that doesn't necessarily mean you'll always be wearing it on your person. In fact, there might even be some cases where you don't want to wear it yet still would love to bring it along.
The Pad & Quill Roll Up Kit is a tailored American leather pouch, made just for transporting the Apple Watch and it's necessities (read: charger). The interior is lined with a soft, linen material to protect your device from getting scuffed during travel. There's even room for an additional strap — if you have one.
If you want to splurge, you can pick up the luxury edition kit that includes a pocket stand and additional matching wallet.
The base price isn't too bad, starting at $49.99. You can pre-order now, but the first shipments will go out in May.
Var Cyclip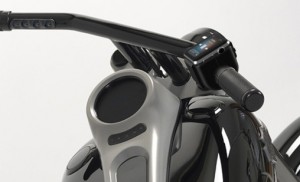 Billed as the "world's first handlebar adapter for the Apple Watch," this unique mount is for cyclists. It allows you to simply mount the adapter — right along with your Apple Watch — to moped, bike, or motorcycle handlebars. This should allow you to use the turn-by-turn navigation support while focusing on the road… hopefully.
There's no word on price or a release date yet for the Var Cyclip, other than a vague "coming soon," but it will probably coincide with the launch of the Apple Watch.
Composure Charger Dock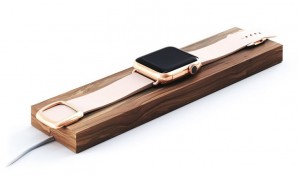 We can't just leave you with one option when it comes to charging docks for the Apple Watch; there will likely be dozens — if not hundreds — made available during the device's lifetime.
The Composure Charger Dock stays in line with Apple's luxury design standard by including a stunning design of its own, and of course a composition of premium materials. The MagSafe inductive charger from Apple is covered in a solid block — adorned with a gorgeous, walnut wood finish — along with steel accents and a base. The steel base is designed to weigh down the dock, so you don't have to worry about it toppling while your Watch is juicing up.
Pre-orders are available now at $79, with the first shipments going out in "Spring 2015" — the company claims that release will be "within 45 days" of the Apple Watch launch. After launch, the Composure Charger Dock will be priced higher at $94.
Mega Tiny Corp Apple Watch Screen Protector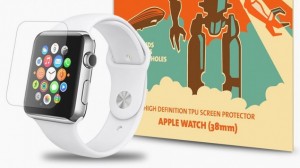 Screen protectors are a dime-a-dozen these days. Problem is, most of them come in larger sheets and you have to chop them down to size yourself and apply them. It works much better — in terms of protection and usability — when you have a screen protector that's been designed to fit a specific device.
Mega Tiny Corp has created a screen protector for the Apple Watch. They promise edge-to-edge device and screen protection for all sizes: 38mm or 42mm. In addition, they claim it will work great with Apple's force touch technology, but we'll find out for sure when the device launches. The protector also happens to be bubble-free, shatter-proof, and smudge-resistant.
This particular screen protector can be purchased on Amazon for $6.99. Not bad at all. As an added bonus, the listing claims it can protect your device from "laser-shooting-robots and zombie attacks!" Phew, because we were really worried about that.
Casetify Apple Watch Bands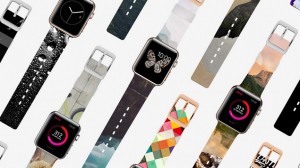 Having a hard time choosing a custom band for your Apple Watch? Interested in designing your own? Head on over to Casetify to get started. You can design your own watchband, with an option to import custom images. You can upload media from your Instagram and Facebook accounts, or your local computer files. There are also a great deal of pre-designed bands to choose from.
The bands will set you back $50, and they'll start shipping in June. When you design the band, you'll need to specify whether you want it for the 38mm or 42mm size, so be sure which one it is that you're getting.
Stay Tuned for More Apple Watch Accessories
As more high profile Apple Watch accessories are made available, we'll update this post accordingly. Keep in mind, we made a conscious decision not to include Kickstarter based products like the Monowear Design Band, or the Lunatik Epik Apple Watch Kit. Yes, we know they technically exist. If they are funded and make it to the retail stage, then we'll add them to the list.
Do you know of any Apple Watch accessories that should have made the list?