The Apple Watch will be here real soon — it's coming April 24th — so it's a great time to start preparing. That's why we decided to add everything we know about the Apple Watch into one big, long post. This is the be-all and end-all of Apple Watch resources.
Welcome to the ultimate Apple Watch guide.
Keep in mind, we'll be updating this well past release, so keep checking back for more helpful tips, tricks and information!
The Ultimate Apple Watch Guide
We collected everything you need to know about the Apple Watch and added it here.
Let's get started!
Ultimate Apple Watch Guide Table of Contents
The links below allow you to jump around the Apple Watch guide with ease.
A smartwatch mimics the function — and often the form — of a traditional wristwatch. Generally, they are made with premium materials and include both a watchface and some manner of wriststrap.
T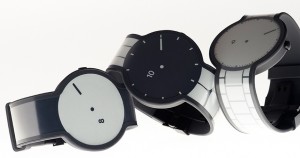 hey display the time in several different formats, and therein lies their allure. With a traditional watch, you're stuck with a single design and watchface style. With a smartwatch, you can swap out your watchface at any time, between digital and analog modes.
Smartwatches offer a great deal of other features too. Most are meant to be used as a companion device with your smartphone. They will deliver notifications, alerts and messages on your wrist thus eliminating the need to pull out your phone and check for new content.
Many will track fitness activities and data — such as calories burned, or steps taken — and have tethered access to the internet thanks to integrated Wi-Fi or an active Bluetooth connection.
Some can remotely place phone calls or take them, while others are limited. Further yet, some offer voice controls and remote dictation support thanks to platforms like Google Now, and Siri. There are even standalone smartwatches like the Samsung Gear S, which can be connected to a wireless mobile network and used in place of a smartphone; obviously, they require SIM cards.
There are many different types of smartwatches, and the Apple Watch just happens to be one of the newer options on the market.

Apple Watch Guide: What Is the Apple Watch?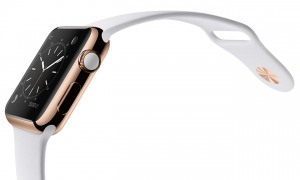 Naturally, the Apple Watch is designed solely for use with iOS (read: iPhones) devices.
The Apple Watch is running a tweaked version of iOS 8. It will be fully compatible with Apple's latest iPhone handsets running iOS 8 which are the new iPhone 6 (4.7-inches) and iPhone 6 Plus (5.5-inches). As with most Apple devices, you'll be paying a premium price for a smoother and more streamlined user experience.

What Does the Apple Watch Actually Do?
Since it's a smartwatch it will receive messages, notifications and alerts from a connected handset. You can also use it to respond to text messages, Facebook updates, email and more. This will be especially great since the new iOS devices are larger in size. The option to stow your 5.5-inch iPhone 6 Plus in your jeans pocket or bag is certainly convenient.
Of course, the Apple Watch is also going to come bundled with a handful of apps pre-installed and more will be available later. You can find more on Apple Watch apps further down.
The Apple Watch does include a traditional touchscreen display (Retina) but that's not how you're going to be controlling and interacting with it most. Instead, Apple has integrated what they call the "Digital Crown." You can read more on that below.
S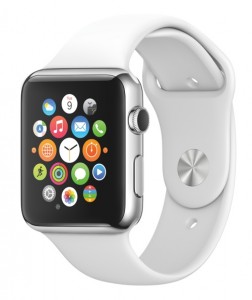 eated right below the Digital Crown, is a physical button which Apple simply calls "the Button." Pressing it will open the Friends app, which is essentially going to be the Watch's version of a contact book. By tapping the picture of a friend in this app, you can send messages, call them via your phone, or send them information using the Apple Watch such as your heart-rate and more (we'll get to that in a bit).
You can always use the touchscreen to navigate if you're so inclined, but it might be difficult if you have large fingers like we do.
The Apple Watch incorporates gestures – like swiping – and something Apple calls Force Touch to control. The device can actually distinguish between a regular tap or light touch and a more forceful one. In this way, you'll be able to use different kinds of taps to interact with the device.
When it comes to hardware sensors, the Apple Watch includes a gyroscope, and an accelerometer. On the rear of the watchface – which will be pressed against your wrist – is a unique sensor that uses visible-light and infrared LEDs in combination with photodiodes to determine heart-rate. In layman's terms, there's a heart-rate sensor on the back too.
For wireless connectivity there's integrated Wi-Fi and Bluetooth to connect with an iPhone. The Apple Watch can use an iPhone's GPS radio to detect location data.
The accelerometer allows for steps and distance tracking, among other useful stats. Native Apple Watch apps Activity and Workout will allow you to see fitness goals, progress and stats in realtime. It will also give you feedback on your activity, sort-of like a digital trainer. These apps will sync up with your Health and Fitness apps on your iPhone. In addition, most third party fitness apps will require you to carry your iPhone along, to use GPS or track various stats.

There Are Three Different Apple Watch Models
The Apple Watch Sport is comprised of an anodized aluminum case that comes in either silver or space grey. The face — or display — has been designed with Ion-X glass which is supposedly more durable and harder than sapphire. Since it's designed for those with an active lifestyle — and meant to be worn during exercise — it's much lighter than the other two models. It also happens to be the cheapest in the lineup, starting at $349 for the 38mm size and maxing out at $399 for the 42mm size.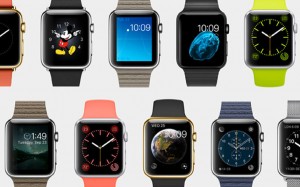 The Apple Watch — which seems to be plainly labeled — is comprised of stainless steel, and comes in either a chrome or space black. The touchscreen display is covered in sapphire crystal, which is supposedly much more durable than Gorilla Glass. As for the price, it starts at $549 and maxes out at $1,099 depending on the size (38mm or 42mm) and band style you choose. Obviously, premium metal and stainless steel bands are going to cost more.
Then there's the Apple Watch Edition, which is the most luxurious and of that there is no question. It's designed in solid 18-karat gold casing, and comes in either yellow or rose gold. Since it's made of gold, it also happens to be relatively heavy — much heavier than the other two models. As with the other models, the price varies from $10,000 to $17,000 depending on the size and band style you choose. As an added bonus, it comes bundled in a leather box that can be used as an optional charging cradle.
What Phones Will the Apple Watch Work With?
You'll need an iPhone to pair up with the Apple Watch — all models — if you want to take advantage of its most promising features. Fortunately, you don't need to upgrade to the latest generation (iPhone 6 or 6 Plus). The iPhone 5, 5s, or 5c will work just fine with the Apple Watch, if you already own them. If you own an older model, you'll need to upgrade before you can use one.

Can the Apple Watch Do Anything Unique?
The most unique feature of the Apple Watch is the touted Digital Touch, function. This will allow Apple Watch wearers to wirelessly connect with one another through gestures and device feedback.
Wondering what that means? Here's an example: if you're running in a local park and you pass by a friend you can send them a quick hello, which essentially vibrates or pulsates their device. In this same manner, you can send hand drawn pictures to one another, heart-rate data, and more.
It's a pretty neat feature, though not completely necessary.

An In-Depth Look At the Digital Crown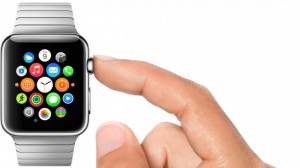 There is a circular knob on the side of the Apple Watch modeled after traditional crowns – which generally allow you to adjust the watch time by twisting on a standard watch. Apple has called this knob the "Digital Crown," and it will be responsible for navigating the software and user interface.
The Digital Crown serves as a mini joystick or mouse nub of sorts. You can twist and turn the knob to move up and down, or left and right. It also replaces pinch-to-zoom functionality which Apple says would be much too impractical on such a small display – and they're right it would be. For example, you can zoom into a particular app selection or a current location in Apple Maps. You can also do things with it like scroll through calendar and event dates, or alter stopwatch times. It's very reminiscent of the iPod's clockwheel.
Pressing the crown in – like a button – will return you to the homescreen just like the home button on an iPhone.
The Digital Crown will be the go-to navigation option for the Apple Watch. Unfortunately, Apple did not include a Touch ID sensor or fingerprint scanner of any kind for security. However, the watch will automatically lock when taken off the user's wrist, and requires an anti-theft passcode to regain access.
The Apple Watch Includes Siri Voice Control Support
The Apple Watch does include both a microphone and speaker, which means not only can you make and take calls – you can also interact with Siri, the beloved Apple voice control platform. You can do things like set personal reminders, send audio messages and memos, communicate via a walkie-talkie style mode with other Apple Watch wearers, and even ask Siri questions.
Yes, all of this can be done directly from the smartwatch, but you will need a paired smartphone.
The Apple Watch Can Be Used to Pay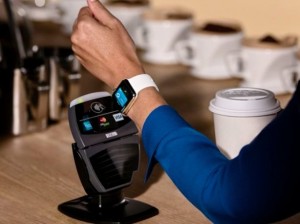 The Apple Watch includes NFC (near-field communication) functionality, which means just like the iPhone 6 and 6 Plus you can use it to pay for goods and services like a credit card. You won't be able to use this feature just anywhere as the seller must be using NFC-capable equipment too.
You don't need one of the newer smartphones to use Apple Pay on the Watch. Even if you have the older iPhone 5, 5c and 5s models you can still take advantage of this feature.
If you take off the Watch, it will lock and requires a passcode to regain entry. For the most part, no one will be able to take your Watch and start paying for goods without your consent.
Introducing the Apple Watch Conversation Button
A single physical button below the Digital Crown is known as "the Button," and allows you to start an instant conversation with one of your contacts. Pushing the button calls upon a contact info card for the person in question, while zooming into a contact with the Digital Crown activates the feature. You can also gently tap the button to get a contact's attention – it sends a vibration or "taptic" feedback prompt to their smartwatch.

It's a great way to get someone's attention who's nearby. For example, if you're at a party and you want to get your significant other's attention from across the room you can simply tap your device twice. No one else will be able to hear it, but your significant other has a way of knowing it's from you instantly.
You can also take advantage of a neat little sketch function through messaging, or even share your heartbeat with someone in realtime.
All the native iOS apps are supported at launch including Messages, Mail, Weather, Calendar, Maps, Passbook, Music, Photos, and many more. Unfortunately, it doesn't include Safari so you won't be able to browse the web directly, nor does it include its own camera app – or the hardware for it. It does include a remote shutter option that allows you to remotely control your iPhone's camera.
The Apple WatchKit SDK has been available since November, 2014 so there should be plenty of third party apps to choose from. Apple has demoed apps like Glances, Instagram and Uber at various expos and events. We know there will be plenty of similar apps at launch.
You Can Swap Out Apple Watch Bands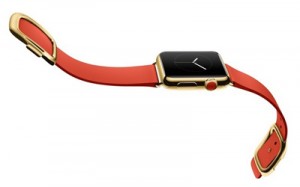 Most smartwatch manufacturers have been doing this for a while, so it's nothing new. It's still great to see Apple supporting the trend. It brings an added layer of customization to the device allowing users to swap out for a custom band of their choosing.
Apple revealed several band styles that you'll be able to choose from at launch. The Apple Watch Sport comes with a sweat resistant elastomer in black, white, pink, blue, and lime green. Apple Watch and Apple Watch Edition owners will be able to choose from three leather and two metal straps. The first two leather straps are available in stone, light brown, and bright blue; and pink, brown, and midnight blue respectively. The final leather strap is a classic-buckle in black. Then, for the metal bands you have the stainless steel Link Bracelet and a mesh-style Milanese Loop.
Yes, the Apple Watch Supports Custom Faces
One of the most interesting aspects of modern smartwatches is that you can swap out the watchface at any time. For instance, if you get tired of seeing the usual analog clock with a minute and hour hand, you can swap to something digital instead.
Apple has promised fully customizable watch faces with "millions of different appearances." At launch, the Apple Watch will include eleven base watchfaces, which each have options to change colors, design elements and functionality. Apple even showed off a watchface with a moving or animated background, along with a few others that used still images.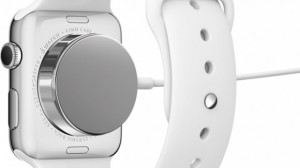 Apple claims the Apple Watch last for a full-day on a single charge, up to 18 hours of both active and passive use. If you're wondering what that usage scenario includes, here's the list:
90 time checks
90 notifications
45 minutes of continuous app use
30-minute workout with Bluetooth music playback
If you use your device too much throughout the day and the battery starts to drain, it will enter a Power Reserve mode – for up to 72 hours – that allows you to see the time, but you can't do anything else. We're sure this mode can be disabled if you don't care about the battery draining.
You will need to charge your Apple Watch every night right along with your phone. Apple claims the batteries are replaceable, though we're not sure how that will work just yet nor how much a replacement will cost.
When it comes to charging, the rear of the device includes metal charging contacts, and the charging cable will snap and stay in place thanks to magnets. The battery is energized through induction charging, similar to wireless charging methods.
There are already some really cool accessories for the Apple Watch like charging docks and additional power kits.
When Will the Apple Watch Be Available?
The Apple Watch will be available to customers on April 24, but you can pre-order as soon as April 10.
Apple stores will have the Apple Watch available to demo and try out on April 10, as well. This will give you time to try the device on, pick out the proper size and choose a preferred style and band.

Important Links
Apple Watch Guide: How to Choose an Apple Watch Model
Aside from the obvious physical differences – like a solid gold case – it's not easy to spot what makes an Apple Watch Edition more expensive than an Apple Watch Sport.
If you haven't done any research, that's okay. We're going to explore each variant of the Apple Watch in more detail to help you decide which one is a better choice for you. Just because the Apple Watch Sport is cheapest doesn't necessarily mean it's the worst model, given your needs and preferences.
When deciding which to purchase, there are two main things to consider:
All three of the Apple Watch models are the same internally.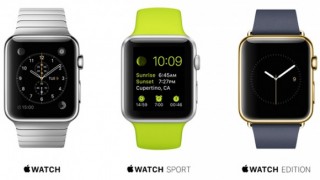 You get 8GB of internal storage (with a limit of 2GB for music and 75MB for photos), and up to 18 hours of battery life on a single charge. All models are running a unique version of iOS, compatible with iPhones gen 5 and up.
The prices range from $349 all the way up to $17,000.
You'll also want to consider the watch's appearance. While the appearance might seem trivial, it becomes apparent when you're choosing between a rubber-like, metal or leather band.
Moreover, all three of the watch models come available in two sizes: 38mm and 42mm. This is also referred to as the "case size". Basically, this is the size of the watches' face.
The size and model you choose determines what materials the case will be comprised of.
Let's take a closer look at the three Apple Watch models and compare them.

Apple Watch Sport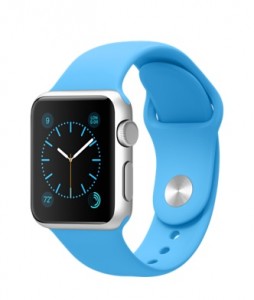 The Apple Watch Sport is for fitness buffs and those with a tighter budget.
It includes an aluminum case or body, and Apple's unique Ion-X glass display. It is the only model that comes with this display. Some even say it's the best display of the bunch.
The stock version comes with a "fluoroelastomer" (synthetic rubber) sport band, but you can always swap it out if you'd like something different. The bands come in several colors — including neon — but you can also choose black or white if you'd like to avoid flashy stuff.
The smaller size Apple Watch Sport (38mm) is $349, while the larger size (42mm) is $399.
Apple Watch
The mid-range model is simply called the Apple Watch — some have taken to calling it the Apple Watch Basic or Classic, but neither of those names were given by Apple. It includes a stainless steel case — instead of aluminum in the Sport model — and sapphire crystal glass over the display.
There's also a nice little black accent on the digital crown — the knob on the side of the watch.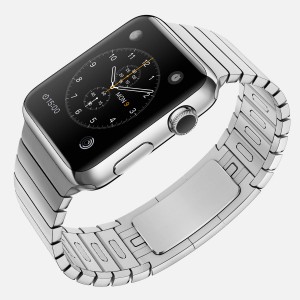 Prices start at $549 depending on the size and band style you choose, and top out at $1,099.
The cheapest variant comes with the same fluoroelastomer band as the Apple Watch Sport. You can also choose from the following bands:
Stainless Steel Finish

Classic Buckle
Modern Buckle
Leather Loop

Stainless Steel

Milanese Loop (mesh-like material)
Link Bracelet
This gives you 14 different band options in total for the Apple Watch (Basic) model–more than the Sport or Edition.
The biggest difference between the Apple Watch Sport and the Apple Watch (Basic) is that the Sport doesn't look as good with the stainless steel bands. The Apple Watch (Basic) was specifically designed to be used with them.
That said, you will pay a higher price for appearance alone, unless you consider the fact that stainless steel is much more durable than aluminum.
Apple Watch Edition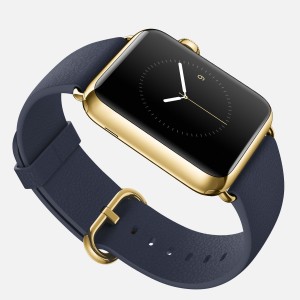 Finally, we have the most expensive model of the bunch — the Apple Watch Edition. Prices start at $10,000 and range up to $17,000 depending on the case size and band you choose.
The Edition model is absolutely stunning, but that's because it comes with either a solid yellow or rose gold case. Similar to the Apple Watch (Basic), it comes with a Sapphire Crystal display.
That's it! Other than appearance, it's exactly the same as the cheapest model.
As for bands, you can choose between the Sport Band, and Modern or Classic Buckles.

Apple Watch Bands
One of the biggest choices to make is the band. Because there are so many, we're going to list each of them below and describe what makes each different.
The bands are compatible with all models of the Apple Watch. However certain bands only come available in one of the two case size options. Again, 38mm and 42mm. Additionally, each band has different wrist sizes.
In the end, you may have to choose a band that feels more comfortable on your wrist, over one that looks better. If you're not sure what size to choose, check out Apple's comprehensive Watch sizing guide.
1. Modern Buckle: The Modern Buckle is made of leather and comes in four colors: brown, black, soft pink and midnight blue. Unfortunately, it's only available for the 38mm version of the Apple Watch, yet it comes in three sizes:
Small: Fits wrists 135mm to 150mm
Medium: Fits wrists 145mm to 165mm
Large: Fits wrists 160mm to 180mm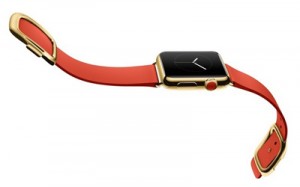 2. Leather Loop: The Leather Loop is made of Venezian leather and comes in four colors: stone (grey), light brown, black and bright blue. Unfortunately, it's only available for the 42mm version of the Apple Watch, yet it comes in two sizes:
Medium: Fits wrists 150mm to 185mm
Large: Fits wrists 180mm to 210mm
3. Milanese Loop: The Milanese Loop — or mesh stainless band — is one-size-fits-all, with a different option for each of the case sizes.
38mm: Fits wrists 130mm to 180mm
42mm: Fits wrists 150mm to 200mm
4. Link Bracelet: The Link Bracelet, is more akin to a traditional stainless link band that you'd see on other watches. It is also one-size-fits-all, with an option for each case size:
38mm: Fits wrists 135mm to 195mm
42mm Fits wrists 140mm to 205mm
5. Classic Buckle: The Classic Buckle is a plain leather band, that also happens to be one-size-fits-all. There are two options, one for each case size:
38mm: Fits wrists 125mm to 200mm
42mm: Fits wrists 145mm to 215mm
6. Sport Band: The Sport Band is made of a synthetic rubber-like material which Apple has dubbed fluoroelastomer. It comes in two sizes— small/medium, and medium/large—and you get both if you order this band style. There are several colors to choose from: Black with space grey stainless steel pin, black, white, pink, blue and green.
38mm: Small/medium fits wrists 130mm to 180mm; Medium/large fits wrists 150mm to 200mm
42mm: Small/medium fits wrists 140mm to 185mm; Medium/large fits wrists 160mm to 210mm
| Band Name | Size Options | Compatible With | Color |
| --- | --- | --- | --- |
| Modern Buckle | Small, medium, large | 38mm | Brown, black, soft, pink, midnight blue |
| Leather Loop | Medium, Large | 42mm | Stone, light brown, black, bright blue |
| Milanese Loop | One-size-fits-all | 38mm, 42mm | Stainless steel (mesh) |
| Link Bracelet | One-size-fits-all | 38mm, 42mm | Stainless steel |
| Classic buckle | One-size-fits-all | 38mm, 42mm | Black |
| Sport Band | Small/medium, Medium/large | 38mm, 42mm | Black with space grey pin, black, white, pink, blue, green |
Which Apple Watch Model Should I Buy?
Now that you understand the difference between the three models it's time to make your big choice. If you feel nervous, you're not alone. Making a big purchase of any kind is worrisome.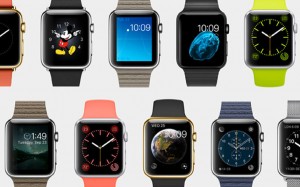 Even a seasoned techie – like me – has trouble plopping down a big pile of cash, no matter how much I want something.
We recommend going with the Apple Watch Sport, unless you'd rather splurge for one of the stainless steel options.
The Sport edition doesn't look as good with the stainless steel bands, because it was designed for the colorful fluoroelastomer ones. That doesn't mean you can't buy the Sport and then swap out your band for a stainless steel one, because you certainly can.
Without sounding too cynical, you'll be paying a much higher price for appearance alone. If you don't have a style preference between the three models then stick with the Sport edition.
It's also worth adding that this is a first generation device, and that means you can expect it to be replaced/outdated in a couple years, maybe even one year at the earliest.
It's okay to get on board now, but if you spring for the most expensive model right away there's more of a chance you'll regret it later.
Then again, that all depends on how you feel and why you're purchasing an Apple Watch in the first place.
Apple Watch Guide: Try the Apple Watch Before You Buy It
Interested in trying out the Apple Watch before you buy one? It's possible thanks to a company called Lumoid, a relatively new startup that will soon be offering Apple Watch rentals to interested customers.
They don't have anything available just yet, after all the Apple Watch won't hit the market until April 24th. That said, you can add your name to a waiting list, and you'll be given the option to rent a unit when the time is right.
Lumoid's try-it-before-you-buy-it system is also open to several different wearables and fitness trackers.

What Does It Cost to Rent the Apple Watch?
If you're interested in renting the Apple Watch, the Sport model is $45. If you decide to keep the device after your rental, $25 of that price will go towards the final purchase price. If you want the steel variant you'll need to pay $55 ($30 of which goes toward the purchase price).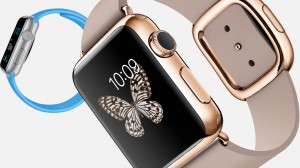 Want to try out a fitness tracker instead? You can try five different devices for $20. You'll get a week with each wearable before you have to send them back. If you decide to keep one, you can pay the remaining balance.
Keep in mind, if you pay the rental price for the Apple Watch you'll also get to try out four other devices for a week, as well.
It's a pretty good deal if you're interested in trying out these devices before you run to a store and drop down the full price. In store, you'll only get to demo each one for a few minutes and even then they're usually in a special presentation mode — if they're powered on at all. Just like with mobile devices, you can't get a true feel for the experience they offer without using them for an extended period of time. That's why Lumoid's rental system is such a great idea.
What About Availability?
Since the Apple Watch doesn't launch until April, it's difficult to say what kind of availability Lumoid will have.
You can add your name to the waiting list for rentals, but there's no guarantee you'll get a unit close to launch. Lumoid has given no indication as to how many units they will have in their inventory. Considering each renter is allowed to keep them for a week, it might be a while before you get your hands on one.
There's no mention of which style you'll get either, or whether or not you'll be able to choose one you like. Sure, you get the Apple Watch Sport edition but you'd have dozens of styles to choose from if you were to purchase directly from Apple. It's likely Lumoid won't have all the styles available, or maybe they will — who knows at this point.
There is another important question, what will happen if the rental is damaged? You will likely be the one responsible — for the full purchase price — if the unit is damaged, lost or stolen. That might definitely turn some off to the idea of renting.

Apple Watch Guide: Tips & Tricks
Check back after the Apple Watch launches for some tips, tricks and tutorials on using it!
Notice something missing from our ultimate Apple Watch guide? Let us know!