Forget smartwatches and their bulky, incredibly geeky looking designs. Forget their compact nature and dumbed down functionality. Forget everything you know about wearables as a whole. Why would you do such a thing?
Because the Portal wearable exists — or at least it's going to if Arubixs acquires funding via the crowdfunding platform IndieGoGo. Now I know what you're already saying: another damn crowdfunded smartwatch?
However the beauty of the Portal is that it's not actually a smartwatch, but instead a wearable smartphone. While that concept alone sounds a little crazy, it becomes less so when you're actually introduced to the prototype device – or the ideas that Arubixs have presented with it anyway.
Let's take a closer look at the project to better understand why a device like this could ever hope to succeed.
Introducing The Portal Wearable, A Flexible Smartphone by Arubixs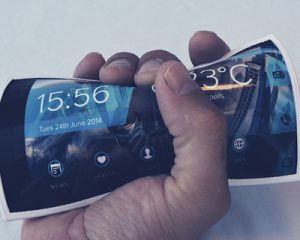 We need our devices to be more durable. The smartphone market is already heading in this direction, at least when it comes to functionality. Several manufacturers are toying with the idea of flexible displays, while others are waterproofing their handsets completely.
It's no secret that a rugged, and durable smartphone will last much longer ultimately becoming more desirable to consumers. After all, no one likes to lose their $400+ device after accidentally knocking it off the table or missing their pocket, completely shattering the display.
The Portal is a unique wearable, that borrows similar elements from the aforementioned rugged devices to create an all-purpose and remarkably reliable smartphone. Like a smartwatch, you wear the Portal on your wrist thanks to its straps yet that's where the similarities end.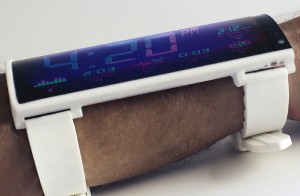 The Portal is a 6-inch wearable smartphone that is flexible, water resistant and completely shatterproof thanks to its design.
That's not where the innovations stop, however. The Portal wearable smartphone is an incredibly powerful device as well. It's packing a skinned version of Android, a 6-inch display, 64GB of storage, 2GB of RAM, a 3,200 mAh battery, 4G, NFC, and wireless charging.
The Portal will come unlocked, which means its compatible with almost all of the major mobile carriers. Provided you already have a compatible SIM card handy, you can just plug it in and go.
Even though all that hardware sounds great — it's the software and the design of the device that are going to make or break the Portal wearable phone.
A Wearable, Flexible, Water Resistant and Shatterproof Smartphone? Come Again?
This is definitely the most intriguing element of the Portal wearable. How is Arubixs going to handle it all though?
What is the device actually going to be able to do?
The Portal smartphone will strap to your wrist and conform to the shape of you body. Essentially, this means it will look like a digital touchpad of sorts. If you've ever watched a football game – which I'm sure you have – and you've seen those plastic playbook pamphlets on a QB's arm, the Portal looks very similar.
The difference is that the Portal is outfitted with tons of hardware, and a remarkably vivid touchscreen display. As you can see from the prototype images – and the crowdfunding intro video – it can be flexed and bent into a bunch of different shapes. During the demos, you can even see them pull the display module out of the wriststrap and bend it on its own.
I'm sure that more than a few people are going to look at this thing and say, "ew" though. It is pretty much the equivalent of taking a Samsung Galaxy Note and strapping it to your wrist. Although, I would certainly argue the Portal is a little more alluring in the visual department – because the Note would be rather rigid, thanks to its hard plastic shell.
What Is the Portal Wearable Smartphone?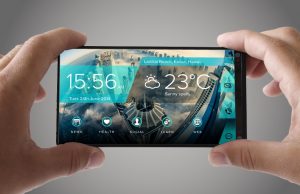 As Arubixs describes on the IndieGoGo page:
"The Portal is a smartphone designed for tech enthusiasts, active individuals, and on-the-go professionals who are frustrated with bulky, cluttered, non-durable phones that constantly get in the way of their dynamic lifestyles. Our goal was to create a device that combines advanced smartphone technology with the convenience and mobility of smart watches and fitness trackers- a handheld phone when you need it, a wearable device when you want it. No longer will you need to carry and connect a smartwatch, fitness tracker and smartphone all at once. Portal offers you the best of those devices at the times you choose."
At it's heart it may be a smartphone, sure but make no mistake about it – this thing is a wearable device. Say what you want about the design, appearance or size but it's still incredibly promising and that's always a good thing to be excited about.
The Portal Smartphone Software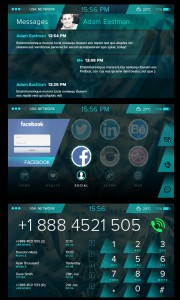 Of course, a device – even with a boatload of advanced hardware – is only as powerful as its software allows it to be. Good thing then that the Portal will be rocking the latest version of Android, albeit tweaked with a custom skin.
As most mobile devices should be, the entire Portal UI has been structured to deliver users their most important information as quickly as possible. It's also been tailored in a way so that information is more appealing on the landscape oriented 6-inch display.
Unfortunately, it's much too early to say whether or not the software is going to be useful, and warranted. We've seen too many proprietary UI and OS schemes in the past that just ended up ruining what would have otherwise been a great experience. Does that mean it's going to happen with the Portal? Absolutely not. It just means we need to be wary about the software, at least until we're able to try it for ourselves.
The screen grabs that Arubixs has offered look particularly appetizing, although that bubble based icon UI is a little questionable. Sony did something similar with the PS Vita, and while it's definitely functional one can argue the appeal of it.
The Portal Wearable Pricing and Availability
A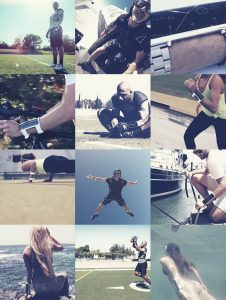 s of right now, the crowdfunding campaign is open on IndieGoGo and consumers can back the project. Arubixs is looking to reach the $300,000 funding goal in under 30 days. As of the time of this writing there were 25 days left, with just under a quarter of the total limit reached.
If you pledge $349, you'll get your hands on one of the first Portal models to hit the market. Availability is listed for September, 2015 so it's going to be a while before you see the fruits of your hard-earned money.
What Do We Think About The Portal?
Despite how silly the Portal may look to some, there's no question about its innovative qualities.
The smartwatch world is no stranger to bulky, yet strange devices. It's also possible that the final product will look different than the prototypes and demos shown on the IndieGoGo page. For now, we're going to reserve most of our judgement until we see a working device. That said, it looks incredibly promising so let's hope Arubixs can pull this off.
What Do You Think About This Smart Gadget?
Tell us what you think in the comments below.
We'd love to hear your thoughts on the Portal wearable, and whether you're interesting in purchasing one.