Deciding to buy a Fitbit is one thing, but determining which of the fitness trackers is the best choice for you may seem less straightforward. Below, we'll look at some of the brand's top options this year and go over some of their most exciting features. After reading this, you should discover it's not as hard as you expected to pick one.
| | | | | |
| --- | --- | --- | --- | --- |
| Fitbit Product | Price | Battery Life | Type | Unique Feature |
| Versa | $199 | 4 Days | Watch | Tracks sleep, steps, heart rate, calories and is water resistant to 50 meters. |
| Alta HR | $149.95 | 7 Days | Wristband | A SmartTrack feature automatically recognizes selected activities you do and records data about them. |
| Charge 2 | $149.95-$179.95 | 5 Days | Wristband | Uses PurePulse to track heart rate 24/7 and offers guided breathing sessions based on heart rate |
| Ionic: Adidas Edition | $329.95 | 5 Days | Watch | Tailored to serious athletes, uses PurePulse, built in running training programs, personal coaching. |
| Alta | $129.95 and up | 5 Days | Wristband | SmartTrack™ technology and sleep health tracker |
| Ace | $99.95 | 5 Days | Wristband | Showerproof Fitbit for kids featuring goal celebrations, badges, and sleep tracking. Recommended by the CDC. |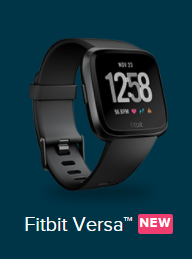 Boasting a battery life of at least four days, the Versa smartwatch stacks up as a strong competitor against the Apple Watch. It tracks your sleep, step count, heart rate and calories burned.
Plus, if you work around water, the Versa is a smart choice because it's water-resistant up to 50 meters. Stay motivated and store hundreds of songs on the watch, or download Deezer and Pandora playlists to hear on the go. You can get the Versa beginning April 16 at retailers including Walmart and Best Buy, plus the Fitbit website. ($199)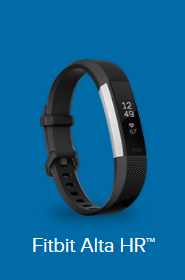 This Fitbit model is excellent if you don't like bulky wrist gear. It features a slender band and narrow face, meaning this accessory won't interfere with your unique style. The Alta HR also lasts up to a week between charges, while tracking your activities day and night.
A SmartTrack feature automatically recognizes selected activities you do and records data about them. Additionally, you can get push notifications that remind you to move periodically and aim for walking at least 250 steps every hour. With the knowledge that many people invest in purposeful fitness tracker accessories, the Alta HR offers another personalization option with interchangeable bands made of leather, metal and more. ($149.95)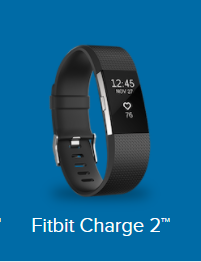 After investing in the Fitbit Charge 2, you'll be able to see call and text notifications if your phone is nearby. Also, if you often feel stressed out because of life's uncertain circumstances, this gadget could help: It offers guided breathing sessions based on your heart rate.
Speaking of your heart rate, the Charge 2 is one of the Fitbit models that includes the brand's PurePulse technology. Instead of only providing pulse information during workouts, it measures the beats 24/7. Also, the feature helps you stay within your target heart rate zone, which could be especially important for better cardiovascular health.
A study of people over the age of 65 found brisk walking is an excellent way to promote heart health and reduce the risk of heart attacks. Regardless of your age, the Charge 2 could make you more aware of whether your workouts are benefiting your heart as much as they could, and equip you with the data to make changes if necessary.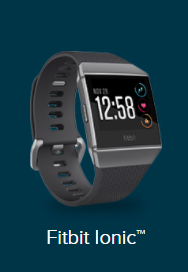 Of all the Fitbit models on this list, the Ionic: Adidas Edition is the one most tailored to serious athletes. It has a durable band that allows you to swim while wearing this smartwatch. Also, there are built-in, Adidas-branded running training programs to go through, so you won't risk getting bored with the same old workouts and could become a better runner as a result.
This watch keeps all the little details in mind, too. For example, the band features a breathable material that keeps your wrist cool when you break a sweat. Plus, the inspiration for the gadget's face design came from the race bibs athletes wear in competition.
An integrated GPS system lets you track your pace and distance traveled during outdoor training sessions, too. Under normal conditions, the battery lasts five days, and with the GPS activated, the device offers 10-hour battery life. ($329.95)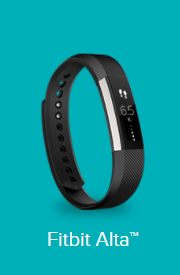 Like the Alta HR, the Alta features the same slender body style. However, it's missing the PurePulse technology mentioned earlier in association with the Charge 2 — and included on the Alta HR. You can still keep tabs on some aspects of your health, such as activity level and calories burned, but the Alta does not have a heart rate sensor.
If you're concerned about sleep quality, the Alta can provide you with straightforward information that might indicate your slumber is not as worthwhile as it could be. For example, it shows how long you sleep, the amount of restlessness experienced and the time you woke up. ($129.95 and up)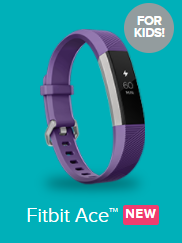 The difference between this fitness tracker and the other Fitbits is it's for kids. So, if there's someone in your life who needs to get more active and you want to keep things as fun as possible, the Ace is a practical choice. Kids receive celebratory messages for reaching their daily goals and earn virtual badges for the more significant achievements. The gamification element keeps kids motivated, and parents can check statistics on each user account
Wearers also get reminded to keep moving throughout the day, with the ultimate goal to get in at least an hour of physical activity daily as recommended by the Centers for Disease Control and Prevention. Besides offering five-day battery life, this watch lets children pick from one of 10 watch faces to personalize the look of this gadget. ($99.95)
Hopefully, this rundown of some of Fitbit's watches and their standout features will make the essential task of choosing a model substantially easier. When you're mindful of how you're most likely to use your smartwatch and the benefits you hope to get from it, selecting one should become simpler still.