Smartwatches have been growing in popularity in just the last few years. As a result, there has been a spark in the creation of fitness apps for Smartwatches.
Currently, most of the apps available are watch or operating system specific. For instance, the Android Workout app. Nevertheless, there are several fitness-based apps that work on a range of smartwatches, like the Swim App.
What is the Swim App?
Essentially, Swim.com and its' accompanying smartwatch app is a swimming-specific workout tracker. However, more than just tracking your strokes, the app allows you to set goals, connect with other swimmers as well as find pools or swim clubs in your area. Even better, Swim.com and the app are completely free.
Check out the video below for a glimpse inside how the app fits into a swimmers' workout.
[vimeo 107534078 w=500 h=281]
Swim App Features
Workout Tracking
The Swim app on your smartwatch tracks your workout and then syncs it with Swim.com. Swim.com then offers valuable tools and analytics to show how you're making improvement. According to the website,
"Whether your goal is to get faster or to be more fit, it's vital to know where you are, where you're going and where you've been."
That's why Swim.com provides week to week as well as month to month progress reports.
Furthermore, the app has a multitude of workout-related features. The full list includes:
Logs time of workout and length
Calculates the pace of your swim
Gives Stroke Count – the number of strokes in given length
SWOLF – An efficiency score that combines speed and stroke count.
Total Lap Count
Stroke type – For instance, Butterly vs Backstroke
Drill mode – for non conventional strokes (like the sidestroke or flutter kicks on a kickboard)
Workout alerts – Just as the name hints, alerts you when certain values for metrics are achieved
However, realize that some of these features are not available on every smartwatch.  
Compete with Others via Leaderboards
Swim.com comes with leaderboards, where you can rank yourself against other swimmers at your pool or through online clubs you create with friends/teammates.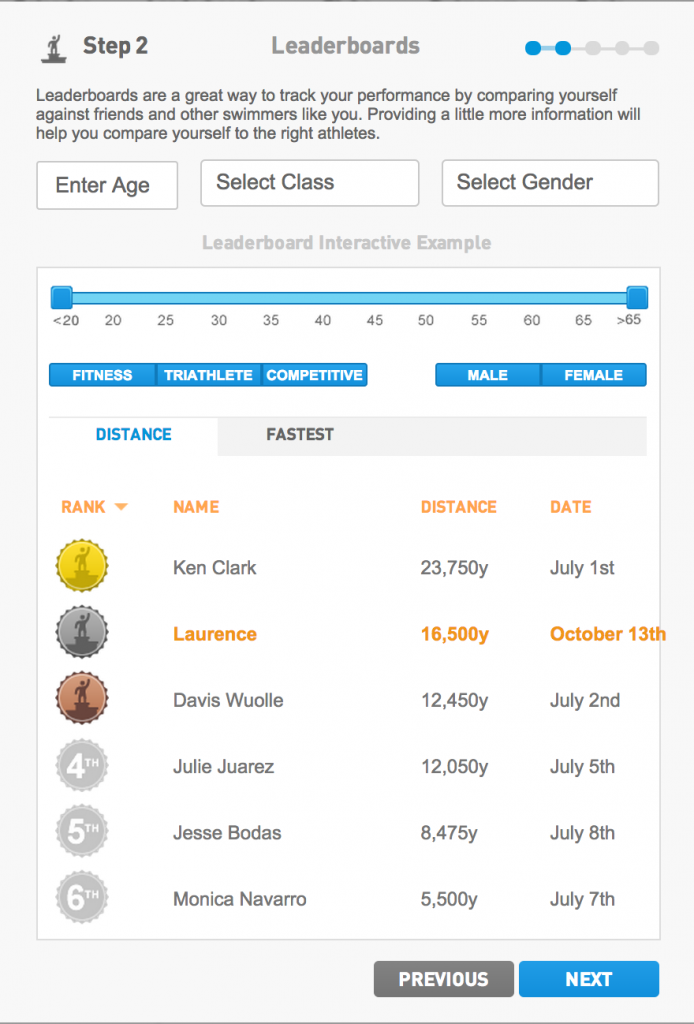 Moreover, you can compare yourself with others in your age group, gender or the type of swimmer you are.
Leaderboards are kept for distance as well as for swim time over a set distance, starting at 50 meters and going all the way up to 1500 meters.
Find a Local Pool or Club
The Swim.com system has tens of thousands of pools and clubs registered across the globe. It's a great way to find information on a pool near you or when you're traveling and looking for a place to get a few laps in.
Connect with Fellow Swimmers
While swimming is popular, both for exercise and as a sport, it can be lonely swimming solo.
That's why Swim.com allows you to connect with other swimmers in your area.
Swim.com is a great way to find a training buddy since it's easy to connect and compare workouts with others.
The website claims,
"Swim.com encourages swimmers to engage and interact with each other, because together we all improve."
Compatible Smartwatches
The Swim.com app is compatible with 8 different smartwatches.
On the website one can compare and contrast the watches on price and features available with the Swim app.
Looking through the capabilities, there is not one single watch that can match all the features Swim.com has to offer.
Nonetheless, two of the watches that seem to have the most functionality are Garmin Swim and Swimsense. However, you can get the Swim app on watches other than the swim-friendly smartwatches, like the Pebble.
Even more, one can sign up on Swim.com without even owning a smartwatch. Obviously, having a smartwatch that is Swim compatible is ideal and would make life easier. But you can still log workouts on Swim.com manually. 
Swim.com Online Interface
When signing onto Swim.com, you can conveniently log in via your Twitter, Facebook or Google account.
Online is where all the action happens: compare your stats with other swimmers, see who the top swimmer is at your club and look at your personal workout logs and analytics.
Don't worry — all your workouts don't have to be open to the public. Making it private is an option. To find out more about all the capabilities that comes with Swim.com, visit their comprehensive support center.
Who Would the Swim App Be Best For?
First and foremost, I only see the Swim app being useful for serious swimmers. People who swim regularly for exercise and most likely at some point or another competed — whether for a swim club, on their high school team or even at the collegiate level. In fact, I could see this app being a great tool for off season training specifically.
Or, of course, this app would be fantastic for a person training for a Triathlon or an Aquathlon — basically any competitive event that involves swimming. Additionally I see this app useful for an individual working with a trainer, where Swim.com would provide the trainer with insights on what the client is doing on their own time.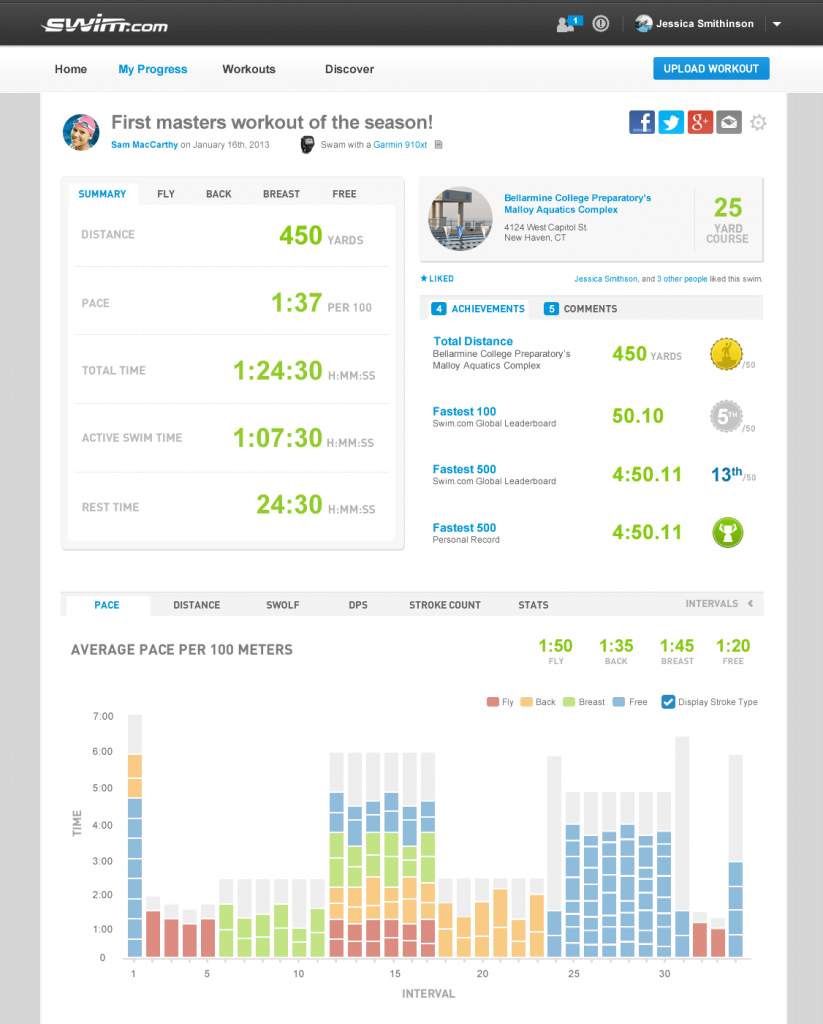 Still, I just can't imagine the casual swimmer — one who jumps in every so often for a few laps — getting much benefit from the app.
Could Swim.com Improve Your Workout?
When looking at the Swim.com app's ability to affect a workout regime, the question is, "Do you think that competing with others online would help you reach your personal goals?"
Certainly competing in real-life, when another swimmer is gliding at your side, is motivation to hit new personal bests.
But online? I suppose if one has a lot of pals also on Swim.com logging their training. Or for a person who is very independently motivated to reach specific goals.
Ultimately, I think the Swim app could improve one's workout. But it comes down to the individual and their level of competitive spirit.
Most Valuable Swim.com Feature (in my opinion)
I certainly see Swim.com offering usefulness when moving somewhere new, or on a business trip, and looking for a pool to get a few laps in.
Anyone who has swam at a few pools knows that not all are created equal. Getting a lay of the land in advance is helpful, which is exactly what Swim.com helps facilitate. Plus, if on a longer term business trip, repeated swim sessions at the dinky hotel pool becomes tiresome.
With Swim.com, you can easily pinpoint your location and find a pool near you.
However, Swim.com doesn't appear to have a feature where one can review swim clubs, like how one reviews a restaurant. It seems like that would be a nice addition to the app. (Hint hint.)
Although, you can see which swimmers go to the club. Meaning if a club has a lot of activity, it is probably a popular choice amongst locals.
Swim.com Final Thoughts
Swimming itself as a workout takes dedication. It also means one has access to a swim club, fitness center with a pool, or a backyard lake or pool. And, let's face it, joining one of these private swim clubs are pricier than your typical gym. (For that matter, fitness centers with a pool can be on the more expensive side, too.)
That's why the Swim App is for the committed swimmer. For that person, whether training for an upcoming event or simply trying to hit specific swim-related goals, the Swim.com app would make a great addition to their regime.