It's that time of year again.
You'll need to come up with a variety of presents for friends and family that are unique to their particular tastes and lifestyle. The problem with that is we're all different. You might not know what to get someone who's a gamer if say, you're a fitness buff – and vice versa.
To make things easier, we're going to be publishing a series that outlines some great present ideas for different demographics. Hopefully, this should help you choose the perfect gift for that special someone.
In this edition, we're going to take a look at some of the best smartwatch and wearable gifts for fitness buffs. If you know someone who does a lot of running, walking, swimming – or even plays a sport like Golf – then you should be able to find an item on this list. Don't forget, we also have lots of other great articles like this one here on the site that you can use for even more gift ideas!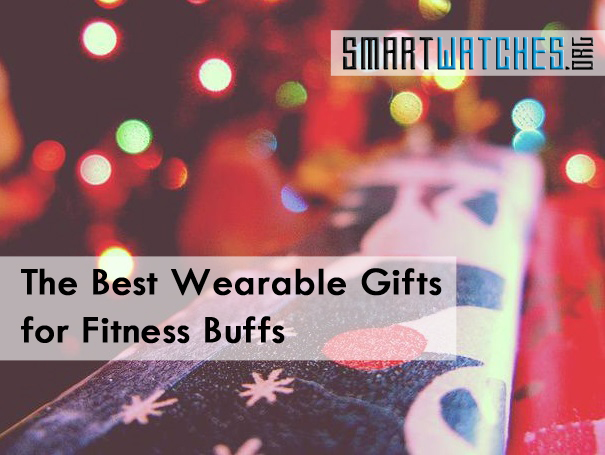 Best Wearable Gifts for Runners
It can be a bother to carry your smartphone with you on a run, especially if you have a larger-sized device. Sadly, a majority of smartwatches and wearables require you to have a companion device to track your whereabouts, most of them don't even have GPS embedded. With that in mind, we think you'll find these next wearables a great choice for runners.
Sony Smartwatch 3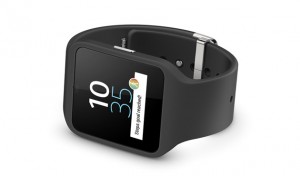 The Sony Smartwatch 3 is the company's latest smartwatch and it's powered by Android Wear (sorry Apple fans, only the new Android Wear watches work with iOS). In addition, to having several different strap colors and body styles, the materials are comfortable if you happen to spend a lot of time sweating. With a waterproof rating of IP68, you can submerge it for up to 1 meter for about 30 minutes or so.
What makes the Smartwatch 3 such a great fit for runners, however, is that it includes GPS built-in. That means it can track a route without a phone nearby. When you're done a run session you can sync back up with a smartphone and be on your way.
The Sony Smartwatch 3 is about $150 to $170 through Amazon.
Apple Watch Sport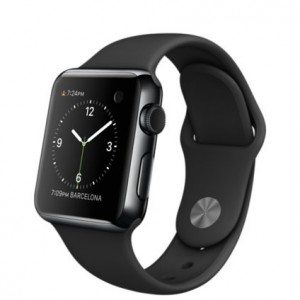 You had to know the Apple Watch would be somewhere on this list, right? It's right at home in a runner's arsenal thanks to the robust health and fitness apps that Apple has pre-loaded onto the watch. With the Sport model, you can track goals, progress updates, and even receive workout summaries for each activity you complete. It's compatible with a ton of existing fitness tracker apps on the market too – like Runtastic – if you already have a favorite.
There's a heart-rate sensor built right into the back of the watch face if you want to track BPM.
The Apple Watch Sport is about $349 no matter where you buy it.
Best Wearable Gifts for Cyclists
Believe it or not, there are fitness wearables out there that can track your activity even when you're on the back of a bike. Some will even encourage you to push yourself to the limit by pedaling faster or harder. If you know someone that spends a lot of their time cycling around, then these next couple of wearables would definitely put a smile on their face.
Moov Now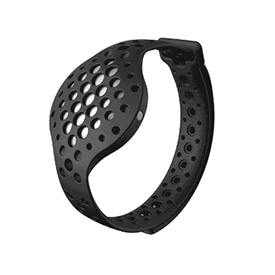 The Moov Now is the successor to the original Moov fitness tracker. It can track a lot of different exercises and physical activities, not just biking. However, what makes it especially beneficial for cyclists is the fact that it can monitor a wide variety of stats and information. It will offer real-time audio and visual coaching through a connected device, generate road maps and detailed reports for your cycling trips, and track a variety of stats from cadence to speed. If your fitness buff wants to track their BPM or heart-rate they can also pick up an additional ANT+ monitor to sync this data with their Moov Now.
It's an excellent choice for any cyclist or fitness enthusiast, and it's affordable too at about $79.99 through Amazon.
Garmin Edge 520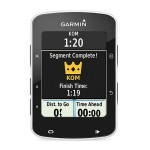 This next device is definitely a bit pricier and it mounts to the actual bike instead of the user: the Garmin Edge 520. That said, it is absolutely one of the best trackers a cyclist can get their hands on. Why? It encourages competition by showing the stats of others that have biked a route before and how quickly they finished the ride.
All the while, integrated GPS tracks the biker's route and enables them to reference it later. In addition, there are internal sensors to monitor heart-rate, speed, cadence, total ride times, and much more. Even better, they don't need to have a smartphone nearby to take advantage of everything the Edge 520 has to offer.
The Garmin Edge 520 will cost you about $379 on Amazon.
Best Wearable Gifts for Swimmers
Do you know someone who loves to swim laps in the pool? Initially, it might not seem ideal to pick out a wearable device for someone who spends most of their time submerged underwater, but there are actually devices out there that can handle it. We picked out a couple of the best wearables to make any swimmer splash for joy.
Runtastic Orbit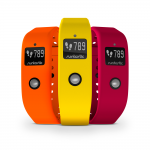 The Runtastic Orbit was specifically designed for swimmers. It can handle depths of up to 100 meters (328 feet) according to the manufacturers. In order to track your swimming information you'll need to manual start an exercise, this is because you can't take your phone in the pool. Don't worry, it will still track distance, calories burned, and more while you swim.
It can also track stats like sleeping patterns, activity – distance, steps and calories burned – and more. It's available in a variety of different colors too, so you're not stuck with one shade.
Compatible with Android, iOS (iPhone) and Windows Phone 8, the Orbit is about $137.
Garmin Swim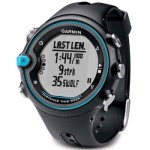 The Garmin Swim is another device that was designed with the average swimmer in mind. It offers lap and swim-activity performance tracking. What kind of stats can it monitor? It will track the distance you swim, the strokes you've made, drill times, what types of strokes you're doing and more.
As for the waterproof rating, it's 5 ATM which means a depth of up to 50 meters (164 feet).
It doesn't boast any smartwatch features, and as far as we're aware it's not compatible with any mobile devices. Information must be synchronized wirelessly to your computer after a workout.
The Garmin Swim will set you back about $150.
Best Wearable Gifts for Gym Lovers
Do you know someone who's always spending their time at the gym? Do they have tons of exercise or weightlifting equipment in their home? These next wearables might be a good choice for gym fanatics.
Skulpt Aim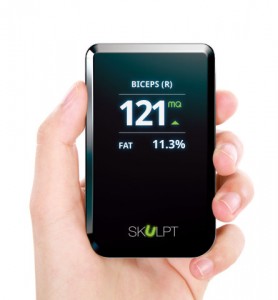 The Skulpt Aim is designed with one concept in mind, tracking your muscle mass.
It's a smartphone-sized device that you press against your skin after a workout to determine both muscle mass and body fat. It can achieve this by sending a current through your muscles — or fat — to determine different size and ratio patterns.
Why would any of this matter? You can use the device to see how much your muscle or body is improving over time. All information is tracked and recorded to provide a detailed timeline of progress. Trust us when we say, gym fanatics will love it.
The Skulpt Aim is about $149 through Amazon.
Atlas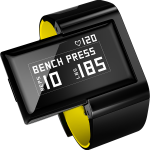 According to Atlas, it is "the first wearable tracker that actually tracks your workout." It was originally funded through the crowdfunding platform IndieGoGo and recently started shipping out to customers.
It can count the number of reps you do for each exercise or set, measure heart rate, your posture, and form, and more. Furthermore, it can determine what type of activity or exercise you're doing thanks to a three-axis motion sensor and "exercise fingerprints" comparison. In other words, it can tell if the wearer is doing push-ups or bicep curls.
It's $249 through the official Atlas store.
Best Wearable Gifts for Golfers
Want a device that will help you track your progress on the back nine? Maybe you want something for a loved one who's always playing on the green – or spends a lot of their time in the rough. These next wearables are just the thing.
Zepp Golf Sensor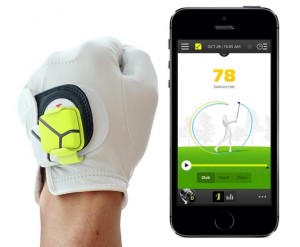 The Zepp Golf Sensor isn't truly "wearable" in the sense that it comes with a wristband or neck strap. Instead, it's a clip-on sensor designed to be attached to your glove while you're playing — whether that's on the course, or at a range. The sensor will then record a variety of information about your playstyle and swing, and then transmit said data to a companion app for Android or iOS.
If you have it paired up with a smartphone — and keep that on your person, as well — the app will also use the device's accelerometer to track hip movements.
The sensor is $149.99 for the golf kit (there are tennis and baseball kits also).
TomTom Golfer
The TomTom Golfer includes native course support — like the Garmin Approach series — for more than 34,000 courses. Information provided includes distance to the pin, front and back of the green sizes and slope info, hazard locations, and real-time lay-ups while on the course.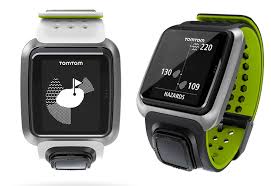 It presents information in monochrome via a 168 x 144-pixel display. It can display graphics, icons, text, and more. There's even a unique green view mode that allows you to check your current position in relation to the flag. There's an option to record your score, measure various distances and even track calories you've burned during play.
TomTom claims the Golfer will deliver 10 hours of battery life on a single charge, which should be more than enough for a 36 hole tourney or competition. It's 5ATM water resistant too, so you don't have to worry about rain, water — or beer — dripping on the thing.
The TomTom Golfer is $249.99, but it's available in one style only.