The watch.  It's no longer just a fashion accessory used to check the time anymore.  Today's watch is smarter than its predecessors.  It can be used to do many different things.  People can use it to send and receive phone calls, play their favorite tunes, check email, and get weather alerts.  Even more impressive, smartwatch software is designed in a way that allows app developers to "hack" it.  Imagine the possibilities that await such an advanced technological device.
It's About Time
The smartwatch has become something of the norm with today's tech-loving society.  With a number of features that make it easier to complete specific tasks, people find it far easier and more beneficial to access information from their wrist rather than tie up both hands with their smart phones.
The most practical uses for smartwatches include: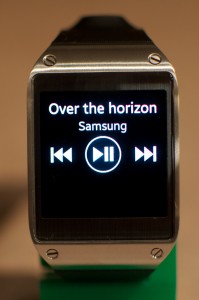 1) Working Out – When it comes to working out, a smartwatch can be very useful.  Most smartwatches have a music player in them and this makes it very easy to listen to music while exercising.  Remember the days of using your phone, iPod or mp3 player, and having to untangle those pesky ear buds?  Then having the possibility of dropping them or losing them when working out in a gym?  These types of situations are all eliminated with the smartwatch.  A typical smartwatch can sync to Bluetooth headphones which will free up any worry of loose wires.  This allows workouts to be more focused and effective.
2) Business – There are people who can't stop looking at their phone.  Maybe they're checking emails, or setting up appointments between meetings and appointments.  Smartwatches have the possibility or revolutionizing the business industry.  Some of the features of many models of smartwatches include alerts which notify their owners that a message or email has been received.  Smartwatches can also be used to set up appointments for meetings and other pertinent business affairs.  Keeping a tight schedule is easier than ever before.
3) Keeping Track – Some smartwatches are more than just a watch.  They can keep track of your workouts, your likes, and can be used to help keep your diet or newly adopted health habits in check which will keep you on the right path to success.  Smartwatches can be synced with a computer and items can be downloaded to the watch. This can help its owner keep track of their daily workouts and routines.  It's like having a personal trainer to hold you accountable each and every day.
4) At Home – Using a smartwatch at home could be very beneficial to moms who are on the go and always needing to remember things.  Some features of the smartwatches allow for parents to keep track of their kids, and also can help to give them reminders just like a personal assistant would.  With it being on the wrist, they won't have to hold onto a phone and can focus their energy on keeping their kids in check.  This can also be said for dads.  They can use a smartwatches to check the score of a game whenever they feel the need to.
5) On The Go – For individuals on the move, smartwatches can be very useful.  By having a smartwatch, it can be connected to your smart phone and then everything can be accessed from your watch.  This gives your day a boost and makes thing easier to accomplish without having to have the phone out all the time.  When on the road, voice commands are possible on the smartwatch and so tasks can still get done while driving.  The convenience that a smartwatch gives people is that they can do more and not have to be tied down with wires or bulky items.  The smartwatch is on their wrist and with the small but very readable display, they can do many things that a smart phone can do.
More Than a Watch
The days of just telling time are long gone.  The invention of the smartwatch proves just how technologically advanced society has become.  The small yet useful piece of tech gadgetry is becoming more and more commonplace.  With the different features and abilities these small devices have, they can be less cumbersome and work almost as well as a smart phone.
Some smartwatches can work without the smart phone, but most work best when paired with one.  With the market still rather new regarding smartwatches, look for better and more useful tools, apps, and styles to come out in the future.  As developers are able to "hack" smartwatch software, the companies that manufacture smartwatches will benefit because more people will see the value in this emerging device.