Did you know you can buy smart home tech to turn your home into a more connected and convenient space?
Believe it or not, smartphones and smartwatches aren't the only "smart" devices. This makes sense when you look at the true definition of a device that is considered "smart" or connected.
Smart devices can be anything electronic that have some kind of connection to a companion device or network. A specific type of link is not required as Bluetooth, mobile connectivity (3G or 4G), Wi-Fi and even NFC can be used to bridge a connection.
Generally, smart devices are connected to the internet of things which allows them to operate in more advanced ways, but this is not necessarily a requirement either. Some smart devices – like select smartwatches – do not have any connection to the internet or an external network.
Smart devices can be anything from cars to wearable tech – even fitness trackers – phones or tablets, appliances, and more.
You may be curious as to why we are defining the term for you, and it's because we're going to talk about different "smart" devices than we usually do. We're actually going to take a look at some awesome smart home tech. Before we do that, it's important that you understand how and why these devices are considered "smart". It's especially important to understand what it means when a device is "connected" and how that can affect your privacy and home life.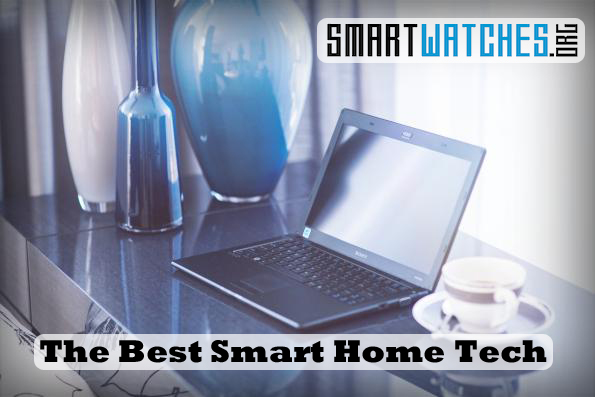 Why Would You Want to Own Smart Home Tech?
There are a lot of people that are not comfortable with bringing smart home tech that is both "connected" and aware into their living space, and their concerns are not unfounded. You'll never truly know what kind of information a smart device is collecting and reporting about you or others in your home. That prospect can be scary, especially since we know the lengths to which the government will go to monitor our activities and communication with others (think, the Snowden and NSA details).
So, why even put something "smart" and connected in your home then? Why take the risk?
Generally, it's a matter of risk versus reward. Smart tech, in general, offers a level of convenience that you can't quite achieve without it, that is when things are working fluidly and without issue. As we all know, one caveat of modern technology is that it can sometimes cause more frustration and headache than it's worth. Dealing with a piece of tech that's not working properly is always aggravating.
However, smart home tech definitely has its benefits.
To provide an example, smart locks allow you to eliminate the need for a traditional key. With most of them, you can still use a key, but the convenience comes from the other ways to gain entry into your home. Some smart locks include a numeral touchpad for entering access codes, and others allow you to connect your smartphone and open doors through a companion app. Where this really comes in handy, is if you need to provide access to your home to friends and family in a jiffy. You can let them in or out of your home remotely, and you can even provide them with their own unique keys. The status of the lock can then be tracked, allowing you to see who entered your home and when.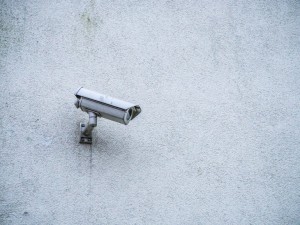 Of course, for others, the risk of that smart lock being breached by a third party may be too great. Adversely, some folks may see the risk of a breach and deem it an acceptable risk to take for the convenience a smart lock can offer.
Such a risk is not the case with all smart home tech, however. A smart coffee pot, or crockpot, for instance, isn't going to have much risk associated with it. Even if they were to be hacked, third parties would only be able to see what you were doing with the device and when.
There are ways for resourceful hackers to use connected devices as a sort of stepping stone to access your home network; this can be done through vulnerabilities in a system. The manufacturer can easily remedy this when the vulnerabilities are identified, by patching the security hole through a software update. Many times, however, these vulnerabilities or holes can go unnoticed for quite some time to the official devs. It's highly unlikely that a hacker will use a coffee pot, smart bulb, or similar device to enter your network but it's possible, and that's what you need to be aware of.
If that risk scares you – which is definitely understandable – you'll want to stay away from smart home tech altogether.
The Best Smart Home Tech for a Connected Living Space
All that aside, there are some truly amazing ways to turn your home into a connected, modern space.
Smart Home Tech Thermostat: Ecobee3
Most people know the Nest smart thermostat because it's been given a bit more exposure in the press. However, the Ecobee 3 is superior in a number of ways.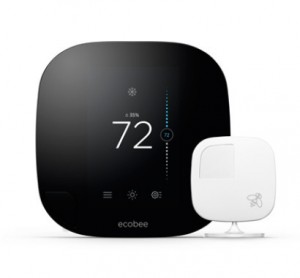 Ecobee is better for larger households – with bigger square footage – because it can be used with remote sensors to independently monitor different rooms in the house. This means it is more efficient when compared to the Nest – and most other thermostats – which simply measure the local vicinity by the device and not the entire house. Of course, the optional sensors aren't cheap so they can easily balloon the price of a working system if you need a bunch.
If you live in a townhome, condo, or smaller dwelling it doesn't really matter whether you choose the Nest or Ecobee3.
One of the biggest improvements in Ecobee is that it includes a touch-enabled display which makes it easier to interact with the UI and interface. The display is also much larger and can fit more information, which is naturally easier on the eyes.
As for what it actually does, it's a "smart" thermostat that connects your central air and heating system and enables remote access. The primary benefit of this is that it can help you save money in the long run by being hyper efficient. It learns your habits and patterns and finds a way to work autonomously – based on collected data – to keep temperatures in your home comfortable. You can setup schedules, rules, and a variety of other options so that it works with little to no input.
For instance, one feature is that it can connect to your phone and the IFTT app and then you can set a rule so that when you're almost home from work – or running errands – the Ecobee adjusts the temperature in your home to ideal settings. That way the house is comfortable right when you walk in the door. You can do something similar for when you leave to keep the A/C from kicking on the entire time the house is empty.
If you want more information, you should definitely pay a visit to the official Ecobee site. You can purchase the Ecobee3 smart thermostat
from Amazon.
Smart Home Tech Lightbulb: Philips Hue
One type of smart home tech that's been gaining a lot of traction lately is the "smart" bulb. There are a ton of them available like the Misfit Bolt, Ilumi, Lumen LED, and more. Our favorite is the Philips Hue which has one unique feature; it can be adjusted to display any color imaginable.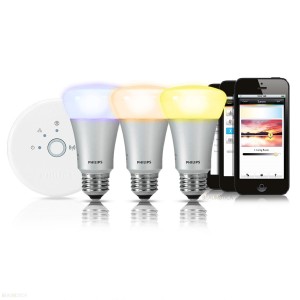 Imagine throwing Frozen on the TV for your little ones and changing the lights a shade of brilliant blue to match the mood; that's exactly what you can do with the Hue. That's just for fun, however.
The real convenience comes from the fact that you can remotely control the bulb from a smartphone or smart home hub like Wink. There's even support for the Nest so you can control your lights from a central place. The bulb also supports a handful of automated features. The obvious benefit of this is that you can set your lights on a regular schedule, which is great if you're away from home and you need to make it look like someone is active inside.
Finally, like the Nest or Ecobee, smart bulbs can save you money by both conserving energy and turning on – and off – only when you need them.
The caveat is that they are not cheap, especially if you want to equip your entire home with smart bulbs. You're better off choosing one or two main fixtures to install the Philips Hue.
Smart Home Tech Danger Monitor: Nest Protect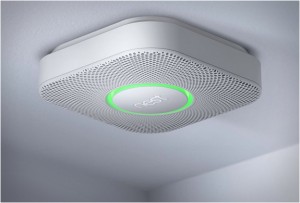 The Nest Protect is a much "smarter" fire alarm and carbon monoxide detector. As you'd expect, when it senses a potential danger it will sound a loud alarm and send notifications to your connected smartphone. In this way, it can also alert you when something is awry even when you're not at home. Hopefully, that will afford you enough time to take action during an emergency, like a house fire.
For those times when you accidentally set off the alarm by overcooking dinner, you can disable it from a smartphone app. This saves you from grabbing a ladder or broom to reach the disengage button.
As an added bonus, the Nest Protect also includes a built-in light which will automatically kick on if it senses you walking around in the dark. A little extra illumination never hurts.
Smart Home Tech Security System: Canary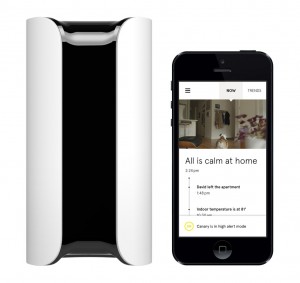 One element of owning a home that has always been expensive is maintaining a working security system. The monthly fees you have to pay to keep them operational and connected to emergency services is usually exorbitant. In light of this, several smart home gadgets have appeared that offer home security for much more reasonable prices. This new category of smart home tech includes devices such as Nest Cam, SimpliSafe, Netatmo Welcome, Scout Alarm, iSmartAlarm, Piper, and more. Most of these services offer the same budget-friendly protection, but our pick is the Canary.
The Canary is a sleek, top-standing box that includes pretty much everything you'd need from a security system built-in. A camera, complete with night vision and motion detection sensors, will scan the viewing area and provide a live feed. The camera is capable of recording HD video in 1080p, and a mic records HD audio. If it detects an intruder it will send a notification to your phone which provides an option to bring the video feed right up. It's equipped with a speaker and siren for audible alerts, and it also includes temperature and humidity monitoring to identify extreme levels.
An integrated accelerometer also allows the Canary to detect if it's being tampered with by an intruder, or a little one.
All recordings are stored in the cloud for up to 30 days. If you need to save a particular feed segment for later you can do so.
Smart Home Tech Speaker: Amazon Echo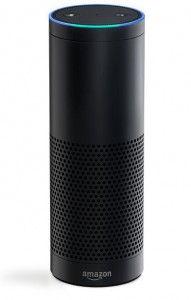 Amazon's Echo is a Bluetooth speaker
that has a built-in virtual assistant named Alexa. It can play music and media just like any other speaker, but what makes it special is that it can perform a variety of useful activities. It's just like Siri or Google Now if you've ever used those services before, except it's for your home. You can call upon the Echo – or Alexa – with voice commands and ask it to do things like relay the weather, announce recent news blurbs, perform basic web searches, play music, set alarms, or schedule calendar appointments. Obviously, to achieve this, it maintains an active connection to the internet via Wi-Fi.
An LED light ring displays notifications and oozes visual appeal. While you don't necessarily need something like this in your home it's a great way to transform basic tasks into a hands-free experience. You can also connect the Echo with other smart home devices and interact with them via voice commands.
"Alexa, turn on the kitchen light."
Plus, it's about the same price as any other [decent] Bluetooth speaker.
Smart Home Tech Outlet: Belkin WeMo Switch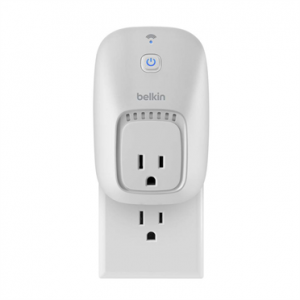 The Belkin WeMo Switch plugs into an AC outlet and connects to your Wi-Fi network for remote access. Anything plugged into the switch can be turned on – or off – remotely from the smartphone app. Since it's nothing more than a standard AC switch, you can plug just about anything into it like TVs, home stereos, lights, computers, consoles and more.
When used in combination with an app like IFTT, you could really do some awesome things through home automation. For instance, if you're away on vacation you could have your TV turn on intermittently throughout the day to make it seem like you're home. Or, adversely if you have something that uses a lot of power you can make sure it turns off at a certain time of the day.
The WeMo Switch is about $40 per unit, which isn't too pricey on its own but once you start buying a bunch of these things it can get expensive.
Smart Home Tech Vacuum: Roomba 980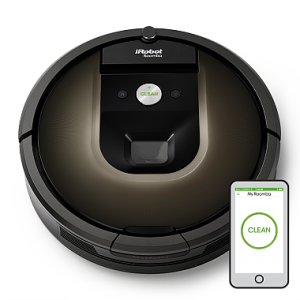 If you've never heard of the Roomba before, it's an automated vacuum that can work without input. It's equipped with enough sensors that it can leave it's charging dock at a specific time during the day, do it's cleaning work, and then find it's way back home.
The latest model from iRobot, the Roomba 980, has a new scheduling feature which can be carried out whether you're around or not. Supposedly, it has more equipment to do a better job cleaning too.
Smart Home Tech Lock: Kwikset Smartcode 916
The Kwikset Smartcode 916 is a smart lock that also allows you to use traditional house keys when you want. If you want to give modern access a try, you can link it up with Z-wave, Zigbee or Wink to lock/unlock it remotely with your smartphone. Through those apps you can also provide temp keys to family and friends should you need to give them unsolicited access to your home. You can monitor when its being locked or unlocked too, to keep an eye on what's happening.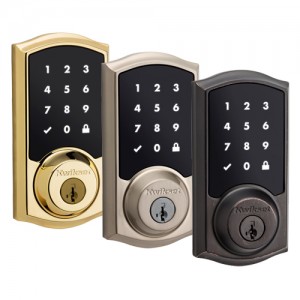 The best part is that if you forget your key, smartphone, or just don't feel like opening the lock another way you can default to the touchpad for access. It allows you to program multiple access codes. A unique security feature requires you to press two random keys before putting in your code; this serves to keep burglars or external parties from guessing your passcode after looking at finger smudges or worn numbers.
Having a lock like this on your front door is an absolute godsend when you forget your keys or need to provide someone access to your home. You don't need to give anyone a key while they're dogsitting, and you can change the passcode to revoke access after you don't need them anymore.
Smart Home Tech Garage Door Opener: Chamberlain MyQ Garage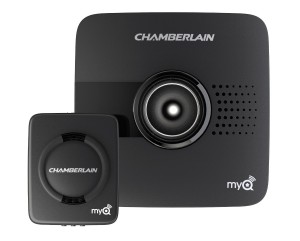 The Chamberlain MyQ Garage door system doesn't need much explanation. It allows you to open your garage with a smartphone, from anywhere, even remotely. The best part is that the MyQ system can be used with a majority of existing garage door openers, so long as they were manufactured after 1993.
The MyQ system includes two separate components, one of which connects to your opener and the other connects to your internet access point via ethernet. When you want to open your garage you can do so from the Chamberlain smartphone app or another compatible smart hub system like Wink or Apple's HomeKit.
Apparently, Chamberlain is planning to add geofencing support for the system and connected apps soon so that they can tell when you're near your home and will automatically open your garage door for you.
Smart Home Tech Management System: NuBryte Console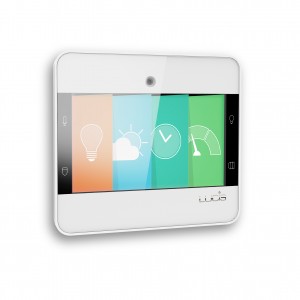 The NuBryte console is a touchscreen panel meant to replace any regular old wall switch. First and foremost, it can be used in place of a regular switch to turn on – or off – the lights, dim them, or control other systems in the room. It also includes an integrated camera that can be used as a security or monitoring cam. If you setup multiple NuBryte consoles throughout your house you can create an entire network.
The NuBryte also works as a modern com system, allowing you to send messages to it remotely from your phone to let your family know you're on your way home or they need to complete their chores. It can also function as an intercom to pass audio messages around your house.
Additional features include a calendar mode with scheduling support, an energy monitor, and local weather updates.
Smart Home Tech A/C: Quirky Aros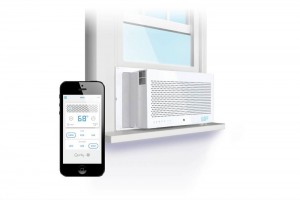 The Quirky Aros is the first ever, smart AC unit which can be controlled via a smartphone app or smart home systems like Wink. Once it's setup, you can turn it on remotely from an Android or iOS smartphone to cool your place before you get home. Obviously, you can do the opposite and turn it off too if you forgot to do so before you left your home.
The original unit is 8,000 BTU, but Quirky will be launching a couple alternate models soon with 5,000 BTU, and 12,000 BTU.
The features that make it truly smart are a series of learning tools that allow the device to record your habits and organize a better cooling schedule. In this way, the Aros can help budget-conscious users save money by cutting down on the amount of energy they consume. If a great deal of your monthly budget goes to cooling your home or living space, the Aros might be just the solution you're looking for.