Did you know there are DIY projects that will walk you through making your own smartwatch or wearable?
They're great if you're not satisfied with buying wearables or you want something unique! Of course, you will need to know a bit about the inner workings of modern tech. In particular, you may need experience with soldering, to connect some components.
We have covered this topic before, but only on an individual basis. This content will provide a more comprehensive look at the options available to you.
If you want to make your own wearable devices through DIY projects, then you've come to the right place!
6 DIY Projects That Teach You How to Make Your Own Wearables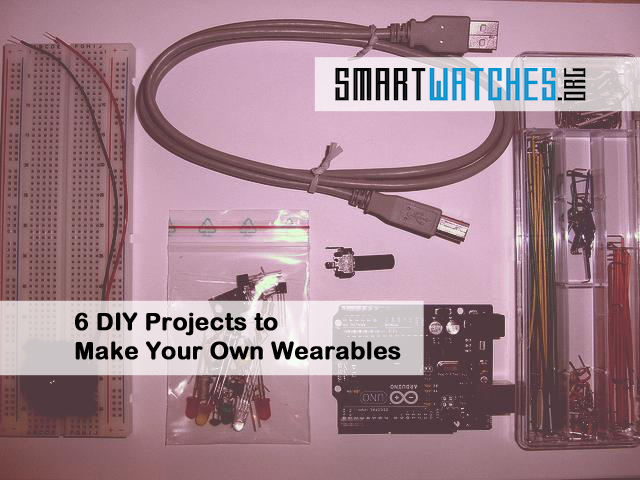 Whether you're a hobbyist or experienced DIYer, there's something here for you.
The first thing you'll want to do is figure out what you want out of the wearable you're going to create. Many of these DIY projects have a lot of options, so if you go in blind you're going to have a tough time.
For instance, are you creating a small wearable tracker to attach to your clothing? Would you rather put together a band or watch style device that you can wear on your wrist? What kind of functionality do you want it to have?
By deciding this now, it will be easier to choose the components and pieces you'll need for your project. A tracker that attaches to clothing will need to be small and thin, so that it's easily concealed. A watch style device will need to be attractive enough to wear on your wrist.
Finally, the functionality your wearable offers will depend on the components you install.  So, if you want a fitness tracker, you'll need components that handle this, like a pedometer.
Vigekwear DIY Wearable BLE Device
Previously named Atomwear, Vigekwear is a small "open source, wearable BLE device for DIYers." It was originally funded on Kickstarter, and garnered well over $13,000 CAD while it was live.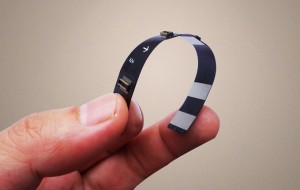 This is a DIY projects kit that includes all the "building blocks" you'll need to craft your own wearable tech. The project is also open-source, which means the entire blueprint is available online, free, for all to modify. Hopefully, that means third-party supporters will come up with some rather unique components and add-ons for the kit.
The components are tiny – about the size of a fingernail – and look like miniature motherboards or circuit boards. They are meant to be snapped together, and can be attached to rubber bands or bracelets to make a wearable. Of course, you can also take the components and implement them in other ways – like sewing them into a piece of clothing.
Components include a pedometer, motion tracker, temperature and humidity detector, e-compass, and more.
The Vigekwear tech won't be available for a while, as the company is currently working on mass production. If you're interested, just keep an eye on the Kickstarter page, as it will reveal when the time is right.
RobotShop DIY Projects: Wearables
RobotShop is an online storefront where you can buy a wide variety of supplies for DIY projects.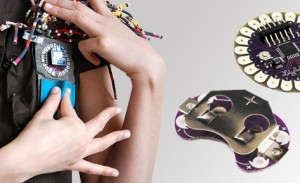 They have an entire section dedicated to wearable technology, which is exactly what we're going to highlight here.
Depending on what kind of device you want to create, you can buy the components and modules to build it individually. For example, the LilyPad temp sensor module allows you to implement temperature monitoring for your device.
You can even buy conductive fabric that you can embed directly inside pieces of clothing to create truly wearable devices.
The total price of the device you're building will vary, obviously, based on the components and functionality that you wish to have. Check out the store when you have some time and see if you can't come up with a unique plan.
Make and Maker Faire DIY Projects
Maker Faire is a portal dedicated to DIY projects, and it's littered with guides about creating your own custom devices and pieces.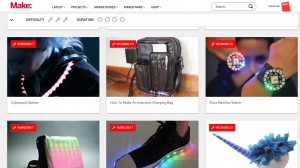 In the technology section there are guides for DIY computers and mobile devices, robotics, wearables, and more. There are also sections for things like fashion, drones, vehicles, and science experiments.
Of course, the wearables section is what we're going to focus on.
Now, since the portal itself is incredibly broad in terms of what it offers we can't talk about anything specific here. The cost of each project is going to vary depending on what you're creating and what supplies are used.
That said, there are a ton of tutorials to check out. You can follow along and create anything from an EEG mind-reading beanie, to a wireless inductive charging backpack. Seriously, some of the creations are downright amazing.
If you feel that you have the skills and wherewithall to get some of these projects completed, head on over to Make.
Adafruit Arduino-Powered Wearables
As it says on the Adafruit website, this is what you can do with their DIY projects kit:
"Build circuits into your clothing and accessories with wearables from Adafruit! This category has all the materials, boards, and sensors to help you create the wearable electronics of your dreams."
First, you buy "microcontrollers" that individual components will plug into. These are nothing more than a versatile mainboard or logic board.
You can buy components as you need them, or you can buy entire bundles that come with everything. For instance, the Gemma Starter Pack includes a battery, LEDs, conductive thread (for sewing), a USB cable, and more.
Like most of the other options on this list, it's all about what you want to build. You can make wrist wearables, fabric wearables to sew into clothes, and even necklaces. The sky is the limit.
Head on over to the Adafruit website to see everything they have to offer.
Make Your Own Smartwatch
Previously, we discussed some ways to make your own smartwatch although the guides may be a bit dated now.
A creator, named Johnathan Cook, built a watch of his own using Arduino breakout boards. Obviously, he did this before plug-and-play components were around, so he had to solder and 3D print his own gear.
In that article, we also took the time to point out similar projects you can follow as a loose guideline. If you're resourceful enough, you can do your own thing and create something unique, especially if you have access to a 3D printer!
Click here to learn how to make your own smartwatch…
The Noodoe Watch is Remarkably Customizable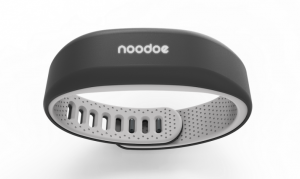 If you're more interested in customizing the software side of things, the Noodoe Watch is your best bet. It's a generic watch that comes in a single pre-configured form factor.
Where the tinkering comes into play is how you can customize use of the watch. You can create your own watchfaces, apps, and configure gestures through the free mobile app.
It's an awesome idea, especially since most of the building blocks will be right in front of you at launch. With the mobile app you can customize not just the watchfaces, but almost every aspect of the Noodoe's software. It uses a drag-and-drop style interface, so anyone should be able to get started.
Click here to read more about the incredibly customizable Noodoe Watch…
Keep Checking Back for More DIY Projects Ideas!
That's all we have for now, but keep checking back. We'll update our list with more DIY projects as they become known to us.