One of the coolest things about the Pebble is you can install a custom watchface.
Of course, there's a limit to the number of stock faces you can swap out. If you want more choices you'll have to install your own custom watchface designs. Even better is the fact that each watchface can display different types of information.
For instance, you can choose to display a digital or analog clock. You can also enable things like weather, calendar and even fitness information.
You can have up to eight watchfaces and apps installed on your Pebble at a time. Problem is, not everyone knows how to get content onto their device.
To help you out, we're going to explain the process.
First we'll take a look at some great places to find a custom watchface for your Pebble. Then we'll tell you how to install it.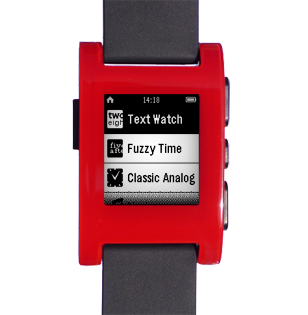 Where to Find Watchfaces for Your Pebble
One of the most popular websites is mypebblefaces. There are already a ton of custom watchfaces for Pebble, and users upload more each day.
That's not the only place to find a custom watchface. You can also check out pebblebarn, and the pebble forums.
An official app store will be available for all platforms soon, but it's iOS only for now.
If you'd rather browse for watchfaces on mobile you can search Google Play or the App Store for 'Pebble Apps' and several options will appear.
Developers have created apps that can pull content from popular websites and transfer it to your Pebble.
The recommended apps for finding a custom watchface are (one for each platform):
There are plenty of other apps available too, you'll just have to track them down.
Pebble has been great about supporting independent developers which means there are a lot of opportunities. With the official app market on the way for Android, we can only expect that to get better. The app market will offer a central content database, for things like a custom watchface.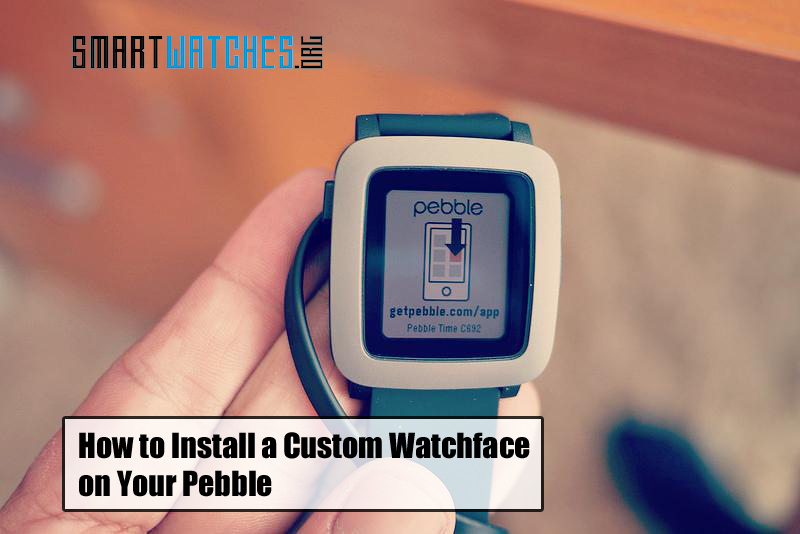 Install a Custom Watchface from an Android Device
The easiest way to install watchfaces from an Android device is to use the Pebble app. The "watch apps" section allows you to install different faces to your device. Simply open the "watch apps" section and then tap the "get watch apps" button to launch the database. It will return a complete list of the most popular watchfaces that are currently available. Installing one of the faces on your device is as easy as tapping on it in the list. If you want a more in-depth set of instructions complete with image samples skip to the generic instructions below.
Some of the sites will offer a direct download link to the watchface. You can open the link in your browser and your device should automatically launch the Pebble app to install it. In the event that you already have a downloaded file saved onto your device, you can just open the file directly and it should install through the Pebble app.
Obviously, make sure your Pebble smartwatch is powered on and connected to the device you are browsing and downloading content with.
Install a Custom Watchface from a Blackberry 10 Device
You need Blackberry OS 10.2.1 installed first in order to use Bluetooth with your Pebble, but we recommend at least 10.2.1.1925. Believe it or not, you can install the official Pebble app on your Blackberry 10 handset – you will need to install the Android version.
Unlike on Android, you will need to use the official Pebble app to install the watchfaces. If you try to install a watchface with the native browser you will run into a few issues. There are some third party options available like the BlackberryZ10 Watchface-Generator, but it's not compatible with Pebble's 2.0 firmware.
Install a Custom Watchface from an iPhone
Believe it or not, installing watchfaces from an iPhone to a Pebble is one of the most convenient ways to get the job done – especially since the official Pebble app store is available for iOS. You can browse for watchfaces through the native browser, Safari. When you find a watchface that you would like on your device it's as easy as tapping the appropriate link which will open the Pebble app to start the install process.
Unlike with the Android version of the Pebble app, you cannot search for new watchfaces. You can however, see the watchfaces that are currently installed on your device.
Generic Instructions
Because most of the installation methods are the same we're going to include generic instructions so you can at least have some idea of what we're talking about.
1. Launch the Pebble app on your device. Tap on the menu in the top left labeled "My Pebble" and select the "Watch Apps" menu that appears in the dropdown list.
2. On the screen that appears, tap the button that says "Get Watch Apps" and wait for the content to load.
3. Scroll through the list of content and find a watchface that you would like on your Pebble.
4. Once you've found a watchface that you like, tap on it in the list and the application will automatically download the necessary file and install it on your Pebble smartwatch. Congratulations!
Browse Installed Watchfaces and Select a New One
While the Pebble is powered on you can press the back button to open the launcher. From there, you can select which one of the installed watchfaces you would like to set as active. Hopefully you know this by now, but if the backlight is off you can turn it back on by simply pressing one of the physical buttons on the watch. The light will remain on for about 3-4 seconds while idle, after which it will dim again.
Want to Create Your Own Custom Watchface?
Instead of seeking out a bunch of watchfaces that were designed by others, why not try your hand at customizing your own? Watchface-Generator.de allows you to design your own Pebble faces. You can customize just about everything from the background, to the watch dials, background decorations and more. You can also swap between a digital or analog clock, depending on what type you would rather use.
Share Your Favorites!
There are so many different options available it would be great to hear from Pebble owners which faces and apps are the best. Feel free to share in the comments which faces you have installed on your watch. If you're a developer go ahead and drop a link to a watchface that you've developed for the Pebble. We love hearing from the community!
If you're new to the site feel free to check out some of our other pages. If you'd like to know how to swap out the wristband to add a bit of flair on your watch check out this guide. We actually used the Pebble smartwatch as an example, so if you own one the guide shows you exactly how to do it with your model.
Featured Image Credit: amsfrank via VisualHunt / CC BY-SA