Smartwatches are capable of many things, from displaying mobile notifications on your wrist to tracking activity and fitness stats. Yet a lot of those extra features you don't need when you're out in the wilderness on a hike or a long-distance trip. You're not going to care much if your watch tracks swimming or soccer stats, but you will care that it has a high water-resistance rating and whether or not it accurately tracks distance traveled. It begs the question, what are the five best smartwatches for hiking? What features are useful when you're out in nature?
How to Select the Best Smartwatch for Hiking?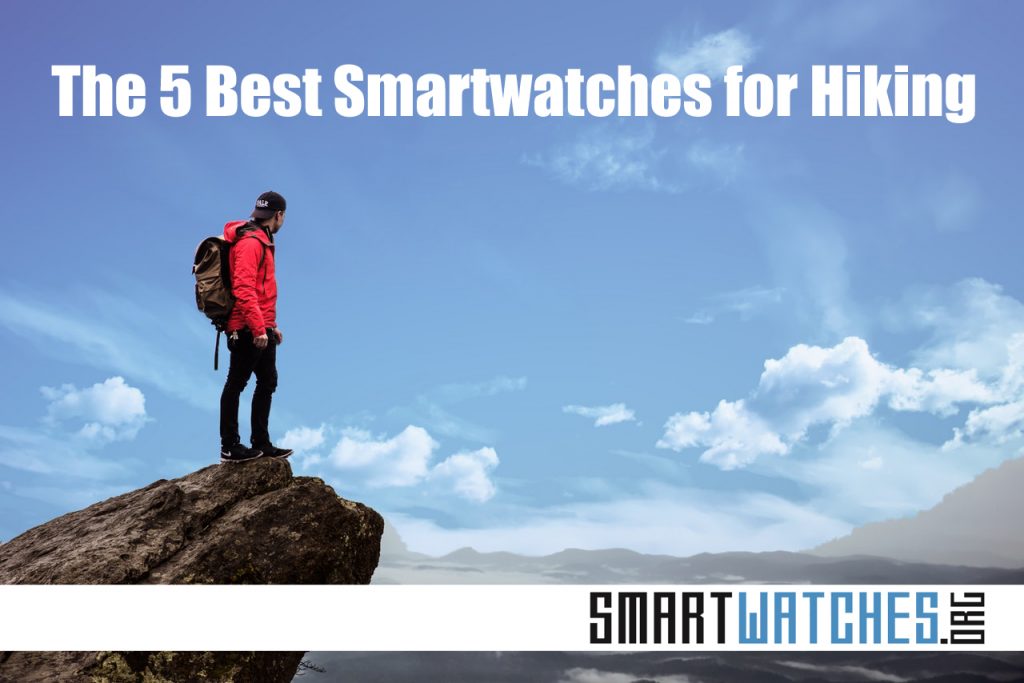 When choosing a smartwatch for use outdoors, or more specifically for hiking activities, there are several features you should look out for. Some of them come standard in most smartwatches, while others are more specialized — like access to a barometer, for example.
Must-Have Features for a Hiking Smartwatch
The following features should always be present in a smartwatch you're going to wear while hiking:
Durability – Any watch you're going to wear outdoors must be rugged, able to withstand harsh conditions. It's not just about waterproofing, but also dust and debris resistance, as well as temperature and humidity resistance. If you're out in cold weather, for instance, you don't want your watch dying or malfunctioning.
Water-Resistance – Be aware, there's generally a difference between water-resistance and waterproofing. For casual activities, they're essentially the same thing. However, when you're talking about the outdoors and extreme conditions, it's something you must pay attention to. Waterproof smartwatches can be submerged underwater up to a certain depth, which means they can withstand rain and moisture, too. Water-resistant devices are often splash-proof and sometimes resistant to things like rain or sweat.
Temperature Resistance – If you're going to be exposing the watch to freezing temperatures, or alternatively extremely hot temperatures, you'll want to make sure it can withstand the experience.
Compass – Many smartwatches either include some form of a compass or offer a third-party app for the device that adds one. In any case, you'll want to make sure you have a working compass when you're out in the wilds.
Distance/Steps – Admittedly, distance traveled and the total amount of steps taken are two different stats. You'll want to make sure you have at least one of them available.
Optional Features for a Hiking Smartwatch
The following features are optional, which means they're a bonus if the watch has them but not entirely necessary:

Barometer – A barometer is a sensor that measures atmospheric pressure. In other words, it will give you some idea about what's going on with the local weather. High pressure generally means clear skies. A drop in pressure means a storm is likely coming.
Altimeter – A altimeter will measure altitude, usually in measurements of feet and above sea level. It will give you an accurate reading of height in regards to your map location and helps you determine vertical distances.
Thermometer – It's always good to have an accurate reading of surrounding temperatures. Sometimes, what may feel warm or pleasant can be the opposite. Sudden drops in temperature would indicate a need to take shelter.
GPS – GPS/GLONASS is hit or miss on most smartwatches, but it does provide accurate location readings in most cases. The reason why it's included as an optional feature on the list is because when it's on the battery tends to drain rather quickly. If your trip is going to be long or you need to extend battery life, it might be necessary to leave this function off.
Additional Tips for Using Hiking Smartwatches
Like smartphones, wearable devices and smartwatches often rely on usability for battery life. What that means is if you're using the screen often, or have a high-power function like GPS on then the battery might drain faster than expected. So, if a watch is your only source for many of the tools and functions listed above — and it never should be — then you'll need to carry a backup. At the very least, make sure you have a portable power pack handy to charge up the device when needed.
Best Smartwatches for Hiking (Plus Reviews)
Here are some of the best smartwatches for hiking and outdoor experiences.
5. Casio Pro Trek Series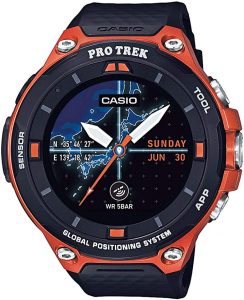 Casio has been in the watch game for a long time, and the Pro Trek series is indicative of that. It's been specifically designed for use outdoors and employs a rugged construction thanks to a mil-spec makeup. It also has a water resistance rating up to 50 meters and built0in GPS alongside 2-way radio-style communication. The latter is great if you need to talk to someone who's further down the trail.
With GPS active the watch lasts for about 9 hours, which is quite impressive and warranted when you're out in the wilderness. Without GPS, the Casio Pro Trek should last for at least a month, maybe longer.
It's powered by Google's Wear OS, so it comes with a lot of the same support as other Wear devices. You can install apps on the devices, for example, and get access to Google's mobile features like notifications and more.
| | |
| --- | --- |
| Pros | Cons |
| Excellent battery life even with GPS active | Can be expensive, and there are multiple variants |
| Comfortable band and mil-spec, rugged design for durability | Not meant to pair with a smartphone or mobile device, meant as standalone |
| Powered by Google's Wear OS which means added support | |
4. Apple Watch Series 5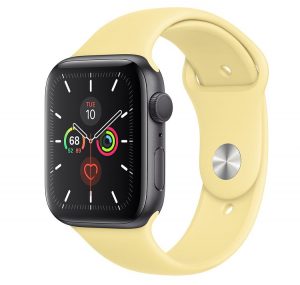 Ah, the trusty Apple Watch, just about everyone's favorite wearable. The latest model comes packed to the brim with useful features, and if it's not available right out of the box you can find an app that supports it. It offers sleep tracking, activity tracking, mobile notifications and alerts — with iOS devices, of course — music streaming and mobile payment options. Make no mistake about it, this is a full-featured smartwatch first, but that's also why it's such a great option.
For outdoor use, the Series 5 includes GPS/GLONASS, a compass, barometric altimeter, and a water-resistance rating of 50 meters. An ECG or electrical heart sensor allows you to measure heart stats, alongside an optical heart sensor.
Again, if you can't find a feature you need you can almost always add support by installing an app. Installing something like ViewRanger, for example, gives you instant access to outdoor GPS and hiking trail maps on your wrist.
| | |
| --- | --- |
| Pros | Cons |
| Wide variety of styles and bands, with some outdoor-friendly options | Battery life suffers while GPS or LTE is active |
| Access to thousands of apps to extend watch functionality | Starting at $399, can be pricey depending on the model and features you choose |
| Includes GPS, heart-rate sensor, compass and barometric altimeter | |
| Water-resistant up to 50 meters | |
Alternative: Apple Watch Series 3 or 4
3. AlpinerX Outdoor Smartwatch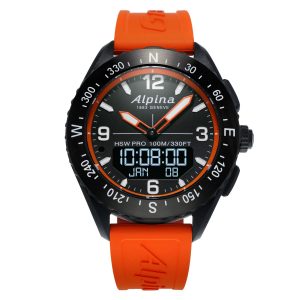 Aside from Garmin's high-end devices, the AlpinerX outdoor smartwatch is the most expensive on the list. It doesn't have a touchscreen display, and the overall design is more akin to a regular wristwatch. That said, it's packed with just about everything you'd ever need while spending time outdoors. It has built-in GPS, as well as a compass, barometer, altimeter, thermometer, UV indicator, world timer and more.
Also, there's activity tracking, sleep tracking and smart coaching — mainly through the mobile app.
However, it's 100M water resistance rating and the exceptional battery life, up to 2+ years on a single charge, are what truly make this watch one of the best.
| | |
| --- | --- |
| Pros | Cons |
| Amazing battery life, rated at 2+ years between charges | Expensive at $800+ |
| Perfect for camping, hiking and outdoor travel | No touchscreen display |
| Includes everything you would ever need like GPS, compass, barometer, altimeter, thermometer, UV indicator, sleep and activity tracking, and more | |
| Water-resistant up to 100 meters | |
2. Suunto Traverse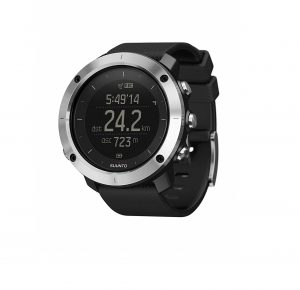 Hands down, if you're looking for the most bang for your buck and want a budget-friendly watch then the Suunto Traverse is your best bet. It's versatile, offers some great fitness and activity features, including five different sport modes, and syncs up with mobile devices via Bluetooth. It also has GPS built-in to track location without a connected smartphone, but as you'd expect when powered on it drains the battery pretty quickly.
Additional features include an altimeter, barometer, thermometer and water-resistant design (up to 100m or 330 feet).
| | |
| --- | --- |
| Pros | Cons |
| Five sports modes | Battery life suffers considerably with GPS active |
| Passed 19 tests for vibration, drops, shock, freeze/thaw, rain, dust, humidity, sand and more | Mobile notifications and alerts are a hassle to browse |
| Tracks activity like steps and calories burned | Can be difficult to pair with the mobile app |
| GPS and GLONASS support to track routes and POI navigation | |
Alternative: Suunto Ambit3 Peak HR
1. Garmin Fenix 3 Sapphire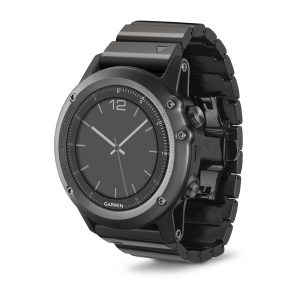 The Garmin Fenix 3 Sapphire comes with a hefty price tag, but it's well worth it if you're an outdoors enthusiast always hiking, exploring or traveling the wilds. It includes a bevy of outdoor-friendly features like built-in GPS, a digital compass, a barometer, and a Chroma display designed to be viewable even under direct sunlight.
You can personalize the watch by installing custom apps or widgets, which is great because you don't have the device bogged down by stuff you'll never use right out of the box. Instead, you can load up whatever you're going to need or use and that's that.
The Fenix 3 Sapphire also offers incredibly robust data tracking support for a variety of stats and activities. It should be noted, however, that it's not too accurate at measuring distance which can be an issue for running and similar activities.
| | |
| --- | --- |
| Pros | Cons |
| Impressive battery life even with GPS on (20 hours with GPS, 2 weeks in smartwatch mode) | Can be expensive |
| Personalize the watch with custom apps and widgets | Not accurate at tracking running/treadmill activities |
| Can sync with nearby WiFi hotspots to upload data to Garmin Connect | The watch is bulky and may feel heavy on the wrist |
| Water-resistant up to 10ATM (100 meters or 329 feet) | |
Alternative: Garmin Fenix 5