As smartwatches become more popular and more companies bring their rendition of a modern wearable to market, we'll see new and innovative features being added. In less than a year we've already seen the smartwatch market as a whole come a long way. That said, while smartwatches must be practical in order for consumers to adopt them more openly there's another necessary feature that determines whether or not they are successful.
These are wearable devices we're talking about, after all. Since you'll be wearing them on your person at all times with several outfits, it makes sense that they need to look good. Bulky, square and drab designs do not bode well for something that alternatively functions as a piece of jewelry. Smartwatches have become increasingly more attractive lately too.
In light of that, we've compiled a list of the top five best looking smartwatches – or the ones that we think look the best, anyway.
Top Five Best Looking Smartwatches
If you're in the market for a wearable that actually looks good while it sits on your wrist then you're in the right place! We've sorted through all the smartwatches that are available, or coming soon and picked out the best looking ones. The idea here is to provide something for everyone, so you may or may not agree with all of the devices listed. The hope is that you'll find at least one of these attractive or appealing. In that respect, you'll notice they all have very different designs while still being visually appealing.
Let's get started.
Pebble Steel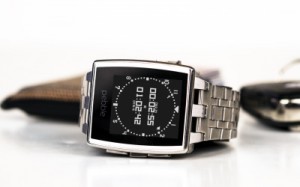 The Pebble was one of the first truly "smart" watches to hit the market. Everyone knows it well as a Kickstarter darling, after it was successfully crowdfunded. The original model used a plastic and rather bulky design that wasn't quite so attractive. It offered plenty of support in terms of software and functionality which is what turned it into such a great success.
The design was later revamped two include a new style, which goes along well with the name: Pebble Steel. The Pebble Steel models are – obviously – constructed with steel instead of plastic, and they look absolutely fantastic. You can pick up this sexy beast in either black matte (a gunmetal color), or brushed stainless (a silver color). Both look equally as good, and even with the large rectangular display they resemble traditional analog watches. Perhaps even better than the watch itself looking good is that it looks just as good on the wrist. Since it has a more professional (metal) design, it can be worn with pretty much any outfit including a nice suit, casual wear or fitness gear.
We're not going to get too in-depth when it comes to the features and functionality of these watches, but we'll offer some quick specs for comparison. The Pebble Steel includes a 1.26″ digital display which offers black and white elements similar to an e-ink screen. The battery life is rated at five to seven days, depending on how heavily you use the device. All Pebble watches are compatible with Android (2.3+) and iOS (5+) handsets. It should be noted that until the Apple Watch launches, the Pebble smartwatches are one of few that actually support iOS.
Of course, since it can pair with smartphones via Bluetooth you can also receive notifications, alerts and limited messages on the Pebble.
The Steel models go for $249, which isn't too bad – but when you look at some of these other models that offer full-color touchscreen displays for around the same price it might turn some off.
Moto 360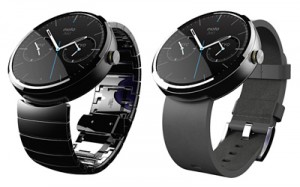 Motorola was one of the first manufacturers to unveil and design a smartwatch with a round watchface. Since it generated a lot of hype, other manufacturers like Samsung and LG have no followed suit. That said, the Moto 360 is still one of the most beautiful devices on the market. It's definitely going to have some competition real soon, but that doesn't make it any less worthy of being on this list.
The biggest setback with the Moto 360 is the battery life, which it's getting a lot of flak for in reviews. The battery only lasts for about a day – less under heavy use – which is pretty ridiculous for a wearable device. No one really wants to worry about pluggin in yet another electronic gadget to charge every night before bed, and that concern is definitely warranted. Unfortunately, it looks like it's going to be a common pattern for a while – at least until someone figures out a way to improve battery life for these devices. The Apple Watch is also rumored to last for about a day, though no official confirmation has been made yet.
It features a 1.56″ round LCD IPS display that operates at a resolution of 320×320. It's IP67 dust and water resistant and it is manufacturer with a combination of hard plastic and brushed aluminum. There are a bevy of digital watchfaces available out of the box which look amazing, which is another reason this bad boy landed on the list. It also happens to be powered by Google's Android Wear OS.
You can pick up the Moto 360 for $249, if your heart desires.
ASUS ZenWatch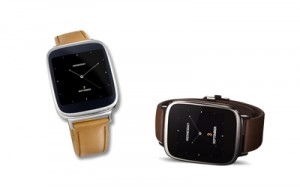 To be perfectly honest, we did not expect ASUS to deliver an elegant and attractive device. It has nothing to do with the company itself – they've offered attractive devices plenty of times before – but instead with the fact that it was rumored to be a budget watch. We were proven wrong, and we're pleasantly surprised as a result.
The ASUS ZenWatch is stunning, to say the least. Unlike the Moto 360, it stills includes a rectangular display but one with rounded edges. The stitched leather wristband and matching bezel around the sides of the watch look damn fine. ASUS has also equipped the device with more than 100 digital watchfaces out of the box, giving consumers plenty of personalization options.
It's powered by Google's Android Wear OS, just like the Moto 360 – so it should be noted that you will get the same software experience on both devices. The ZenWatch will come preloaded with ASUS' wellness manager app, allowing users to track fitness related data such as calories burned, steps taken, heart rate, and more.
No official price has been revealed yet, but there are rumors pointing to a budget-friendly target. It's quite possible the ZenWatch will be available for $99 – $199. Let's hope so, because it's definitely one good looking gadget.
Apple Watch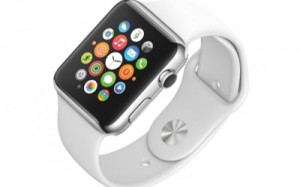 Apple's premier wearable won't be available until sometime in early 2015. That's okay, because they've given everyone a sneak peek at the device and it looks pretty damn good. Like ASUS, Apple opted to use the tried and true rectangular-like design with rounded edges. At first glance, the Apple Watch looks a hell of a lot like a compacted iPhone, which was obviously planned.
New to Apple devices is the incredible amount of customization that the brand is offering with their Watch. Consumers will be able to purchase custom wristbands, personalize a lot of the software and even choose from one of hundreds of digital watchfaces. Apple has also announced a creation kit will eventually be available, allowing everyone to create their own digital watchface styles.
Unique to Apple's Watch is the digital crown which will be used to navigate the UI, eliminating the need for touch and finger gestures. Apple argues that pinch to zoom won't work very well on such a small display, and they really do make a good point. It will be interesting to see how the digital crown works once the device is in our hands, however.
The Apple Watch is packing a Retina touchscreen display with Force Touch technology, and a sapphire glass cover. The company has yet to disclose the size of the display which is likely to be around – or under – two inches.
Apple's CEO, Tim Cook, announced during the Watch's official unveiling that it will retail for $349. It should also be worth noting that it will only be compatible with iPhone's generation 5 and up. Anyone with an older iPhone will have to upgrade their handset if they want to use the Apple Watch.
LG G Watch R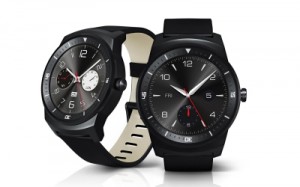 Borrowing a similar style as the Moto 360, LG has produced the G Watch R which looks remarkable. What makes it stand out from the others on this list is that it actually looks, completely like a traditional analog watch. It even includes a crown on the side which does nothing functionally. One could argue that Apple is offering a real crown with their watch, but the point is just that the G Watch R doesn't look like a smartwatch. If someone sees it on your wrist, they're not going to know any better – unless the display turns on.
The LG G Watch R is powered by Android Wear, and it's rocking a 1.3″ P-OLED round display. Unlike the Moto 360, the G Watch R display is truly round. The Moto 360 has a small sliver of the screen on the very bottom that remains unusable, because it houses the different sensors for the device like the ambient light sensor.
The G Watch R is expected to cost $299, and will be available in mid-October.
The Best Looking Smartwatches
Well, there you have it! Those are the best looking smartwatches that are either currently available or coming soon. Do you think we did a good job picking out the devices? Are there any watches missing from this list that you think should have been noted?