For the smartwatch to explode into mass acceptance, the device's makers and developers need to continue to find applications that demonstrate its practical advantages over smartphones.
For the early adopters, simply having a device attached to your wrist is enough of an advantage over a device that may be tucked in a jacket pocket on a hook on the other side of the room. However, for others this is not a good enough reason to own a smartwatch. To them, the smartwatch needs to deliver more utility to justify owning one.
Here, is a good example: Transaction giant PayPal is currently running a pilot program to enable wireless payments with smartwatches. The program combines Bluetooth Low Energy beacons with Samsung Galaxy smart wearables such as the Gear 2 or the Gear Fit. No bank card or smartphone is necessary, just the smartwatch and your face.
How is it supposed to work? When a customer walks into a retail area that is covered by a PayPal Beacon signal inside, they will receive a push notification on their smartwatch. The user's name and photo appears automatically on the point-of-sale system, and it is up to the merchant to confirm that the face of the customer matches the face in the system.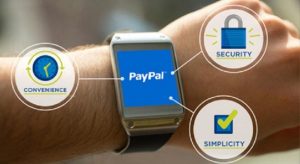 Once the sale is rung up, another notification is sent to the smartwatch to confirm the transaction, and the user simply taps the device to complete the payment. It couldn't be simpler.
PayPal currently has a Samsung payment app for their smartwatches and smartphones, but it requires users to log in in order to complete the purchase. This beacon-enabled system would eliminate that login step.
There is no official word on when PayPal might roll this program out for the general public, but PayPal senior PR manager Kathy Chui told Mobile Commerce Daily that "overall, PayPal employees that have used Beacon and/or Samsung Gear 2 smartwatch have loved their experience and are excited for the larger rollout."