Kids smartwatches are a dime a dozen these days. You can choose from entertaining and toy-like designs to more capable options with mobile connectivity like 4G and WiFi. While children love the silly camera effects, mini-games, and fun activities, parents want something more functional. That's the idea behind the Cosmo JrTrack 2, a kids smartwatch with 4G calling, texting, enhanced GPS, and more. It comes with a SIM card pre-installed, and you can sign-up for mobile service through Cosmo to get it all activated.
Essentially, it's a limited smartphone for younger children that you can use to communicate and monitor their whereabouts, without actually giving them an expensive mobile device.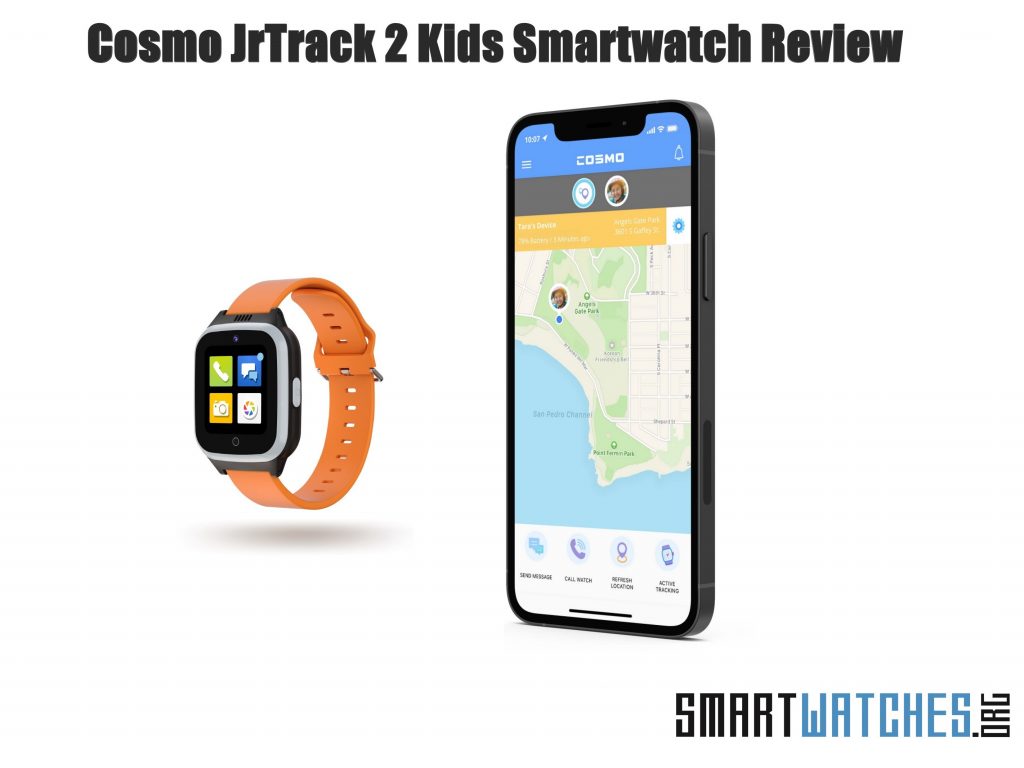 Should I Buy the Cosmo JrTrack 2 Kids Smartwatch?
If you want to skip the in-depth review and know if the Cosmo JrTrack 2 is a good buy, the short answer is yes. It does everything it intends to, as advertised and is a reliable device for families who want to stay in touch.
| | |
| --- | --- |
| Overall: (4.8/5) | |
| Build: (5/5) | |
| Design: (5/5) | |
| Tracking: (5/5) | |
| Functionality: (4/5) | |
| Compatibility: (5/5) | |
Cosmo JrTrack 2 Kids Smartwatch Review
To provide a quick breakdown, it comes in several colors, including all-black, purple, pink, blue, and orange. At $50 to $60, it's much cheaper than what the competition costs, unless you're going with a generic option — but those rarely work out.
It has a mobile app, called Cosmo Mission Control, which is free and can be installed on iOS or Android devices. Via the app, parents or guardians have full control over who can contact their kids' watch and the app can be downloaded by approved contacts to communicate or track location. For example, an aunt or uncle, a grandparent, or a close friend.
When activating the wireless service — and we'll get into this in more detail below — there are 2 different types of plans and four total options. Those who want to save, can select pre-paid 12 and 6 month options that come to $15.99 and $17.99 per month). For those who want more flexibility, there are month-to-month plans at either $19.99 or $24.99. All plan options include unlimited talk, text, and data for the watch and can be cancelled at any time.
It also has WiFi built-in, and you can use the WiFi connection to make or receive calls, and access data features like limited texting.
October 2021: Normally $60 ($59.99), the JrTrack 2 is available for $50 ($49.99) right now thanks to a promotional discount! The JrTrack 2 Kids Smart Watch is available on Cosmo's official storefront, and the JrTrack 2 is also on Amazon.
What Are Cosmo JrTrack 2's Main Features?
The Cosmo team describes the watch as a "cyber seatbelt for kids growing up in a digital world," and I feel that's a very accurate description. It's a great tool to keep an eye on your child, communicate with them, and give them a little extra freedom, all while wearing a digital "seatbelt."
In the box, you'll find the smartwatch, a charging cable — but no power adapter — and a couple of screen protectors. It's nice to see 2 in case you mess up applying one on your first time, or you just want a backup. There's also some documentation in the box, but setting up the watch is fairly intuitive and you probably won't need it. JrTrack 2 comes with a pre-installed SIM card, which you use to connect to Cosmo's mobile service so you can take it right out of the box and set it up, after charging, of course.
When you turn it on for the first time it prompts you to set up the wireless connection and sync with the mobile app. It takes about 10 to 20 minutes to sign-up and activate a mobile plan, but you're guided through the entire process.
A Phone and a Watch for Kids
Once it's activated, the JrTrack 2 kids smartwatch offers 2-way calling to contacts you explicitly grant access, texting, and tracking via GPS. Texting is not free-form, but instead strictly limited to protect children. They can't open the watch and start texting anyone they please, nor can they call just anyone. The only contacts they can communicate with are those you add through the Cosmo app — and when you add them they are prompted via email to download the app too!
Texting from the watch is limited to pre-configured phrases, emojis, and voice memos. Full texting with typed words and complete sentences is not possible. However, pre-set message options can be added and customized, as needed, from within the parent app. The watch automatically blocks calls from strangers if and when they come in. We didn't notice any calls from strangers directly, but we did test this out by calling the watch and having others call that were not included in the approved contacts list. You'll learn the designated phone number after you activate the watch.
For example, your child can send messages like "where are you," or "doing my homework." They can also answer briefly with "yes" or "no," and send emojis. If you need to get more detailed, the voice memo feature allows you to send recorded messages to one another, which my 5-year-old absolutely loves.
Calling is also possible to and from the watch, again only to contacts you allow. It is worth noting that it takes a moment to connect when making a call from the watch. My daughter took some time to get used to this feature. She kept thinking people were hanging up on her, but really the watch hadn't even dialed out yet. After I walked her through the process a few times she was good to go. After that she called her aunt, uncle, Mom, and grandparents like a pro.
How'd It Work?
Throughout the review period those features worked, as intended, and reliably. The service was quite good in our area and wherever my daughter traveled. The school even went on a field trip and it was nice being able to check in on her. I could make sure she's safe, and send her quick little messages, or receive them too!
Cosmo JrTrack 2 Kids Smartwatch: More Features
There are some additional basic features like a pedometer or step tracker with activity goals, a stopwatch, and various reminders. The JrTrack 2 kids smartwatch does have a camera built-in which your child can use to take photos and send them to you. You can also manage any images that are captured from the watch within the Mission Control app.
It has an SOS mode too and when activated you'll know right away something is wrong. OTA or over-the-air updates are delivered directly to the watch, and you can install them from the device when a wireless connection is active. It takes about 5 minutes or so to download and install, but it's a little quicker over WiFi.
There is a restricted class mode that keeps your child from playing with the watch during school hours. I found this to be super helpful, especially since my 5-year-old would not stop playing with the watch at home, let alone around friends — she just thinks it's the coolest thing.
We'll get to the "safety zones" or geofencing support in another section.
If you want to know the precise specifications of the watch, here they are:
Display: 1.4-inch color touchscreen LCD (320 x 320 pixels)
Camera: 0.3-megapixel auto-focus camera (front-facing)
Audio: Single stereo speaker
Sensors: G-sensor (for pedometer) and GPS built-in (3-point verification)
Battery: Rechargeable Lithium-Polymer (LiPo) at 720mAh
Battery Life: 18 to 24-hours normal usage or 1 to 2 days standby
Watchface Dimensions: 56mm tall by 43mm wide by 16.5mm thick
Weight: 50-grams
Wireless: 4G nationwide calling
How Do the Safety Zones Work?
For those who aren't familiar, the safety zones are another name for what's normally called geofencing. With this feature, you can set invisible boundaries or "safety zones" where the device, and your child, can roam freely. If the GPS detects that the watch has moved beyond those boundaries you'll be alerted immediately.
So, for example, you can a create a zone in your neighborhood to allow your child room to play with friends or family. If they move out of that area, you'll know, and you can take action. You can call the watch and command them back or just go get them physically. The notifications come through the Mission Control app. You can easily dismiss the alerts if you're just using them to stay informed.
It's a common feature in many kids smartwatches, but it's not always accurate. With the JrTrack 2 kids smartwatch, it is.
Using Safety Zones
I set boundaries around 3 major locations for my child. Those were our home, her school, and our in-laws' residence, where she spends a lot of her time. This allowed me to see what was happening at any given time. For instance, I can see when her grandmother picks her up from school, and she leaves that zone. When paired with other tools, this gave me an incredibly detailed look at what was happening during her day. Her school has an app we use to sign her in and out, and it pings us when she's signed out. It complements the JrTrack alerts nicely. Not everyone will have something like that, and you can get by without it just fine.
With everything, I can see when my daughter is signed out from school. I also get notified when she's left the school safety zone and on the move. Later, I'll get another notification when she's entered her grandparents' safety zone. At any time, I can check on her location via GPS. If I notice they're not going straight home, I can check with grandma or call the authorities if something is very wrong. Obviously, I wouldn't get the notification she was signed out from school if a stranger had her, but you get the point.
How Accurate Is GPS on the JrTrack 2 Kids Smartwatch?
It's not 100% accurate but that's the nature of GPS. I will say the 3-point tracking system is much more accurate than most, if not all, devices I've used in the past. It's certainly more accurate than any other kids-friendly watches I've used or reviewed, which is refreshing.
Notifications always come in within a minute, mostly less. I know almost right away when an event happens, like when the device is exiting a safety zone. I'm confident there's enough time to act if I feel something is wrong.
Why Track Your Child?
First, know there are enough tools to stay as informed about your child's whereabouts as you want to be. If you don't want to track their location every minute of every hour, all day, that's fine. You can check in briefly using the Mission Control app. If you want to set a highly specific routine that tells when and where your child is at all times, you can do that with safety zones.
When you absolutely must know to-the-second, which hey, I don't blame you, then you'll want to combine other tools and solutions — like the school app I mentioned earlier. GPS can be weird at times, which is not Cosmo's fault, it's just how these systems work. The 3-point GPS verification is impressively accurate and reliable compared to most devices, so that's good to know.
As for why you would want to track your child using a device like this, some may disagree, but these days you can never have enough protections in place especially for toddlers and small children. It also gives you a little peace of mind when you can check in on them ever so briefly. You can always make sure they're where they're supposed to be and that they're okay.
What About the Cosmo Mission Control App?
As far as mobile companion apps go, the Mission Control app is responsive, designed well, and easy to use. The first screen you'll see is a GPS map with the current location of the watch, and your child. From there, you can send a message, call the watch, refresh the location, and turn on or off live tracking.
A collapsible menu provides access to some of the additional features, like contacts, safe zones, messaging, and an activity center.
Adding Contacts
Adding a contact is super easy. You just enter their first and last name, their phone number, and specify whether they're just a normal contact or a guardian. Here's the difference:
Contact – Can make or receive calls to and from the watch. They do not get access to the Mission Control app.
Guardian – Can make and receive calls through the app, send and receive messages, and track your child's location.
When you sign up a Guardian, you'll enter their email address and they'll get an invite to download and use the Mission Control app. My wife and I are guardians for our daughter, but also we signed up our mother and her sister. They pick her up from school often, and it gives them an opportunity to check in on her and communicate when they need to.
Creating a Safe Zone
Safe zones are also fairly easy to set up and you use the map view to do so. You choose the location or address, specify a name, and then select a radius. If you have multiple devices connected you can also specify which watch the zone applies to. Once created, the zones stay in the personalized list, but you can also enable or disable them — without deleting them — which is super handy to manage various locations.
In the activity center, you can check your child's step count, configure alarms that trigger on the watch for your child, and create school mode schedules.
There are also some additional options like being able to get support and contact the Cosmo team from within the app, mobile app settings, and account settings.
What Are the Cosmo Wireless Plans?
There are 4 separate plans, or tiers, that allow for pre-paid savings or month-to-month flexibility. With the month-to-month option, the one major difference is that the more expensive plan includes device insurance, and nets you a free annual device upgrade. They are:
Flexible – Monthly Basic: $20 ($19.99) per month: Unlimited talk, text, and data, plus access to the Mission Control app.
Flexible – Monthly Plus+: $25 ($24.99) per month: All of the above plus device insurance and a free annual upgrade.
Pre-Paid – Extended Plus+: 6 months: $18 ($17.99) per month: Unlimited talk, text, data and mission control access, plust device insurance and free annual upgrade.
Pre–Paid – Annual Plus+: 12 months: $16 ($15.99) All the above features and benefits.
So, regardless of what plan you choose you'll get unlimited talk, text, and data on the watch. To be honest, at such a low price it's hard to say no, especially if you're already looking for a device like this.
My child used the watch enough in a month to warrant paying for the service. I also love it, as does my wife. It's lovely being able to check in on her at any time. You never know when separation anxiety is going to strike!
Where Can I Get the Cosmo JrTrack 2 Kids Smartwatch?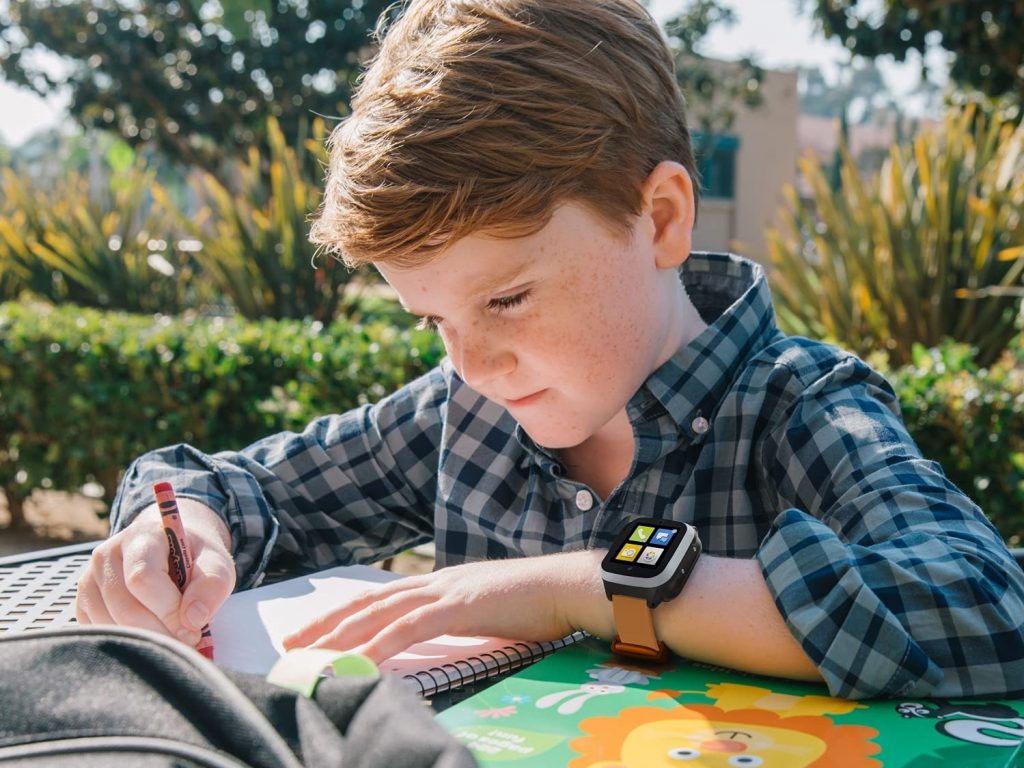 If you like what you see and want to try the JrTrack 2, here's where you can go:
You'll find the JrTrack 2 Kids Smart Watch available through Cosmo's official storefront. The JrTrack 2 is also on Amazon, which is great if you have Prime. There are several colors to choose from, including blue, black, orange, pink, and purple.
Cosmo allows you to try the JrTrack 2 risk-free for 30-days. At the end of 30 days, if you're not satisfied, they'll refund your money — an offer that's best taken advantage of through the official Cosmo storefront.
October 2021: Normally $60 ($59.99), the JrTrack 2 is available for $50 ($49.99) right now thanks to a promotional discount!