I'm going to tell you up front in our LG G Watch review that it is probably not the Android Wear smartwatch you'll want to spend your hard-earned money on. If you have the luxury of purchasing several devices at will – and there's nothing wrong with it if you can – then you might enjoy playing around with the G Watch for a bit before moving on.
It seems like an odd way to start a review and to add to that, I'm not implying that the G Watch is a bad device – on the contrary. Instead, it's a brutally honest and valid point that needs to be laid out on the table.
That aside, let's take a closer look at what the LG G Watch has to offer should you decide to pick one up.
LG G Watch Review
Overview
LG G Watch Review

Overall: (4/5)

 

Build: (3/5)

Design: (3/5)

Customization: (4/5)

Functionality: (4/5)

Compatibility: (3/5)
In case you're not already familar, the LG G Watch is one of two devices on the market running Google's Android Wear OS. In fact, the LG and Samsung smartwatches are the first two AW devices available period, with the Moto 360 – Motorola's first AW offering – coming later this summer/fall. At their core, Android Wear watches are going to be nearly identical. Google is taking the reins as far as software is concerned, and they have already mentioned they will regulate updates across all affected devices. Hopefully, this will prevent OS fragmentation like what's been happening with Android smartphones.
That means, aside from various hardware implementations and functionality every Android Wear watch will operate pretty much the same. Of course, they're all going to have different body styles depending on what the manufacturer decides. LG went with a geeky square design for the G Watch, and it looks a bit similar to Samsung's Android Wear device.
The LG G Watch is essentially a core, or a shell if you will for the software running on it. It serves as a decent case – if you will – but there are better options on the way and that's definitely something to keep in mind if you're thinking about picking one up.
Overall: 4/5 – the LG G Watch is a great device, sure, but LG didn't include anything special that would allow them to distance themselves from the competition.
Build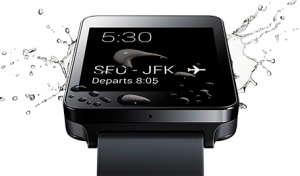 The body is made of a durable plastic, with the 1.65-inch IPS LCD display protected by Gorilla Glass 3. While you probably won't break the screen anytime soon, it's possible to do some damage to the rest of the body – if you're really rough with the thing. The wristband is nothing special, but it can swapped out for a custom band of your choosing – provided the one you want fits 22mm ports. There are absolutely no physical buttons to fumble with. In addition, there's a thick bezel around the entire screen, which some people will pay no mind while others will sulk about.
It is IP67 water and dust resistant which means it can withstand being submerged underwater (at room temperature) at a depth of 1 meter for up to 30 minutes. You can't go deep sea diving, or even scuba diving with the thing but if you forget to take it off before getting in the shower you should be alright.
Build: 3/5 – the overall build quality is decent, but it's hard to appreciate plastic especially when it comes to a wearable device – a lot can happen while you're swinging your arms. That said, the G Watch is IP67 dust and water resistant and the screen is protected by Gorilla Glass 3.
Design
I have to say, the overall design of the LG G Watch is pretty uninspiring. It doesn't look any different from other smartwatches on the market, which is a problem. Since the LG G Watch is $30 more expensive than its only competitor currently – the Samsung Gear Live – and it doesn't offer anything different in terms of hardware and functionality, a unique design is what it needs to stand out. Instead, the G Watch uses the same square-like design which seems to be a dead giveaway that you have a smart device on your wrist.
It does look seamless since there are no physical buttons, which is a plus. Also, you can purchase the G Watch in either all black, or all white. The white looks a little more pleasing, but the only elements that really change are the band, the chrome back and the band hinges on the top and bottom. Even the white version still includes the large black bezel.
Design: 3/5 – the LG G Watch is pretty uninspiring when it comes to the overall design.
Customization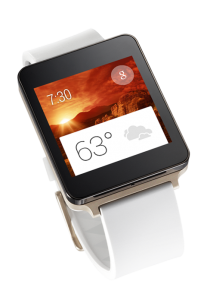 One of the biggest benefits of owning an Android smartphone is that the platform is highly customizable. Obviously, Google plans to take the Android Wear platform in that direction. At launch, however, Android Wear doesn't offer much in the way of user personalization but Google is working on that. Right now, you can install your own apps – out of what's available – throw in some personal touches to the visual side of things, and play around with some of the audio options. In the future, however Google will allow you to apply custom watchfaces from third party developers.
If you already own the watch – or if you were to go pick up one of the Android Wear devices right this instant – you would encounter some limitations in terms of personalization. For example, you're stuck choosing one of the stock watchfaces, for now anyway. That will change as Google releases more software updates for the platform.
As for the body of the watch, you can purchase it in two color variations – black or white – and you can swap out the band for one of your own choosing. That's pretty much all you can expect to see in a smartwatch as far as external customization goes.
Customization: 4/5 – you can swap out the wristband, and play around with a lot of the software settings.
Functionality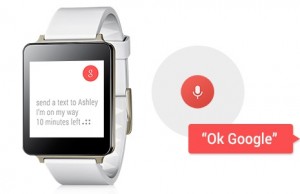 The basic stuff is here, and it works exactly as you'd need to do therefore we're not going to dwell on it. You can check email, receive notifications and alerts and much more. You can also control music playback from the device, and make or receive calls.
What's really interesting is the full Google Now support. If you've ever used Google Now before on your Android device then you know it is one of the most advanced voice dictation platforms available. Sorry Apple lovers, Google Now definitely trumps Siri. Though it will be interesting to see what Apple does in regards to that with their rumored smartwatch.
You can receive updates and information from Google Now cards right on your wrist, which is pretty damn personalized. Google Now will show sports scores, departure times for flights, hotel and boarding info and much more. As with a lot of newer Android Devices, you can say, "OK Google" at any time to call upon the voice features. You can perform specific functions through voice commands, do quick web searches and even check notifications. It's nice to have full featured voice support on your wrist, because it's much more convenient than pulling out your phone.
As for third party app support, there's not a whole lot out there yet but the market is definitely growing. You can do a few neat things with Android Wear devices already, though. For instance, you can check your finances, share your current location with Glympse, respond to tweets and more. Need I remind you this is all done from a watch, positioned on your wrist? The interface and navigation is not frustrating or cumbersome either, which is always a plus.
Functionality: 4/5 – the Android Wear OS is already fantastic as-is with excellent voice control support, but it's also good to know that Google is going to improve it with software updates in the future.
Compatibility
Luckily, the LG G Watch isn't locked down to a small handful of LG devices – similar to what Samsung has done with their Gear lineup. Unfortunately, you will not be able to use an Android Wear device with your Android handset unless you're running a newer version – Android 4.3 or newer. This does neglect the rest of the Android market, and force those who want to take advantage to upgrade.
Compatibility: 3/5 – Android Wear devices are only compatible with Android handsets running version 4.3 or newer.
LG G Watch Review: Conclusion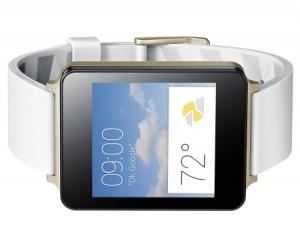 The real issue with the LG G Watch is that it doesn't do anything to stand out from the rest of the pack. Android Wear is an excellent platform, and it will be much better once Google starts adding more meat in software updates. It functions great as-is right now, and the voice controls are a godsend – especially when you have your hands full. That said, the software functionality is also available on the G Watch's only current competitor, the Samsung Gear Live. You can also find a lot of the features – minus the voice controls – on other smartwatches like the Pebble, Gear series and more. When it comes to design, the LG G Watch admittedly falls a little short. You can swap out the stock wristband, and you can customize some of the software options as well – but the latter support comes from the Android Wear OS and not LG.
All in all, the LG G Watch is a good device and it would be one of the best – if stacked up to just previous competition. However, more devices are on the way such as the Moto 360, as well as offerings from HTC, ASUS and even Samsung so it's difficult to justify the higher price tag of $229 for the G especially when it doesn't offer anything special. In terms of usability, there's nothing wrong with it provided you don't mind spending a little extra for no reason.
We hope you enjoyed our LG G Watch review and that it proved useful in your search for the perfect smartwatch. Stay tuned for our coverage of the 2014 smartwatch lineup!