The Smartwatch Buyer's Guide:
What to Look for Before Making a Purchase
So, you've decided to take the plunge and get a smartwatch. Great, but don't click that "buy now" button just yet! Even if you've done the research and know which model you want, there are still a few things to watch out for. For example, you'll want to know if the smartwatch you picked is compatible with your smartphone before plopping down all of that cash. If you buy a model that's not compatible with your phone, you won't be able to experience a lot of the features that make a smartwatch so awesome.
Of course, there are plenty of other things you should look at before making a purchase. That's why we're here to help, with an informative smartwatch buyer's guide!
A smartwatch should be a suitable fit for your needs and your lifestyle. One thing to remember is that smartwatches are a lot like smartphones when it comes to choosing one. In fact, a lot of the elements you should look at when purchasing a watch are the same you should look at when picking out a new phone.
Instead of droning on more, let's get right to it shall we?
Seven Things You Need to Know Before Buying a Smartwatch
1) Notifications –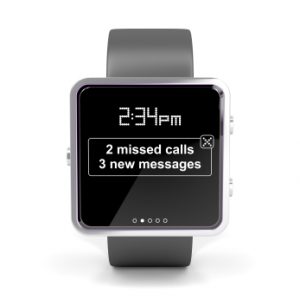 One of the best features of any smartwatch is that they can synchronize data and display notifications originally received on a smartphone. The data is transferred in realtime, but in order for the system to work the watch has to remain within wireless range of the phone at all times. In addition, there are several different types of notification which include: alarm, email, social media, calendar, text message, weather and more. Some watch models will only handle specific notifications or alerts. Naturally, you'll need to make sure the smartwatch you have in mind is compatible with the alerts you want. Are text messages important to you? Do you need to read what each message says in full? Then you'll want a watch that handles SMS and displays the text content associated with them.
2) Display – Just like smartphones, every smartwatch has a different display. Some of them include a full touchscreen with brilliant color, while others may have a simple black and white screen. Furthermore, there are varying ways to receive notifications and alerts on said screens. For instance, some watches will only display icons for the most recent notifications while others will display the entire message associated with an alert. Make sure you take a look at the display for the smartwatch you've picked out, and you understand the full extent of its support. Does it handle alerts and notifications the way you want? Are you fine with just viewing an icon and looking at your phone for the rest of the content? Or, would you rather the watch display the entire message?
3) Battery Life – The battery life of some smartwatches last half a day while others can last over 1000 days at a time. Power cycles depend on the features supported, how often the watch is being used and how big the internal battery is. That's why rated battery life is something you'll want to look at when picking out a smartwatch. Do you need the watch to last a full day until you get home from work? You better take a look at battery ratings before picking out a watch then.
4) Water Resistance – You'll be wearing a smartwatch for extended periods of time, and there's a chance you may even forget it's there. Some watches are splash proof which means they can handle a bit of rain but not much else, while others can be submerged underwater up to a specific depth. If you go swimming a lot you'll want to pay close attention to the water resistance rating.
5) Fixability Rating – Fixability isn't a real word, but it should be. When it comes to buying a device and maintaining it in the long-term you'll want something that's very fixable. For instance, can you easily replace the wrist bands, or the battery? What about if the display cracks, will it be expensive to repair or purchase a replacement? These are things that most people overlook when buying a new device. If you're planning on keeping the smartwatch around for a long time, and you're going to wear it every day then something is bound to go wrong eventually. When it does, you'll want to be able to fix the problem easily and without much of an associated cost otherwise you might as well just go purchase a new smartwatch every year (yes we're aware some people change smartphones as much as they change diapers and would probably do the same with a watch, we're operating under the assumption that's not you).
6) Remote Functionality – Smartwatches can do a whole lot more than just display notifications. Some allow you to do things like check in to a location on Facebook or Foursquare with the tap of a button. Others may allow you to find your lost phone, or play music directly from the watch. Even more have voice control features just like modern smartphones. The point here is that smartwatches can have a lot of additional functionality depending on the model. The MotoACTV for example is specifically designed to aid in exercise and health tracking and includes related features. Someone who doesn't run or exercise often would probably be very disappointed if they purchased the MotoACTV. Look at what a smartwatch has to offer, and make sure is supports the type of functionality you will use.
7) Appearance –
This may seem a bit silly to many, but a watch is going to compliment your fashion and style. Do you like the look and feel of the watch? Do you find it aesthetically pleasing, or do you think it looks hideous on your wrist? This is important especially since you'll be wearing the watch a lot. Make sure you like the appearance of a smartwatch before making a purchase.
While this list includes important factors you should look at when picking out a smartwatch it's not comprehensive by any means. Don't be afraid to look for other elements and features when picking out a watch, especially if you have something specific in mind.