Is the Apple Watch secure?
The Apple Watch does have a security lockdown feature, but it can be easily bypassed – without an iPhone – by design. This does raise the concern that the Apple Watch is incredibly easy to gain access to if stolen.
Worse yet, thieves only need to factory reset the device once they have it in their possession. This can be done, even if they don't have your security passcode.
Once the watch has been wiped, they could resell the device via the second-hand market.
That sure seems like a scary prospect, but there are some restrictions and limitations when it comes to accessing a stolen Apple Watch. Contrary to popular belief, the Apple Watch is remarkably secure for a smartwatch.
We're going to take a closer look at the security features, how they can be bypassed and why that's important.
What Security Does the Apple Watch Have?
For starters, we'll discuss what the Apple Watch actually offers in the way of security.
You do have the option to protect your personal information and data on the device by activating a personal passcode. It works similar to Apple's Activation Lock feature, which was added in iOS 7. The idea is to allow Apple users to protect and secure their device in the event it gets stolen – namely the Activation Lock protects iPhones.

According to iDownloadBlog, however, resourceful users can simply bypass the Apple Watch's personal passcode lock by taking advantage of what they called a "bug" or security flaw. This can be done by simply using Force-Touch on the power-off option and choosing the factory reset option.
Upon closer inspection, it was revealed that this is actually a feature setup by Apple. In fact, they even explain how to reset your Apple Watch in the official user guide. How could they allow something like this?
It's to protect you, in the event that you misplace your connected iPhone or left it behind.
There is a restriction for the reset function. You can't just reset the Apple Watch to factory settings all willy nilly. The watch needs to be connected to the charger in order for the reset function to work properly. In other words, there's no way for a thief to just steal the device and wipe it clean on-the-go. They could potentially purchase a new charger and do it, but it's still better than no deterrent at all.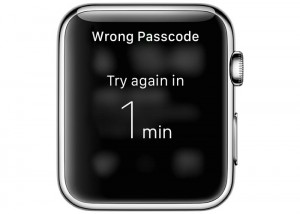 As you can see, the passcode protection lock is designed to keep your personal information and data safe and it does exactly that – even if the Apple Watch is stolen.
As an added bonus, you can activate a setting that will completely wipe the data on the Apple Watch if the passcode entry is failed more than ten times.
The Apple Watch does not have an Activation Lock function. This is the anti-theft feature that can be used to deactivate stolen iPhones remotely. To disable the Activation Lock on an iPhone, you must know the user's Apple ID password – even if it has been factory reset.
Furthermore, the Apple Watch doesn't have a GPS chip, so there's no way to identify its current location if you misplace it, or if it's stolen.
Some Security Is Better Than None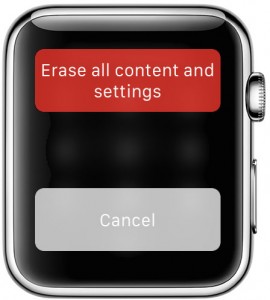 We're not arguing that Apple shouldn't implement more advanced security features for the Apple Watch. It's obvious that electronic devices need to have a stronger layer of security to protect our data and to protect them against theft, especially when it's a highly desirable product like Apple's.
However, you have to remember that the Apple Watch is still closer to a watch than anything. Some amount of security on the device is better than none.
The passcode function that does exist is more than enough to protect your personal data and information stored on the device in the event that it's misplaced or stolen.
It's also worth pointing out, you'll be wearing the watch on your person when you're out and about. The chances of you misplacing it or of it being stolen are less so than if you're just leaving it hanging around.
To be honest, if you're taking the watch off and putting it down anywhere outside your home, you might want to reconsider doing so. This is a $300+ electronic device we're talking about here. Can you imagine what it would feel like to lose the $17,000 Apple Watch Edition model?