We live in an age where technology is prominent.  With the swipe of a finger, mobile phone owners are able to access an incredible amount of information within seconds.  They can check their email, upload photos immediately after taking them, purchase an item online, and transfer funds to their bank account with very little effort.
Today's smart phones send and receive information rapidly.  Instant accessibility to data has revolutionized the way people live their day-to-day lives and raised the bar where customer service is concerned.  Rather than wait for an agent to assist over the phone, consumers can get the help that they need through live chat options, social media, and email.
So, if a smart phone can do all that alone, why would you need a smartwatch?  After all, aren't they just another gimmick designed to get you to spend more money than you need to?  That is certainly NOT the case!  Once you read about the benefits of a smartwatch, you'll be convinced.
What is a SmartWatch?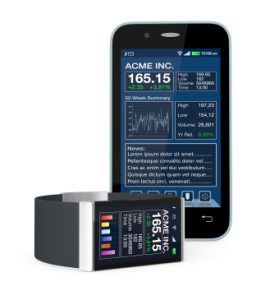 A smartwatch, or smart watch, is a fairly new piece of technology.  It's a computerized wristwatch which has been compared to personal digital assistant (PDA) devices of the past.  It has a number of different functions with each model offering something new and unexpected to the consumer.
The average smartwatch will perform basic tasks.  It can perform basic calculations and translations.  The modern smartwatch, however, can run mobile apps.  Rather than rely on your mobile phone to play music or to send and receive calls, you can access this information from your wrist which swings the doors of possibility open in your favor.
How a SmartWatch Works with a Smart Phone
Similar to the fitness trackers of today, a smartwatch works simultaneously with the smart phone through Bluetooth technology.  Certain features of the phone can be accessed through the watch making it easier to call, text, and even listen to music.  A smartwatch cannot be used with a smart phone.  It will tell time but it does not offer the same options that it would if connected to a mobile device.
What are the Benefits of Using a SmartWatch?
Smartwatches were designed to enhance and improve smart phone usage.  The two work hand in hand or hand and wrist, rather.  Bluetooth technology allows the devices to work simultaneously.
As new smartwatch models emerge on the marketplace, smart phone owners are given more and more options to choose from.  Here are some of the many advantages of having a computer on your wrist:
Convenience.  Let's face it.  People like to be well-informed.  They want to feel connected.  That's what makes the smartwatch so appealing.  Imagine being able to do most of the things you do on a smart phone without having to pull out your phone to do them.  Smartwatches allow you to make and receive calls and receive updates.  You can receive text messages, alerts, and updates without being extremely obvious about it.
Affordability.  Unlike some new technologies, smartwatches are rather affordable.  They complement smart phones so more and more cell phone companies are selling and promoting them.  Even the most highly anticipated models are extremely affordable.  As more and more companies jump onto the smartwatch bandwagon, functionality will improve and prices will drop significantly.
Functionality.  Some smartwatch models have built-in flash drives.  Others have voice and gesture control, Cloud data, and built-in activity trackers.  Many smartwatches allow you to text and tweet from your wrist.  Imagine being on the treadmill at the gym.  You no longer have to haphazardly pull your phone out to see who is calling or texting you.  One look at your smartwatch can tell you whether you need to answer the phone or wait until you're done working out.
Discretion.  Everyone wants to be connected but let's face it, there are some places where phones are inappropriate.  Despite wanting to be available to your family or clients, it just isn't possible in some places.  A smartwatch makes it easier to check messages on the fly.
Custom Firmware.  App developers have free reign when it comes to designing for the smartwatch.  Companies encourage innovation by providing guides detailed how to "hack" the watches software.  Much like smart phones, the app market for smartwatches could become larger than life.
As you can see, there are a number of different reasons why a person would want to use their smartwatch with their smart phone.  New Relic's research discovered that the average smart phone user checks their device up to 150 times a day or once every 6.5 minutes.  That's an amazing amount of time spent on a smart phone.  Wouldn't it be nice to do the same in less time?
There are a number of different manufacturers and models.  Like anything else, a smartwatch can be made one's own with different types of watch faces and strap colors.  This allows a smartwatch wearer to flaunt his or her own individual style with ease.