This list has been updated for 2017 Shopping Season, complete with new senior wearables and GPS location trackers.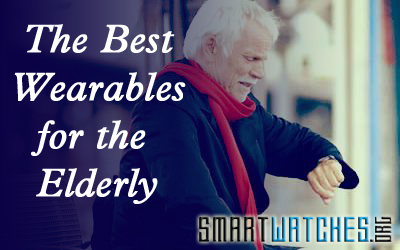 Why are They Necessary?
Many seniors prefer to be independent, living in a home or apartment they've known for years. The problem with this is if anything were to happen nobody would know, or it would take a while before someone found out.
Trackers allow family, friends, or caretakers to monitor seniors remotely. The same devices exist for children, and even pets.
Senior wearables often have an emergency or SOS feature that will call for help at the touch of a button. When you're living on your own, without anyone nearby, a device like this could save your life.
Like smartwatches, many of the devices offer extra functionality, like the ability to call or message friends and family.
Thanks to the popularity of smartwatches and similar devices, many forms of tech are being slimmed down into wearable form. Gadgets like smartwatches, HD action cameras, lifeloggers, augmented reality glasses and more. It's no surprise that medical alert devices are compacted and upgraded with better features.
The Best Senior Wearables and GPS Trackers
Tempo by CarePredict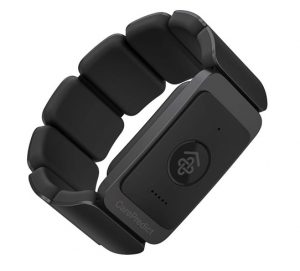 The CarePredict is essentially a wrist-worn sensor – like the emergency buttons – except it can do a whole lot more than alert the appropriate parties. Like any watch or smartwatch, you can change out the band to give it a different appearance or style.
The internal sensor tracks a variety of data because it can detect motion. It will be able to tell when the wearer is running, sitting, standing, walking and even lying down. It can also discern location in a home and figure out what the wearer is doing activity-wise at any given time.
The collected data is transferred wirelessly to the cloud, and it can also be charged wirelessly — no reason to plug it in! Additional users – like family members – can tap into the service and check up on the wearer.
Information is transmitted via the CarePredict Temp Hub, which connects to beacons that must also be placed around the home. These beacons are what allow the device to determine where the wearer is without a GPS module. The beacons are small and discreet and they are powered via battery so you never have to worry about charging them either. The hub plugs into an outlet for power and connects directly to a wired internet connection.
If you'd like to know more about the system head on over to CarePredict.
Limmex Emergency Watch (Previously the G2i Emergency Watch)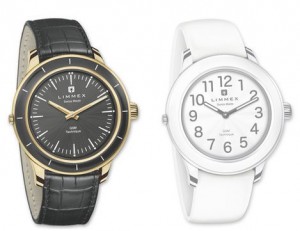 This wearable from Switzerland – borrowing inspiration from the Swiss watch industry – serves as an emergency alert system. It also doubles as a fully-functional mobile phone.
The wearer only needs to press the appropriate button and the watch will begin contacting family or friends stored in the contacts list. If someone doesn't pick up or is unavailable, it will dial the next contact and continue down the list in sequential order. It will continue to call contacts until someone answers.
All of this is hands-free and can be done at the press of a single button. Never underestimate the convenience of "immediate" tech such as this, especially when it comes to your loved ones.
When someone does answer, the wearer can speak to them like a radio or mobile phone.
If you'd like to know more, check out Limmex. Sadly, it doesn't look like it's available in the US, at least not yet.
Lively Safety Watch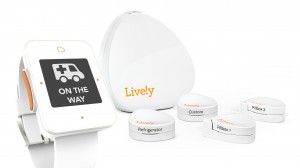 The Lively Safety Watch comes bundled with a Home Hub for data transmission. The watch itself operates more like a daily planner and notification tool for the wearer. They'll receive medication reminders, and be able to track their daily steps with the integrated pedometer.
In the event of an emergency, all they need to do is push the appropriate button and a response team will be called to their location. The emergency service works 24/7.
The watch comes in 10 different colors, allowing the wearer to choose something that better matches their personal style.
As for the activity data, it's transmitted through a mobile app so that family members and friends can remotely monitor the wearer through the app, email or even text messages.
You can learn more about the watch at myLively.com.
You might also be interested in the Lively Activity Sensors, which work in a similar fashion.
PAL from Project Lifesaver
Project Lifesaver is a company renowned for offering safe, family-friendly tracking services. The PAL system is their answer.
It was designed for families with a member suffering from Autism, Down Syndrome, Alzheimer's, Dementia, or another cognitive condition that causes wandering or disorientation.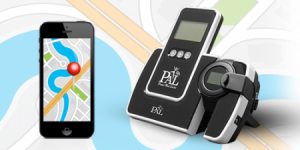 The kit comes with a wristwatch that acts as a transmitter sending out notifications and updates via GSM (AT&T) and GPS. Those updates are synced to a portable receiver, which can sound audio alerts and flash LCD indicators.
Through geofencing you can designate an "RF perimeter" that works like an invisible boundary. If the person wearing the tracker leaves the designated area it will send alerts to the receiver.
Alerts are also sent via SMS and email, giving peace of mind in the event of an emergency. You'll always know when something is wrong.
The tracker watch has a lockable strap so as to prevent the wearer from removing it. There's also a special key which can be used to release the band, similar to a locking lug-nut for vehicle wheels.
All charging equipment comes bundled in the kit including a charging base for the receiver.
Please keep in mind this is a medical device, so it is not cheap.
The initial cost is $625, with a recurring service plan at $30 per month. You do get a full year's service free with purchase of the kit.
MindMe Locate and Alarm
MindMe makes two devices that are excellent for anyone with a cognitive disorder.
They are both the same size, shape and style with one obvious difference. Locate is a tracker designed to ping the wearer's location at all times, and Alarm is a single-button emergency alert system.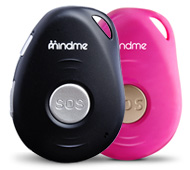 Locate reports its position every four minutes, so even if the wearer enters a dead zone, it will still be fairly easy to locate them. Caretakers and family members can check in, anytime via the MindMe web service.
MindMe Alarm includes the same GPS tracking functionality, but it also includes an emergency button. If the wearer is in trouble, they can press the SOS button and the device will connect to an operator. The wearer will then be able to chat with the operator, and their current position will also be recorded.
Both devices GPRS technology and a multi-SIM to remain connected at all times.
The MindMe Alarm is £85.00 (approx. $111 USD) with a £16.50 (approx. $22 USD) monthly subscription fee. The MindMe Locate starts at £80.00 and also has a £16.50 sub fee.
SafeLink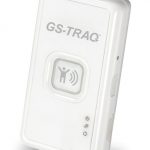 The neat thing about SafeLink is that you have a couple options for the type of device you'd like to use. They offer both a 2G watch, and a 2G tracker module.
The module is nothing more than a small fob, which you can wear any way you choose – or just stick in a pocket. The watch on the other hand, well that's self-explanatory.
Features include: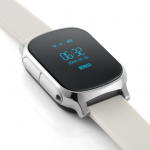 Tracking from computers and mobile devices
Advanced Notifications

Geo-fencing and safe zones
SOS alerts
Low battery alerts
SMS notifications which can be sent to three different contacts simultaneously

No fixed contract, service is month to month with a consistent fee
Tailing mode when necessary, forces GPS location updates to happen every minute
The watch is $199.99, while the tracker is $149.99.
Revolutionary Tracker
Revolutionary Tracker is a "wearable smartphone" that comes in the form of a smartwatch. It's designed for tracking children, long-distance seniors, or those who are cognitively impaired. The company also advertises that you can use it to track your pets if you're so inclined.
Features include:
Multiple watch faces
Advanced Messaging

2-way voice calls to – and from – authorized contacts only
Authorized contacts can also listen in at any time
Group calling support for all contacts
SMS messaging with auto responses via a single button

Tamper alerts via text, email, and with current location info
Panic button that auto calls guardian
Geo-fencing support with location based "safety zones"
Low battery alert
GPRS real-time tracking
The watches come in four different colors: blue, pink, black, and white. They cost $199.99, with a 6-month plan for $29 per month. You also have the option to buy accessories for the watch, like custom bands.
PocketFinder
The PocketFinder is nothing more than a small, 2" GPS tracker.
Using the companion app on smartphones you can track the location of the module via Google Maps. You can also access your account via a web browser, which means you can locate the device on a computer or laptop, as well.
There are multiple devices including a child, senior (elderly), and pet tracker. Depending on which model you choose, the tracker is themed appropriately. For instance, the child trackers include colorful, kid-friendly designs.
Additional features include:
GPS tracking – updates every two minutes
Geo-fencing – setup boundaries or safe zones
Low battery alert
Speed alerts – get updates when the tracker is moving above a speed limit you have set
SOS signal – those with the tracker can tap it against a surface 3 times to activate SOS mode
The child and senior trackers are $80 to $120.
iTraq
This device had an extremely successful funding campaign on IndieGoGo. The first wave has already shipped to backers. So, unlike some of the other crowdfunded products, this one is available.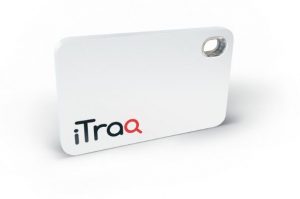 The iTraq is a credit-card sized module with global tracking via GSM networks.
One unique feature – at least for devices of this caliber – is the extended battery life. The iTraq can last for up to four months on a single charge. You can charge it up, hand it over to whomever you want to check on – like a child or senior – and then forget about it. Of course, by "forget about it" we mean you don't have to worry about plugging it into a charger every night.
The charger is wireless. It uses induction technology to juice up the battery when it makes contact with the pad. The charger is not included with the tracking module. You must buy it separately for $30.
At any time, you can ping the device to see its current whereabouts. You can also set up safe zones or boundaries through geo-fencing.
You can customize the location reports too. So the device will check in as often – or less often – as you desire. Most devices on this list come pre-programmed with a set interval, so this is unique to the iTraq.
To track it, you can use the companion app for Android and iOS, or you can check in through a web browser.
The iTraq is $129. It comes with a total of 2,000 location reports for up to a month after initial activation. After that, you have to buy a subscription for $5.90 a month (or $59 a year).
There are two optional bundles, but they include everything you need. The first bundle is $178, and comes with an iTraq module, charger, and a year's subscription with unlimited tracking ($48.17). The second bundle includes only the iTraq module, and the charger for $139.
GPS SmartSole
The GPS SmartSole is a pretty ingenious device. It's essentially a GPS tracker that can be implanted in the sole of a shoe. The beauty of this is that it is both discreet and non-invasive and if your loved one journeys somewhere they won't forget to bring the tracker.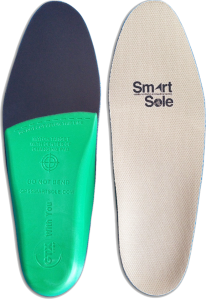 The downside to this is they probably won't be wearing their shoes inside their home or apartment.
It includes a companion app for both Android and iOS, and you can also check in on your loved one via a web interface. You can set up geo-fencing boundaries which will send text and email alerts if the tracker exits the area.
It pings a GPS location every ten minutes using both GPS and mobile networks – like a cellphone.
One GPS SmartSole is $299, and it costs $35 for account activation. The monthly plan for online tracking only is $29.95, while an extended plan that includes 24/7 operator support is $49.95 per month.
Senior Wearables and GPS Trackers That are Currently Unavailable
UnaliWear Kanega Watch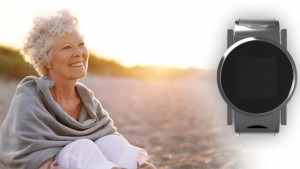 This watch was crowdfunded via Kickstarter. It's a wrist watch and mobile device hybrid, which means it has a digital analog style clock, but it can also display notifications and alerts.
Other features include "cellular, Wi-Fi, and GPS communications, continuous speech recognition, and a 9-axis accelerometer for fall detection."
Also unique about the Kanega is that it is compatible with Bluetooth Low Energy – BLE or Bluetooth Smart – communications, which means that it can be paired with the latest hearing aids.
You can submit your contact information to sign up for alerts when the device goes on sale.
Burg 31 Cellphone Watch
Unfortunately, all official traces of the Burg 31 have vanished. You can find news coverage of the device when it was announced, but no retailers are selling it. We are keeping this list entry for a historic reference.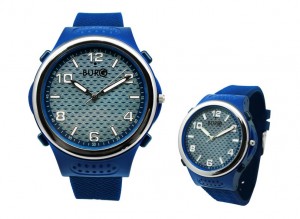 This watch is only $129 and comes with a wide variety of mobile phone features — packed into a watch. For instance, it has GPS support so that you can track kids – or seniors – and see where they are at all times.
In the event of an emergency, the wearer can quickly dial out to 911 and up to three preconfigured contacts without a Bluetooth smartphone connected. Yep, the watch can do this all on its own. It is able to do this thanks to the integrated SIM card support, which allows it to connect to mobile networks just like a cell phone. You can also pair it with Android, iOS, and comparable smartphones if you want to use it that way.
Make no mistake about it, this is a mobile device through and through packed into a watch. It can make and receive the aforementioned calls, send and receive texts, play music and more. The rechargeable battery will allow up to two full days in standby, less if you're using the watch heavily.
The watch face is analog-based though so it resembles a traditional wrist watch instead of a smartwatch.
Bonus Senior Wearables
MedicAlert Safely Home
MedicAlert Safely Home is different than the other services on this list. Their system does not include a GPS tracker or gadget. Instead, subscribers are given a MedicAlert ID – similar to those that identify diabetics.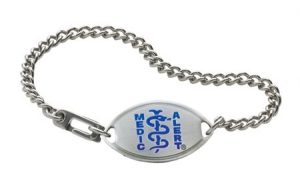 On the bracelet is a unique identifier and contact info for the 24-hour emergency hotline.
The purpose of this bracelet and system is to help loved ones monitor someone suffering from dementia or a debilitating disease. They are often prone to wander, resulting in them getting lost.
In the event that the wearer is found elsewhere, the emergency hotline will contact family members or caretakers.
A membership costs $60 per year, but there are no further fees.
Comfort Zone Check-In
The Comfort Zone service offers a few options. You can either buy a dedicated tracking device, or receive location alerts from a Sprint-enabled phone. If you choose the latter, you are allowed to use a phone you – or the person you want to track – already own.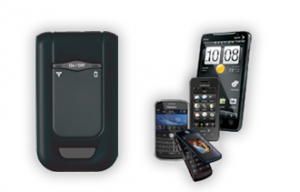 To track the device, you can either check in using a companion app for Android or iOS, or you can do so via the web application.
As long as you have an active subscription you can track the location of the connected device at any time using the mobile or web apps. You can also set a custom schedule, that will automatically ping the device at designated intervals.
If you use the proprietary tracker an active subscription will cost $14.99 per month, but if you opt for a Sprint cell phone it will be $9.99 per month.
The dedicated tracker is $114.98.
Do You Know Any Other Senior Wearables or GPS Trackers?
That's it for now. Those are all the wearables we know about that are designed for seniors. Do you know of others?
Keep in mind, not all of the senior wearables listed are available right now. Some you'll have to wait for before you can buy them at retail.
Related Articles