When smartphones first launched most consumers had no idea there were different platforms available. Sure, almost everyone had heard about iPhones up to a certain point, but that doesn't mean they knew the difference between iOS and Android handsets. We're seeing the same thing happening now in the world of smartwatches. Especially since Tim Cook unveiled the Apple Watch, people are wanting a "smartwatch," even though they may not know how many different types there are or what that means for them.
Naturally, this is going to be a smartwatch FAQ for those less tech savvy folks out there. If you already know the ins and outs of your gadgets and know all about the latest smartwatch models – or smartphones – coming to market then you're probably not going to find this very interesting. That said, you might want to find something else to read.
Everyone else, keep on reading if you want to become more familiar with the different smartwatch platforms.
The Smartwatch FAQ for Beginners: Get to Know Your Smartwatches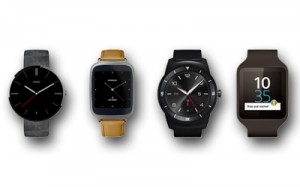 Believe it or not, there are several different types of smartwatches from fitness trackers like the new FitBit Surge, to full-blown smartwatches like the Moto 360 or LG G Watch R. Then you have the standalone devices like the Samsung Gear S or Neptune Pine, which have been specifically designed to replace your smartphone. Chances are, most of that sounded like just a bunch of tech lingo to you. Don't worry, that's what this smartwatch FAQ is going to fix.
Let's dive right into the meat of the smartwatch FAQ with the most important questions, shall we? What are the different types of smartwatches, how are they different and what does that mean for you?
What Are the Different Types of Smartwatches, and How Are They Different?
Right now smartwatches can be divided into a few different categories which we've described in more detail below. Keep in mind, some devices fit into more than one of these categories. That said, most of the time each device will have a more prevalent set of features – for instance, like the Samsung Gear Fit's focus on health-tracking.
Fitness Trackers: These devices have been created to track health and fitness data, not just when you're working out but also during your daily activities. Some traditional smartwatches will include fitness and health tracking hardware, but that doesn't necessarily make them fitness-trackers. These types of devices have a central focus on health and fitness, and everything else is an aside.

Traditional Smartwatches:

The name of this category may be somewhat misleading since the true traditional smartwatches were just digital wrist watches with calculators and stuff. Obviously, we've moved past all that in recent years. A traditional smartwatch still acts as a time-keeping device, but has a bunch of advanced features too. Some of the things you can do include taking calls, reading and answering texts or emails and even browsing the web. Of course, traditional smartwatches require a paired smartphone – connected wirelessly through Bluetooth – in order to work.

Standalone Smartwatches:

These types of devices operate on their own without the need for a paired smartphone. In most cases, you can use them like a traditional smartwatch but the point here is that you don't have to – you have a choice. They often take SIM cards just like a cell phone, and include all the same functionality of a full-featured smartphone – just in a wearable form factor. They tend to be the most expensive out of all the different types of smartwatches, and they are few and far between – at least for now.
So I Read the Entire Smartwatch FAQ, What Does All This Mean For Me?
We have covered this more in depth in the past, so you can check out our write-up that lists all the different reasons for owning each one of these devices. It's actually pretty straightforward, honestly. If you want to track health and fitness data, a fitness tracker may be your best bet. If you'd rather have basic messaging and notification support, you can opt for a traditional smartwatch. Or, you could go the more expensive route and get a full-blown standalone smartwatch that allows you to forget about smartphones completely.
Let's continue with the smartwatch FAQ and take a look at many of the different platforms available.
What's the Difference Between Android Wear, Tizen, and Proprietary OS Platforms?
Now, in each category there is a subset of devices that are different. For example, a few of Samsung's newer devices are powered by their proprietary OS Tizen instead of Android Wear. The Moto 360 and LG G Watch, on the other hand, are working with Google's wearable OS Android Wear. The hardware may be similar across the board sure, but the experience is going to be different on a device-by-device basis. All Android Wear devices will offer the same kind of software experience, while some may have more or less hardware than others. Whereas Samsung's Tizen powered devices are going to provided a completely different software experience including a different app ecosystem, third-party support and more.
A lot of smartwatches work cross-platform regardless of your smartphone's OS when you're pairing them, while others require a very specific version or platform. Apple's upcoming smartwatch the Apple Watch, for example will only work with iOS devices version 5 and up.
In addition, several of the cheaper options on the market include an entirely proprietary OS installed. The Pebble is a great example of this, since it's not using an Android, iOS or similar platform. Instead, it's running a software variant designed by Pebble's developers. It does offer third-party app and custom watchface support, but it should be noted that doesn't mean all devices like this will. The Sony SmartWatch 2 didn't get custom developer support until a while after it had been released, which means at launch owners were stuck with what was offered out of the box.
Great Smartwatch FAQ, Now Which Platform Should I Choose?
It doesn't matter if you're a tech savvy individual or not, you're going to have to do some research before diving in and making a purchase. You'll need to know which platform your smartphone is using, whether or not you want a specific set of features for your wearable, and what you're going to be using it for. If you just want something to check the time and track your morning run, then fitness devices like the FitBIt, Jawbone UP or Samsung Gear Fit will work great. If you want to be able to check your text messages, emails and remotely answer phone calls then you'll need a more traditional smartwatch. It all depends on what you want out of your device really.
How is any of this different from articles we've published in the past? The most important thing you'll want to take away from this article is that there's not just different types of smartwatches, there are also many different sub-sets or platforms within those categories. You have Android Wear, Samsung's Tizen devices, the Pebble, the standalone Neptune Pine running a full version of Android – just like a smartphone – and even soon to come devices like the Apple Watch. Before making a purchase, you'll need to be able to discern between these different platforms and pick out which one is best for you.
We recommend giving each a try, and demoing different devices if that's possible. Go to a bunch of different electronics stores and play around with a few different models before making your choice. You never know, you may end up like one platform more than another.
What did you think of our smartwatch FAQ? Did we answer most – if not all – of your questions? Do you think we missed anything? Feel free to share.